Graduation is a huge milestone in every student's life. It's a momentous occasion which celebrates the graduate's achievement on passing through his/her academic life.
Now, with the outbreak of COVID-19, graduation ceremonies have moved from physical ones to online virtual ceremonies. If you're a graduating student this year and you're looking at how to prepare for your graduation ceremony, read on to find out more.
Physical VS virtual graduation ceremonies
If you're a graduating student whose graduation ceremony is affected due to COVID-19, you may be confused as to what's the different between a virtual and physical ceremony.
While a physical commencement ceremony is usually held at the school's campus, where graduates will be donned in graduation gowns and given the opportunity to go onstage to receive their certificate, a virtual ceremony is one that is held online. Graduating students are not required to don a graduation gown and they can will be attending the ceremony from the safety of their homes.
Families and friends are invited to tune in to the ceremony too. For schools like the National University of Singapore (NUS), each graduating student is still required to submit a formal picture of themselves which will be displayed when announced.
What was noteworthy was that due to the onset of COVID-19 last year, the graduates of 2020 were unable to hold their convocation ceremonies due to the disruption. As such, it was heart-warming to see that they were offered the chance to join in the graduating batch of 2021 this year for their virtual ceremonies. You can read more about one such school, NUS doing so here.
Where and how do I rent gowns and mortarboards?
One of the most popular questions graduating students ask would be about graduation gowns. To many, graduation just wouldn't be the same without being decked out in a formal graduation gown to take photos to commemorate the special day.
Even though most of the graduation ceremonies are currently virtual, students are still given the option to wear their gowns while attending the ceremony. If you're wondering where to get your gowns from, read on:
Picture credits: NUS

NUS: The school works with Serangoon Broadway for collection and sales of graduation gowns and mortarboards. You may order the gowns online from their website. For more information, you can also access this link.
NTU: Like NUS, NTU also works with Serangoon Broadway for their graduation gowns. The process would be the same.
SMU: For SMU Students, they encourage students to place their orders for the gowns through the M.I.M website. The school bookshop will also have some gowns available for rental should the students be unable to get them from the website.
What do the different hood colours mean?
Most academic dresses are dark blue or blue. What differentiates a student graduating with a Bachelor', Master's or Doctoral degree would be the type of gown. You can read more about the differences in the gown details here.
Each University has different coloured hood colours to represent the different degree that one is graduating with. You can refer to each individual school's website for more information.
For NUS for example, having a pink hood would mean that you've graduated with a Bachelor of Arts whereas if you were graduating with a Bachelor of Engineering, it would be Gold with a white trim.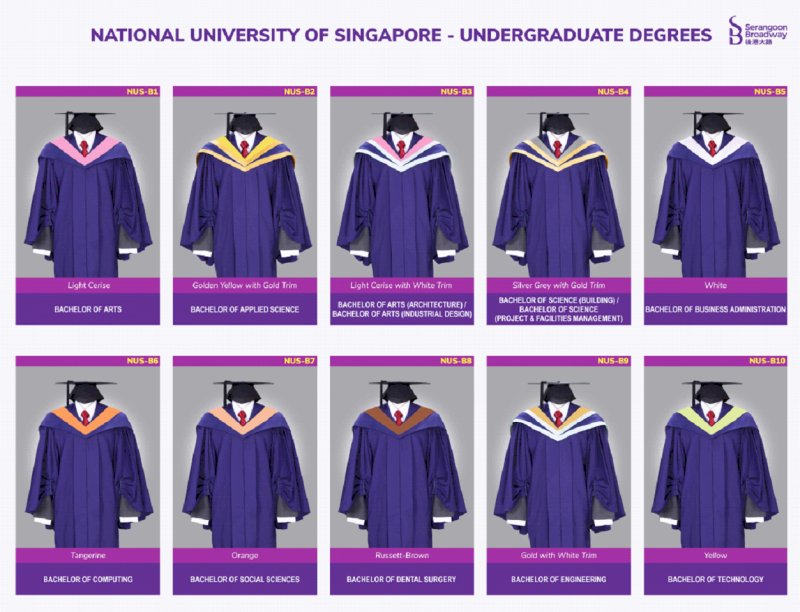 Picture credits: Serangoon Broadway
For NTU, likewise, it depends on which faculty you graduate from which determines the colour of your robe and hood colour. For example:
If you were graduating with a Bachelor of Arts in Psychology, your colour would be Crimson edged with White and if you graduate with a Bachelor of Communication Studies from Wee Kim Wee School of Communication and Information, your colour would be Maroon edged with Black.
You may view the whole list here for reference.
For graduating students from SMU, similarly, the colours of the hood signify the field of study. If you are graduating with a Bachelor of Business Management, you would have a Drab-colour hood whereas if you were graduating with a Bachelor of Law, you would be donning a purple hood.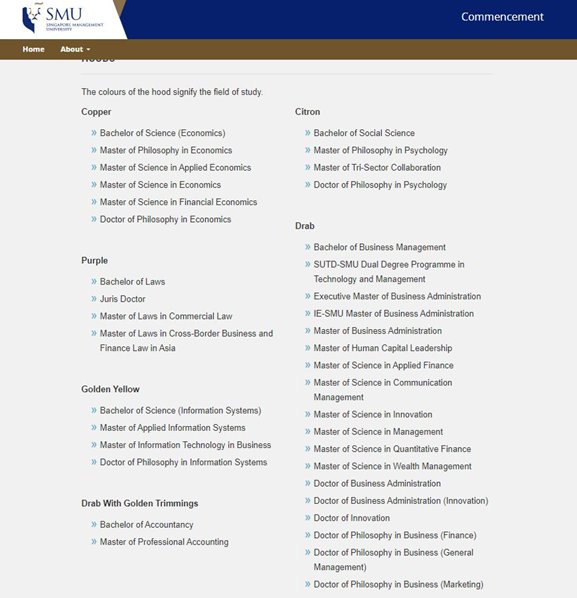 The list can be referenced here.
Should I take graduation photos in a studio or on my own?
Many graduates tend to choose to take graduation photos in a studio as it's a one-in-a-lifetime event. However, there is nothing wrong if you choose to take it on your own as well.
If you're still undecided on which way to go about it, here's a list below to help you make a more informed decision:
Perks of taking it a studio:
– Fuss-free process – you just turn up and be told how to pose to take the shots
-You would have an experienced photographer who knows all the right angles and poses.
– You would be able to rent gowns in the studio itself, which would be helpful especially if you did not intend to rent them for your virtual convocation ceremony online.
Perks of taking them yourself: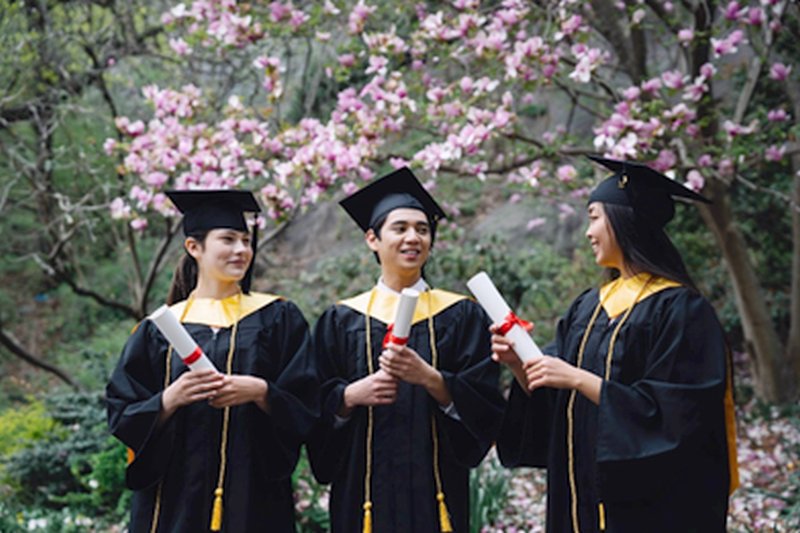 -You save on cost. Professional graduation shoots cost above S$120.
– You can get creative with your angles and can take it at any location convenient for you. This includes taking pictures at your school itself, your faculty or intimate spots in school that mean something to you and your friends.
– You can wear anything that you want. You can opt to rent your own graduation gown and wear them during your own free-and-easy shoot. Else you could also wear comfortable clothes for your own shoot.
There are definitely plus points to both options and it's ultimately up to you on which option you'd like to take.
Who should I call to take graduation pictures with?

Picture credits: Serangoon Broadway
On this joyous occasion, most graduates invite their family and friends to take part in celebrating this special day. Despite COVID-19, this doesn't mean that your celebration has to be dampened.
It just means that you can get creative with your photos. Instead of taking large group photos, you can opt to take zoom pictures with your family and friends to celebrate the special day.
This not only helps upkeep social distancing but it also enables graduates to be able to commemorate this special day by taking snapshots with different groups of friends and families online.
What should I bring for my graduation photo shoot?
Apart from your graduation gown which includes your mortarboard, some items that most individuals usually bring for their graduation photo shoot include graduation bouquets which their loved ones usually gift them. Flowers add a touch of colour to the otherwise single-coloured graduation gown.
If you're also looking to gift your fellow graduating friends bouquets, you can check out which flower bouquets are most suitable graduation flowers
Some other popular items include balloons and stuffed animals. A graduation gift does not have to be expensive. There are tons of affordable options such as fuss-free yet affordable graduation bouquets, handwritten notes and even handmade gift options. 24HrsCityFlorist.com is a florist offering flower delivery anywhere in Singapore.
At the end of the day, the best gift is undoubtedly one that conveys your sincerity and congratulations to your loved one.
What's next after the graduation ceremony?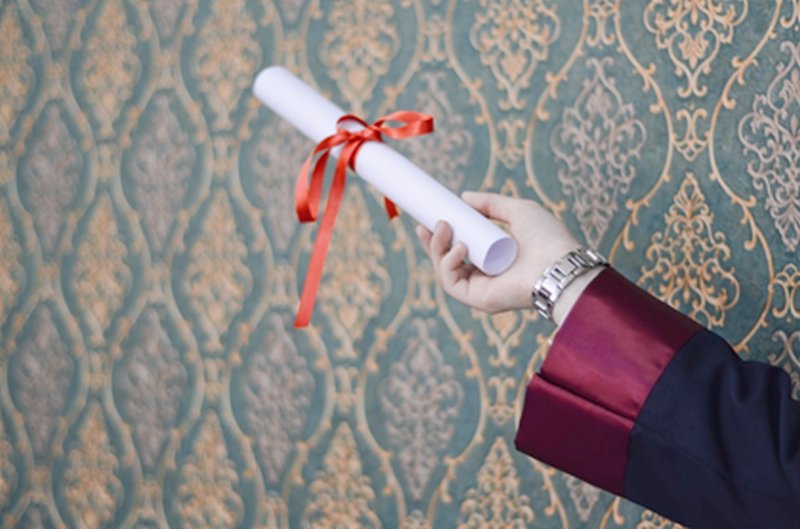 "The world is your oyster" – as the saying goes, life provides tons of opportunities for everyone to pursue their dreams. Fresh out of university and armed with a degree, the opportunities for graduates are limitless.
The next step of the journey would be for many, finding a job and starting a new phase of life as a working adult. However, no matter what path you intend to take, just like how you completed your academic journey, press on and never give up.
And to all fresh graduates or soon-to-be graduates, we congratulate you and hope that this guide proved helpful in your graduation process.
Written by: Elizabeth Tan