The Ultimate Guide to Choosing Flowers for Mother's Day
"What should I get for Mother's Day this year?" A yearly question that never seems to have an answer everyone can agree with, or any answer at all. After all, Mother's Day is an occasion that is regarded highly by many across the globe. How could one give their mother anything short of the best gift, to thank her for her hard work and unconditional love? Some common gifts that are largely popular on this special day include chocolates and cards, among other things. While a thoughtful dinner reservation may make a perfectly good gift on its own, a bouquet of flowers in accompaniment might just be what a mother needs after a long day, that is well balanced between simplicity and elegance.
A survey conducted amongst 20 respondents ages 18 to 32 revealed that nearly 7 in 10 would be open to purchasing flowers for the occasion, and that 6 in 10 actually feel like flowers would make a meaningful yet affordable gift. One of the respondents commented,
"Flowers have the intrinsic ability to convey so much meaning to whoever receives them. I'd definitely consider a bouquet for the upcoming Mother's Day."
Figure 1: Survey respondents', aged 18 to 32, on openness to purchasing flower bouquets for Mother's Day.
It is widely acknowledged that flowers are nature's messengers. Flower picking is one of the most important steps when picking a floral gift. In order to deliver a more thoughtful message to mom, one will have to be resourceful and do some research before settling on a flower type. Hint – Her favourite flower and colour.
Many would agree that pink carnations are the hallmark of flowers usually gifted on Mother's Day, as they are representative of a mother's love. White carnations are a good contender as well, signifying unconditional love, which is all the more true when it comes to a mother's endearment. Apart from that, there may be a deeper meaning tied to these flowers. Pink carnations were believed to be the first ones to bloom where Virgin Mary's tears fell, making these flowers even more symbolic, as the front of Mother's Day flowers.
Mother's Day Gift Basket
Aside from flowers, the more traditional array of gift baskets and hampers can also be considered. These baskets are sure to brighten the day of a mother. What is better than having professionally arranged flowers alongside some of her favourite confectionaries? This 'taste'ful gift would allow her to sit back, relax and enjoy her special occasion, while acting as a getaway from all the work she might have to complete on that day.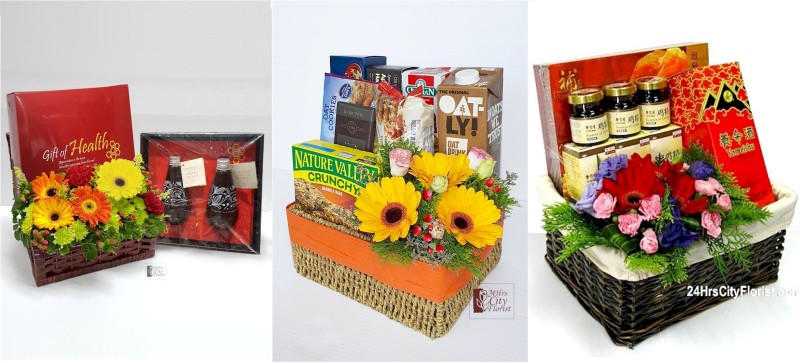 Thoughtfully arranged gift basket include popular products such as Herbal Health Drinks, the distinct Bird's Nest and Ginseng, and the highly coveted Eu Yan Sang Essence of Chicken, these gift baskets are sure to allow her to revitalise and rejuvenate, away from her daily duties. Not to forget the elegant flowers that are arranged by professional florists in store that are sure to add vibrance and colour to her day.
"If a mother's love is as sweet as a flower, then all mothers would be that sweet flower of love". – Unknown.
Flowers are such great, classic candidates as gifts for almost every occasion, so why should it be any different for an occasion like Mother's Day? Be it a bouquet, table flower, basket or hamper, these flowers are guaranteed to show one's love and appreciation for their mother, through the symbolism of the multitude of flowers offered. Click here for ideas on sample mother's day messages. '
At 24HrsCityFlorist we offer a wide variety of mother's day products including customization. We offer 24 hrs delivery everyday including Sundays. More importantly mother's day 8 May 2022.
Written by Elyse Lee
Total Page Visits: 2768 - Today Page Visits: 2