Birthday flowers could be as simple as it sounds, but also have the potential to become a fairly complicated gift to curate. It really depends on what one's intention behind the gift is. The birthday bouquet could be a traditional, no-questions-asked bouquet to a longtime friend, yet could also double up as a dual meaning gift to someone you're romantically interested in.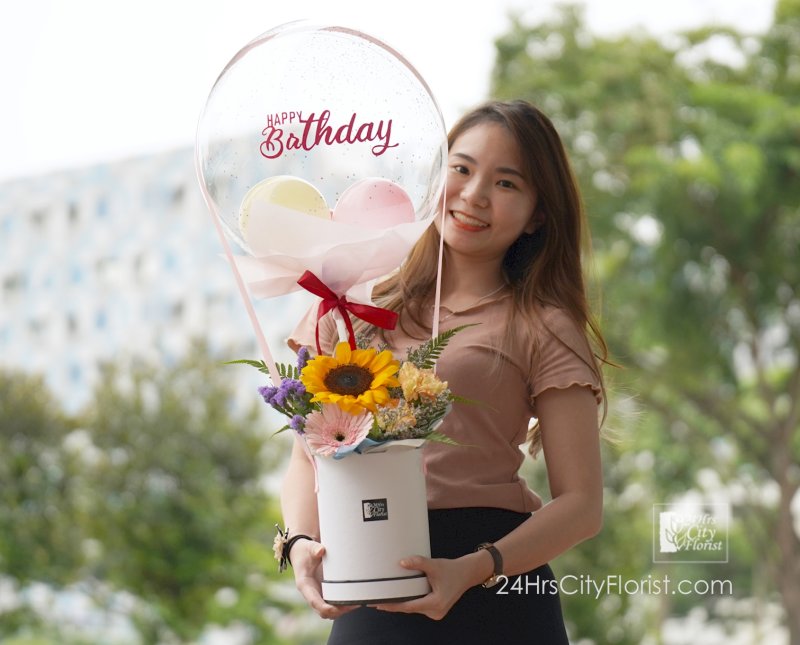 As longtime florist in Singapore, we've had the privilege to be involved in many a situation like this, at all hours of the day. We thus thought it might be useful to share some lessons we've learnt from our own experiences and that of our past customers alike, to make your flower delivery experience a much smoother one.
Type Of Flowers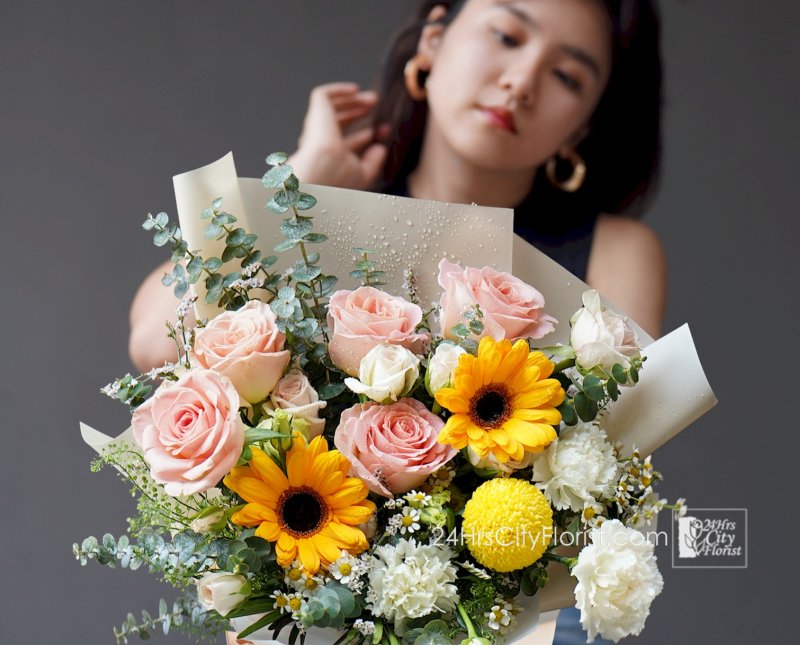 The first step in curating a birthday bouquet clearly lies in the flowers themselves. The blooms do the talking in a bouquet, so you're really about to place majority of your bets on choosing the appropriate flowers.
To make this successful, one needs to know about the person receiving the flowers. What's their favourite flower? Or favourite colour? If you've got this nailed down, you've pretty much succeeded halfway.
Next comes the add-ons. Favourite flowers and colours are crucial, but what's a good flower bouquet without some element of novelty. Here we pick other flower types that help us convey our messages and intentions, or simply to make the bouquet stand out more. It is this part of the selection process that is more difficult but rewarding.
Flowers With Meaning
This brings us back to the intention of the bouquet. Who are you giving this to, and what are you trying to say?
A bouquet for your good friend – go wild with the beautifully yellow friendship flowers, which take the likes of alstroemeria, sunflowers, yellow roses, yellow gerberas.
A bouquet for someone you're romantically interested in – you'll need some flowers to help you drop the hint and develop the relationship further. Rather than an entire bouquet of red roses which might come off as too overwhelming, it might be a better plan to include a few stalks of the following flowers into your bouquet.
Red roses – classic romantic flower, what more is there to say
Red tulips – true love, perfect love
Dark red carnations – fascination, affection
Orchids – love, beauty, strength
Peony – beauty
A bouquet for the mum – honestly the easiest bouquet to curate, since mums hardly don't like a gift from their child. So long as you make sure to avoid inauspicious flowers, which we will list below. Otherwise, here are some 'mum flowers' that could do the job pretty well!
Pink/ red carnations – the 'official' mother's day flower
Pink roses – happiness
Pink tulips – warmth, affection
Hydrangeas – family and love
Flowers To Avoid
Perhaps the most important paragraph of this entire article, for one unsuspecting misstep and your entire bouquet might just go down the drain.
In Singapore there's a lot more emphasis on this since each race and religion has its own set of inauspicious flowers, so we really need to be sensitive to this aspect when giving flowers, or any other gift in all honesty.
Chinese – avoid white flowers and yellow chrysanthemums, as these are typically funeral flowers
Indians – avoid frangipanis, also typical funeral flowers
Muslims – traditionally will not give flowers during funerals
Flowers To Stand Out
Not all flowers have to be bursting with colour. Dried and Preserved flowers are an increasingly popular gift, not just for their practicality, but because they portray a certain daintiness and hardiness that is hard to find with the traditional humongous fluffy fresh flowers. Also, it's sometimes nice to know that the flowers you're giving can last more than a week even with someone with the brownest of thumbs.
Additional Gifts
The value of a bouquet lies not just in the flowers itself. Your bouquet stands out if you are able to make your sincerity shine through, and one of the most reliable ways to do so is with the written word. Most flower bouquets should come with a card, and it'll be very wise of you to at the very least personalize a message for your friend. Sometimes, it is not the biggest and most expensive bouquet that wins, but the one that comes with the best written card that seals the deal.
Other adjuncts that one can consider to spruce up the bouquet are things like balloons, mini soft toys, chocolates, wine. But if you're really aiming to be unique, try pairing the bouquet with a vase or some plant feed, which would really show your thoughtfulness and award you with some practicality plus points. And in all honesty, these might also end up being less costly than the traditional birthday balloons, chocolates and whatnot.
The last thing we would like to point out about flowers, is that they don't always have to come in bouquets. Flower baskets and gift hampers are other great ways to present your meticulously chosen flowers, and are a refreshing take on the birthday flower.
Execution
Now for the final part of the gift – the delivery. It really depends on whether you have plans to meet up with the person on their birthday, during which you could directly give him/her the flowers. However, if you know your friend well enough and think that carrying a bouquet around in public might not be something he/she is particularly fond of, feel free to make use of 24hr delivery services to enhance the flower-giving experience.
The next thing about delivery is about the timing. Of course, it also depends on the availability of your local florist, but by and large, there's really no wrong timing for delivery. Anytime is a good time for a surprise, with the exception of anything that might cause huge disturbances to your friend's life. For example…when they're in the middle of an important meeting, with important bosses/clients present…
Birthday gifts should be a fun occasion for all, both the recipient and giver alike. While having to take into account various factors like costs, practicality and preferences might make choosing a birthday gift a stressful event, perhaps the most important thing that can guide you well is sincerity. Remember that, a gift that symbolizes what you truly mean from the bottom of your heart is very, very unlikely to fail.
Written by Engracia Loh
Total Page Visits: 3572 - Today Page Visits: 2