Sending a flower bouquet to a loved one can be a tricky thing. Often times, we're not sure which flower bouquet to send or pick. When that happens, sometimes there's no harm in choosing a safe bet from a list of 12 most popular flower bouquets. We're sure there's good reason why these bouquets made it to the list.
Read on to find out which bouquets made the top 12 most popular flower bouquet list!
It's no surprise that rose bouquets are at the top of the list. A symbol of romance and love, roses are often given as expressions of one's endearing love for another. There's something classic about a beautifully curated hand bouquet that's full of blooming roses which is bound to make your loved one who's receiving the bouquet smile. Today's bouquet, roses have been crafted to make them more unique – in some occasions, roses are dyed with interesting colours, multi-layered colours, florescent pigmented dye/spray that make rose glows in the dark and spreading or partially peeling down the outer petals of roses for them to look more glorious, a method knows as 'reflex'.
Blue has always been the colour of desire, love, and inspiration. That is perhaps why it is one of roses' popular colour. Blue roses are not typically organically grown from the ground unlike most other rose colours – to obtain their pigmented blue petals, some form of colour dye-ing process is required or they are chemically treated with approved floral spray.
Today, there is a variety of 'blue' or 'multicoloured' rose bouquets, they come not just in a variety of blue hues such as French blue, ice blue, larkspur, tiffany blue and many colours but the method the pigment is treated onto the flowers eg. the fading blueish petals or soft pastel paddle pop colour that looks as good to eat.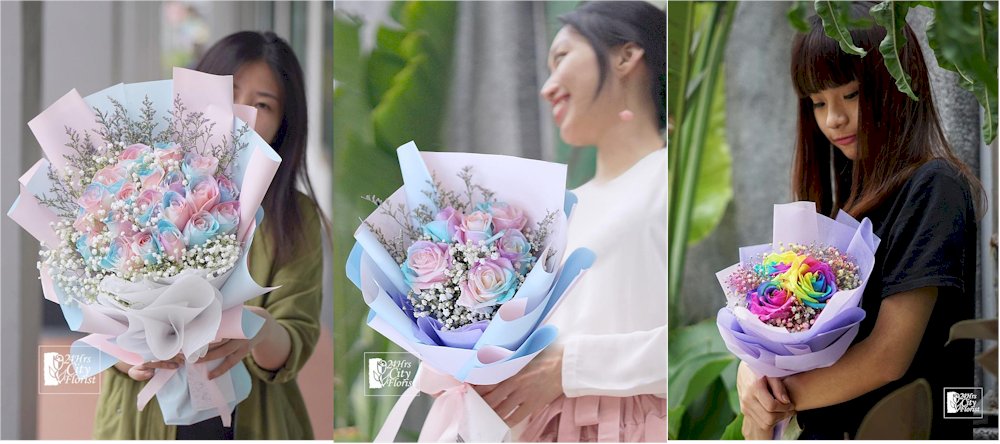 Another popular option for flowers delivery in Singapore would have to be the unstructured (free form) bouquets. Free form bouquets, which take on a contemporary arrangement, tend to give off a more natural and relaxed vibe, making it the ideal gift for someone romantic at heart.
Unstructured bouquet is more free-spirited and hence the name 'free form' or 'freestyle bouquet'. This arrangement features a combo of blooms arranged in a rather loose, free-flowing style with exotic flowers layered in between fillers. This adds texture to a complex yet eccentric style of contemporary unstructured-bouquet.
3. Bohemian Bouquet (Boho Bouquet)
Channelling a loose and organic feel with it's rustic blooms and charms, a boho bouquet has also gained popularity over the years. For those tired of sending over classic bouquets, boho bouquet are a great way to inject some fun into your free-spirited recipients' life.
Want flowers that last close to forever, just like your feelings? Preserved flower bouquets are both vibrant and sustainable, making them perfect long-lasting gifts and eye-catching centrepieces. Preserved flowers are real flowers that have undergone chemical treatment where the natural colour of the flowers is being removed and substituted with a much wider array of colours. That is perhaps why, preserved flower bouquets are popular but just for their longer lasting 'life' but also the vibrant colours that are available.
These bouquets will definitely take her breath away. A symbol of everlasting love, pureness and innocence, the delicate beauty of baby's breath blooms is a popular favourite in flower arrangements.
6. Balloon Bouquet
Balloon bouquets or more precisely crystal clear balloons with flowers/balloon stuffed inside are what getting more attention these day. A wide variety of balloon from those of aluminium foil filled with helium to air-filled latex balloon that comes in an extensive range of colours, eg. macaron balloons to those metallic balloons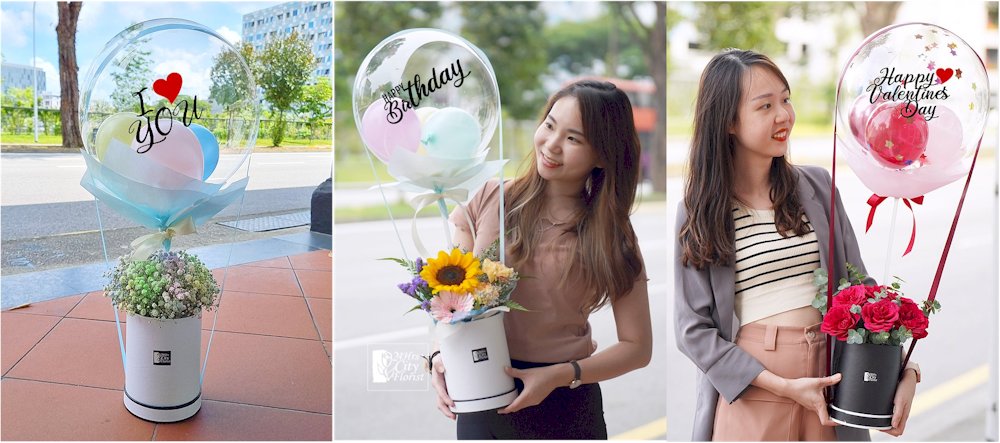 Flower Box bouquet, technically speaking is not precisely a hand tied flower bouquet but flowers arranged on a circular box. They are either presented with just an arrangement of flowers of decorated with balloons that visually look as if the balloon is 'floating' (what is popularly known as 'hot air balloon')
Flower bouquets are special, but wondering how to make something gorgeous even more meaningful and memorable? Why not get a bouquet with a soft toy? This popular option is particularly popular during events such as graduations.
Those looking for more uncommon and unique bouquets will definitely fall head over heels for quirky bouquets. These cute and fun bouquets that leave a smile on the recipient's face has risen in popularity due to the limitless options it brings.
10. Money Bouquet
Now, who doesn't like money? Money makes the world go round. And in this case, money bouquets have become increasingly popular thinking about having a bouquet mixed with actual real cash and fresh blooms. Truly the best of both worlds.
11. Food Bouquet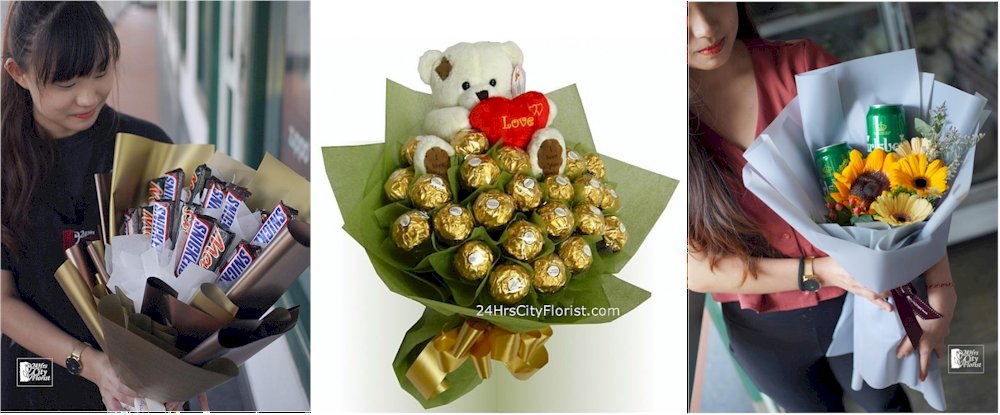 In line with the saying "the way to a man's heart is through his stomach", it's no wonder why food bouquets made it to the top 10 most popular bouquet list. Popular favourites include chocolate bouquets or sweet-filled bouquets. Talk about being sweet! And if sweet is not a thing, there is always booze bouquet to consider.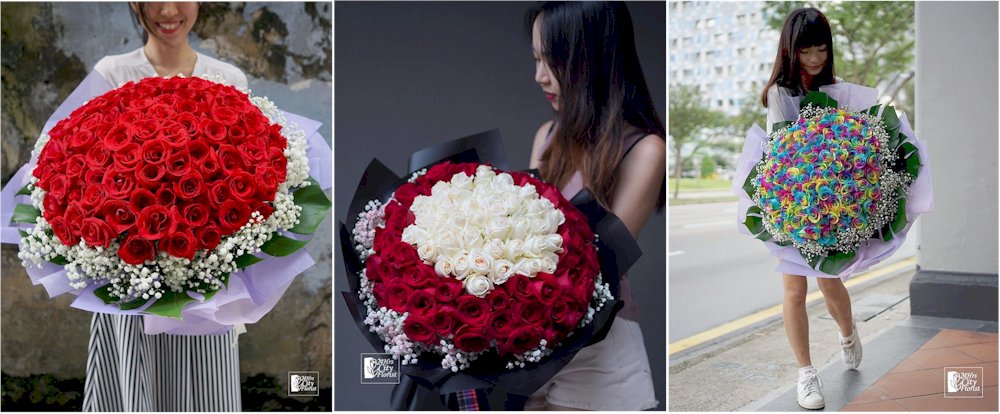 Believe it or not, 99 stalks rose bouquet is still very much sought after today, especially during Valentine's day. The main appeal to this is not just because of its size but the significance of the number of stalks; 99 which represents, "I will love you till the day I die!" or love to eternity.
Finally
Bouquets styles have morphed since decades ago. Especially in Singapore and in Asia, florists are getting very creative with crafting their bouquets in terms of style, wrapping and appearance. It is no wonder, why choosing the right bouquet can be quite a daunting task to some. We hope that this list of the top 12 flower bouquets helped provide inspiration for the next flower bouquet you intend to send to your loved one. There's tons of options to pick from, so do remember to pick one that you think he/she would appreciate. As always, when in doubt, just ask your neighbourhood florist.
Written by: Elizabeth Tan
Total Page Visits: 7026 - Today Page Visits: 7