Traditions have been the pillar of people's cultures around the world since time immemorial. These customs and beliefs, passed from one generation to another, have been here to guide us in our waking life. Though, beliefs and traditions differ from one culture to another, there are some certain practices that are widely observed despite differences; one of these is funerals.
Funerals are solemn ceremonies connected with the burial and wake of a dead person's body and this is usually prepared by the family of the deceased. Funerary customs vary widely from one culture to another to remember, honour and show respect to their departed loved one.
Depending on religion and culture, funeral rituals can involve either the preservation or destruction of the body, which reflects the passing of relationship between the body and soul of the deceased.
Additionally, depending on religion and culture, people all over the world have different interpretations on certain gestures of consolation and comfort. If unsure of what to do in such circumstances, it is appropriate to do some research first, or better yet, follow and respect the funeral tradition of the bereaved.
In many Southeast Asian and most East Asian countries, the wearing of white symbolises death. In these societies, it is part of tradition for loved ones and guests to wear white or at least somber colours to show respect.
Dignified Send Off Through Flowers
Flowers have not only been known to surprise people in times of joy and happiness for centuries, but they also have the innate ability to comfort someone in times of bereavement without having to say a word. Funeral flower stands, funeral wreaths and sprays have traditionally been the dignified way to pay one's final respects and condolences to someone.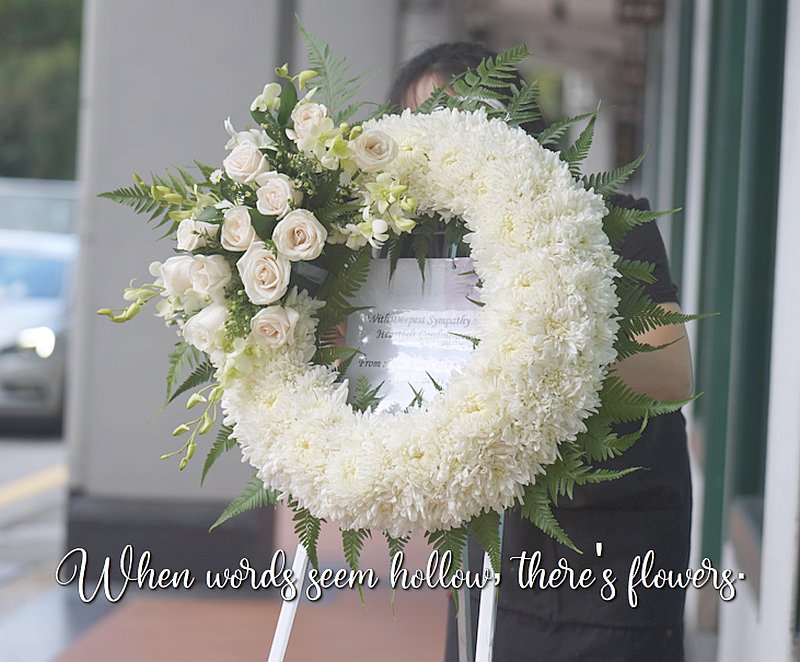 In Singapore, with its cultural background being a mix of Chinese, Malay, Indian and British traditions, funeral rites are followed according to the family or the deceased's religion or beliefs.
And one of the most common funerary practices – which is to send funeral flowers during memorial services – is also observed in this country.
The flowers sent convey meaningful messages and feelings when words are not enough to express your thoughts or emotions. This can also aid greatly in the bereavement process of the deceased's family. Many local florists offer same day flower delivery and can be purchased online.
Condolence flowers are normally sent during the wake, usually held within a day or up to about five days, depending on the family's practice or request. For funerals in Singapore, it is essential to observe the sending of appropriate condolences flowers, so as not to offend or dishonour the remains of the departed. The safest and widely accepted condolence wreaths are commonly given to symbolise the eternity of life. Here are some appropriate flowers for funerals in Singapore:
Flowers For Funeral
It is known by most people that each flower type holds a different significance, and that the types of flowers you choose affect the message you are trying to convey to somebody. In all the funeral flower stands, wreaths, and sprays that are offered by us, one of the commonly used flowers we include are white and yellow chrysanthemums. Known as the universal 'flower of death', it is almost exclusively saved for wakes and funerals due to its solemnity and its significant meaning of comfort and grief for a loved one.
Carnations
One other flower that is popular amongst our funeral flower stands and wreaths is the carnation. The white carnation signifies purity, similar to that of the white lily, while the pink carnation signifies thoughts of remembrance. Carnations are widely used as condolence flowers as it is known for its hardiness, affordability and its symbolic significance of purity, luck, remembrance and admiration.
Lilies
Lilies are the most popular funeral flowers because of its symbolic meaning. The white lily, also known as the Lilium candidum, signifies restored purity and innocence, and the departure of the soul from the body. It comes as no surprise that many opt for the lily to be present in the funeral flowers and wreaths due to its favourable meaning.
Roses
Another good option for funeral flowers are white roses. Generally, roses signify love as well as grief. For funerals, though, white roses evoke humility, innocence, reverence and youthfulness
Chrysanthemums
Another popular condolence flower are chrysanthemums, although its meaning varies depending on the country. In some parts of Europe, chrysanthemums are symbolic of death.
However, in Asia, the white chrysanthemum represents lamentation and grief, while the yellow ones are traditional funeral flowers. Additionally, in the US, these flowers symbolise truth. Overall, these flowers are widely accepted as funeral flowers in most countries.
Read more on Flowers for Funeral
Appropriate Colours for Flowers Suited for Funerals
Actions speak louder than words and sending in flowers conveys a sincerer gesture. Flowers have been used to express emotions such as love, friendship, sympathy and grief. Throughout the world, flowers have played an important role as almost like a second language when words fail. For funerals, flowers serve as a sign of support and consolation to the loved ones of the departed – to ease their grief.
The colour of flowers chosen is also necessary to consider when sending funeral flowers. The funeral flowers' colour emphasizes the sincerity of thoughts conveyed through the flowers sent.
Also, a certain kind of flower in a loud colour will have a different connotation compared to the same kind of flower in a more somber hue, depending on the country, religion and culture of the people involved. Hence, it is essential to select the appropriate colour of funeral flowers, as well to suit the funeral ceremony.
When choosing the appropriate colour and kind of flowers to send, consider some of these factors to help you pick something appropriate for the ceremony.
Type of funeral flower and arrangement
Depending on your closeness to the deceased and their survivors, choose which type of arrangement is suitable to give. There are casket sprays which cover the casket or table spray and standing flower arrangement which are arranged on a standing box are quite typical of the type of condolences flowers sent in Singapore. Sending these flowers are easy too, there are many florists in Singapore providing same day condolences flower delivery.
Religious considerations
Singapore happens to be accepting when it comes various religions, and they support spiritual harmony. As mentioned before, practices and traditions in memorial services vary depending on religion, culture and country. Some religions like Islam, for example, do not encourage flowers being sent during the ceremony. It is best to follow the customary religious practice of the bereaved to show respect and honour.
Cultural considerations
In some countries, sending brightly coloured funeral flowers are accepted to lighten up the mood, or to cheer up the bereaved. However, in a typical Chinese tradition, sending in funeral flowers in warm colours are not appropriate as these colours, such as red, represents happiness.
To avoid misinterpretation, keep away from warm and dark coloured flowers as these may offend or aggrieve the survivors more. Opt for neutral coloured flowers like white, yellow, purple and pink for memorial services. This way, the flowers sent will aid the bereavement process, instead of causing more emotional harm to the survivors of the deceased.
Your presence is felt at the wake
Life and death is a natural process and as long as we keep the memories we have of our dearly departed, they will always be alive in our hearts. A funeral service for the dead is a good way to celebrate and pay respect to the life we all are living. It makes us appreciate the only life we have and the people who have been part of our lives.
Although, we all have differing beliefs and practices, showing sympathy and condolences is a universal language that we all can understand, no matter where we are living in the world. Still, it is necessary to observe certain customs and traditions during memorial services to show respect to the deceased's family.
For many people, sending a funeral flower helps with grieving the loss of their loved one while being able to still pay their respects to the close family of the one who passed on. Funeral flower helps them find acceptance as well as close the chapter, leaving all sorrowful thoughts behind.
Reiterating your intentions with funeral flowers – depending on religion and culture – is also a meaningful gesture that can definitely help the family of the departed to cope better with the loss.
The funeral flowers that florists offer can be delivered same day and directly to the site where the wake or funeral is held. For enquiries please contact the florist – 24HrsCityFlorist.com
Total Page Visits: 10517 - Today Page Visits: 4