We recently googled in search for best florist singapore and to our pleasant surprise, we are voted one of Singapore's best florist on several fronts. We are extremely humbled by all the votes, mentions and features. We would like to share this 'pleasant discovery' with our readers and why many have made 24hrscityflorist.com the to-go florist in Singapore.
Disclaimer: All featured article below are not sponsored nor paid advertorials
2022
Voted as one of the 10 best flower delivery services in Singapore with stunning designs
Featured again in their updated July 2022 post, 24hrscityflorist.com is voted as one of 10 best flower delivery services in Singapore with stunning designs by thebestsingapore.com
Voted as one of the best 24 Hr Funeral Flower Options in Singapore 2022 by Best-in-Singapore.
Thank you Bestinsingapore for voting us as one of the best 24 Hr funeral flower options in Singapore as featured in May 2022.
Featured 21 Best Florists and Online Flower Delivery Shops in Singapore by LittleSteps.com in Jun 2022
Featured in HerWorldSingapore.com -Where To Get Beautiful Blooms And Dessert Gift Bundles For Mum This Mother's Day May 2022
2021
Voted as one of the Online Florist For Flower Delivery in Singapore 2021
Thank you hoppingo.com for featuring us your article.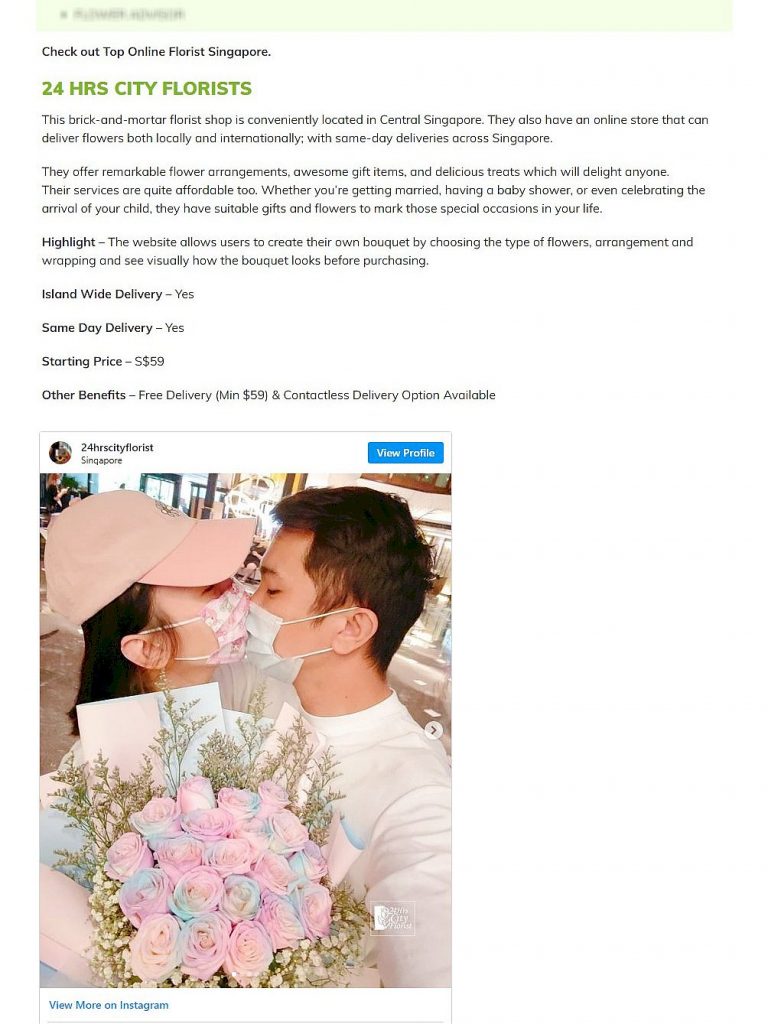 Listed as one of The Finest Flower Delivery Services in Singapore by Singapore's Finest
Singapore's Finest Services is a team of anonymous reviewers who go around Singapore to try and test all kinds of services and share their first-hand experiences.
Featured as one of the Best Florists in Singapore this Valentine's Day 2021 by Asiaone.com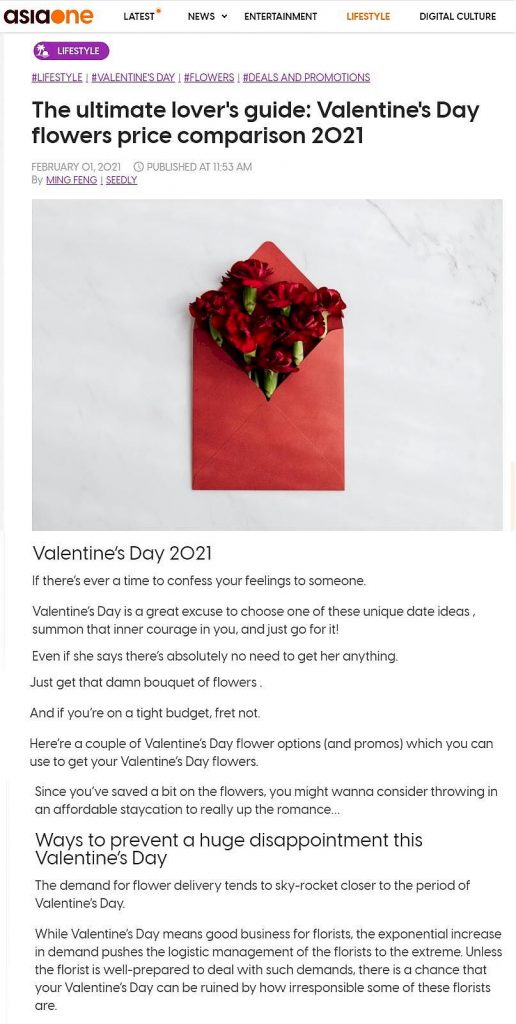 Thank you Seedly.sg for featuring us as one of the ultimate valentine's day flower price comparison 2021.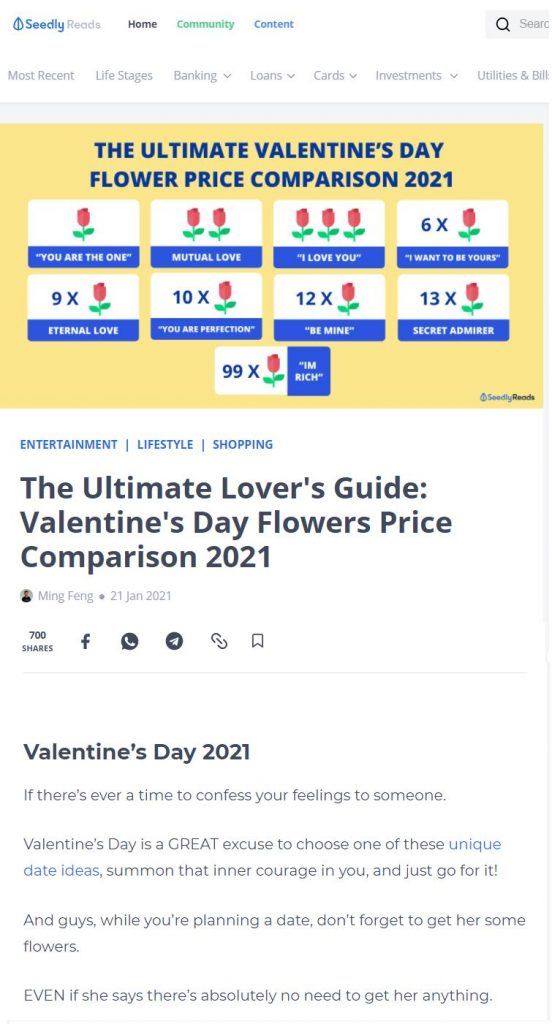 Thank you TheSmartLocal.com for featuring us!
Featured in Mustsharenews.com
AsiaOne.com – One of the new To-Go Florist in Singapore for mother's day blooms
Featured in HerWorld.com
Thank you herworld.com for featuring us under your lifestyle segment entitled – Where To Order The Most Beautiful Blooms For Mum This Mother's Day
Featured in petalrepublic.com as 50 Best Florists for Flower Delivery in Singapore
under the category of Best for Classical & Timeless Floristry
Featured as one of the florists in Singapore that was opened during the Covid-19 circuit breaker by Esquiresg.com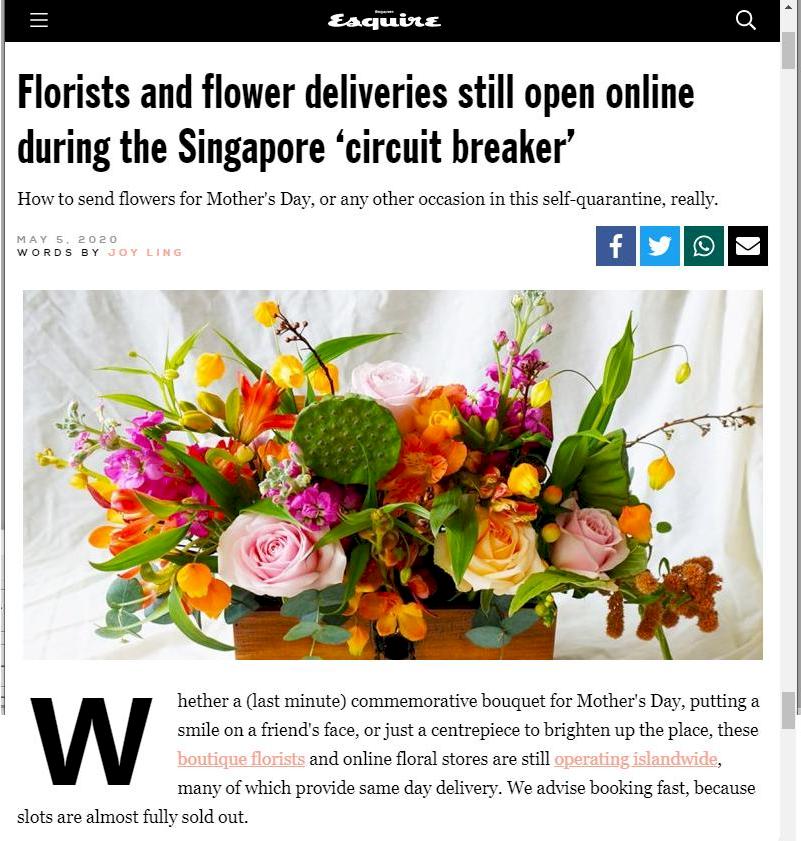 The Ultimate Lover's Guide: Valentine's Day Flowers Price Comparison 2020
Featured in Seedly.sg on Jan 2020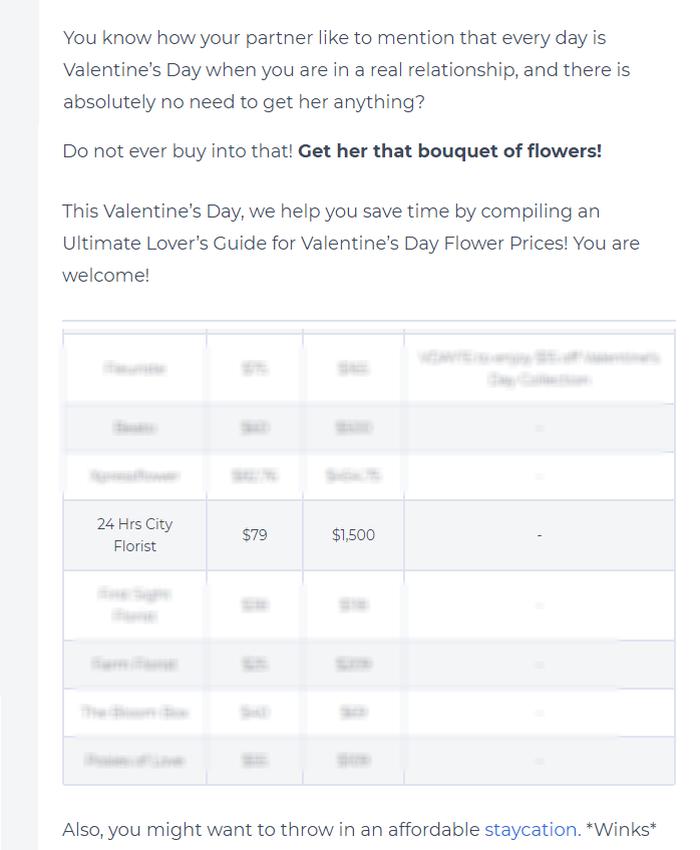 Voted as The 15 Best Florists in Singapore for All Occasions by trustedgiftreviews.com
Voted as on the 3 best 24 hour florist in Singapore by Bloommap.com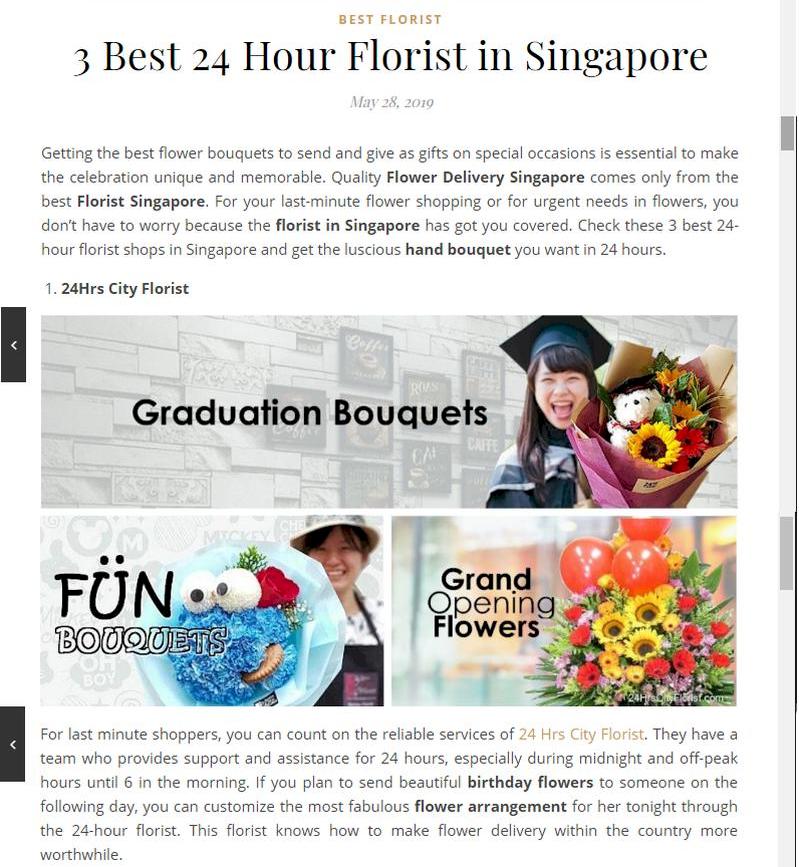 Best things to do in Singapore at night that don't involve going to the club by AsiaOne
Featured by Asiaone.com as one of the best places to do in Singapore at night on Aug 2019
Top 10 Reliable Florist To Get The Bouquet With Stunning Designs
Voted by Alvinology on Jan 2019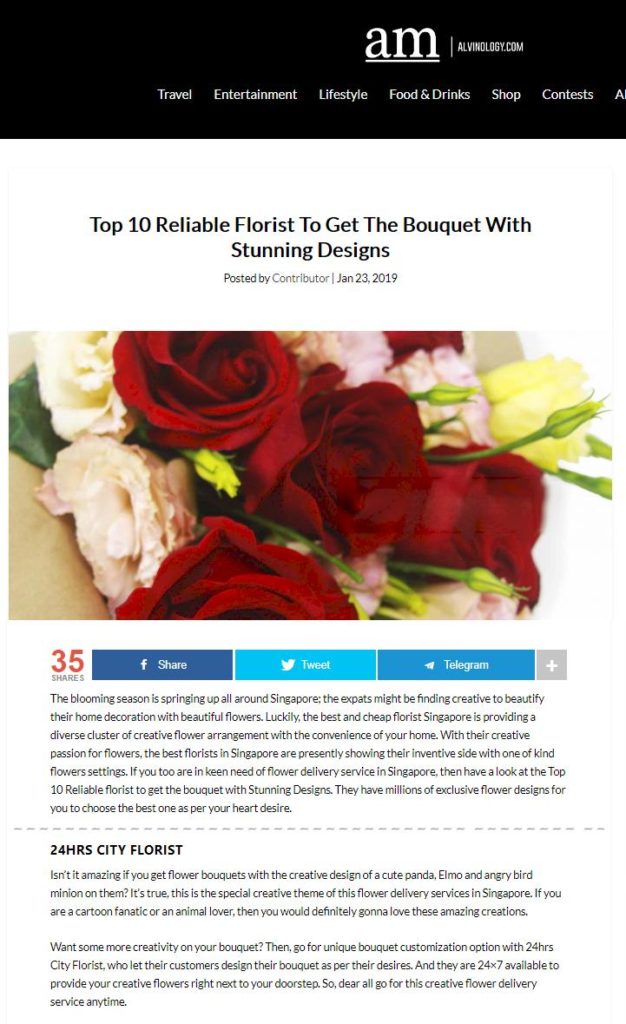 Picked by HoneyKids as one of the best blooms for mother's day
Featured in their post dated May 2019, 24hrscityflorist.com was one of honeykids's pick for best blooms for mother's day in Singapore.
Voted as one of 28 Best Flower Deliver Services in Singapore For All Occasions
From: Bestinsingapore.co
Voted as 28 Flower Delivery In Singapore With The Most Beautiful Designs
from BestFloristReviews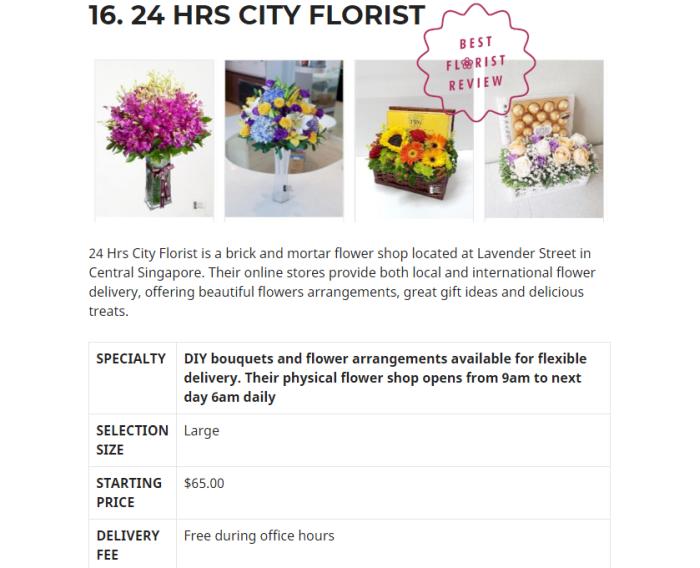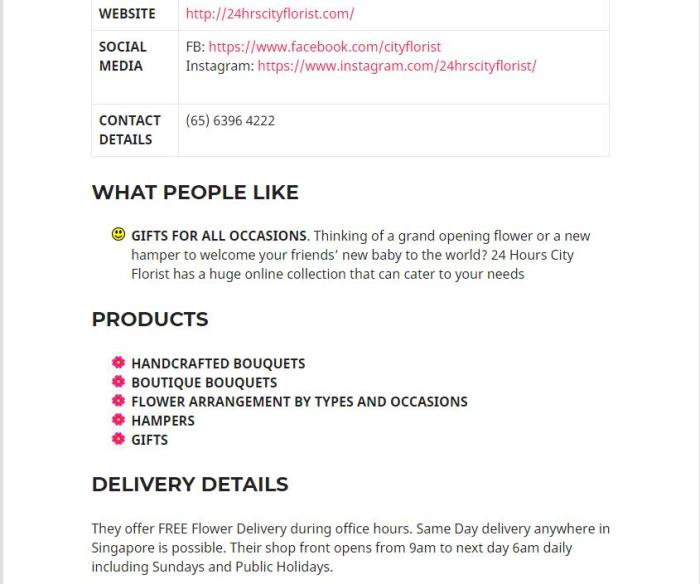 Voted as 10 Flower Delivery Florists In Singapore With Same-Day Delivery by Hype & Stuff
Voted as Top 10 Creative Flower Home Delivery Services in Singapore by ExpatChoice Asia
Featured Florist in Urban Journey
Voted as ' 15 florists to run to if you need a last-minute purchase for special occasions ' by AvenueOne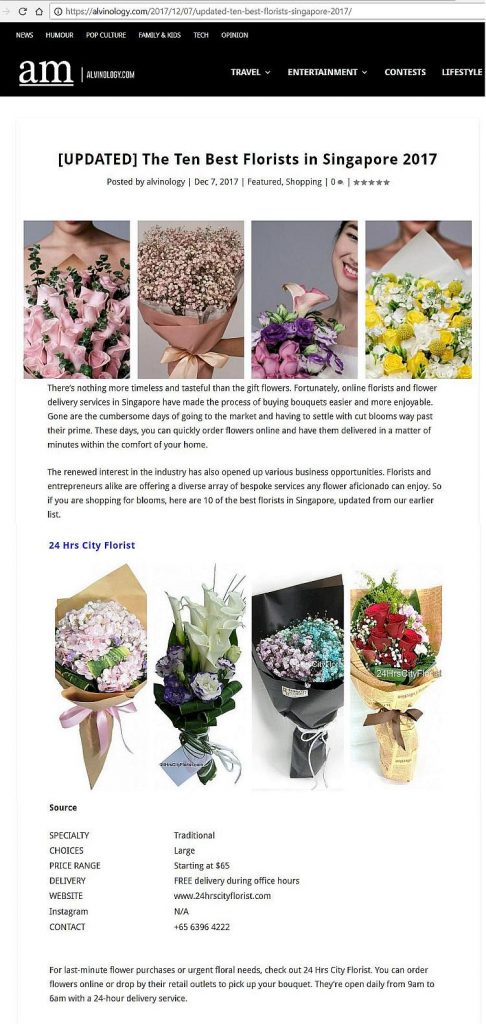 Voted as Best 10 Flower Delivery in Singapore by Kiasupromos
Voted 13 best florists for same day flower delivery in Singapore by Weekender
Voted by online entertainment and lifestyle editorial group – Weekender as one of the 13 Best Florists For Same Day Flower Delivery In Singapore.
---
We were also voted as Flipit.com's top 10 flower shops in Singapore
---
We were also featured as one of the best florists in Singapore at Honeykids and LittleSteps.com as one of Singapore's Fab Flower Shops – certainly tell that we're their go-to for emergency gifts and events as well. When you just have to get your hands on THAT present or decoration, it's us they think of first. It's easy to forget that a party's coming up when you're buried under stacks of work, and that anniversary might have slipped your mind. Getting stuck in a search for last minute gifts isn't the most pleasant place to be, which is why we're your best bet for preventing that midnight disaster.
---
---
Our bouquets have also caught TheBestSingapore's eye, and for good reason! Quirky character bouquets with colours splashed all over are bound to attract the hordes, and they were no exception! Whether you're a Sesame Street fan, a lover of the short, hustling Minions, or a sucker for anything to do with the ever adorable Hello Kitty, chances are, there's something in our store for you. We are again voted as "10 best flower delivery services in Singapore with stunning designs"
---
Moreover, when it comes to nightlife, some say that there's a distinct lack of exciting activities in Singapore. Local site TimeOut has heard your irked cries, and has listed down a couple of activities for those who are constantly supporting #TeamNoSleep, one of which is none other than the friendly florist you're browsing through. If you to got a floral gift for someone after office hours or even after mid night, we're here for your floral needs. From classy boutique flowers to sturdy and elegant preserved flowers to the latest Korean style, you have a good variety of options to select from, such that you might even lose track of time just picking a theme for your blossoms. Buying a bouquet with us will light up your night! As with many of our happy customers captured in our @SleeplessInSingapore in intagram. You can't go wrong with smart advice from a site as trustworthy and hip as TimeOut!
---
So when you're mourning the lack of fun things to do in Singapore, don't forget about us! 24Hrs City Florist always has something for you, be it a small token to freshen up your day, or a sizeable but endearing flower piece for a more extravagant event. We're there without fail for your most memorable moments, your greatest gatherings and for the absent minded ones, even your most urgent functions and anniversaries.
If there's someone who needs a reminder of your admiration, love, care, thought or remembrance we are here to be of service to you. If you're in need of a hand bouquet, table centrepiece, condolence flowers or even a gift basket, we have you covered.
Your uncertainty ends here, because 24HrsCityFlorist.com has everything you need for those occasions! In a quaint corner of Lavender street, we do our magic almost 24/7, just so you can get your ideal flowers any time! Our reliable delivery service can reach you in almost any place, with our blossoms as bright and fresh as ever.
Being voted one of the top florist singapore , a testimony to our florists' dedication and hardwork. We feel appreciated and honoured at the same time. This however by no means give us the right to feel contented nor rest in our laurels. The roads ahead are still very challenging. We will continue to serve the best we can and provide the unique floral service our customers have come to expect.
Notes: All featured articles are not advertorials neither sponsored nor paid writers by 24hrs city florist.
Featured in The Straits Times – Sleepless and Shopping at 3am
The Straits Times 14 March 2011: Article on 24Hrs City Florist opening at night and interview with our night shift sales assistant – Joseph Jay.
24HrsCityFlorist.com was awarded HitWise 2009
24hrscityflorist.com website was awarded Top 10 Website from HitWise for months of Jul-Dec 2009
Twice a year, Hitwise awards the 10 most popular websites across some of our 160+ categories.
From July – December, 2009, www.24hrscityflorist.com was ranked #9 in the Hitwise Singapore 'Shopping and Classifieds – Flowers and Gifts' industry based on monthly average market share. This ranking relates to Singapore based users visiting Singapore websites.
Featured in The Straits Times – Sleepless in the city?
24hrs city florist featured in The Straits Times Dec 2005.
Total Page Visits: 13003 - Today Page Visits: 3