How Your Flowers Are Being Delivered in Singapore by 24HrsCityFlorist.com
Over the years we have been receiving many queries about how orders are being delivered to the recipient. We have put together some of the frequently asked questions into an easy to understand explanation on how our delivery protocol is executed. We hope by sharing this post our viewers and customers understand the method we adopted and improved over the years so as to ensure a successful delivery each and every time.
Our Standard Operation Procedure (SOP) for delivery.
We adopted a professional SOP when it comes to ensuring orders placed with 24hrscityflorist.com are delivered successfully and on time. Our delivery SOP is also explained in our delivery policy. We have been improving our SOP for flower delivery since the start of our online business in 2004 and have delivered over ten of thousands of deliveries since to the satisfaction of our customers.
We provide 24 hour flower delivery and same day flower delivery service anywhere in Singapore. In essence all our delivery of flowers and gifts are arranged and secured properly into the delivery vehicles. We do not use bikes or any uncovered trucks. We used only covered vans and specially trained drivers to follow strict delivery protocol who have experience with handling fresh flower delivery and gifts.
All flowers arrangements and gifts are collected at specific timing from our store at lavender Street to anywhere island-wide. Upon arrival at the recipient's address and location, the flower bouquet/gift item will be brought out from the van and hand carried and delivered to the recipient. There are essentially 3 broad locations of delivery as shown in the block diagram below.
The 3 broad locations are:
Residences
Non-Residential
Restricted area
Flower Delivery to Residences in Singapore.
Deliveries to residences in Singapore mostly to public housing (HDB), private apartments, condominiums and landed houses. As far as flower delivery is concerned, the main difference is if the residences are guarded. For deliveries to non-guarded residences, our delivery personnel will deliver the item directly to the recipient's home. If the recipient is not available during the delivery, the item will be handed to the person who is able to receive on behalf of the recipient.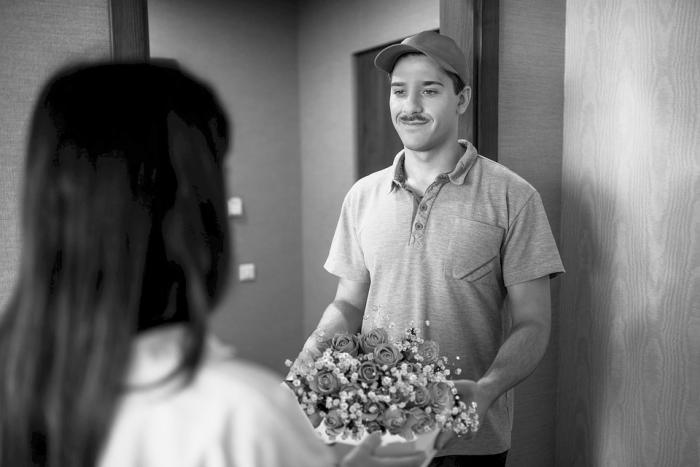 Deliveries to residences in Singapore to private housing in Singapore tends to be a little tricky especially if the residences are guarded. Most security guards will allow our drivers to leave the item on the door step if the recipient or nobody are not home. Some security policy within the residence do not permit our drivers from doing leaving items at the residence door front nor with the security guards themselves. Hence on such circumstances, our driver will return the item back to the shop.
Returned items can be re-delivered on the next available delivery slot with a nominal re-delivery charge. Alternatively, the items could be collected from our retail outlet within the next 2 days.
Flower Delivery to Non-Residences in Singapore
This would include Retail Outlets, Offices, Hotels, Hospital, Service Apartments, churches or funeral homes in Singapore
We categorized delivery to service apartments under this category even though it is essentially a resident simply because all these premises typically have a front desk, reception or a concierge. As such delivery to these locations are precise. Do note, places with front desk services generally will NOT allow our drivers to go directly to the recipient's desk/rooms. It is the front desk services job to receive items/documents/parcels on behalf.
Note: delivery to such places will require the sender to provide the full name of the recipient as front desk officers will be accept items or gifts if the recipient is not working or staying or recipient's name is not found registered in the location.
Condolence flowers delivery to funeral homes and wakes are normally handed to any family members who are present to receive the flowers.
Flower Delivery to Restricted Areas in Singapore
Generally we do not deliver to restricted areas in Singapore which include:
Islands around Singapore eg. jurong island, pulau ubin, pulau tekong, st john's island, etc
Airport cargo
Ports eg. PSA port, Jurong Port
Army camps
All restricted areas involving tight security
Having said, we do make some exceptions to taking orders for delivery to places of restricted access. This exception will of course be reviewed on a case-by-case basis and additional charges will apply. These additional charges may range anywhere from $50 to $150 per trip depending on the complexity, time travelled and time consumed by the driver to perform his delivery in the restricted area.
How You As A Sender Can Ensure A Successful Flower Delivery
Complete & Accurate Information
The first step towards successful delivery is to ensure delivery information provided by the sender is complete, accurate and that's including a contactable mobile number of the recipient.
There are times we do receive online orders with incomplete delivery address such as missing unit number, or the postal codes is different from the delivery address or an address to a site under construction.
Selection of Delivery Method and Timing
Standard Delivery
When selecting the delivery date and time, please be certain that the recipient will be at the location in which you have provided us the delivery address or at the very least there will be somebody able to receive the item (be it flowers or gift baskets) on the recipient's behalf.
Do note, we have standard delivery time slots (eg. 9am to 5pm OR 1-5pm) which means the item you ordered will be delivered ANYTIME WITHIN the time slots chosen. We are unable to provide any specific time or any ETA (estimated time of arrival) for any orders.
Special Delivery
Similarly, if you have chosen special time delivery (eg. 1pm to 3pm) , the delivery will be done anytime within the said time slot. Note that there is a chargeable premium to special delivery time slots as they are non-standard timing and requires us to engage a separate courier service provider to execute these much narrower delivery time slots.
Urgent Delivery
For same day last minute flower delivery, we regard this as 'urgent delivery'. Urgent flower delivery is provided on a case by case only. Depending on the time and location required to reach the recipient's address. Urgent delivery charges are applicable. We urge users to call us for urgent deliveries.
Frequently Asked Questions About Flower Delivery
1. How do I select the delivery date and timing?
Select the product you want to purchase and click on the product and you will be directed to the product-page where you can select your delivery date and time as shown in the diagram below.
2. If I buy more than one product, will you still charge delivery for the 2nd or subsequent products even if they are delivered to the same address?
It depends. If you have chosen a FREE delivery time slot, no additional charges will be imposed on the 2nd or subsequent products. However, if you have chosen a time slot with delivery charges, the 2nd and subsequent products will be charge half-price of the 1st product. The rational is because our drivers are expected to be paid for the additional work of carrying the multiple products in and out of the vehicle to the recipient.
3. What if the recipient is not at available or at the delivery address?
We will hand the flowers/item to whoever is able to receive on the recipient's behalf
4. What if nobody is available at home or able to receive on behalf?
Our drivers will exhaust all avenues to try his best to deliver the flower/item to someone who can receive on behalf. However, if there is nobody to do so, our driver will leave the item at the front door. A photo will be taken as proof of delivery.
5. What if you are unable to leave the item at the front door?
We will return the item back to the shop
6. What will happen to the item once is returned to the shop?
We will contact the sender to inform him/her if he/she wish to do a re-delivery or self-collect the item from our shop.
7. What if the item need to be re-delivered?
We will get the sender's consent and payment before any re-delivery is made.
8. Why is there additional charges for re-delivery?
The product price paid is only for first attempt on delivery to ONE location at any ONE time. If we were be provide 'FREE' re-delivery, the price for the product and services will inevitably be much higher.
9. Can you do delivery on the dot. Say exactly at 2pm?
Our most narrow delivery time slot is a 2-hr window. Eg. 12noon to 2pm. We do not provide on-the-dot delivery
10. Can you provide urgent delivery?
Yes, we can subject to case-by-case basis. Depending on the product, time and location. Typically delivery within 3 to 4hrs window (from the time of call to the time the recipient received the product/item/flowers/gifts).Urgent delivery charges apply.Are you able to call the recipient to get her/him delivery address?
11. Can you call the recipient and ask her/him for the delivery information?
In order for us to deliver an item/flowers/product/gift , the sender must provide the complete and accurate delivery address. We won't be able to call the recipient to obtain his/her address. There are too many uncertainties such as, recipient may not be contactable, the recipient refuse to provide his/her address.
12. Are you able to inform me once the delivery is made?
Yes, our driver will send a text message to the sender once the delivery is made.
13. Can you send me a pic of the flowers/item/gift before delivery?
We do not provide such services. We assure all our customers that flowers arranged will be according to what's chosen by the sender as stipulated in our website.
14. What if I need to change the delivery address?
Yes we can provided the item or flowers have NOT been delivered NOR on its way to the recipient's original location.
15. What happens if the recipient asked the flowers/item to be delivered to a different address?
It would be considered a re-delivery. A re-delivery charge will apply. Refer to item 5,6,7,8 above.
16. Can I request for your driver to wait for me at the certain location to hand me the flowers?
No. Our drivers have many deliveries to do in a day and they are responsible to meet his delivery schedule. Hence, it is important that the sender provide a delivery address or location where there is somebody to receive the flowers within the selected delivery time slot.
17. What if the delivery is late?
Almost all of our deliveries are on time. There are a few situations that may disrupt our delivery schedule – these are considered abnormal situations such as unusual traffic jams, road blocks, flash floods, etc. If there is any late deliveries, we will try our best to deliver the flowers as soon as possible within the same day.
18. What are the situations when the items or flowers is not sent or cannot be delivered?
We will attempt to deliver 100% of all our orders. If circumstances arises where the delivery cannot be executed, we will inform the sender. Typically circumstances that will prevent us from making a successful delivery are normally due to the following:
Information provided by the sender is incomplete or inaccurate. Eg. wrong address
No such person – nobody at the address recognizes the recipient's name or the recipient no long working or staying at the location
Premises where the flowers are to be delivered is closed or no longer in operation. Hence it is important that the sender selects the correct delivery time slot.
Patient or guest had already checkout of the hospital or hotel respectively
Funeral is over and the bereaved family no longer accepting condolences flowers
The recipient rejects the item or flowers.
Note: There are also incidences when flowers are delivered to the reception or for the case of a funeral wake, condolences flowers are delivered to one of the family members could have received on behalf and did not convey to the recipient there was flowers delivered to him/her.
19. Can I add my own gift to be delivered together with the flowers I purchased from you?
Yes, you may subject to the size and value of the item. Additional charge may apply and sender need to sign a letter of undertaking.
20. Will your delivery personnel sing a birthday song to the recipient?
No, our delivery personnel cannot sing.
Do leave us your comments below on other questions you may like to know about our flower delivery services.
written by JLee
Total Page Visits: 2526 - Today Page Visits: 4