We're proud to be helping our customers' floral and gift needs – across all kinds of business sizes and individuals. We are often commented for our extensive variety of flower designs and fast & reliable flower delivery . We are glad to be of service to all our customers who has entrusted their gifting with 24Hrs city florist. We have been providing same day flower delivery in Singapore since 2004 and will continue to do so everyday, even during Circuit Breaker, Sundays and public holidays.
We have spent over 15 years helping individuals and corporate clientele to arrange and deliver their flowers and gifts. We have arranged over 40,000 floral arrangements and deliveries across Singapore and counting. Even during the wee hours of the morning, our customers have come to expect our services to be available. Besides our 24 hour delivery service, our clients often times thank us for just 'being available' and providing floral and gift delivery services particularly during Sundays and public holidays. We like to share snippets of our customers' reviews.
2022
We want to give a big shoutout to our customer, Mujoe for sharing his photos and encouraging words with us. Thank you and we look forward to be of service to you again soon. 🙂
Thank you Danny for giving us a google review. We appreciate your kinds words and they certainly go a long way to encouraging us to strive better for our customers. 🙂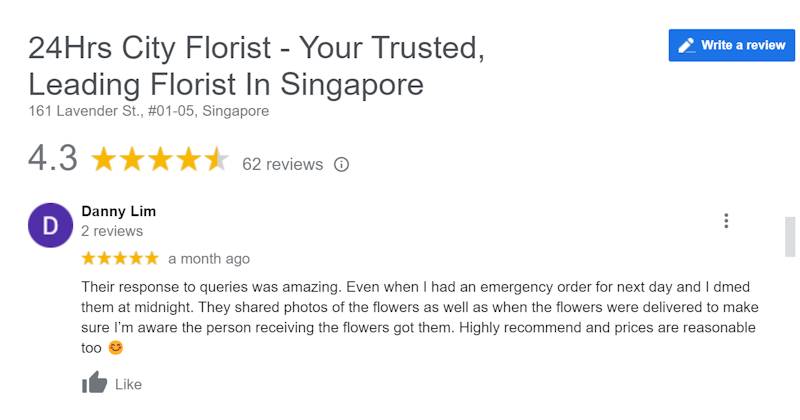 Thank you JiaYi for sharing the flower bouquet you bouquet from us.
Thank you for your compliments from PepsiCo:
Thank you Maureen for trusting us to create the graduation bouquet 
Thank you Miko for tagging us in your instagram on the preserved flower arrangement.
---
2021
Happy to learn our customer Nora likes our money-bouquet.
Thank you M.Ang for your feedback.
Thank you Sidney for your Google review.
Thank you Shannon for sharing your delight with our Mantis Bouquet
Thank you Andy for the trust in us and your unwavering support
Thank you Ms Ming Shuen for sharing your experience with us
Taking this opportunity to congratulate you on your 1000days and do stay safe and take care. 🙂
Glad you like our fruit basket arrangement Beatrice
Thank you Ohvelylovely for sharing a story in your Instagram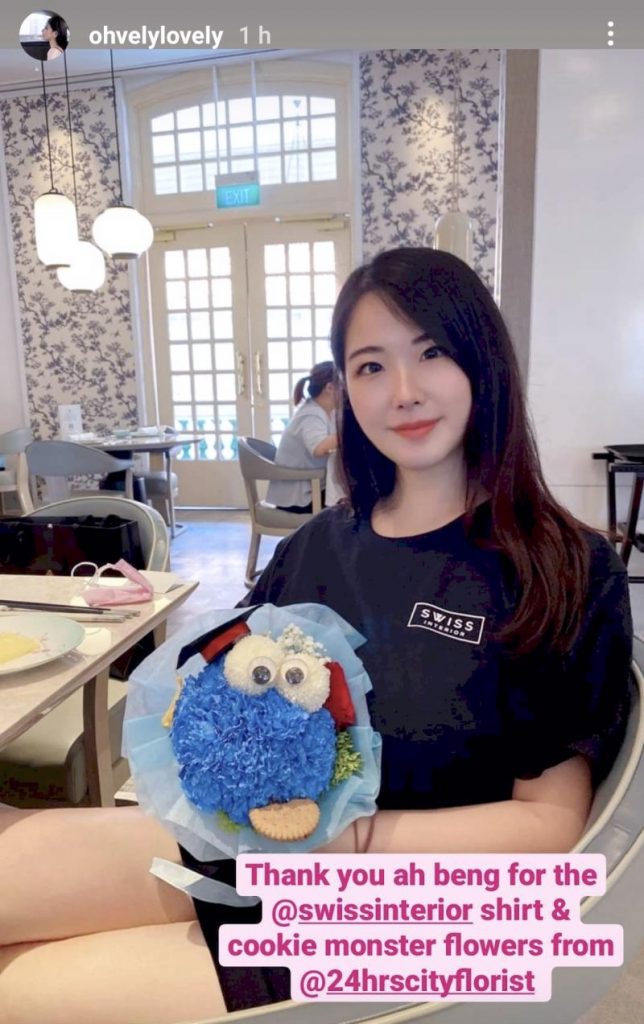 Google Review at 4.3/5 Rating Apr21
Thank you Shanon Wilson for your generous feedback
2020
Thank you @monalizagiovany for tagging us in your instagram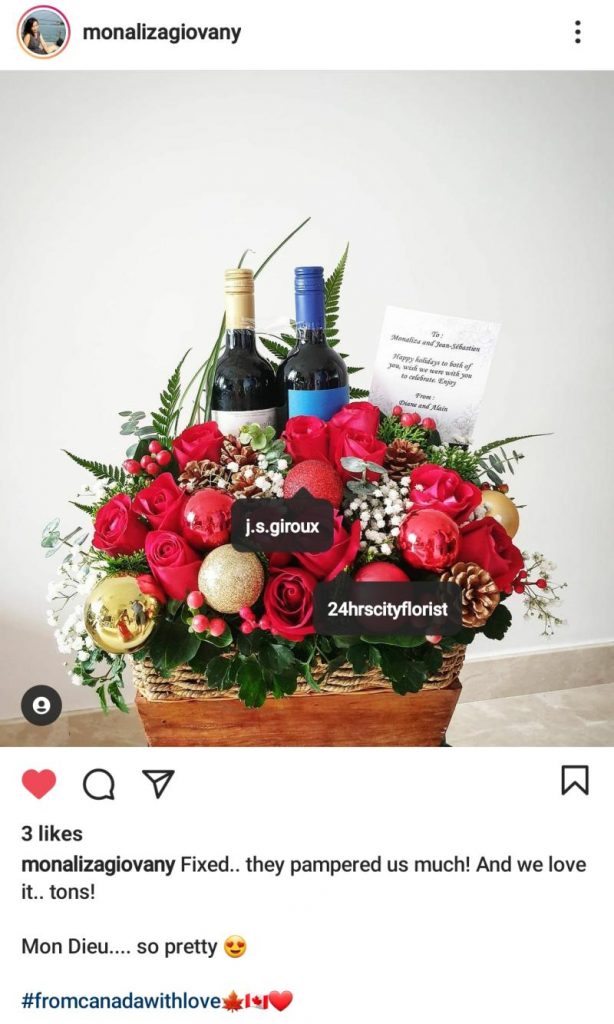 Thank you Mr. Campbell for your email.
Thank you Esther Ong for your kind feedback.
Thank you Ms Ang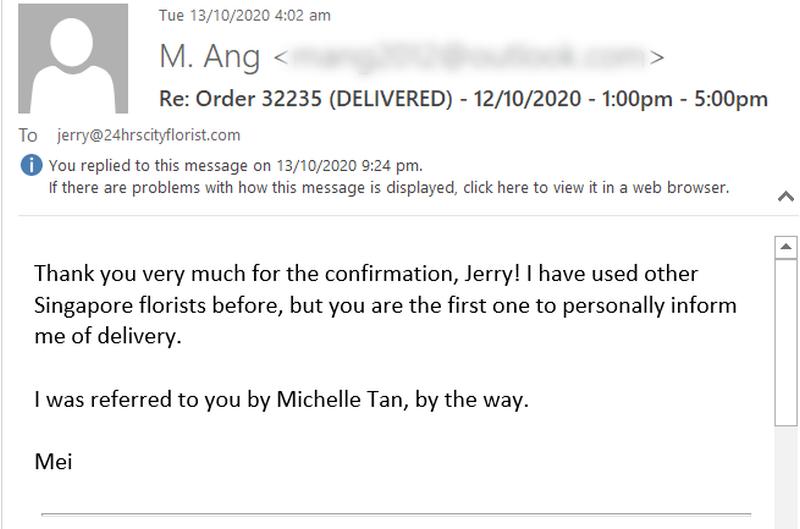 Thank you Farah for sharing your mom's reaction to your gift.
Thank you MsLin for making your purchase with us
Congratulations on your 7th Wedding Anniversary.
Thank you Ade for liking of our paddle pop bouquet and sharing your post in your public instagram. Taking this opportunity to wish you Congratulations to your 7th wedding anniversary. 🙂
Thank you Gwen for your encouraging feedback
Thank you Mrs Crummack for sharing one of her happiest moments with us.
We like to congratulate Mr & Mrs Crummack on their wedding ceremony. Thank you for entrusting us for arranging the cascading bridal bouquet for you. Her bridal bouquet arranged with pure white peony flowers, apple tea rose spray, ivory rose, astilbe and eucalyptus.
Thank you Mrs Lee for entrusting us to arrange your floral gifts to your dear friend.
We arranged 4 x condolence flower wreaths for our client consisting of 2x circular wreaths arranged with chrysanthemums and 2x heart shaped wreaths arranged with ivory and champagne roses.
Thank you Li Keng for your encouraging feedback.
Thank you Viktoriia for posting in your instagram.
Congratulations to Dr Arash for being awarded Doctor of Philosophy in Electrical & Computer Engineering. Thank you too for allowing us to share your instagram post. 🙂
Thank you Lian Chng for your kind words of encouragement
Google Review in April/May 2020
Mages – thank you for your patronage. 🙂
Thank you Jocelyn for sharing your milestones with us.
thank you for allowing to share your posts too. 🙂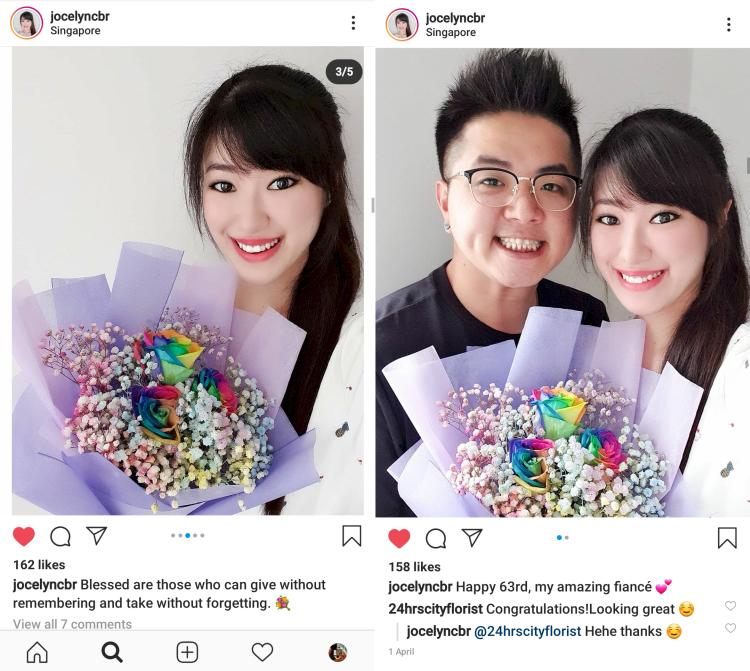 Visit from Hydir Idris , local singer / song writer
visit his music video at: Lewis Capaldi – Someone You Loved (Cover by Hydir Idris)
Snapshot At Our Google Review
We are happy to enter the new year 2020 with a google review rating of 4.1 (as of 19 Jan 2020). We hope to do our best to continue to provide 24hr flower delivery and 21hr flower shop availability throughout the year.
Visit from 2 Young Ladies Admiring our Photo Booth at our Shop at Lavender Street
2019
Thank you Joyce for sharing your special moments with us. We wish you many more special moments to come. 🙂
Thank you Junwen for encouragement and making your flower table arrangement purchase with us.
Thank you Gladys for your support and encouragement. Thank you for making your condolence flowers purchase.
Thank you for Ms Sheena for your encouraging feedback. We are equally happy that you like the bouquet we made for you. Congratulations on getting hitched. 🙂
Thank you Jonalyn for your kind feedback. You made our florist incredibly happy to read what you have said. Sure, please call upon us again, we will be glad to serve you again. 🙂
We like to thank our client Mesut from Istanbul for his support and encouragement.
Thank you Jerraldine for sharing your special moment with us:
---
Thank you for Fajeli for  your kind feedback and comments below:
---
Thank you doris for tagging us in our instagram.com/24hrscityflorist below:

---
2018
Such an adorable moment, when father (Mr. Daiki-San) brought his little daughter to choose a bouquet for her mother's birthday. Thank you Mr. Daiki-San for allowing us to share this with our customers.
---
---
---
---
---
We like to thank Les Jardin D'Etretat, a garden sculpturist from France to showing us appreciation for our table centrepiece.

---
Customer Lina with her favourite flower – hydrangea
We like to give a shoutout to Celine for entrusting us to arrange hello kitty bouquet for a special occasion for her friend.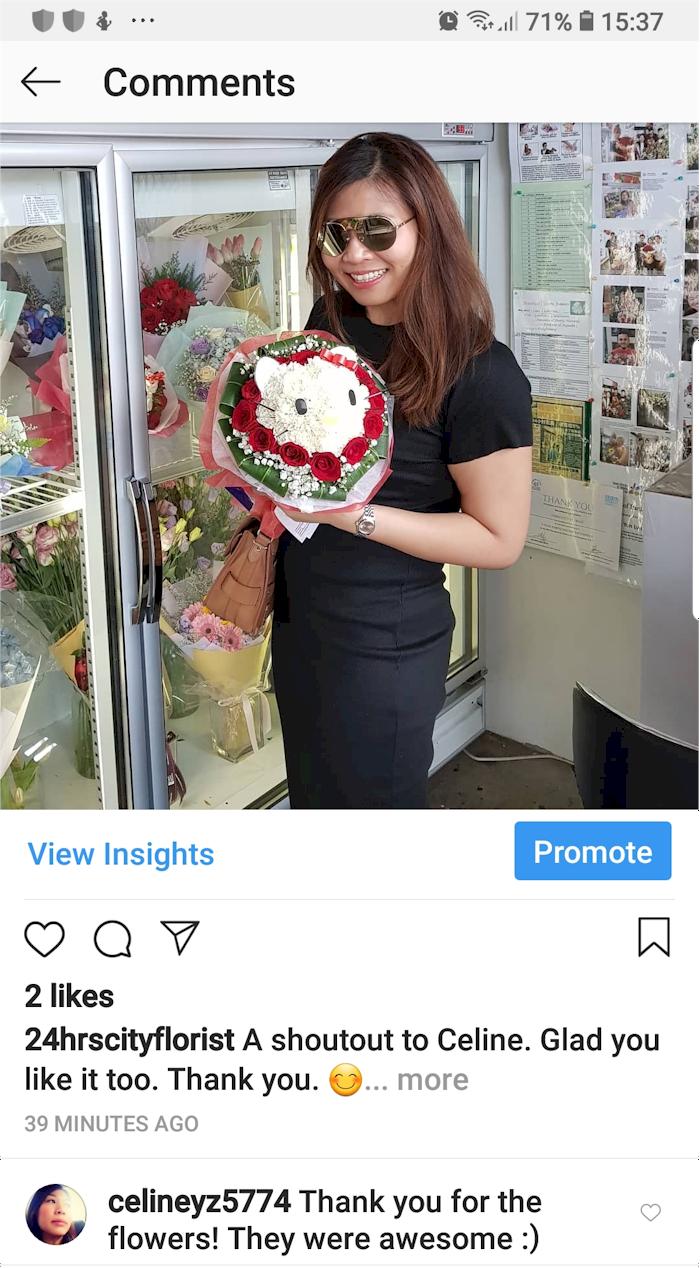 ---
We like to thank Wendy for tagging us #24hrscityflorist for the bouquet we arranged for her on her instagram and allowing us to share her family photo with our viewers.

---
Thank you Benjamin for choosing us as your go-to florist for your Valentine's Day bouquet.

---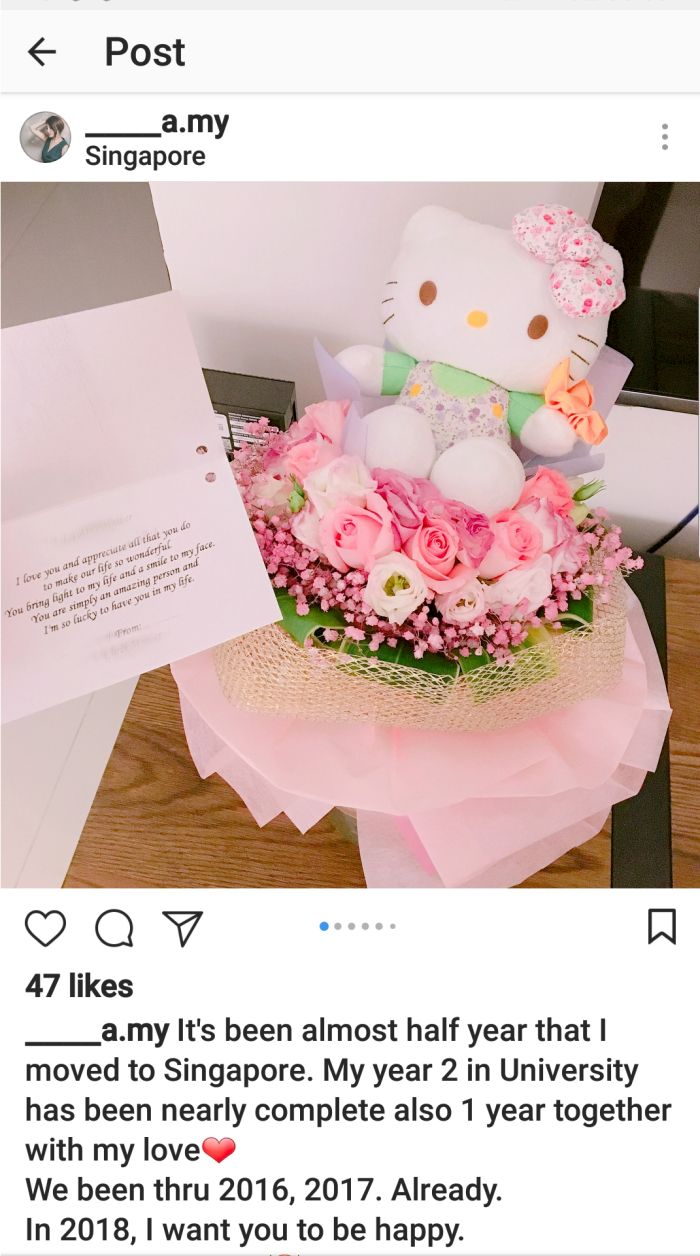 ---
Life is a journey and love is what makes a journey worthwhile. That's the anniversary message Andre is sending to his wife. Thank you Andre for your patronage.

---
2017
Mdm Halimah Yacob, our then Speaker of Parliament was at our shop in May 2017 to buy a bouquet for a friend in Hospital.

President Halimah Yacob
---
The pleasure was ours to have Mr. Hong choosing our puppy bouquet. 🙂

---
Our customer Hassan with his bouquet for his special someone. 🙂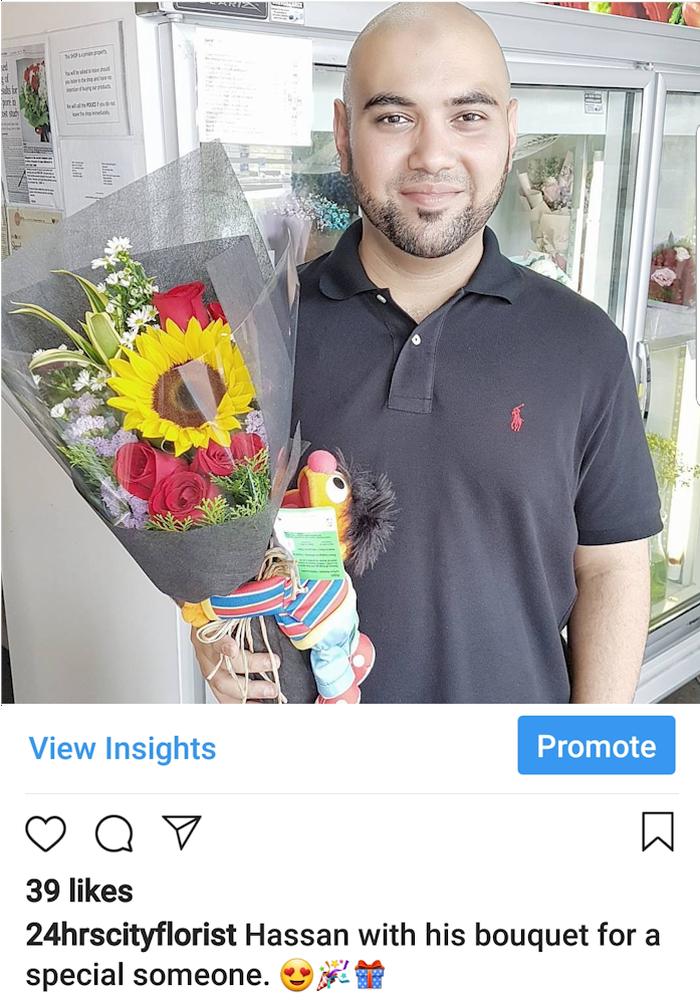 ---
---
Thank you Bell for sharing your mother's day celebration photos with us. Happy Thai mother's day !!

---
A pleasure to have Clarence picking up a baby's breath bouquet from our shop. 😎
We like to wish him the best.

---
We like to thank you Pang Ling for her generous feedback she had written on our facebook. 
---
We are simply delighted to have Vivienne picking up our Darth Vader Hand Bouquet from our shop at Lavender Street. May the force be with her as she sends this bouquet to her friend for her graduation day.
---
We like to thank our customer who had entrusted to create memorial flowers– flowers for memorial service held at Kranji Commonwealth War Cemetery in Singapore. The event pay tribute to the thousands of British and Commonwealth servicemen who lost their lives in defence of Singapore during the Second World War before the Japanese occupation.
---
---
---
---
Thank you Janice for visiting us at 24Hrs City Florist flower shop again.
Janice with purple rose bouquet at facebook. 24Hrs City Florist provide 24hrs flower delivery anywhere in Singapore. Florist delivery in Singapore.
---
Korean guys are indeed romantic. Mark Kang, a Korean student in Singapore at 24hrscityflorist shop at wee hour of the morning to get flowers for his girlfriend. Aw…

---
When it comes to giving his special someone, Young Yi knows exactly what to get for her. A coloured baby's breath bouquet topping up with an adorable eeyore soft toy.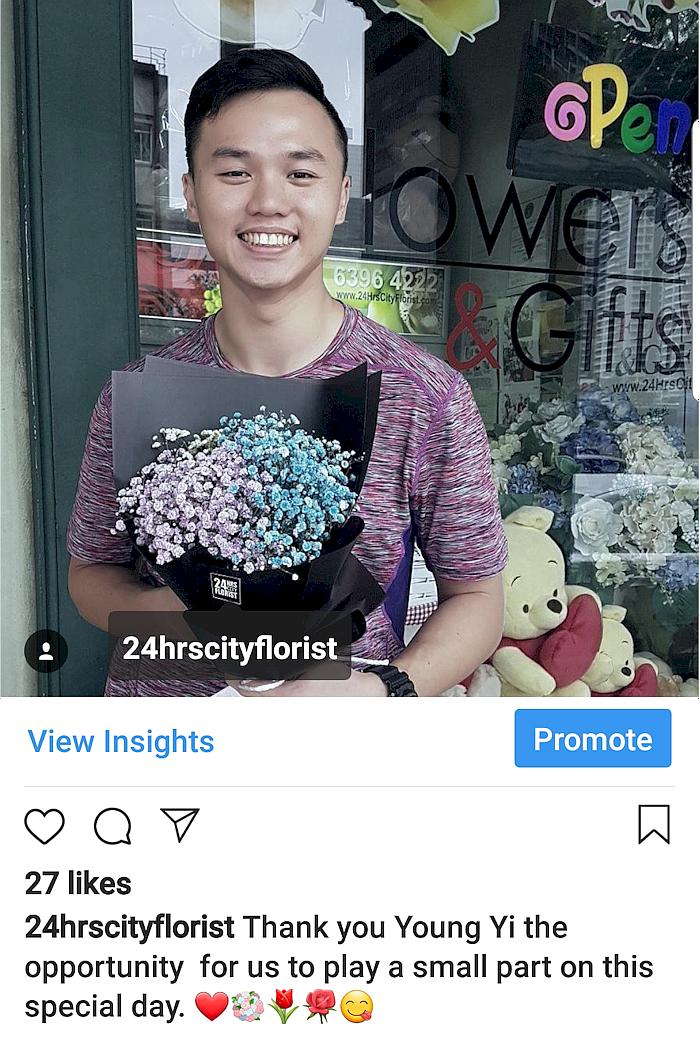 ---
---
---
---
Jing Jing from Vietnam, bought a lily bouquet from 24hrscityflorist.com outlet at lavender street to celebrate her's friend's birthday. We like to thank you and hope she has a wonderful experience visiting in Singapore.
---
---
---
---
Epp's Bouquet For Her Newly Wedded Friend
Epp with a mixed pink and ivory colour rose bouquet at her friend's wedding reception.
---
Sharon shared a post on the eeyore with coloured baby's breath bouquet on our facebook: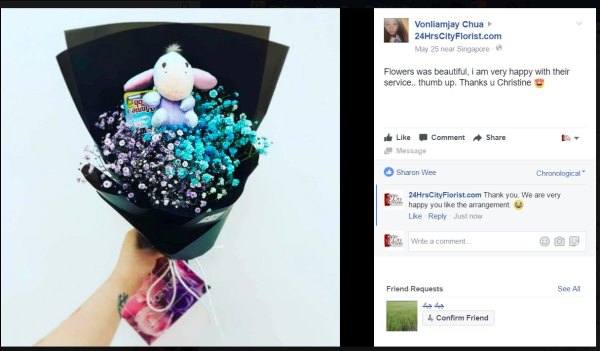 ---
It's Just Wonderful Receiving A Bouquet At Work. That's precisely what's written all over Susan's smile. She received a mix red and pink rose bouquet arranged by 24Hrscityflorist.com at her working place
---
While visiting Singapore, Amme from Thailand dropped by our shop to pick up a pink baby's breath with red rose bouquet. We like to thank her for patronage.
We wish to thank Isabel for posting at our facebook for the pokeball bouquet we assisted to arrange and delivery on behalf of her friend. It was truly our pleasure to part of making your day. Have a good one!
Florist delivery by 24HrsCityFlorist.com
2016
---
---
A delighted Irene receiving a lilac tulip bouquet arranged and flowers delivered by 24hrscityflorist.com at her work place today. 🙂
24hrsCityflorist.com offers flower delivery in Singapore.
---
Man With A Mission – Our customer, Wei Hao – Wei Hao with his customized arrangement – Gerberas in a box. We wish him the best in his bid to convey a very special message to someone dear to him.
---
We like to thank our customer Wan Jing for your generous feedback. Her comments has definitely encouraged us to continue to do our best for our customers. Thank you and we hope to be of service to you again.
---
Our customers from Bangkok, Thailand visited our store on 16 April 2016 and was delighted with the collections of our flowers and soft toys. Natt and Natharin were happy to be featured in our blog below: 🙂
---
Email review from Molten Engineering Pte Ltd. We like to thank Kelvin Moh from Molten Engineering for making his purchase with us and this generous feedback below:
---
Thank you Yew Cheo. We like to take this opportunity to thank our customer for her generous feedback and encouragement. Yew Cheo ordered an opening flower stand in the night and we were able to deliver it by 11am the next morning. We wish to thank her for her support and hope we can be of service to her again in future.
---
Little Choong Zi Feng was at our shop at night with his father to help him choose a wedding anniversary bouquet for his mother. Simply adorable…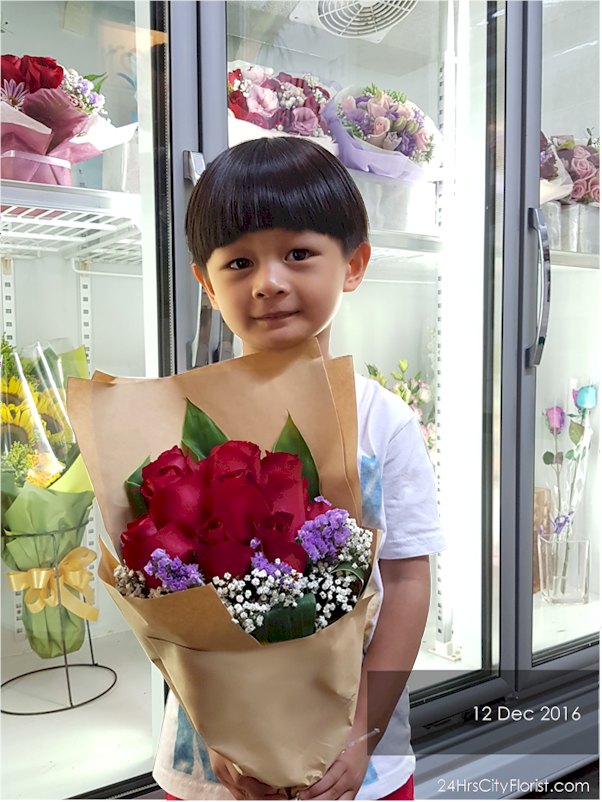 ---
We like to thank Annie for her generous feedback on the condolence flower wreath we had customized and arranged as requested by her.
---
Our customer who bought a large vase arrangement of white oriental lily and bright red roses suited for wedding gift.
2015
---
---
Our customer, Hisyamuddin ordered a multicoloured rose hand bouquet consisting of rainbow rose (6 stalks) , blue roses (9 stalks) and red roses (9 stalks) arranged in a stylish hand tied bouquet.
---
Impress Her With 99 Stalks Rose Bouquet . That's just what our customer did, he ordered a 99 stalks red rose hand bouquet for a very special occasion. Asked why he chosen a 99 stalks red rose bouquet, his reply was simply, "she loves red roses and 99 stalks represents 'i love your forever.., is big and impressive". We needless to say more…
---
We had the privilege to provide our fresh flower arrangement services for a dinning function at British Club Singapore in June 2015. Our customer has provided the photos taken just before the function commenced. We were delighted that our customer was happy with the arrangement.
Table arrangements were made out of 5 mini floral arrangements of red roses and eustomas and white orchids and 2 glass vase arrangements red roses and pink carnations.
---
Here's What our client say about the rainbow rose bouquet that we customized based on her specifications: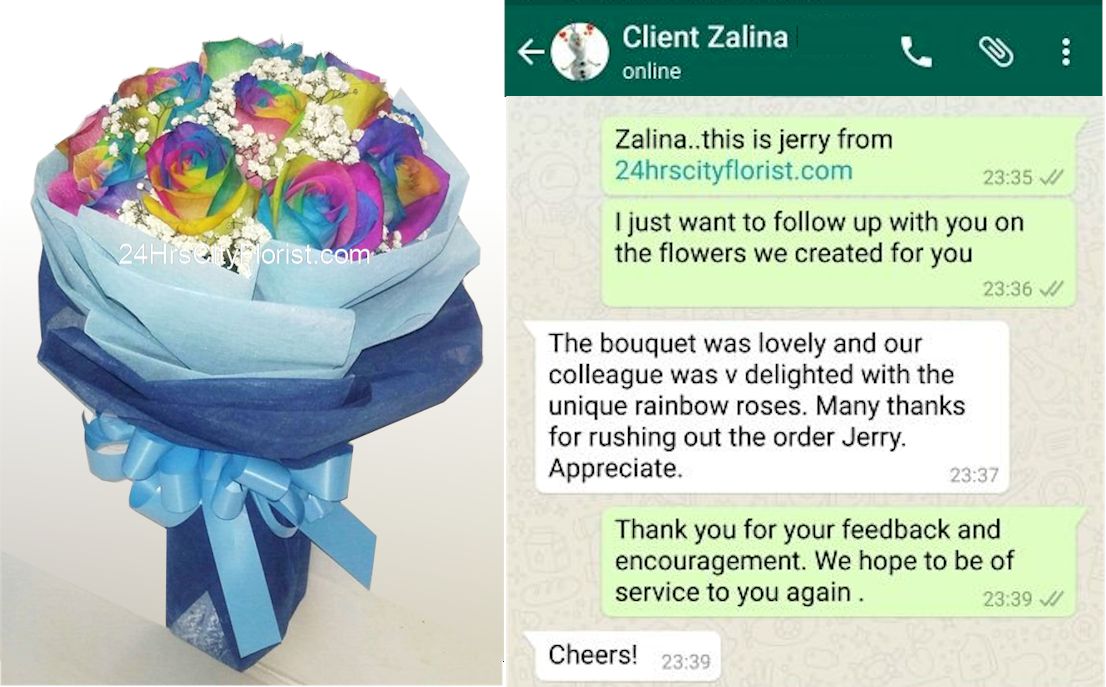 ---
---
Liza was looking for purple roses and found one that she likes at our shop. We like to thank her for her patronage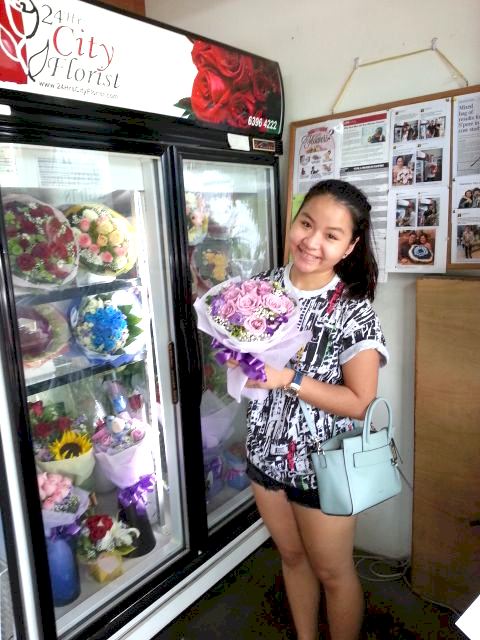 ---
---
David visited our outlet at lavender Street and bouquet a bouquet of champagne roses. We wish to thank him for his patronage.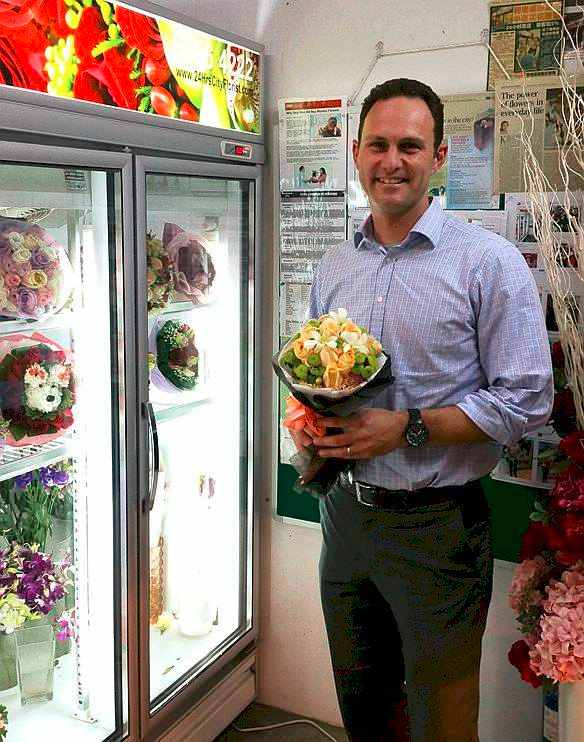 ---
Thank you Mollina. We are pleased to share with you what our customer say about our condolence flowers arrangement and services.
We like to thank Mollina for her kind feedback and encouragement. We hope to continue to provide our best service to our clients.
2014
Flowers make the best gifts during Christmas celebration
---
Roger Simons. We like to thank Roger Simons from the United States for making 24HrsCityFlorist his choice for hand bouquet.
---
We like to thank Jack Yee for making his 99 stalks red rose hand bouquet with 24hrscityflorist.com
---
Mr Lau Proposes with A Rose Bouquet. His heart pounds more rapidly as he prepares to execute the most important 'battle' of his life. It is not a battle of swords and guns but of nerves and courage. Equip with a bouquet of roses, he marches onward to kneel before his girlfriend and ask for her hand in marriage.
Like most courageous warriors, Mr Lau conquered his anxieties and triumphed with church bells ringing in the not too distant future. We at 24hrs City Florist would like to congratulate him on his very successful proposal and we like to take this opportunity to encourage and wish him the best in this new chapter of his life.
We like to thank Gilbert for entrusting us to create this special Doraemon bouquet for your wife.
2013
Customers & Friends At Our International Plaza Outlet. Our new branch at International Plaza is now 2 weeks old. We like to thank our customers, friends and family members for their support and well wishes. Our new outlet at International Plaza, #01-58 opens from 10am to 7pm from Mon to Fri and from 8:30am to 1:30pm on Sat. We are having a promotional launch special of up to 20% off regular prices. 2 minutes from Tanjung Pagar MRT, exit A, B or C. Visit us at our new branch today. 🙂
---
Our very first snapshot (or shall i say our inaugural featured customer) started with wedding bells – yes, no kidding, Wilfred made a purchase of a wedding bouquet from our webstore and collected it from our outlet at Lavender street with his beautiful 'wife', Xiao Yan. We took the opportunity to congratulate this newly wed and shower them with our blessings. They were naturally delightful couple and especially Wilfred who stole a kiss when we took a photo shoot at them.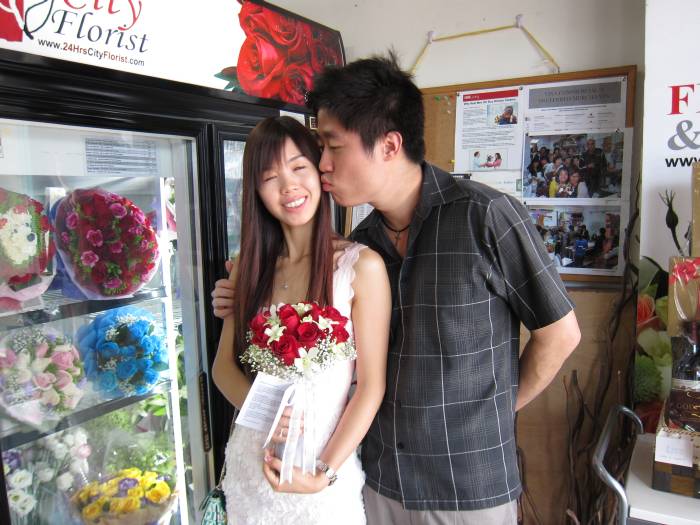 ---
And just yesterday 16 Nov 2013, we have visitors from France, the handsome and hunky Vincent Baira and Frederic Ribac. Vincent was looking for a flower bouquet for his girl friend and we were delighted to create a lily and red rose bouquet for him. We thank them for visiting our little flower shop at Lavender street. They took away a beautiful flower bouquet and left us with their charming and sporting personalities.
2012
Local DJ Glen Ong Sends A Bouquet to Fellow DJ Jean Danker 
Famous radio personality Glen Ong sent a hello kitty bouquet from 24hrscityflorist.com to Jean Danker on Valentine's Day – but not without some commotion at the office front. 🙂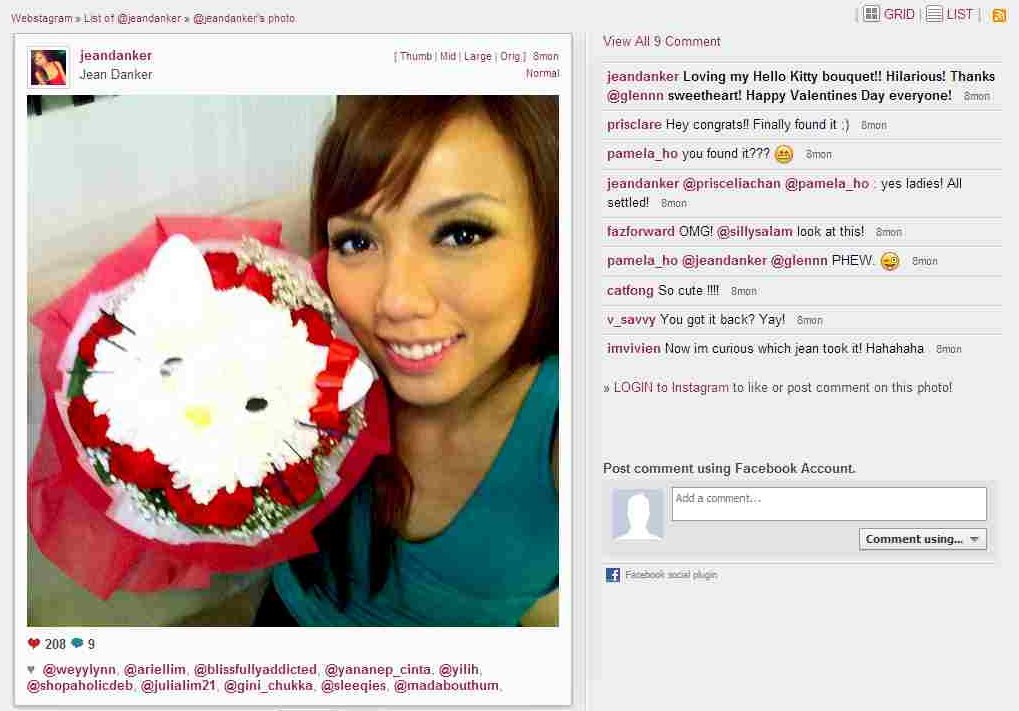 Fun Bouquet & Character Bouquet
2010
Carl Mark, our customer from USA, has granted us the permission to publish the correspondance below and he is happy to share a glimpse into his journey to falling in love with someone very special to him in Singapore. At the same time We want to acknowledge his encouragement and well wishes and thank him for sharing the photo of Evelyn too.
—–Original Message—–
From: Mack, Carl A CARL
Sent: Tuesday, February 23, 2010 10:44 PM
To: [email protected]
Cc: Koh Evelyn
Subject: RE: Welcome to 24hrscityflorist

Hey Jerry,

Hello & Greetings from the United States of America.

My girlfriend Evelyn received the flowers as can be seen in the attached photographs. I think she really liked them a lot. Thank You for doing a beautiful job in putting the floral arrangement together and delivering it to her on the same day. I appreciated it this very much.

I am hoping that I did indeed touch Evelyn's heart and conveyed my innermost feeling to her. Everyday that goes by, I fall deeper in love with her.

Thank You again for the job well-done. Of course, 24 Hours City Florist will be my first choice in the future when I send flowers to the Republic of Singapore!

Regards,

Carl A. Mack
Carl Stream, Illinois
United States of America.

Happy Customer
—–Original Message—–
From: [email protected] [mailto:[email protected]]
Sent: Monday, February 22, 2010 7:19 PM
To: Mack, Carl A CARL; 24HrCITY Florist
Subject: Re: Welcome to 24hrscityflorist

Hi Carl

Thank you for sharing your reasons for sending those flowers. Falling in love is always a wonderful thing.

We certainly will arrange your flowers with upmost care. Am sure the flower you have selected will touch her heart in many little ways and ultimately convey your inner most feelings to her.

Thank you and have a wonderful day a head.

Regards,
Jerry
24hrscityflorist.com
——Original Message——
From: Mack, Carl A CARL
To: 24HrCITY Florist
Subject: RE: Welcome to 24hrscityflorist
Sent: Feb 23, 2010 5:52 AM

Hello My Singaporean Friends!

On February 22nd, 2010 I ordered flowers to be delivered to my girlfriend "Evelyn". Recently I have come to fall in love with her. She is a co-worker of mine. Unfortunately, I live in the United States of America.

All I ask is that you folks please prepare Evelyn's floral arrangement with great care and love. These flowers are the only way I am able to express my deepest feelings for her until I travel to Singapore in person.

Also, Evelyn begins her workday at 9:00 A.M. The sooner 24 Hours City Florist can deliver to her, the more time she will have to admire her surprise delivery!

Thank You in advance for taking care of me. This American is in love with a Singaporean Princess!

Sincerely,

Carl A. Mack.
Post was published in Nov 2010 and edited in July 2014.
2009