We are a Singapore florist committed to providing you and your recipient with an unforgettable flowery experience. As our mission goes, Flowers never last, but the impression does – we pride ourselves on helping our clients achieve a lasting and priceless impression with our flowers. To do this, we focus our resources on two key aspects of our service: timely, reliable delivery, and meaningful arrangements with an extensive range of designs.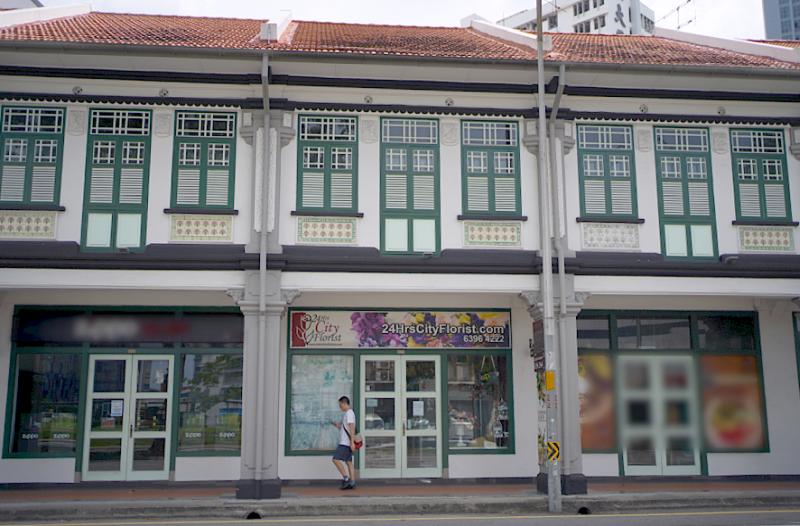 Timely, reliable delivery – as with the very nature of our shop name, we are a 24 hour delivery florist service offering round the clock flower delivery at any time of the day whether is on weekdays, weekends or public holidays – yes, is business as usual on the first and second day of Chinese New year too. It is definitely resource-heavy to provide not just round the clock flower delivery services but also offering same-day delivery up until late in the evenings on a daily basis. We have identified our clients' need for such services and have stepped up to fill in that gap. The many 'life-saving moments' we've shared with our customers in the wee hours of the night are what keep us feel wanted and keep us going.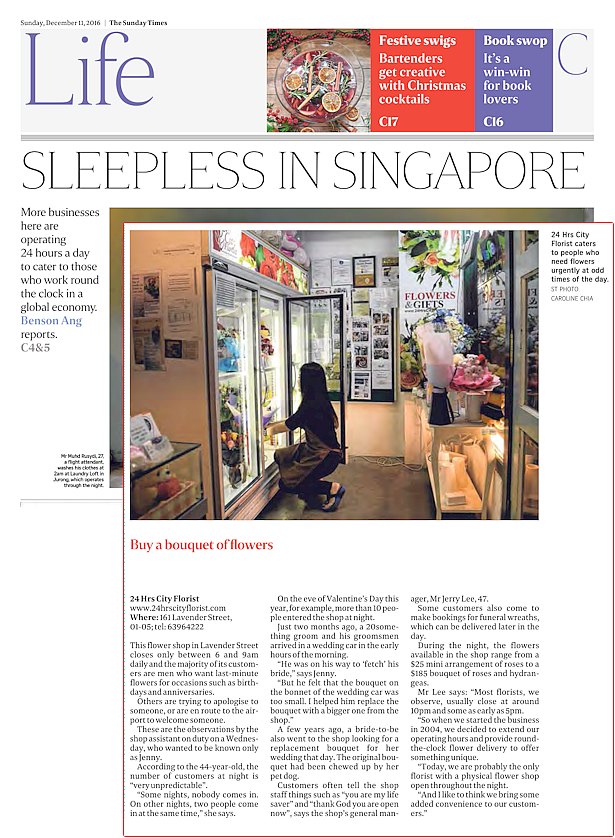 Meaningful arrangements, extensive range of designs – at our place, we believe in the ability of flowers to connect people. That's why we take utmost care when making our arrangements, be it the pre-set designs or the customized ones. Since we want to let the flowers do the talking for us, we have to make sure that they are done so in the best possible way.
The history of 24hrs City Florist dates all the way back to 2004. We began as a funeral flower florist specialist and still is until today. 24Hrs City Florist started with providing funeral flowers for funeral service directors in Singapore. In fact, we were once the exclusive florist for 5 established funeral directors in Singapore! Over time, we have seen a demand on other aspects of floristry, and extended our products and services into a more consumer centric operation. We broaden our range of products widely to offer floral gifts, hampers and bouquets for a myriad of occasions. The last 17 years in this industry have made us realise the wondrous potential of flowers to connect people across time and space. Flowers are part of our lives since time immemorial and we believe they will continue to do so even in this world of digital connectivity. Flowers touch our lives in every aspect – from cradle to grave. It is part of this journey we continuously look forward to help customers make that connection with their loved ones.
Having been in the industry for close to two decades, we are proud to have weathered the tides and storms of past economy challenges in Singapore, including SARS and H1N1 outbreaks and the Global financial crises. What we believe solidified our place in this industry, and continue to make us unique today, is our dedication to the trade. We have stuck to the same mantra since day one – to get the basics right in every service we provide. For a florist, that means, quite simply, to ensure the freshest flowers, timely delivery, and our utmost best to create an arrangement in accordance to our customer's requests.  What we promise, we deliver, and if we think we cannot deliver, then we would never promise it. That's the transparency that we've stood by for the past 17 years, and will continue to do so.
Another key pillar of our shop is the emphasis we have on good communication. Business is a two-way street, and we maintain that street by prioritizing clear communication with our customers. For example, since many of the deliveries are made without the presence of the sender, we understand the anxiety some must feel while waiting for the flowers to arrive at their recipient's location. We thus make it a point to ensure flower arrangements are hand crafted closest possible to what the senders intended and inform the sender of successful deliveries, to assure them that their flowers have arrived in good form.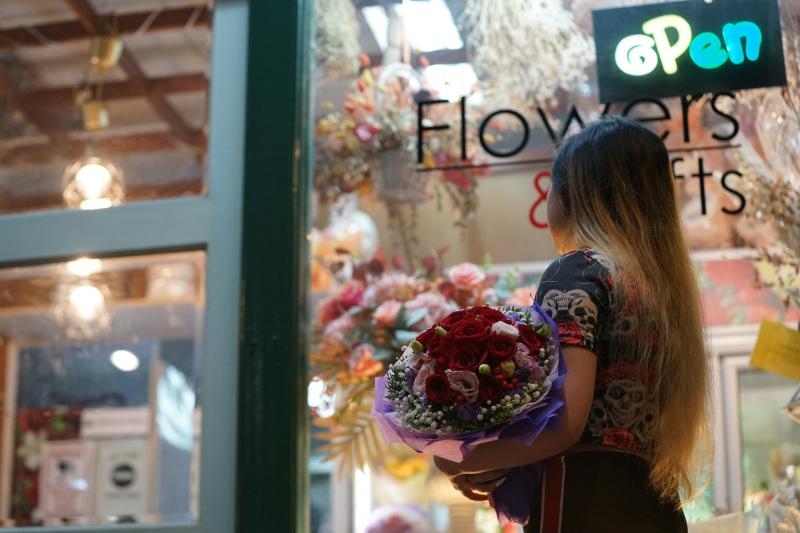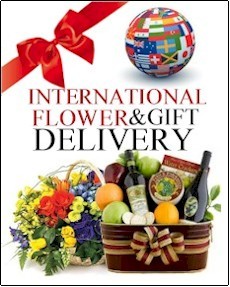 Other unique traits about us include, naturally, our role as one of the few florists in Singapore to provide a walk-in retail flower shop from 9am to next day 6am – that's 21 hours a day, 7 days a week, 365 days a year of physical store retail floral therapy for those who need flowers at any time of the day. In addition, we also cater to international orders, an extended service we felt will help our local customers to reach out and connect to their loved ones overseas by tapping on our reliable partnership with other florists around the globe.
Even though our beginnings were rooted in funeral flowers, we have adopted an open mind to stay grounded on what's new and trending in the lives of our very tech-savvy young generation. We honed our skills in the crafting of bespoke and contemporary bouquets that appeal and are relevant to the young and young at heart. One of our popular hits with the younger clientele are the character bouquets (quirky bouquets) that take the like of minions, hello kitty, angry bird and Spongebob amongst other cartoons. In fact, we ever once received a request to create a giant minion flower stand for a customer, and a giant minion flower stand we made indeed!
Our main role is naturally centered around providing quality and contemporary bouquets and flower arrangements. However, we do find joy in flower arrangement and equally important that our own florists don't lose that passion and love for working with flowers. We have a creative working environment for our florists to explore new gifting concepts and floral designs. In 2016, one of our florists, Yen Lynn, took part in the Floral Windows To The World competition at the Singapore Garden Festival. We created a 'floating up' floral structure that was given a merit award. It was an experience we often look back with fond memories. An absolute joy and honour to have given the opportunity to participate in such a grand flower arrangement competition organized by the National Parks of Singapore!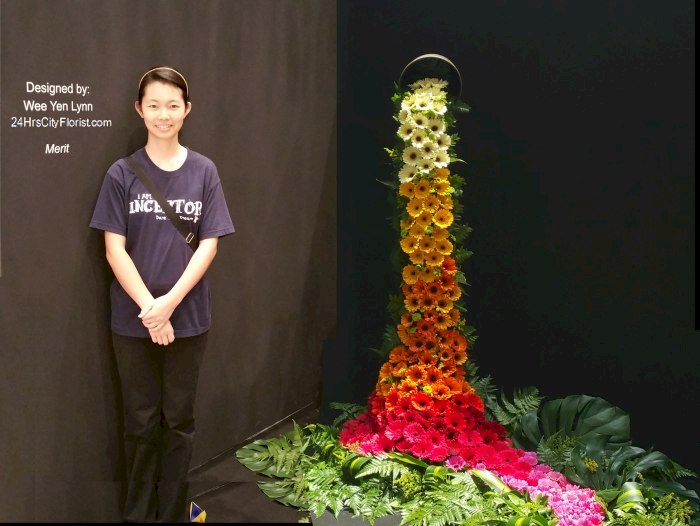 Our continuous work over the years has brought us many precious friendships with our regulars, and countless mini happy moments with each new customer. There's no real way we can show you how much these moments mean to us, but your appreciation is what has kept us going all these while. In the blink of an eye, we have been operating our humble brick and mortar shop at 188 Race Course Road for close to two decades now. Over the years, we  also been seen, featured and voted as one of Singapore's best and leading florist. We thought to link them here, if you would be interested in reading: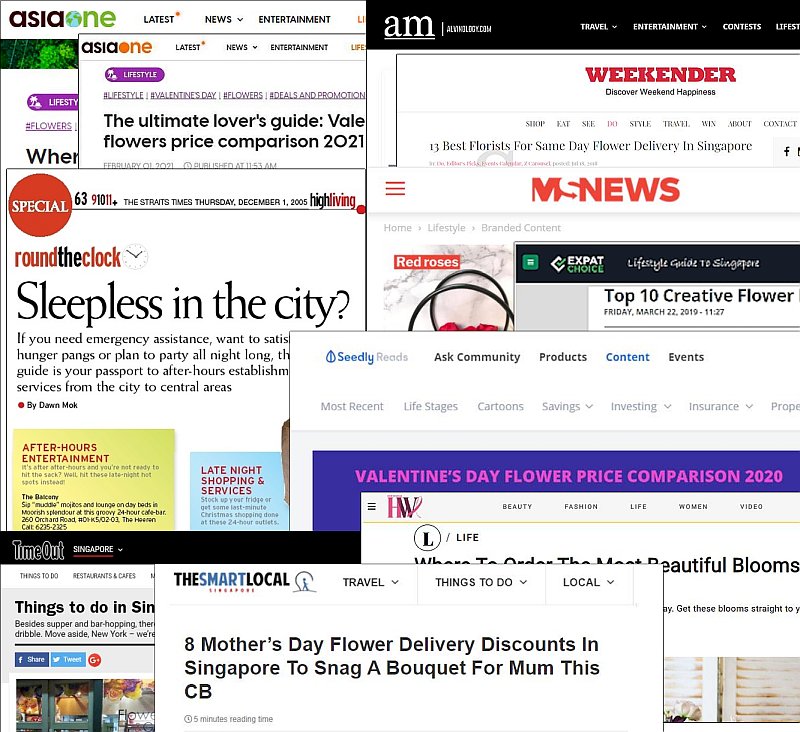 'Best florists in Singapore this Valentine's Day 2021' -Asiaone.com
'Ultimate Valentine's Day Flower Price Comparison 2021' -Seedly.sg
'8 Mother's Day Flower Delivery Discounts in Singapore to Snag a Bouquet for Mum this CB' -the smart local
'Where to order the most beautiful blooms for mum this mother's day' -herworld.com
'50 Best Florists for Flower Delivery in Singapore' -petalrepublic.com
'The 15 Best Florists in Singapore for All Occasions' -trustedgiftreviews.com
'3 best 24 hour florist in Singapore' -Bloommap.com
'Top 10 Reliable Florist to get the bouquet with stunning designs' -Alvinology.com 2019
'10 best flower delivery services in Singapore with stunning designs' -TheBestSingapore 2019
'Where to buy flowers in Singapore: Our picks of the best blooms for mums this Mother's day' -honeykids
'Where to buy flowers in Singapore: Our pick of the best boutique florists and bouquet deliveries' -honeykids
'28 best flower delivery services in Singapore for all occasions' -Bestinsingapore.co
'28 flower delivery in Singapore with the most beautiful designs' -Best Florist Reviews
'10 flower delivery florists in Singapore with same-day delivery' – Hype & Stuff
'Top 10 Creative Flower Home Delivery Services in Singapore' -ExpatChoice Asia
'10 best flower delivery in Singapore' -Kiasupromos
'10 florists to run to if you need a last-minute purchase for special occasions' -AvenueOne
'10 best florists for same day flower delivery in Singapore' -Weekender
'Top 10 flower shops in Singapore' – Flipit.com
'Singapore's fab flower shops' -LittleStepsAsia
Read more about Featured Among The Best Florists In Singapore
Of course, no number of features can compare to the joy we get from the encouragements we received from our satisfied customers from time and time again. It is a privilege to be interacting with our customers and knowing that we play a small role in connecting peoples' heart, mind and soul. It is these little speckles of joy in our day-to-day (and night-to-night) work that makes this whole journey meaningful and worthwhile. We hope you'll enjoy browsing through our online catalogue, and if you are to drop by our stall at 188 Race Course Road #01-03, we look forward to working with you to put forward your best impression! Remember, flowers never last, but impressions do.
Total Page Visits: 21687 - Today Page Visits: 1