Every girl remembers her first flower bouquet delivery. Be it a rose or a dried flower bouquet, it's a special occasion which she will never forget. The sheer joy of holding a bunch of fresh flowers from someone she likes or loves is bound to excite and delight her beyond words.
Having a bouquet of flowers delivered to your school, house or office is a sweet romantic gesture. It could be for your birthday, anniversary or even for no reason at all! It's one thing to receive a beautifully worded text but another thing to receive a physical bouquet delivery. Every woman might have received flower bouquets at different stages of her life, from her schooling days to her first crush, her first boyfriend or from her family member. Thinking back, I still remember the very first time I received a flower bouquet from someone I cared about…
My experience in an all-girls school gifting and receiving flowers
Coming from an all-girls school, it was common to see girls running around school, holding buckets of flowers passing them out to their friends with sweet handwritten notes during Valentine's Day. With no boys around, we celebrated Galentine's Day with not a care in a world. While this was probably the first few stalks of flowers I had ever received in my life, the joyful feeling of holding a fresh flower from a dear friend whom you cherish close is definitely one of the best feelings in the world.
As a young school child, I felt loved knowing that someone considered you a close friend and of course, the other practical and superficial reason which most wouldn't like to admit is that having more stalks of flowers meant that you were more popular. It was also a public display of affection which reflected the number of close friendships you had. Nonetheless, Galentine's Day in an all-girls school was the first time I received stalks of flowers from friends. Bright yellow or red gerberas, cheery sunflowers and pink dethorned roses were amongst the most popular choices to gift friends back then.
To many, flower bouquet deliveries may seem like purely a romantic gesture, but to those who came from all-girl schools, giving stalks of flowers or even flower bouquets to friends was a pure gift from the heart. My experience of personally gifting flowers to my friends and also being on the receiving hand, taught me that the symbolism of giving flowers did not only have to be to your special other, or romantic partner, but to people you cared and cherished. Gifting flowers to one another back then was a gift of friendship. I've seen flower bouquets with its delicateness and vibrancy, cheer up friends who were going through tough times or simply having a bad day at school. It showed me that while a single flower stalk may seem fragile and insignificant, it could mean the world to others and brighten up their day.
I still remember grinning from ear to ear, holding my bunch of flower stalks while on the way home from secondary school every 14 February. It was such a pure gift of friendship that I hold dearly to my heart. The beaming smiles on my friends' faces when I popped by their classrooms to gift them flowers and a handwritten card is something that cannot be replaced simply by sending text messages.
Receiving flowers from a crush – for the very first time
A crush – they would call it. The very first time I received a bouquet of flowers hand delivered to me was when I was in Secondary School. At a young age of thirteen, it was all the rage to communicate with your crush (or simply, the boy you were interested in) via MSN or by sharing quotes or testimonials on each other's Friendster's accounts.
It was nearing Valentine's Day and I had gotten to know John* through a friend. She was his fellow tuition mate and somehow or rather, we had gotten thrown into the same mass MSN conversation and from there, we started talking. At thirteen years old, crushing on someone was a big deal. Your heart flutters each time they drop you a text message or when they initiated an online conversation. Weeks went by and after a couple of movie dates, I walked out through the school gates only to find John* standing at the bus stop near my school holding a bouquet of flowers.
Shocked yet pleasantly surprised, I remember blushing furiously as he meekly offered out a bouquet of red roses with baby breath fillers wrapped nicely in a small pink wrapper. Knowing that he did not have much pocket money each day, I could tell that he had saved up and went to a florist to purchase this rose bouquet for me. At that moment, receiving my first rose bouquet from my crush was a moment I would never forget.
I was so touched that he remembered my favourite flowers were roses, and that I loved the colour pink. What's more – he had taken the effort to purchase it and make his way down to my school just to surprise me. It was one of the sweetest moments in my teenage years which I hold close to my heart as the bouquet was not just beautiful physically but relayed such a sweet message – that he was willing to purchase flowers just to make me smile. And since then, red roses bouquets have always held a special place in my heart. In hindsight, while it may have just been a crush, seeing a red rose bouquet now still reminds me of that innocent young romance.
When a girl receives flowers from her boyfriend for the first time
Boyfriends usually send flower bouquets to their girlfriends on a few different occasions – birthdays, anniversaries or when they apologise. However, no matter the reason for sending flower bouquets, every single flower delivery has a different significant meaning in marking one's relationship.
Flowers are commonly known as the symbol of love and it's no surprise why. Surprising a girl with gorgeous fresh blooms along with a birthday present is a sure safe bet. Not only does it make a perfect "instagrammable" post where she can share pictures of it on social media, it also gives her something to remember the giver by at home. Ultimately, the physical bouquet does symbolise something deeper – the thoughts behind purchasing the flowers.
The recipient would definitely feel even more touched if her boyfriend remembers her favourite flower or even filler in the bouquet as it adds a personal touch to it, showing her that he remembers the small details that she mentions. After all, everyone likes to know that people pay attention and respects their choices.
I was 17 years old when my first boyfriend, Ryan* had ordered a bouquet of flowers for me. We had met in the same junior college and were dating after finishing our A levels. By nature, he was not a very expressive person and he hardly purchased gifts or verbally told me how he felt. As such, I often felt that he did not match up to my other friends' boyfriends who often spoiled them with gifts and attention. Being young, I had unrealistic expectations and was immature in my demands. Because of that, we often got into petty quarrels about how he couldn't care less about the relationship.
Things got rocky when he was enlisting to NS and I remember distinctly telling him that I've never once received a bouquet of flowers from him despite having dated for a couple of years. Fast forward a week later, he turned up at my house with a gorgeous rose bouquet hidden in his backpack and shyly passed it to me with a handwritten card which expressed how sorry he was and how difficult it was for him as an introvert to behave the way I wanted. The minute he handed me the bouquet; tears sprang to my eyes as I understood how uncomfortable he must have felt when he went to purchase the bouquet alone – seeing as he was a very private person.
Not just that, he personally felt that flowers were not a logical gift as they did not last long but knowing that I loved flowers and I was a romantic who expected such gifts, he had done so for me. Back then, I didn't think of the cost of the bouquet nor the inconvenience it took for him to hand deliver the bouquet to me, but it was the meaning behind the bouquet which touched me.
While it was a long time ago and the details are fuzzy now, the thing I remember very clearly was the flower bouquet and the emotions it evoked in me. It might not have been the most extravagant bouquet, it was a simple pink rose bouquet but it was the most meaningful bouquet I had received. And even after he left, I was reminded of the relationship when I looked at the flowers which I placed in the vase. This bouquet, in contrast to the first bouquet which I had received, reminded me of my mistakes, love and heartbreak all in one.
Bouquets to me, had become more than just physical beauty, there are memories and stories attached to each.
The last few bouquets I had received
One of the last bouquets I had received as actually a handmade floral bouquet which my aunt had made for me. Keeping in mind that I love colourful blooms, she had headed down to a nursery, purchased various flowers and spent time to carefully arrange a large bouquet of flowers.
Though she had no professional training, I was really touched to see how much effort she put into the gift and the time that she spent to do so. Knowing one's preference for gifts and going the extra mile to get their preferred flowers goes a long way.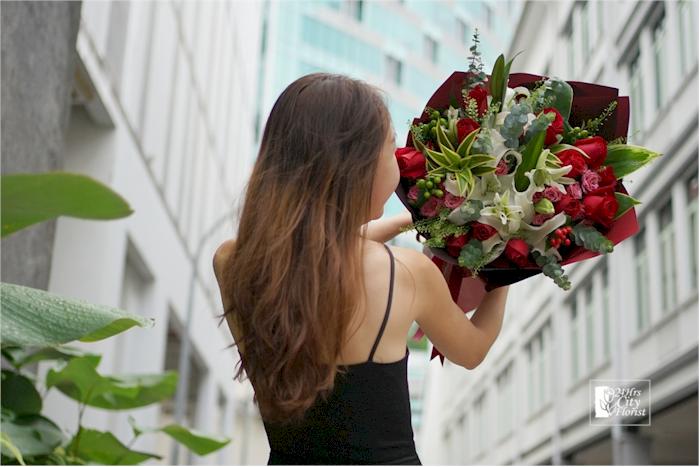 Another bouquet that I had received was from a close friend who had arranged for the bouquet to be sent to my office. Knowing that I was going through a tough time and that flowers would cheer me up, she sent a surprise bouque to my office. Upon receiving a call from the receptionist that I had a flower delivery, I was dumbfounded as to who had sent me a bouquet.
Reading her thoughtful note which was attached to the beautiful blooms made me feel all warm inside as it was comforting to know that I had friends who were there for me through it all – and made the efffort to send heartfelt and beautiful gifts to my office to brighten up my day. Working in a corporate office with no windows near my cubicle, the blooms really made a difference and added a cheery vibe to the atmosphere.
What's more, I smiled each time I looked over and saw the bouquet, knowing that I had a strong support system of friends who cared. To me, flower bouquets can be sent by anyone. It doesn't necessarily have to be a romantic partner, it can be a family member or friend. To me, flower bouquets deliver so much meaning to one's life and is a constant reminder of love in all forms.
Flower bouquets are always a great idea
Every girl remembers floral bouquets that were sent to her. Along with each bouquet is a back story or memory that she holds close to her heart. Bittersweet, romantic or even perhaps reminiscent of bad times, the meaning of receiving flower bouquets go far beyond the physical. It's an important gift which may mark out milestones in relationships or friendships or even help a potential relationship blossom. For guys out there who are not sure whether it's the right step to send your crush or girlfriend a flower delivery, why not try? At 24HrsCityFlorist.com , you're bound to be able to pick up your loved one's favourite bouquet at any time of the day for any occasion. After all, 2020 – a new year is around the corner and there's nothing else which would brighten up a girl's day than by receiving a bouquet of flowers.
Start the year and perhaps the next new chapter of your life right and send a beautiful floral surprise to your loved ones.
Written by: Elizabeth Tan
*Names have been changed due to privacy concerns.
Total Page Visits: 3906 - Today Page Visits: 4