Finding love can be difficult for many of us, and making that love last can prove to be just as hard. Regardless of your age or the status of your relationship, whether you have been dating for a short time, a long time, are engaged, or already married, every relationship encounters difficult times or can use some spicing up every now and again.
Many men often feel that women are difficult to understand or that there isn't anything they can do to save a relationship. But there are actually many things a man can do. There are many ways that you can improve your love life and many things you can do to make this happen.

Ways to Improve your Love Life
While not every woman is the same, the following list is a good guide to start you off in the right direction.
1. Make your Woman Feel Loved and Appreciated
Regardless of the stage of your relationship, your woman will want to know that you care about her. There are many things you can do to make your woman feel loved and appreciated. After being together for some time, you'll begin to know her more and to know whether she likes surprises, flowers, kind acts, loving words, gifts, your time, physical contact or whatever else comes to mind. Apparently some of these are part of the 5 languages of love.
At any stage in a relationship, you can never go wrong with gifting and giving of flowers is the most well received. Arranging a florist delivery of a nice bouquet of flowers is just clicks away from your mobile phone. It is known that flowers make women more receptive to romance. Women genuinely like getting flowers because flowers have special effects that other gifts don't have. Just buy the dang flowers and get the flower delivery done at the most unexpected time. Flowers, depending on the type and the arrangement, can mean all sorts of things, so do a little leg-work and find the right flowers for the message you want to send. Making your woman feel loved might be something more along the lines of a caring act, such as cooking her dinner, taking care of the dishes, or leaving a note somewhere for her to find later.
All sorts of acts, big and small, can help your woman feel loved and valued. If you're not at the "love" stage yet, that's ok. You can still capitalise on many of these acts just to let her know that you're a true, caring gentleman. You can't go wrong with showing her that you care.
2. Make your Woman Feel Beautiful
Women really want to hear three special words. They're not, "I love you." They're "You are beautiful."
These words are so important to women because the reality is that they don't hear it nearly as much as they should. Even if you compliment your woman by telling her that she looks good or that she's sexy, being called beautiful carries an entirely different meaning.
3. Make your Woman Feel Secure
No matter how tough your woman is or how much she insists she doesn't need a man, she still wants to know that she's safe with your and that you will protect her if the need arises. Security also extends to the topic of knowing that she can trust in your faithfulness since protecting her also means keeping her safe from harm, even in the realm of your own relationship.
For a woman to truly feel secure in a relationship, she needs to know that you physically and mentally will not wander off. True security happens when a woman can trust completely in the fact that you will protect her and be faithful to her.
4. Make your Woman Feel Encouraged and Supported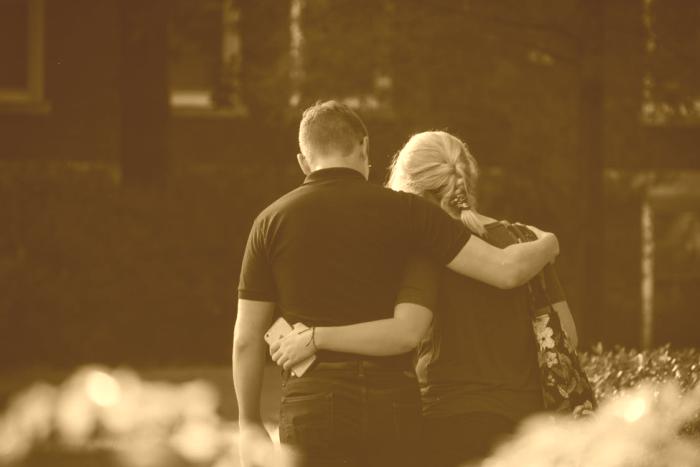 To really show improve your relationship, make sure that your woman knows that you support her completely. Regardless of how big or small the change, she needs to know that you'll be by her side and that you'll support her. If it's something small, like a haircut or a different clothing style, let her know that you'll think she's beautiful no matter what she looks like.
If it's a bigger life decision, such as returning to school to pursue a certificate or a degree or changing careers, encourage her to do what she feels is best for her and for your relationship if it's a change that will impact you both and you're in a committed relationship. When women feel like their man is in their corner, they often get an extra boost of encouragement. They will really know you care for them when they see that you're on their side.
5. Respect Your Woman
Respect is an attribute that goes a long way and that encompasses so many aspects of a relationship. In private, respecting your woman means listening to her, taking her feelings into consideration, and being patient with her instead of shutting her down and not listening to how she feels.
Outside of the home, respect comes down to how you handle yourself and your relationship in public, particularly around your friends. Respecting her means you don't talk badly about her or say crude things and fending for her and that you won't tolerate it from anyone else either.
6. Be each other's Best Friend
A great way to improve your relationship is to become best friends with one another. This doesn't necessarily mean that you talk about farts together, but it does mean that when one of you has a problem with anything, you can talk to each other about it. Being best friends will help keep open lines of communication between the two of you.
This way, you are more likely to know, help, and take care of each other rather than turn away from each other towards someone else in times of difficulty.
7. Break Cycles of Negativity
Negativity surfaces everywhere for a number of reasons. You or your partner may be in a bad mood. If that bleeds over into the relationship, one of you may get snippy and the other may get their feelings hurt. One way to improve a relationship is to notice when negativity is happening and to break its cycle.
Don't make small matters big, don't sweat the small stuff and learn to forgive and forget. As cliché as this may sound, they are still very good advice. One of you may have to walk away to cool down, or maybe all it takes is a compliment and a tender moment. Keep your eyes peeled for negativity and reverse it as soon as you can.
8. Share the Control
Another key to improving your relationship is to make sure that you aren't overwhelmingly controlling. It's important for you to be a protector and supporter, but that doesn't mean you have to be controlling. Your woman needs to know that she has some input and some say in the decision making. Sharing the control will let her know that you trust her and that you value her input in the relationship. This will undeniably improve the dynamics of the relationship.
9. Align your Goals
No matter what stage your relationship is in, it's important that you both know what your goals are. If you are not interested in a long-term relationship but you are dating someone who is, make sure you communicate that before the relationship goes too far. If your goals involve being career-oriented before establishing a family, that's an important thing to discuss before making marriage commitments. Nobody is saying that you and your partner's goals need to line up right away, but in order to really improve your relationship, you want to make sure that you and your partner communicate openly and have the same end goals in mind.
10. Try to Understand Underlying Messages
Any time a couple gets into a disagreement, such as one person getting angry or upset with the other, there's another message lying beneath the surface. When an argument happens, make sure to listen to your partner's words and, instead of lashing out and arguing in return, take a few minutes to think about what is being said and what underlying messages may be there.
If your woman is upset about you spending too much time in front of the television, she may really be hurt that you aren't looking at her the same way you're looking at the game on computer or tv. This can easily be fixed by simply performing some small acts that show you care about her and by showering her with compliments, and maybe sending flowers to her or doing the dishes to let her know that you appreciate her.
11. Solve the problems that can be Solved
Every relationship has problems that can be and that cannot be solved. To improve your relationship, don't sweep your problems under the rug, but make sure to talk about them. Work together to agree on a solution for any problems that can be solved. Most of the time, if a couple sits down together to discuss a concern, finances or parenting strategies, they can come to an agreement on how to handle things.
If two people don't agree on something like this but continue to be in a relationship, it's a recipe for disaster. In the same regard, you should sit down and look at some things and agree that some problems just can't be solved. Learn which ones can be solved and which cannot be solved, and do your best to accept those that cannot be and figure out how to make the best of them.
12. Focus on the Present
This means to be in the present rather than be lost in thought or lost thinking about things that don't matter. If you want to improve your relationship, you'll need to make sure that you take the time to dedicate yourself to your partner, even if it seems like something small or pointless.
When your partner asks you to listen to something or asks your opinion on something, take the time to really listen or to really consider your response before just saying you don't care. Women won't stay in a relationship when a man who they feel isn't present or available.
Conclusion
Today, many couples are occupied with their work or careers and often scarify the time spent with each other. There are many ways or method to improve your love life, the key ingredient is making TIME and EFFORT.
Relationships, no matter what the age or stage, are tricky to maneuver. They have so many complex layers to consider at all different stages, but the tips above can help you improve your relationship no matter what stage you're in.
Written by: Mandy Web, married and living in Singapore.
Total Page Visits: 13710 - Today Page Visits: 5