Love is in the air, Valentine's Day is around the corner. Ever been stumped by what to write on a blank gift card when you're at a florist trying to send your girlfriend a flower delivery? Don't fret – you're not the only one. While you may be able to do a quick search online for typical romantic lines or romantic messages, it may not sound au natural as most that would pop up are popular movie romantic quotes or not very useable classic ones that may come across as not very authentic or original. How do you write a love message? Singaporean men are not often known to be romantic and if you're struggling to find some samples love messages or asking "how to write a love message to my girlfriend" or you are looking for inspiration to write or text to your girlfriend, partner or wife, do read on.
Singaporean men are not known to be the most romantic. You may then question why? As land is more scarce in Singapore, instead of a more lengthy and mushy proposal which others may do overseas, many Singaporean men have resorted to using practical lines such as "Want to BTO?" BTO which stands for Build-to-order is the most common next step for young couples who want to get married. Due to legal and practical reasons, the notion of sending romantic messages or using cheesy lines might not be considered a norm in Singapore. Also, Asian culture and Western cultures are very different in nature. It is common for Westerners to be more expressive whereas Asians have more often been known to be more shy and uncomfortable when expressing our feelings.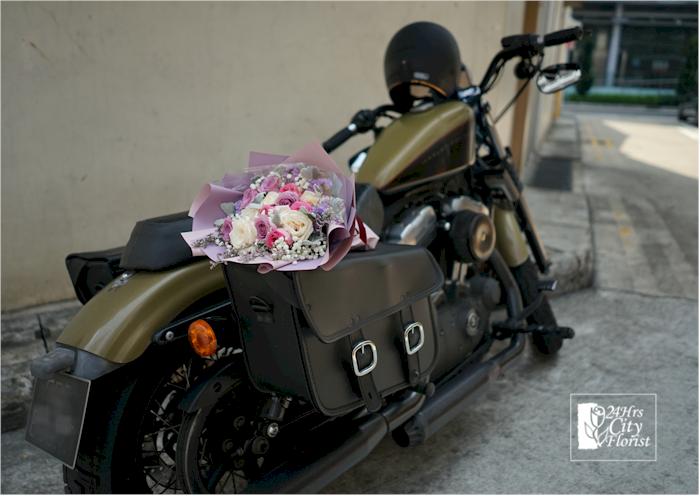 In fact, with our Singlish culture, most of the romantic lines when used in an everyday manner, become infused with Singlish slangs and words. From a classic "I love you", it may become "I love you so much leh" or "I love you lah". This is not necessarily bad as it does add personality and, in some instances, express the message far clearer.
If you are intending to send a bouquet of flowers to your girlfriend and do not know the right words to say or write on the card, why not read some examples below and use them or tweak them according to what you want to tell your special significant other? These can also be used as text messages!
Some Humorous Singaporean Lines
(Which have been used in advertising even):
No distance is too great to be with you, not even Singapore's longest bus route.
Love as deep as Bencoolen MRT.
Ai stead mai?
Eh, want buy hdb anot?
A tip: Go for humorous lines only if you know that your girlfriend is the sort who would appreciate it. The last thing you need is for your plan of sending of a beautiful flower bouquet to backfire just because of a note that you thought would be funny. She may not share the same sentiments as you. Be sensitive to your partner's wants and personality and opt for the best lines (be it classic or humorous) to include in your note/text to her.
Lines that have been used by Singaporean men (as shared on Instagram) and wedding accounts:
No matter how much time has passed, you still dazzle me
Every day with you is the most wonderful time of the year.
Nothing makes me happier than the thought of being able to spend the rest of my life with you.
You make me smile wider, love harder and stay happier.
I'll never turn my back on you.
Your smile is all it takes to brighten up my day.
My days are better because of you.
Happy Anniversary, my dearest. Thank you for being you. I love you always
Every passing moment with you is worth it.
Thinking of you from xxx km away. I love you
Happy birthday from the one who endures your farts and still loves you anyway.
Thank you for everything.
Although life may not be easy now, in the end it's all worth it. Everything will get better in time. So smile! Love you.
Only flowers can be blue. Sending some cheer your way.
Surprise! I love you. Have a nice day at work.
From me to you. Hope you like it babe.
Roses are red, violets are blue, you are my friend and my lover too.
Hope you like the flowers sayang~
It doesn't have to be a special occasion to send flowers. Just wanted to brighten your day and let u know that I'm thinking of u. I miss you ILY
Babe, thanks for always taking care of and love me. Hope you like your surprise.
Thank you for everything you have done <3
Just because I love you
I love you forever.
With all my love.
You are my all, my everything. I love you.
These are to show you how beautiful you are to me.
I would press pause on Fifa for you.
These are nothing compared to you.
You know how much I love you lah.
I hope these make you smile babe. Have a great day.
Hope you like these flowers. ily!
Here's hoping these flowers cheer you up in office. Jiayou!
Always and forever. I love you.
I hope you like this surprise. Love you!
These flowers ain't got nothing on you, have a good day at office. I <3 u.
Some sample lines (Which have been used by other men around the world) for inspiration:
All my love.
Love and kisses.
You take my breath away…today and every day.
With you it's Valentine's Day 365 days a year.
I send a kiss inside the petals of each rose…
You are the love of my life.
You are the reason I'm alive.
"True love is friendship set on fire." (French Proverb)
Roses are red, violets are blue, what would I do without you!?
Always and forever.
I wish there were more ways to say all that you are to me. Love always.
My heart is filled with love for you.
Flowers today. Fireworks tonight!
I usually tell you "I love you" two or three times a day. Today I'll make it a dozen.
How sweet it is to be loved by you!
If actions speak louder than words, this is my way of shouting.
I don't need a holiday to say I love you.
I'm delivering you a kiss to last all week.
Enjoy this colourful composition. I hope it reminds you of how special you are to me.
I love you more and more each day. Let these flowers keep your mind busy with the knowledge of how much you mean to me.
Thank you for being my partner-in-crime. These beautiful flowers reminded me of the sincerity that shines through your eyes.
Thank you for being my girlfriend. I look forward to many adventures with you, and you alone.
The more I get to know you, the happier and in love I feel. Thank you for being there for me through thick and thin. I love you more than words can say.
I can't believe my luck, to have you in my life! Thank you for all your love and support. You are everything to me.
You are the love of my life – always have been, always will be.
I choose you. And I'll choose you over and over and over. Without pause, without a doubt, in a heartbeat. I'll keep choosing you.
Sorry for embarrassing you at work. I bet your face is as red as these roses!
12 roses I give to you to show you how much I do love you.
I love you with all of my heart.
No poems and no fancy words. I just wanted to say I LOVE YOU!!
Some cute flower pun messages for those who appreciate it:
I hope thistle show you how much I love you!
Not a daisy goes by where I don't think about you.
I never want you to leaf me.
Our tulips should kiss.
Hey bud, how's it growing?
I really lilac you.
Aloe you vera much.
You're my best bud!
We're mint to be.
Life would succ without you.
Don't stop beleafing.
I will love you till the end of thyme.
You had me at aloe.
Iris you a happy Valentine's Day.
We should put our tulips together this Valentine's day.
What's up buttercup?
I love you tulip much!
What in carnation?
I can't wait to see our love grow and grow and grow.
Just wanted to say aloe!
I will seed you later!
I love you a lily more each day.
My love for you blossoms every day.
Credit: ftd.com/blog/celebrate/flower-quote-and-puns
Some classic lines from movies / books / songs
(For inspiration or you can use them wholesale if your partner is a film buff or book lover):
"You have bewitched me, body and soul, and I love, I love, I love you. I never wish to be parted from you from this day on." – Pride and Prejudice
"If I had to dream up the perfect woman, she wouldn't even come close to you." – Boy Meets World
"I could not tell you if I loved you the first moment I saw you, or if it was the second or third or fourth. But I remember the first moment I looked at you walking toward me and realized that somehow the rest of the world seemed to vanish when I was with you." – Cassandra Clare, Clockwork Prince
"Whatever happens tomorrow, or for the rest of my life, I'm happy now…because I love you." – Groundhog Day
"You don't love someone for their looks, or their clothes or for their fancy car, but because they sing a song only you can hear." – Oscar Wilde
"So, I love you because the entire universe conspired to help me find you." – Paulo Coehlo
"I want you. All of you. Your flaws. Your mistakes. Your imperfections. I want you, and only you." – John Legend
"You are the finest, loveliest, tenderest, and most beautiful person I have ever known—and even that is an understatement." – F. Scott Fitzgerald
"I know that somehow, every step I took since the moment I could walk was a step towards finding you." – Nicholas Sparks, Message in a Bottle
"I want everyone to meet you. You're my favorite person of all time." Eleanor and Park by Rainbow Rowell
"I love you much (most beautiful darling) more than anyone on the earth and I like you better than everything in the sky." – E.E. Cummings
"I love you. I knew it the minute I met you. I'm sorry it took so long for me to catch up. I just got stuck." – Silver Linings Playbook
"My heart is and always will be yours." – Jane Austen
"The greatest thing you'll ever learn is just to love, and be loved in return." ~ Moulin Rouge
"To me, you are perfect" ~ Love Actually
"I love you very much, probably more than anybody could love another person." ~ 50 First Dates
"I've come here with no expectations, only to profess, now that I am at liberty to do so, that my heart is, and always will be, yours." ~ Sense & Sensibility
"I wish I had done everything on earth with you" ~ The Great Gatsby.
"I can't see anything I don't like about you." – Eternal Sunshine of the spotless mind
"Wise men say only fools rush in, but I can't help falling in love with you" Elvis Presley
The above lines are all guides and samples for you to use as inspiration or even use if you do not have any idea what to write in your flower gift card. Ultimately, the message which will stand out the most is something which is personal to both of you. It's the thought behind the message which counts the most. It could be a line from her favourite romance novel or movie which holds a special place in her heart or perhaps an inside joke that only the both of you know.
Not everyone is good with words. It may come harder for some to express their feelings whereas it may come more naturally for others. If you're someone who finds it hard to express his or her thoughts, you can also sound out friends or family members to help you craft what you are trying to express into a sweet note to attach to a beautiful valentine's day flower bouquet. Even if you're sending a bouquet to her office or school and have no idea what to write, the simplest and sweetest message is bound to work. Something along the lines of "Just thinking of you love" or "Sending this for no reason at all, but I hope you smile. I love you," will definitely make her heart flutter and make her feel blessed and lucky to have someone so thoughtful as her partner.
Written by: Elizabeth Tan
Total Page Visits: 3362 - Today Page Visits: 5