Flower-gifting is a traditional form of gift-giving and this practice has spanned over thousands of years. Ancient Greeks, Romans, and the Chinese were the first known practitioners of the language of flowers. Various flowers make appearances in various art forms and some are highly-prized as regal objects. Today, flowers continue to play a prominent role in social exchanges, but the millennial consumer is slightly different from previous generations when it comes to the flower industry: the American Flower Endowment even proposed a different set of strategies to deal the different barriers Millennials have towards flower gifting.
Is the Millennial any different?
Even though it has been reported by multiple sources that flower-buying isn't as popular as it used to be back in the day, it does not mean that Millennials do not appreciate flowers. Rather, the reason for making a flower delivery purchase have shifted over time – in Singapore and among Millennials, I have observed that people usually purchase flowers as gifts only during special occasions. Besides that, studies have shown that flower-gifting is still a pretty universal happiness-booster. A study conducted by Rutgers University concluded that as opposed to receiving other gifts, 100% of participants in the study—women across different ages and backgrounds — displayed a Duchenne Smile, which is what is referred to as a smile that involves the movement of the entire face such as the mouth, eyes, and cheeks when they receiving flowers. The Duchenne Smile is used as an indicator of genuine happiness. It seems that Millennial women don't fare differently from other age groups when presented with flower bouquets.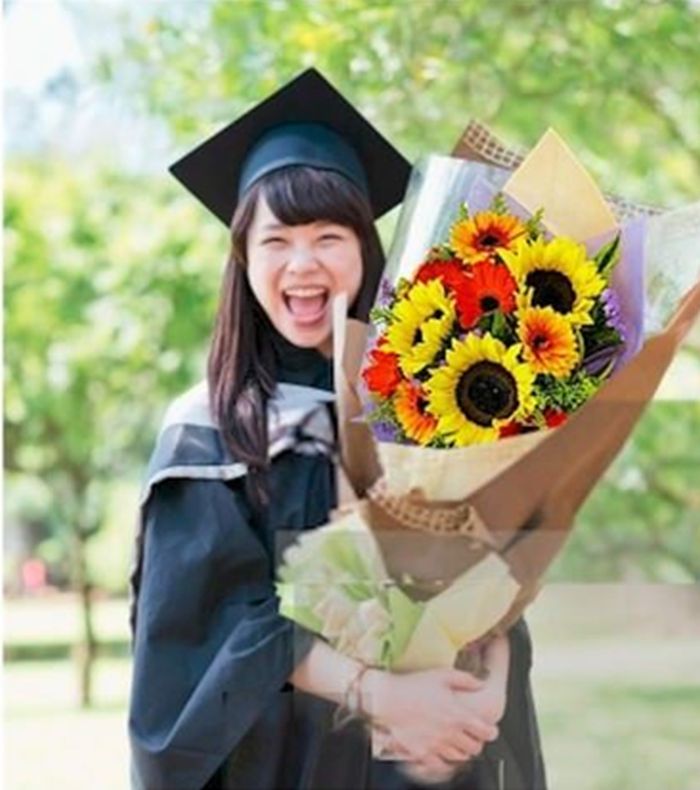 Is that a Duchenne smile? Graduation Flowers consisting of a cheerful mix of sunflowers and Geberas. 24HrsCityFlorist offers a wide array of flower bouquets, delivery available 24/7.
From my personal observation, millennials in Singapore generally aren't opposed to using flowers for special events. In fact, they are quite generous when it comes to special occasions — flowers are common gifts to receive during special occasions such as graduation ceremonies, Mothers' day, birthdays, Valentine's day, and even at a friend's recital. It is also not uncommon to see people flaunt their bouquets on special occasions — an armful of flower bouquets often garner the envy of many. It is, however, uncommon for one to purchase flowers for themselves on normal days — in this case, there are many who prefer to purchase houseplants instead as they are low-maintenance. Around two decades ago, it was common to buy flowers for one's own home as decoration without needing a grand reason to do so.
Flowers were a living room decoration staple in the 90s
What do Millennials think of flowers?
While I am not able to present the opinion of all the Millennials in Singapore, I was still curious to find out what some of my friends, who are Millennials, think of flower-giving. I asked a few of 20-something year olds for their opinions on their favorite flowers, as well as factors they would consider when purchasing flowers through an informal little survey.
I first asked them a simple question of whether they would like to receive flowers as gifts. Majority said yes (53.8%), or maybe (30.8%).
I then asked my friends if they would purchase flowers for others on special occasions, in which majority replied yes, (73.1%) or maybe (11.5%). It seems like more people prefer to give flowers than to receive flowers, as there are more people who were unsure whether they would like to receive a bouquet as a gift. Despite these results, I would like to share my experience as someone who initially did not think that flowers make great gifts — they do make great gifts.
Millennials, while pragmatic, falter when being presented with objects of great beauty. I've seen the biggest critics smile in the face of flowers when presented with them at her recent graduation ceremony. After all, isn't there a saying that goes something like how "beauty will save the world"?
When asked when they would like to receive flowers, most indicated Graduation Day, Valentine's Day, and birthdays, with some other suggestions such as at their recital, during a housewarming party, when they get a promotion, and such. Most Millennials also see the gifting of flowers as indicative of a celebration, or a special event.
It seems that out of all the flowers, most participants prefer staples such as sunflowers, roses, baby's breath, and surprisingly, daisies. My friend reasoned that most people have the impression that daisies are cheerful flowers that would suit any sort of occasion, hence the popularity. Besides various flowers, it seems that there are people who prefer to receive potted plants instead!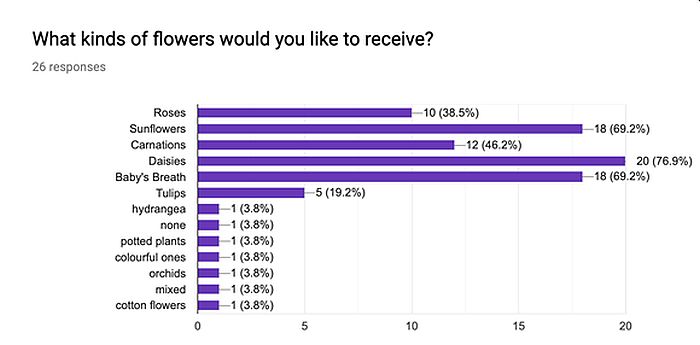 When I asked various friends what kinds of bouquets they prefer, their answers were, well, understandably diverse: colorful flowers, sunflowers, roses, dried flowers, single flowers, lush bouquets, and "the aesthetic kind lor!" Were some responses I got. As it turns out, Millennials shouldn't be lumped into one big group as we all have varying tastes, but there are certain trends that have popped up in the flower market recently that have managed to win over countless millennial fans. A quick survey done among my friends highlight certain flower trends that are popular these days.
Recent Bouquet Trends
Korean Arrangements
Inspired by Korean pop culture, these bouquets have a certain hallyu flair. With the rise in popularity of Korean pop culture, the Korean-style flower arrangement has also gained popularity among Millennials, many of whom are K-pop fans themselves and are partial to the aesthetic. There isn't a set look or arrangement with bouquets labelled "Korean-inspired", but from my observation, bouquets inspired by the k-wave tend to be sweet and elegant in arrangement, with a touch of country: think bunches of baby's breath, roses and daisies framed with wild green plants and leafy stems wrapped in thick opaque paper.
Popular Korean Singer IU and a Korean-style bouquet
Preserved Flower Bouquets/ Dried flowers
Based on the survey, it seems that preserved flowers have quite a number of fans as well. For those who feel that fresh-cut flowers are costly and not long-lasting, preserved flower bouquets are an alternative. They require less maintenance, and would sit nicely on your tabletop without much fuss for a long time. Professional flower preservation can help the bloom maintain its color, shape and texture.
If you have some time, you could even preserve your own fresh-cut flowers by drying them yourself. It takes a few minutes to create a simple set-up for flower-drying. A growing trend, dried flowers are also popular among the artsy crowd for their rustic and mellow look. Click here for a tutorial on how to dry flowers.
Wacky Themed bouquets
A contemporary take on the traditional flower bouquet, florals take the back seat in this one, letting rather unconventional stars be the pièce de résistance. Fried chicken, nuggets, vegetables, various food items and objects are incorporated into the arrangement for a unique, unforgettable gift. Quirky bouquets, while less popular than conventional flower-focused bouquets, have their fair share of fans — would you like to have your bouquet and eat it too?
Plants
Plants aren't flowers nor are they bouquets, but some have chosen to replace flower-gifting with plant-gifting. Many millennials have cited utility as one of the factors they consider when purchasing a gift. Houseplants are not common, but are a great choice for housewarming gifts. Certain plants can even purify the air, such as the Boston Fern and the Sansievieria. Another popular option is the cactus — it requires minimal care, and could last for long periods of time.
Money plants are easy to maintain, bring some greenery into the house, and could hopefully, also bless one with riches and prosperity.
Classic bouquets
At the end of the day, trends come and go, and the classics remain standing tall. Personally, I feel that classic flower bouquets are a fail-safe gift for any occasion. According to the survey, many prefer the classic bouquets still. "Sometimes if I'm not sure what the recipient likes, getting a classic bouquet would be the safest choice, as most people would appreciate that." Was what a friend of mine, Kath, said. Classic bouquets refer to the more traditional arrangement of flowers that reflect the celebrations they can represent. For example, one would receive roses on Valentine's day as it traditionally represents passionate love.
Other considerations
The survey also asked participants what factors they think were the most important when purchasing a bouquet for someone. Price, convenience, and overall design were the top points of consideration.
Value for money
To many Millennials, goods purchased must be value for money. This extents to gifts as well. "I'm not going to pay hundreds of dollars for something that doesn't last a few days", was the opinion of Kath. As such, she goes to great lengths sourcing for affordable flowers. This is also a concern of many surveyees, as 42.3% of them said that they would consider price as one the most important factors when purchasing a bouquet.
Convenience
Convenience is also a big factor. Oftentimes, it's convenience that is the top priority of many customers. Many people are busy with work or school, and these activities make it difficult for them to find the time to go down to a flower shop. During graduation season, I had to shuttle between different schools on different days to celebrate with friends who were graduating, and constantly having to visit flower shops those days was becoming a pain as I didn't live near one. Offering delivery services can make buying flowers a more viable and convenient option for busy Millennials.
In a pinch and need some flowers quickly? 24Hrs City Florist offers free delivery during office hours, and also offers 24hour/7 same day delivery. The shop open from 9am to 6am the next day on the daily.
Aesthetics
52.8% of participants selected overall design as an important consideration when purchasing flowers, 30.8% suggested the type of flowers, and 26.9% also value the uniqueness of the arrangement. A low number of participants are concerned about the type of wrapping (3.8%), but I do think it that most who would focus on the type of wrapping used would be concerned with the overall design. As such, Millennials would take into consideration the recipient's favourite colours and type of flowers when purchasing bouquets.
Seeing how there are many people who would like to customize their own bouquets, 24Hrs City Florist has a Design-Your-Own bouquet feature for those who would like to have creative control of their final product. Check it out here: Design Your Own Bouquet Online
With the rise of photo sharing on social media, a bouquet being "Instagrammable" is something a customer might prioritise. "trendy or unique flowers can of course create a bigger impact!" Said a friend, who is also a fervent sharer on Instagram. "Posting something pretty that stands out, or is popular will get you more likes, and those photos make your Instagram feed look nice."
Ending Note
Millennials may not see flowers as those in the previous decades did. The reasons for using flowers may have shifted over time, from being common home decorative pieces to being more commonly known as gifts that help mark special events.
Millennials may also have other considerations when purchasing perishable goods such as flowers – the fast-paced world we live in today teaches us to value cost-efficiency and convenience. But that does not mean that flowers hold any less significance for them; new trends and wacky ideas have popped up over time to the delight of consumers today, and yet there are also those who see value in the traditional flower bouquet. All in all, the diverse range of flower arrangement styles, both new and old, should be celebrated and embraced. There are after all different strokes for different folks, right? 🙂
Written by Weiqi
What are your favorite flower trends? Share it with us in the comments!
Total Page Visits: 4003 - Today Page Visits: 1