According to Wikipedia, millennials (also known as Gen Y), are the generational demographic cohort following Gen X and preceding Gen Z. It's no secret that millennials have very different preferences in terms of lifestyle and purchasing habits, so an interesting question would be whether they still like receiving a flower delivery and what bouquets do they really want?
Do they still visit florists for bouquet delivery Singapore? We get to the root of the question by asking millennials themselves through the platform most commonly associated with them – social media (Instagram, facebook, twitter). Some of the answers from the total sample pool of 30 Singaporean millennials might shock you.
To start off, one might want to clarify what the definition of the term "millennial is". Simply put, there's no fixed age to define who can be termed a "Millennial" but most agree that the term applies to individuals who reached adulthood around the turn of the 21st century. Those aged 35 and below can be considered millennials as well, making it a rather broad range. When one thinks of millennials, some characteristic traits attached to them that comes to mind would be more open-minded, self-expressive, upbeat and also more selfish. This could stem from their upbringing in a more liberal and open society as compared to the past but also mainly due to the societal habits and technological developments that have shaped their perceptions growing up.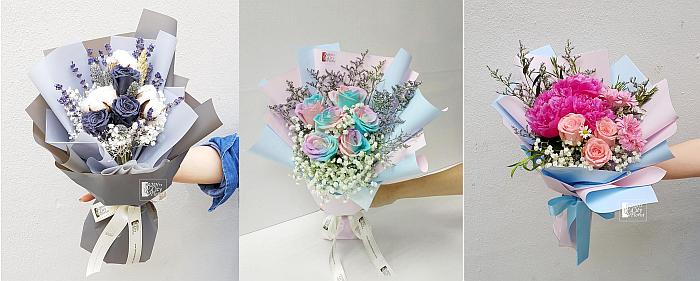 To most, flower bouquets are timeless. Sending and receiving flower or rose bouquets has been a long-standing tradition since time immemorial. It's a classic and traditional way to express love and appreciation to someone. However, to millennials who are constantly updated through social media and believe in getting things (payments, etc) done instantly, do they still like receiving and gifting flowers? Read on to find out more.
Do they still like receiving flowers?
Being on the receiving end of flower bouquets is to most, pleasant. However, to millennials – a generation that shops online and communicates through technology, would the effect of receiving flowers be the same on them? Using twitter as a tool, I posed the following question to get some responses.
An interesting reply was made by a 25 year old female. She replied, "Cos insta worthy". Unsurprisingly, millennials are concerned about their appearances on social media, and for valid reasons – almost 3.3 million Singaporeans internet users are also mobile social media users. (from eMarketer, 2018).

Source: https://hashmeta.com/blog/social-media-landscape-in-singapore-2018/
Based on the report by hashmeta above, it is no wonder the reply was related to Instagram. It's common to hear millennials comment "do it for the gram". By that, they obviously mean doing the action/purchasing the item just so that they have Instagram-worthy material. Posting on Instagram to get likes or to be the envy of your followers through Instagram stories is one of the main motivations for many. Flower bouquets are of course a great way to get comments or likes on social media. Not only do the colourful blooms look aesthetically pleasing to the eye, it also raises the question of who gifted you the bouquet or why did you receive it. Essentially, it sparks off a conversation, helps you garner likes on social media and helps curate your social media feed to be one that is beautiful.
The reasons for wanting to receive a bouquet may have changed but that doesn't wholly mean that all millennials see receiving bouquets as just a popularity tool. As a 25-year-old Singaporean "millennial" woman myself, I had dinner with three other friends who are of the same age and posed them this question. Immediately, all three answered, "Yes".
Their reasons being as follows:
1) Flowers are pretty – they lift your mood
2) It's nice to put around the house
3) I might not have any use for it and it's expensive but it's still nice to receive it.
Everyone has different reasons behind receiving flower bouquets but generally, nobody (including millennials) dislikes receiving bouquets as it still showcases the meaningful thought behind the gesture.
Another question would then be when is the most desired time/occasion to want to receive a bouquet?
To address this question, we must first understand the shift in the millennial mindset. According to a survey done by the National Retail Federation about Valentine Days, 44% of 24-25 year olds are planning an experience together to celebrate the holiday and more than 51% say a shared experience is what they'd most like to receive. Out of which, only 39% are hoping for an experience gift. For millennials, they're willing to spend more than other generations but purchases need to include more immediate emotional impact.
The focus for millennials who celebrate Valentine's Day which used to be celebrated with a classic gift of valentine's day flowers bouquet deliveries and chocolates, has now turned into something they hope to experience together and it's not hard to understand why.
Forbes had also conducted a 15-minute online survey of 1,628 millennials and 906 Gen Xers. Their findings revealed two important facts:
1) Millennials want their purchases to make them feel good. 60% of them gravitate towards purchases that are an expression of their personality. Baby boomers and Gen Xers consume based on quantity but millennials value their dollar more and products which meet a logistical and emotional need
2) Millennials place value on experiences. 50% of millennials prefer to spend their money on experiences over material things – and they're willing to pay extra for it.
Surprised? You can even check out an article by 8 Days Magazine here which shows how millennials yearn for experiences more as Valentine Day celebratory gifts
While there might be a shift in how flower bouquets might not be at the top of the gift list for millennials, they're no denying that they are still popular options for anniversaries, birthdays and for daily surprises.
Even on social media, millennials share lovely pictures of their floral bouquet gifts and express appreciation towards those who had gifted them.

Search results on Instagram for #anniversarygifts

Search results on Instagram for #birthdayflowers
–
What size of bouquet is preferred and what is the most preferred location to receive flowers?
This is quite subjective as it depends on individuals. Some may prefer larger ones, smaller ones, fancier ones or simpler ones. There is no one answer for this question. For me, I personally prefer small to medium sized bouquets as it's easier to transfer to a vase as I display them at home. Large bouquets may be impressive and gorgeous, but personally, I go for practical storage solutions as it's also easier to maintain.
Likewise, for locations to receive the bouquets, it depends largely on the recipient. There are some recipients who might prefer receiving it at the office or in public spaces during dates due to the attention it'll bring whereas some might prefer receiving bouquets in private such as at home.
There's no perfect time and place to receive a bouquet but the person who sends the flower bouquet should know the recipient well enough to decide the best time/place to do so.
A tip for those sending flower bouquets – please make sure you respect their wishes because the meaning of sending the bouquet would be lost if you send it at the wrong time or place!
What is the most popular/liked flowers in a bouquet?
To find out what most flowers most millennials like, I posted a question on Instagram story.
The answers were as follows:
1 x Rainbow lilacs, 1x Roses, 3 x Peonies, 3 x Gerberas
It was interesting to note that roses, which are one of the most common flowers in bouquets, only received one vote whereas peonies and gerberas received three each respectively. A unique choice, probably either lilacs or baby breath which was mistakenly construed as lilacs, was also submitted as a response.
What is the most liked type of bouquets – classical round or front facing, free form bouquet?
Based on the poll I did on Instagram stories, 40% preferred classic ones whereas 60% preferred creative ones.
It may not be wholly true but some of the adjectives that is commonly associated with millennials would often be "creative". As a generation that is forced to come up with new ideas in a disruptive and ever-evolving society, innovation is key for millennials not just to survive in the workforce but in society.
Using social media also forces them to come up with out-of-the-box ideas and creative concepts to attract others' attentions. It is part and parcel of their daily lives to be creative. This concept may be the reason why more opted for creative bouquet forms compared to traditional classic ones.
As the saying goes, change is the only constant and it is not surprising that millennials prefer unique bouquets as compared to the past where the other generations might stick to traditional and safer options. Another factor which influences this might be because millennials are subject to influence from their peers through social media marketing.
In its tenth annual Digital Democracy Survey by Deloitte, which surveyed more than 2,000 consumers in the United States, the researchers found that many young adults are more influenced by social media than by traditional advertising methods.
According to the report, nearly three in four millennials (ages 19-32) are more influenced in their buying decisions by social media recommendations than TV ads. As such, if millennials see their peers liking creative bouquet forms on Instagram as compared to traditional ones, they might subconsciously get influenced.
Out of the three factors, which is the most important when it comes to bouquets (The size? The price? Types of flowers in the bouquets?)
Facebook is of course another social media platform that millennials use. After a quick poll on Facebook, it is found that the majority of the people who commented felt that the type of flowers was the most important factor in flower bouquets. On the other hand, one chose price.
The three factors are listed below:
1) Size? (Is the bigger the bouquet, the better?)
2) Price
3) Type of flowers
While all are important factors in choosing a bouquet, different people have different priorities. Some have to work within budgets while purchasing the bouquet whereas others might need a large bouquet to make a grand lasting impression.
Personally, in choosing a bouquet, it would be a tie between the price and type of flowers. If I were to be sending the bouquet, I would consider the price of the bouquet while making sure that it contained flowers my receipient would prefer.
Where do millennials get their source of inspiration from? Social media or bouquets made popular by dramas/movies
Social media is undoubtedly a huge part of not just millennials but every Singaporean's lives. As such, the time spent reading or looking at products online which could be shared by florists or their friends, influence their decisions and also serve as one of their main sources of inspiration.
Movies and dramas might feature some flower bouquets but it is rare that millennials would refer to such sources as inspiration for bouquets. For movies and dramas – it largely influences their fashion sense as they try to draw inspiration from their favourite idols/actors or actresses. Flowers are still largely based on their personal preferences.
In general, millennials may be thought of as a self-entitled generation who come across as picky and social-media obsessed. While that may be true to a certain extent, there's also no doubt that they're creative, fast and adaptable to change. Every generation has their own positive and negative points, shaped by different experiences and priorities.
What does this all mean?
Flowers are timeless and classic. Though preferences may have shifted over the years, it doesn't mean that flower bouquets are out of style, in fact, they may even be more popular now due to the easy access that florists may have to social media. Consumers who may never have thought of sending flowers may now chance upon a picture of a flower bouquet and think of purchasing it for their loved ones.
One thing is for sure, be it millennials, baby boomers or Gen Xers, flowers are beautiful and receiving a flower bouquet puts a smile on anyone's face. If you're still thinking of whether to get your millennial friend, acquaintance or partner a flower bouquet, take it from me, they'll love the experience.
You may like to read more about 'Should you wrap your own flower bouquet?'
Written by,
A millennial living in Singapore, Elizabeth Tan.
Total Page Visits: 10502 - Today Page Visits: 1