We're only a few days away from the graduation season kicking off. It's that time of the year when thousands of students will be swinging their caps into the skies and moving on to everything that the future has in store for them. Graduation is an important part of each student's life. It's like leaving your old world behind, a world that you were a part for years and a world you're finally separating from. No matter how nostalgic the feeling is, graduation is a time for celebration and it is a significant milestone not just for the graduates but perhaps more so for their proud parents and friends.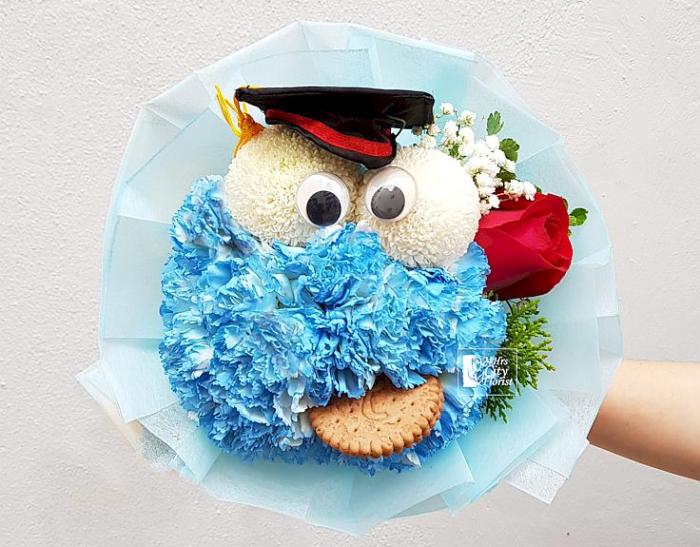 Now, we can figure that if you're browsing for a graduation bouquet or a graduation flowers in Singapore, you're not going to be picking out for yourself. There is probably some loved one out there that's about to embark on new adventures in his/her life and needs the perfect gift. This is where you're probably finding yourself in a dilemma. Picking out a gift is never easy, but deciding on a gift for someone that is about to celebrate a defining moment of his/her life is nerve-racking. You need to realize that it's the thought behind the gift that counts. People react to their likeliness of the person that is giving them the present more so than the value or the presentation of the gift. Pretty much anything will qualify as a good gift, but if you're looking for something more precise to help make your choice easier, appropriate for the occasion and something that everyone loves. And, that something is a charming flower bouquet.
Why Choose Flowers?
Flowers are an international symbol of love. You can say 'amour' and someone might not understand. But, handing them a bouquet of beautiful flowers will convey your message much better than mere words. That's why graduation flowers and graduation bouquets are the best gift a student can receive. Again, finding an appropriate bouquet is easy for some and painfully difficult for others. That is why we hope this article will help you make that difficult decision easy. And to add to that convenience, 24hrs City Florist offers free flower delivery during office hours and they can deliver flowers anytime of the day, day or night, holidays or not anywhere across Singapore. In order to help you pick out the best ones, here is a list of enchanting flower bouquets below that are popular as their graduation gift.
Korean Styled Bouquet – Mo Yeon
Mo Yeon is one the more popular flower bouquet and deservedly so! It's primarily a sunflower bouquet as the main glistering star of the bouquet. To accompany the little bundle of cheer, there are three fresh candy pink gerberas engulfing. One look at this flower and you know that it's something hard to resist!
Puppy Bouquet
Does your loved one appreciate a bit of quirkiness in their flowers? Then, this product – the puppy bouquet is the best thing you can buy on the website. There's a cute little while puppy right in the heart of the bouquet surrounding by a barrage of red roses. You know how these are graduation flowers? The puppy is wearing a graduation hat as well! If you're interested in some animated characters, there are Cookie Monster, Elmo, Winnie the Pooh, Darth Vader and Minions available in their collection. Oh, and all of them are wearing hats too! Well, all except Vader. He'd just look really silly in a graduation hat…
Blue Rose – Montebleu
There's only one word to explain this graduation bouquet and that is 'elegance'or shall we say '
élégant' . The bouquet is a perfect combination of two different types of roses and are a clear representation as to why roses are the most beautiful flower in the world. There are three gentle ivory roses in the center and they're surrounded by amazing blue roses that look as if they were kissed by ice. You can't imagine the look on someone's face when they receive this bouquet. The best part is that these can work as graduation bouquet for guys too. There's won't be a single lad that wouldn't like this bouquet. It's just that impressive…
Rainbow Rose Bouquet
The name of this bouquet probably set your heart racing. Yes, most of the flowers on this list have roses in them. But, these are Ecuadorian roses – you'll love this bouquet even if you think roses are a bit too cheesy for the occasion. Like, they're actually in all the seven colors of a rainbow in a single stalk of rose. If that's not enough to win someone over, then nothing is. Rainbow rose bouquet are a little bit more expensive due to their special and patented technique in colouring the roses -but you can't expect to put a price on something so out of this world. The colour rainbow holds a special meaning too as our late PM has said "To the young and to the not-so-old, i say, look at the horizon, follow that rainbow, go ride it. " . Simply befitting for this occasion.
Sunflower Bouquet – California Sunshine
Well, enough about roses. It's time to mention again the most popular flower for graduation – sunflowers! Sunflower bouquets – what better product to represent the pack than this one. The flowers are adequately a symbol of a new beginning, the rising of the sun and appropriately named, "California Sunshine". There's no better name for two huge sunflowers embellished with a gerberas and pink baby's breath on the side. Truly an astonishing gift for her (or him!).
Pink Roses – Flower's-To-Go Feminine Pink
Challenge the norm and send her soomething different from the rest. Unlike the California Sunshine, these flowers are definitely not for him. This carry-on bouquet is as feminine as graduation flowers in Singapore can get. There are three pink roses along with a bunch of other flowers neatly enclosed in a plastic bag. It's so trendy and uniquet at the same time, it's a guarantee that she'll turn heads with her graduation cap and her feminine bag.
Closing Thoughts
Still cannot find anything suitable ? Don't worry, its understandable that everyone has a different taste. That's why 24Hrs City Florist also has a section on their website that allows you to design your own bouquet. Custom gifts in Singapore are pretty common, but not the way you can customize your own bouquet online as what 24HrsCityFlorist.com does. Choose the flower type of the your liking and select the wide range of professionally crafted arrangement and finally choose the wrapping style that suits your arrangement best. We are certain that no one at the graduation party is going to be receiving a custom made bouquet. So, head on over to this Design Your Own Bouquet page and get creative with your very own bouquet in just three simple steps! There are a ton of tools at your disposal to help create the most stunning bouquet ever…
Total Page Visits: 14047 - Today Page Visits: 1