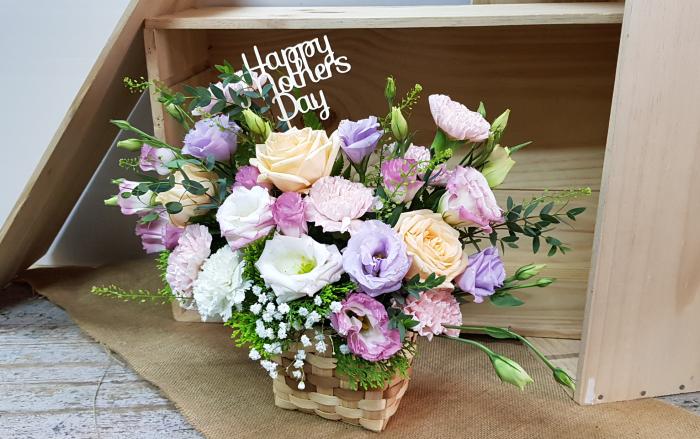 Mother's Day celebrations happen every year on the second Sunday of May in Singapore, and it is a day where we show appreciation for all that our mothers have done for us throughout the years.
Of course, some argue that this love should be expressed on a daily basis, and not just on one special day of the year when we would present our mothers with a Mother's Day bouquet and call it a day. I'm not saying that they're wrong, but Mother's Day reminds the busy people to take time out for their families, and it is also a day where we can show our mum even more love than usual. What's wrong with showing some grand gestures of love such as gifting pretty bunches of flowers for mothers, in which you wouldn't usually think of doing on a normal day?
A Brief History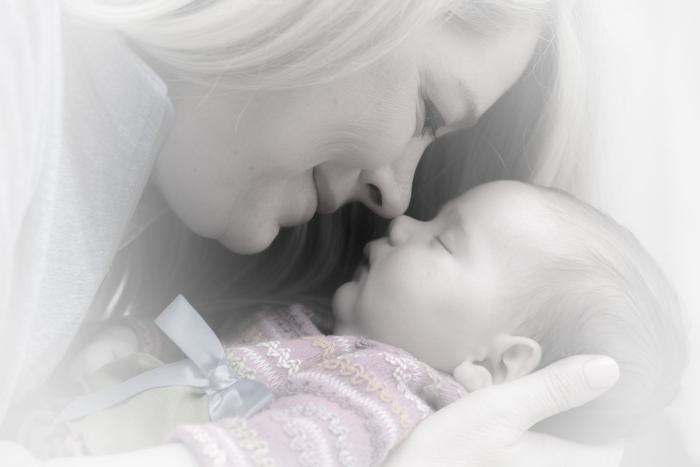 History has it that the Mother's Day we are familiar with today was first conceived by Anna Jarvis, the daughter of a peace activist, Ann Reeves Jarvis, after her mother's death. The day was created to honour the sacrifices mothers make for their children. Due to the burgeoning popularity of Mother's Day, Mother's Day was finally made official in the United States in 1914. Jarvis proclaimed every second Sunday of May to be Mother's Day.
Singapore, as well as many other countries, adopts the same date as the US for Mother's Day. Some countries celebrate it on a different day with different origins In UK, mother's day is celebrated on the 4th Sunday of March. Thailand, for example, celebrates Mother's Day on 12 August, which is also the birthday of Queen Sirikit, also known as the Queen Mother of Thailand. South Korea celebrates it on 8 March, as part of Parent's Day, in conjunction with Father's Day. Here's a short of countries with their respective mother's day dates.
China – 2nd Sunday of May
Japan – 2nd Sunday of May
South Korea – 8 March
Vietnam – 8 March
Laos – 8 March
Thailand – 12 August
Brunei – 2nd Sunday of May
Myanmar – 2nd Sunday of May
Cambodia – 2nd Sunday of May
Malaysia – 2nd Sunday of May
Singapore – 2nd Sunday of May
Philippines – 2nd Sunday of May
Indonesia – 22 December
Australia – 2nd Sunday of May
How Do You Celebrate Mother's Day?
Lots of people celebrate their mothers and mother figures on Mother's Day. Mother figures may include a guardian (eg. Foster parents), stepmothers, mothers-in-law, relatives (aunties) , or a family friend.
Do you have any plans for Mother's Day, do you not have any plans for Mother's Day, or are you still deliberating on what to do for mother's day? Here is a little guide for all the lost souls out there. Whether you want to splurge a little on mum, or treat her to a homemade meal, there a ton of options out there for you to show your love for her. What better way to thank mum than to take some time out from your schedules to spend some quality time with her?
Prepare a Feast!
Are you an aspiring chef, or do you like to cook? Has your mom always been the one preparing meals for the family? Let your mom sit back, relax, and catch up on her favorite soap opera as you whip up her favorite dishes. Some of my favourite websites to find inspiration from are Martha Stewart's (https://www.marthastewart.com/1505788/recipes) and Epicurious Epicurious (https://www.epicurious.com/). For local fare, you can take a look at NoobCook (https://noobcook.com/) and My Singapore Food (http://mysingaporefood.com/recipes/).
Or if handling instant noodles is considered an advanced skill for you, treating mum to a nice meal at a restaurant without all the fuss cooking may ensue would be a great idea as well. Many restaurants create special Mother's Day set menus to mark this special day — do your homework, look for places that offer mum's favourite foods, and let the experts handle the rest! With the recent opening of Jewel Changi Airport, you can bring mum out to dine at Jewel's exclusive food outlets. There's A&W for you and mum to reminisce about those good old days over curly fries and Root Beer floats, Shake Shack for a taste of New York style burgers and hot dogs, Shang Social for contemporary Chinese cuisine and Kam's Roast – a one Michelin Star roasted duck restaurant from Hong Kong.
Flowers!
Sometimes, amidst all the moral values and teachings mothers have been busy imparting us with, we forget that they too, like us, like to receive pretty expressions of love! A mother's day bouquet of her beautiful favourite flowers would make her day and convey our feelings of appreciation and affection nicely. Whether you hand-deliver a bouquet to your mum or have a Mother's Day flower delivery service surprise her in her office, receiving flowers from her loved ones would definitely brighten her day. Here are some picks from 24HrCityFlorist.com :
The Melba, a muted preserved flower arrangement featuring a pastel rose and an assortment of wildflowers, arranged in a clear bowl, is a ready-made piece of decor that would also serve to spruce up the home or her office. Preserved flowers can last up to many years, making them the perfect gift for Asian mums who would otherwise chastise their children on spending on something so ephemeral on them. (Of course, I concur that they secretly think otherwise, deep down inside.)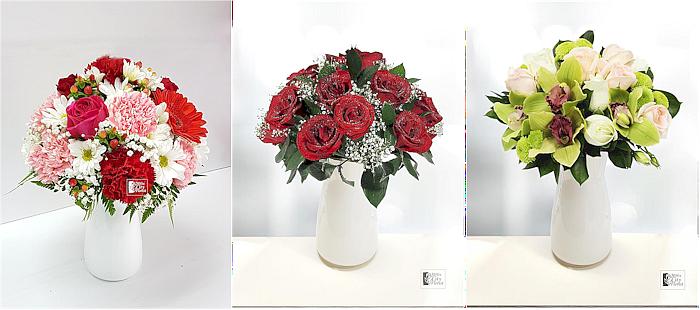 Red roses are a timeless classic that could never go wrong. Red roses not only express romantic love; they can also signify deep love and affection. This luxurious bouquet of ruby-red roses, arranged in an elegant white-coloured glass vase should do the trick. Not to mention, this bouquet also comes ready as a decorative piece on the table!
Carnations are a traditional Mother's Day flower which was first given out to mothers by Anna Jarvis herself. According to Jarvis, the carnation signifies virtues of motherhood such as faithfulness, charity, growth, love, and beauty. This cheerful bouquet of reds and pinks, accented with an adorable dotted bow, is the perfect conveyor of these virtues.
An item she mentioned about recently
Has your mum ever mentioned in passing a desire for a certain item in the past, which you simply thought she would've gotten it herself, only to realize that she hasn't gotten it yet? For some reason, our mothers are always the ones putting off getting things for themselves even though you'd find a new pair of socks a few days after you complained about having holes in your old ones. Now's the perfect time to rack your brains and think of what mum might've mentioned that one time you weren't paying attention!
Take mum on a shopping spree
If you have no clue as to what your mum would like to have, or if she has very particular tastes, then a shopping spree is in order. Bring mum out for a fun day at the mall and let her pick her own gift! Being the great shopping capital that Singapore is, mum would be spoilt for choice. You get to avoid buying unnecessary items she might not fancy, and know more about her preferences so that you can surprise her with something she likes the next time. Not only that, you get to spend some quality bonding time with mum as well.
Just because you aren't 5 years old anymore doesn't mean you can't DIY! Nobody's mum would not appreciate an expertly-crafted greeting card complete with glitter, paper hearts, a beautiful painting of her, and a heartfelt letter. Mementos such as decorated photo albums and photo frames make great sentimental gifts as well. Or if those are too basic for you, there are also tons of advanced DIY gift ideas on Pinterest such as this string art decorative board and this series of flower wreaths .
This would be a fun idea if you have any adolescent siblings to do it together with! Don't worry too much about the outcome and enjoy the process; no matter how much artistic talent you possess, you're always a Van Gogh in your mother's eyes.
Another popular activity you can do with your mom is to sign her up and join her for a session of flower arrangement course. Many mothers love flowers and yearn to learn to create simple flower arrangement themselves but always never find the time to do so. Here's is an opportunity to enroll her either in a course or a session on how to arrange floral table arrangements. She would be absolutely thrilled if you attend the course with her! Speaking of floral arrangement courses, 24hrscityflorist.com do offer customized short lessons tailored to your needs. They offer individual Workshops ranging from a 2-hour session to a few lessons at the students' convenient timing.
A day of pampering
Let mum rest those tired bones and aching muscles, having carried the weight of bringing you up on her shoulders. Sign her up for a relaxing spa package — a massage, a dip in an onsen, a manicure, a facial, etc. Many spa outlets offer Mother's Day promotions such as full-body massage packages or parent-child deals, so keep your eyes peeled! It doesn't hurt to remind mum that she deserves to be pampered as much she pampers her children.
Day tripper
Why not plan a special day trip with the entire family! With so many activities being held in the month of May for Mother's Day, you won't be short of ideas on where you could bring mum out to!
A trip to the museum for the culture enthusiast, a concert for the music lover, a hike up Singapore's many nature reserves for the mum who loves a good workout, a picnic by the beach for the mum who likes to chill, a trip to the mall for the shopaholic mum; the possibilities are endless. Some Mother's Day community events in Singapore include the free yearly Mother's Day concert by the Singapore Symphony Orchestra at the Botanic Gardens a free concert at the Esplanade Concert Hall featuring local singers belting beloved Chinese hits from Zhou Xuan, Teresa Teng, Qing Shan among many others, and this 3.5km fun walk organized by Shin Min Daily News in conjunction with Mother's day.
Introduce her to a new hobby
As I grew older and required less attention, my mother realized that she had a lot of free time on her hands with little to do. She began to take music and language classes and was enjoying them. As such, introducing our mums to new hobbies through introductory workshops and classes might help them find a new hobby and in turn bring a breath of fresh air into their golden years.
Has mum ever expressed an inclination towards learning a new skill? Introduce her to exercise workshops such as yoga, Pilates and Zumba, craft classes that teach watercolour painting and sketching, flower arrangement, music classes for the harmonica or ukulele, or even language classes featuring the country that she loves to visit. Who knows, mum might discover a hidden talent that has been dormant until then!
Health supplements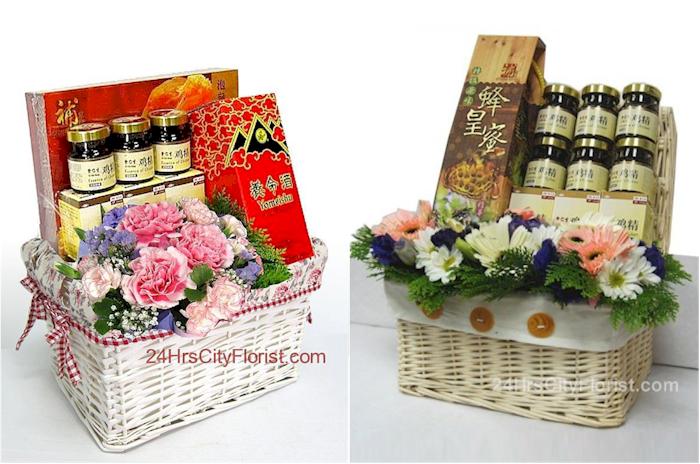 When all else fails, nourishing tonics and edibles would put a smile on mum's face and make her look even younger! Bird's nest, tonics, and nutritious essences promote youthfulness and vitality, and are classic Mother's Day gifts here in Singapore. The Revitalisation hamper from 24HourCityFlorist is a popular choice, consisting of Yomeishu tonic, Bird's Nest with American Ginseng, a variety of Eu Yan Sang essences, along with a bouquet of vibrant fresh flowers would be a good choice of gift to let mum know that you care about her health!
All You Need Is Love
Some mums would enjoy the additional pampering on this special day, some would rather their children not spend lavishly on them. At the end of the day, the one thing we should not forget to do is to remind mum that she is loved, and that we are appreciative of all her hard work and sacrifice. And if you are overseas, a planned call to wish your mom a happy mother's day will certainly make her day.
Amidst all that indulgence, a big ol' hug and an "I love you" would never fail to convey that! Or if you're a little shy, a simple "Happy Mother's Day!" would be a great start. Sometimes, one is unable to celebrate the occasion with their mothers due to a variety of inevitable reasons. In this case, don't forget to give mum a call, or deliver her a gift with a handwritten letter! The simplest actions can also bring a whole lot of joy.
Conclusion
If you've come this far, I hope that I have managed to give you some ideas on how to celebrate Mother's Day with a bang!
Mothers are our bedrock, never failing to support us as we grow. Take Mother's Day as an opportunity to show gratitude for all that she has sacrificed for her children throughout the years. With that, I would like to end this blog post with a quote from Agatha Christie:
"A mother's love for her child is like nothing else in the world. It knows no law, no pity, it dates all things and crushes remorselessly all that stands in its path."
written by WeiQi
Total Page Visits: 4904 - Today Page Visits: 2