Expressing Sympathy To The Family Of The Decease in Singapore
When a loved one is no longer with us, finding the right words to comfort someone grieving is always difficult and can make the most articulate of us feel tongue-tied. It often feels like an obstacle course of etiquette and taste. Most of us feel that even the most heartfelt condolence messages may be inadequate and superfluous. But we should keep in mind that while there is nothing you can do to take their pain away or be enough to cheer up a grieving friend of family member, careless words could hurt them further.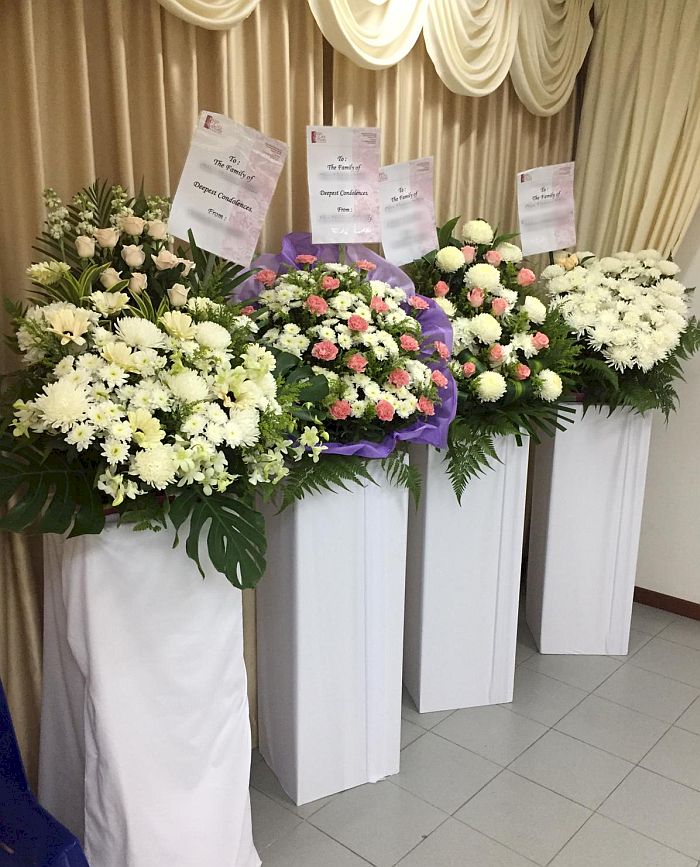 Sending condolence flowers or flower wreaths is a great way to let the recipient know that you are keeping them in your thoughts. Condolence and funeral floral stands also help to honor and celebrate the life of those who have passed, and would be much appreciated by the family. While there are no hard and fast rules as to what types of flowers to send in sympathy, there are certainly many traditional favorites and those that are favored for their muted colors and formality. Some flowers may symbolize certain emotions or facilitate expression. Individual flowers also communicate slightly different meanings. There are a few florists in Singapore offering 24 hours condolences flower delivery.
To help you navigate the rules of expressing sympathy and pick the right funeral wreath or arrangement, we've outlined a guide to the most popular types of condolence flowers along with some of the most asked questions so that you can properly convey your condolences. As we know that choosing a flower arrangement can be difficult, we will also cover some of the mistakes to avoid when considering an appropriate floral piece based on the relationship you share with the deceased during his or her lifetime.
Choosing the right flowers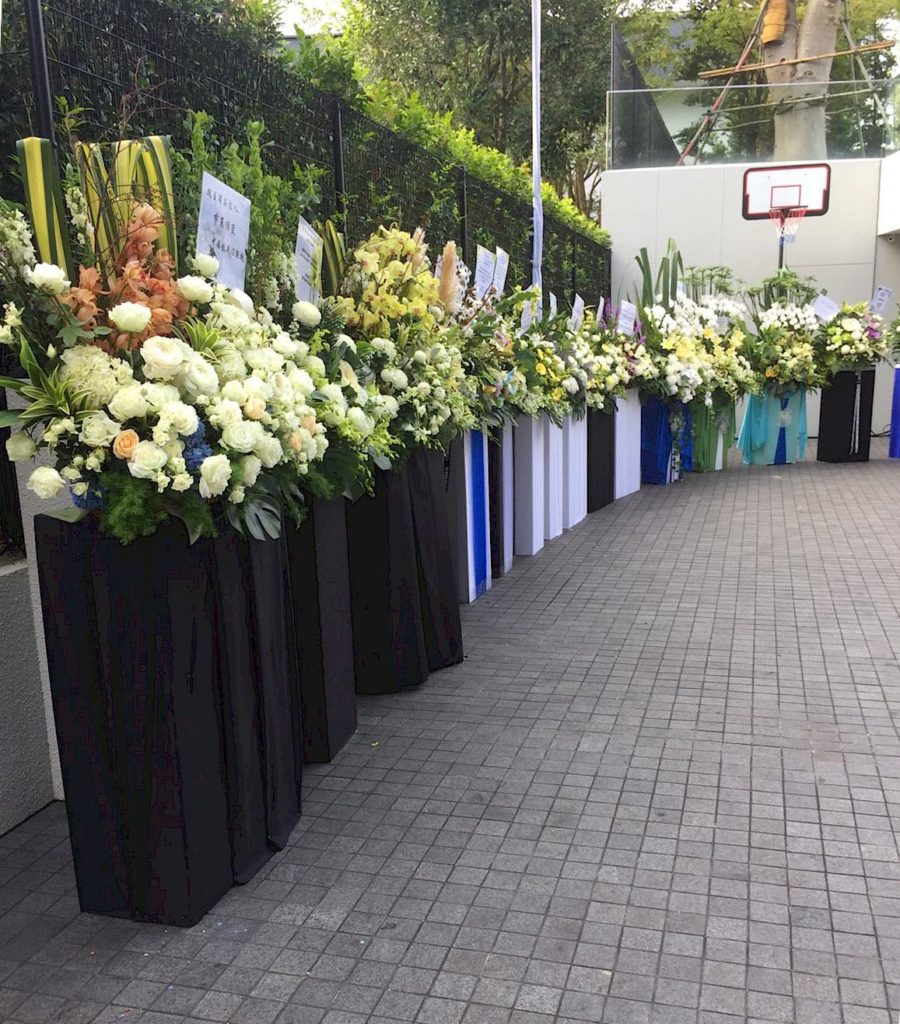 As you are going to be commemorating a somber occasion, your choice of flowers should reflect it. Having said that, funeral and condolence flowers can be arranged in a unique way to pay tribute to the personality of the deceased. Create an arrangement that captures the essence of the person. You can start by recalling if he or she had a favorite flower to make the selection process easier and help you express your condolence in a more personal manner.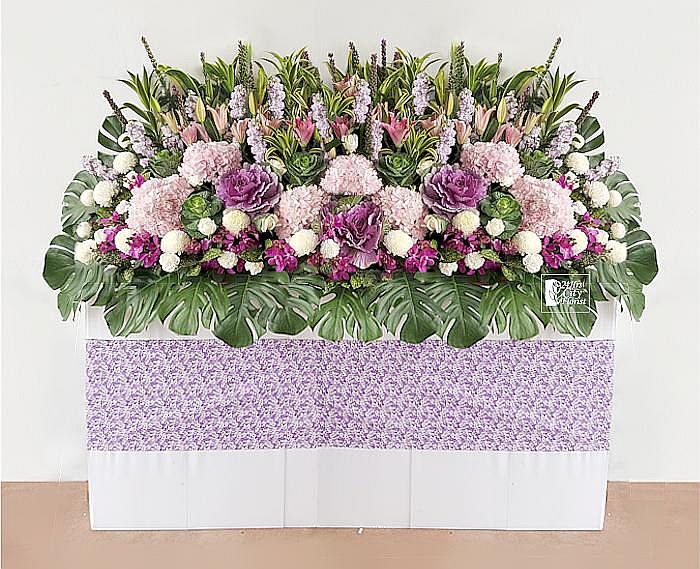 We have highlighted the most popular blooms when choosing a flower arrangement for condolence or funeral flowers below:
Lilies
Lilies are the quintessential funeral flower. Many people have opted for stargazer lilies or calla lilies in their arrangements. White stargazer lilies or more widely known as asiatic or oriental lilies mean sympathy while calla lilies represent beauty.
Lilies carry a powerful symbol that the soul of the deceased has been restored to a peaceful state of innocence. White lilies have also been associated with holiness, faith and purity. For sympathy or funeral arrangements, brightly colored lilies are best avoided as they may be too festive looking. You may also consider sending the grieving person a peace lily plant rather than cut flowers if you want something that lasts much longer.
Chrysanthemums
Chrysanthemums are yet another go-to condolence flower. In many countries in Europe, these flowers have a strong association with death and are primarily used as funeral flowers. In Asia, they represent grief, lamentation and mourning. As chrysanthemums are dramatic looking flowers they are often combined in arrangements with lilies and roses to create larger funeral flower stands.
Similar to lilies, the color of the chrysanthemums plays a role in the meaning of the arrangement as well. White chrysanthemums represent innocence, loyalty and devoted love. Yellow chrysanthemums on the other hand signify sorrow.
Carnations
Carnations are often arranged with other types of flowers in funeral wreaths and standing sprays. Carnations are also rich with symbolism and meaning. For Catholic funerals, pink carnations carry a great significance since it's believed that they were created from the Virgin Mary's tears.  Pink carnations also represent remembrance and gratitude while white carnations represent pure love and innocence.
Because of their dense blooms, carnations are often thought of as elegant flowers used to make up wreaths, crosses and other shaped arrangements. Consider consulting a florist that is well-versed in creating various types of condolence or funeral arrangements to replicate the deceased's favorite activities such as sports logos and other personalized tributes.
Roses
Roses are no doubt one of the most versatile flowers. They are also very common and appropriate when it comes to condolence arrangements since they work well with other flowers as well as leaves, berries and sprigs.
Each color has a different connotation. A single rose among a bouquet – regardless of the color – expresses enduring love. Like the lily, white roses tend to represent purity and innocence. Peach roses are also a popular choice as they are sweet, gentle and understated; it also signifies modesty, sincerity and gratitude. These colors of roses make great condolence gifts for a grieving family but they also have a formal look that is appropriate for a funeral service as well.
Here are a few more flowers that, although are less common but are added after the main flower arrangement is complete, that deserve just as much mention as the above-mentioned flowers.
Hydrangea
Although less commonly used and not as well-known as other flowers, hydrangeas often covey heartfelt emotions ranging from pure joy to deep sadness depending on the color of the bloom and therefore a perfect way of demonstrating sympathy. Hydrangeas can also be given as a plant since they bloom perennially and represent remembrance.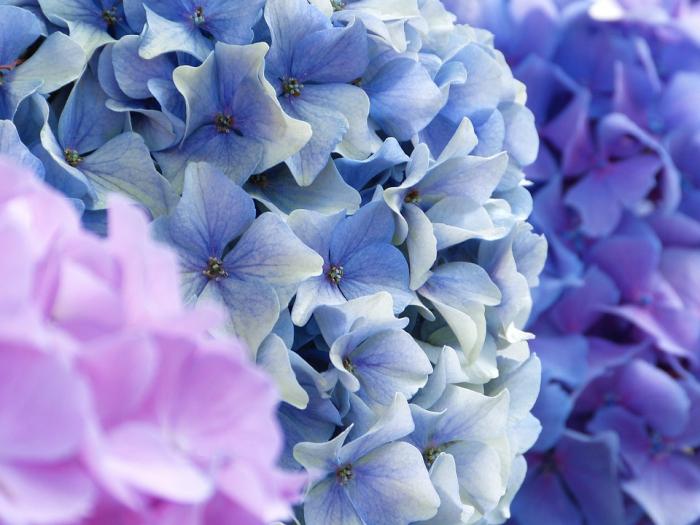 Blue hydrangeas are often used to demonstrate deep sorrow while white hydrangeas mean purity and grace. 
Hyacinth
Purple hyacinth is a popular symbol of sorrow and regret. It can also communicate the pain that you feel upon hearing of their loss, and this simple sentiment is often just what the family needs. Beautiful and fragrant, these flowers also represent keeping the grieving family in their thoughts and prayers during this time of sorrow and deep anguish. For a funeral setting, this expression is certainly appropriate.
Sending meaningful and heartfelt condolence messages
Writing a sympathy card is often an emotional experience. It can be challenging to find the right words of support and comfort. Try to put yourself in your friend's or loved one's shoes and consider how comforting it would be to know that they have someone who care about them and depend on during this tough time. The most thoughtful and comforting messages come from the heart. As soon as you hear the news, don't procrastinate. Send them a sympathy note or card as quickly as possible. If you might be worried about saying the wrong thing, do keep the message short but meaningful.
Sending the right message: what not to write
Don't compare the person's loss with that of your own. They are two completely different circumstances. Refrain from using phrases like "I know how you feel" or "I can imagine your pain".
You can share a memory of the deceased if you happen to know them personally. As much as you may be tempted to share details about your life and happy memories of the deceased, remember to take care with what news you choose to discuss.
At 24Hrs City Florist, we know how messages of sympathy and condolences are often difficult to express. Hence, we've written a blog specifically on this topic and compiled a list of helpful condolence quotes and messages both in English and Mandarin to help you find the right words.
Read on as we tackle some of the commonly asked questions regarding funeral etiquette and choosing appropriate floral pieces based on your relationship with the deceased.
What are the basic mannerisms when attending funeral wakes in Singapore?
Singapore is a melting pot of different religions and cultures. Funeral customs may differ between religions, ethnicity and cultures; reflecting a wide spread of beliefs and values.
In Singapore's context, WhatsApp and text messages are common communication medium used to spread the news of the death to friends and relatives. We recommend paying respects at the time stated in the messages. It is also appropriate to first contact the bereaved family before paying visit to the wake. Once you've arrived at the funeral wake, it is polite to introduce yourself and mention your relationship with the deceased or any of the bereaved family members. Remember to dress neatly and conservatively as your attire is a mark of respect for the deceased and bereaving family. While it is true that you don't have to wear all black, you should wear clothes that are conservative and have muted colors. Avoid wearing bright colors and flashy jewellery. It is also important to be culturally sensitive as well. For example, it is inappropriate to wear red to a Buddhist funeral as the color represents joy and happiness.
Malay Muslim funerals
Upon arrival at the funeral wake, look for any of the family members that you might recognize and introduce yourself. An Islamic funeral prayer is performed for the deceased.  Muslim guests will usually join the prayers, while non-Muslim guests can wait outside the house or sit and listen.
Buddhist or Taoist funerals
Typically, Buddhist or Taoist funeral wakes last 3, 5 or 7 days and is usually identified by the yellow tentage. When approaching the grieving family, be tactful with your language and mannerisms. To pay your respects, you may light up a single joss-stick if your faith permits, when a member of the family accompanies you to the altar, allowing you to pay respects to the deceased. Otherwise, you may choose to observe a minute of silence and offer a simple prayer or parting words to the deceased. In Chinese tradition, condolence contributions are also known as "bai jin" (白金). Any amount is perfectly acceptable and it is entirely up to your generosity. The purpose of the "bai jin" is to help the family cover the funeral expenses.
Christian funerals
A Christian funeral can be identified by a white tentage. Similarly, one is greeted by family members at a Christian funeral. One or more family members may accompany you to the coffin of the deceased. As a mark of respect, observe a minute of silence with your head bowed while offering a simple prayer or parting words to the deceased. A service may also be held where hymns or worship songs may be sung. Condolences contributions are accepted and it is entirely up to your generosity.
Hindu funerals
Hindu funerals are usually held at home, surrounded by the mourning family who will keep vigil. Hymns and mantras are recited during the funeral wake. Guests are encouraged to wear white and avoid black as the color is considered to be inappropriate. Guests of other faiths may participate in the service but are not expected to do so.
Can I send my condolences on social media or email?
The rule of thumb when acknowledging the news of someone's passing is to respond in the medium in which you received the news. However, digital condolences have garnered mixed reactions for the most part because it is seen as private way to express sympathy. Don't fall into the trap of posting comments primarily to be seen publicly expressing condolences and comforting the bereaved becoming a secondary goal.
Is it acceptable for friends of the deceased to provide floral pieces that are placed on or in the casket?
Generally, family – specifically living spouse, immediate family members provide floral pieces such as casket spray and inside casket pieces. Other arrangements such as condolence flower stands, side table arrangements and even condolence bouquets are appropriate choices for family members.
For friends and acquaintance, you may opt for other floral pieces/ arrangements such as condolence flower stands, funeral wreaths, floral crosses, floral photo frames and condolence bouquets. At 24Hrs City Florist, we cater to your needs and help you convey your condolences in the most uplifting and comforting way with a wide array of designs of general condolence flowers and wreaths to faith-inspired condolence flowers befitting of funerals of different religions and cultures.
I want to provide an arrangement for the funeral, but I don't know what the set-up will be that day.
You may consider calling the funeral home or place of worship to ask if there are any preferred ways to display the flowers or any rules they might have regarding sending of floral arrangements. During office hours there will always be someone to receive the delivery. Also, the funeral director is usually the one in-charge of setting up for the funeral.
Consider a condolence flower stand or wreath designed on a freestanding easel. This allows your funeral flower arrangements to be easily moved around at the funeral service.
What gift can I give at a funeral instead of flowers?
We certainly encourage you to recognize the wishes of the family. Family members may sometimes request a charitable donation be made in lieu of flowers. Some people may choose to send flowers in addition to making a donation. When in doubt, respect the wishes of the family or ask for the opinion of a family friend or next of kin.
Written by: Krystal Loh
Total Page Visits: 11823 - Today Page Visits: 1