It's a known fact that the cost of living in Singapore has slowly been increasing throughout the years. The cost of living, the changing demands and needs of individuals as well as lifestyle choices have morphed over time.
Curious to find out more about which age group in Singapore currently has the highest purchasing power and what they're willing to spend on? Or are you a millennial who has just dived headfirst into the working world and want to find out what other millennials are splurging on? From food to housing, to transport to travel, to gifts and even flower delivery. Read on to find out if Singaporeans are spending on daily necessities and if they're willing to spend on items such as floral bouquet deliveries for their loved ones.
How much does the average Singaporean spend?
As published on the Statistics Singapore Newsletter in September 2016, the Households' Spending by Age Group study, examined the spending of individuals across ages in Singapore, and provided insights into the expenditure patterns at different life stages. Data were based on the Household Expenditure Survey (HES) 2012/2013.
source ref:
https://www.singstat.gov.sg/-/media/files/publications/households/ssnsep16-pg10-13.pdfv
https://www.singstat.gov.sg/-/media/files/publications/households/ssnmar15-pg1-8.pdf
According to the study, resident households in Singapore spent an average of $4,723 per month on consumer goods and services. These include day-to-day expenses on items such as:
Food
Dining out
MRT fares and clothing
Regular expenditure like utilities
Phone bills/ School fees
Ad-hoc spending on big ticket items such as holidays and hospitalisation bills.
According to the charts above, it shows that those from 30-39 years old earn the highest income with an average monthly income of $12,479, followed by those in their 40s who have an average monthly income of $12,238. This is then followed by those in their 50s, below 30s and lastly, those in the 60 & over category.
Unsurprisingly, the highest household expenditure correlates to the household income statistics: those who are the highest spend more. What we need to analyse on a more in-depth level however, would be the category of items they spend on, which would give us a deeper understanding on their life priorities and lifestyle trends. Keeping in mind that every individual has different responsibilities and are at different stages of life, these figures from the studies may not be representative entirely as a whole
Those in their 30s (the group which earns and spends the most) spend most of their income on firstly, food then transport, housing, others the rest of the categories. What the data showed was that 44.2% in this category had children aged below 5 years old and 21.4% had domestic helpers in their households. 50.4% also had cars and as such, those in this age group spent more on food, housing, related expenditure and transport.
On the other hand, those in their 40s, as compared to other age groups, spent the most on education. This was because based on data, 68.9% had school-going persons in their families. Transport cost was also high as there was more than 50% who owned cars in this category.
For both categories, the high expenditure rates are due to the cost of raising a family in Singapore. Close to 50% of the individuals between 30-49 years old who were interviewed for the survey, had families to provide for, which accounted for the high expenditure in terms of food, housing, transport and education. These age categories are where most of one's major financial commitments occur such as monthly housing instalment payments and children. Although those in these age categories draw the highest income, the output is also equally high.
Instead of having just one individual or perhaps even just another to care for, the individual might have two to three children, raising the cost of food expenditure to more than $1,200. Housing loans and utilities bills usually come up to about $500 a month. Transport on the other hand, is pricey in Singapore due to high petrol costs. This could set a family back $500 just on petrol alone, without factoring in the bus and MRT fares.
How about those aged 30 and below?
Those aged 30 and below had lower expenditures as compared to the other age groups. Due to relatively lower car ownership and most being school-going persons, they spent less on transport. As this is the age group where more individuals start graduating, getting a job and becoming financially sufficient, many start to earn incomes and contribute back to the household.
Based on the data alone, it shows that food is once again the highest expenditure cost, followed by housing, transport then others. However, is this absolutely true?
Jeraldine, a blogger who considers herself an average Singaporean, is one that falls within this category. She gave an example on her personal blog that the cost of an average young Singaporean who just entered the workforce would be as following:
She then further examined the various factors and gave her reasoning for the breakdown.

Parents allowance ($400): As Asians, most give monthly allowances to parents upon graduation. Based on a Dollars & Sense article "How much parents hope to receive from their children when they start working" article, she realised that most parents expect $200-$600 a month and thus $400 is an average.
source ref: https://dollarsandsense.sg/survey-much-parents-hope-receive-children-start-working/
Transport ($100): Taking into account that not many in this category can afford to purchase cars, this is based on MRT fares and some private-hire/taxi rides. This brings transport cost up to about an average of $100 a month. However, this also depends on where one stays and the convenience/lifestyle that one chooses to adopt.
Food ($100): Lunches during work days can average about $5 depending on the choice of food.
Personal phone bills ($50): Provided one stays within the limits of the given phone plan.
Enjoyment ($200): This is simply broken down into dining in a restaurant, alcoholic beverages, buying presents, watching movies etc. It depends on how outgoing one might be or how hectic one's social life is. Everyone has different hobbies and not everyone may spend the same amount on what they deem as enjoyment.
There are other factors such as insurance, having to pay income tax and other bills that one might not factor in. Depending on one's life stage, some below 30 may be single whereas others may have settled down early and started a family at a younger age. As such, that could bring your total expenses up by easily another $1,000.
To Jeraldine, she did not take into account other factors such as:
Personal grooming (clothes, cosmetics, beauty products, facials)
Fitness classes such as yoga, dance class, gym memberships and sports
Obligations
Holidays
These are some of her expenditures that are more ad-hoc based in nature. It all depends on the individual's needs and wants. Personal grooming and fitness are deemed important to many young working adults who are getting used to a routine. For her, obligations are also ad-hoc functions where she attends weddings, birthdays and team dinners. She acknowledges that every company and individual have different commitments and social circles. As such, it differs from one to another.
According to a study conducted by Channel NewsAsia in January 2019, "millennials are more inclined to take a short city break holiday (42%) compared to everyone else, and are more likely to seek excitement while older travellers prefer to relax and soak in the culture. Younger people are less fixed on a destination, with only 46% of participants aged between 18 and 24 having decided on where to go before starting their research. For those above 65, planning is key – 70% already have a place in mind before reading up about it."
source ref: https://cnalifestyle.channelnewsasia.com/travel/travel-habits-millennials-vs-parents-young-old-people-survey-11101818
Similarly, another study conducted by OCBC, was conducted in January and February 2019 and polled 866 young Singaporeans aged 16 to 29 who were young working adults, and polytechnic and university students. Survey results show some 72% want to be rich but:
About the same number of survey respondents find it important to give back and help others
73% are concerned for their parents' finances for retirement
82% feel that gaining life experiences such as travelling is of greater priority than gaining physical possessions (49%) if they have the financial means source ref: https://www.todayonline.com/singapore/singapore-millennials-are-practical-non-materialistic-and-care-community-ocbc-survey
This is in line with other studies which show how millennials (those below 30) are more inclined towards experiences than gaining physical items. This then raises the questions of whether Singaporean millennials are willing to spend on items such as purchasing flower bouquets for their loved ones?
Whilst every individual has different needs, it is clear from the surveys and from Jeraldine's personal example that millennials do spend their income on a wide range of items.
Personally, as a millennial myself and a 26-year-old who has been in the workforce for about 3 years since graduating, managing my finances has been a tricky manoeuvre. My expenses are usually spent in the following manner: Food (30%), Transport (15%), Bills (Study loans/ Handphone Bills/ Club Memberships: 30%), Parents' Allowances (10%) and Entertainment/Savings (15%).
The breakdown may not be the most ideal but it is realistic. The pay for an average Singaporean may not be exorbitant but learning to live within my means has been my motto for the past 3 years. If you're someone who is still working to pay off loans, be it tuition loans for university, car loans or housing loans, these payments definitely take up a large sum of one's income. Learning how to juggle the remaining amount however, is something that requires discipline.
Dating too, for those below 30, is a factor that would result in a higher expenditure cost. Going out on dates can be expensive in Singapore. Restaurants in Singapore are pricey, but having said that – it also depends on the personality or preference of your significant other. If he/she prefers having meals at affordable locations such as hawker centres of food courts, the amount that one would spend on dates would be lower as compared to couples who frequent restaurants or head to town for shopping sprees.
On the topic of shopping, according to this survey, among households with at least one member aged 25-44, about 36-41% had made online purchases. Apart from travel and holiday-related expenses, clothing and footwear made up the next most significant purchases online. This is interesting to note as it speaks about the millennials shopping preferences and spending habits.
Personally, as someone who believes in spending on special occasions such as birthdays, anniversaries and celebrations in general, ad-hoc expenses such as spending on cakes, balloons and flowers are a common habit of mine. Each month, I usually spend about $50 on such miscellaneous items. While most surveys do show that millennials prefer spending on experiential items, I believe that like myself, many would still put aside an amount if their loved one is celebrating a special occasion.
A beautiful flower bouquet to brighten up one's mother's face during Mother's Day or a yummy cake for your significant other's birthday are physical items that bring joy to others around. As such, sometimes the lines between physical material items and experiences are blurred. Some physical items, when carefully selected can be as meaningful as big ticket items such as holidays.
How about those aged 50 and above?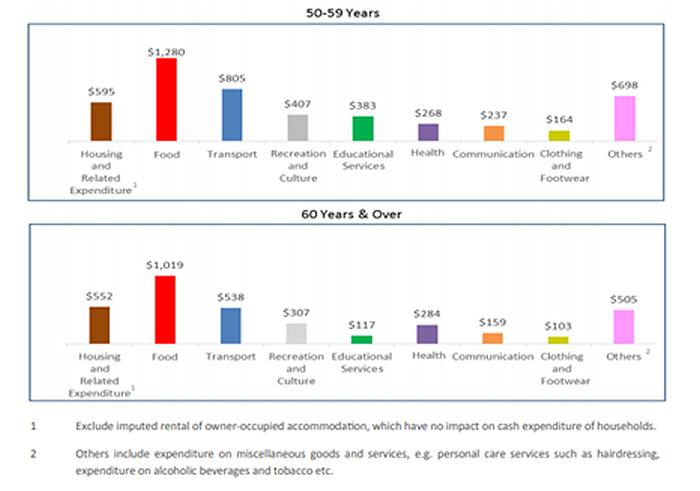 Whilst priorities for this age group may be similar to all other age groups, these are predominantly the age groups which might have to spend more on healthcare and medical bills. Although their children may be financially self sufficient at this point in their lives, some might have other financial commitments such as the remaining bits of their house or car loans to pay off.
Similar spending habits across the various age groups?
If there's one thing that the data proves, spending habits across the various age groups are more or less similar, albeit some differences in the proportion of spending habits due to differing life stages and financial commitments.
Nonetheless, despite how tough managing one's financials may be, I hope that every single Singaporean, be it an individual in the below 30s category or even one who is in the 60s and above category would find joy in the little things in life, purchase meaningful items such as birthday cards or flowers for loved ones, book holidays with their families, books to read with their children. Whether it's experiences or physical items that bring joy to others, we just have to learn how to manage our finances well in order to be able to spend practically and meaningfully.
Written by: Elizabeth Tan
Total Page Visits: 7166 - Today Page Visits: 6