The Difference Between Dried And Fresh Flowers
Flowers have such beauty. However, a fact of nature is that beauty fades and so do flowers. It's nature's way of telling us that nothing lasts forever. The question then arises, what would be a great alternative to fresh flowers if we would want something to last longer? Heard about dried or preserved flower Singapore? If you want to know the difference between fresh and dried flowers, how long do dried flowers last and the symbolism of dried flowers, then do read on to find out more.
Freshly cut flowers are gorgeous. Not only do they look amazing, they smell great too. There's also something symbolic about having fresh blooms in one's house or sending a fresh flower bouquet to someone. Fresh blooms symbolise hope, brightening up rooms at home and lifting one's mood. Flowers also come in all shapes, colours and types – making it the perfect accessory for your home.  Today, one just need to google and you can choose a wide ranging flower arrangements and flower bouquets and send it for a flower delivery from any online florist. However, sadly, freshly cut flowers last about a week or so on average.
That prompts many to ask what the alternatives to fresh flower bouquets would be. Dried flower bouquets, which are equally as trendy as fresh flower bouquets, would be a cost-efficient and effective solution. Not only do they still retain the beauty of the blooms, they also last longer and are more cost efficient.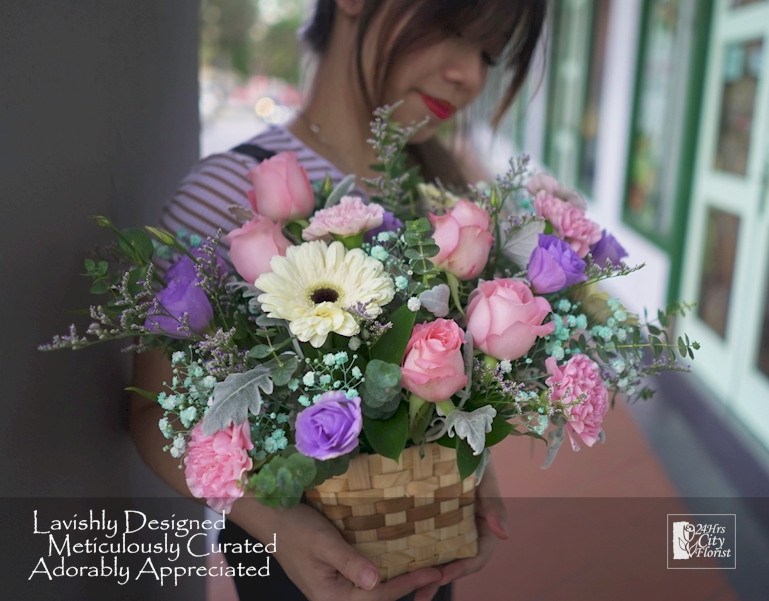 Contrary to many people's beliefs that dried flowers mean bad luck, dried flowers are actually an innovative way to preserve the beauty of a significant flower bouquet which might hold sentimental value or simply, if you feel that it's a waste to throw the fresh flower bouquet away.
History of dried flowers
We previously had an article on how to make dried flower bouquets but here's just a recap – The act of drying flowers dates back to ancient times. Pressing flowers was a quintessential Victorian pastime especially for women from the middle and upper class. Flowers were often slipped between pages of a book as a remembrance of a particular person to preserve the memory of a special event.
The Japanese also embraced the art of preserving the beauty of flowers through an art form known as Oshibana dating back as far as the 16th century. Oshibana involves using pressed flowers and other plant materials such as barks and branches to create an entire picture on washi paper. Another early culture to immortalize flowers were the ancient Egyptians. For practical reasons, dried flower garlands were placed in tombs as part of their funeral rituals.
In the middle ages, herbs and flowers were used to combat and repel diseases and bad smells. It was believed that the physical appearance of a plant looked like the body or disease it would cure.
Many are also confused by the difference between dried and preserved flowers:
Dried fresh flowers partially maintain the quality of natural flowers. However, dried flowers do not last as long as preserved flowers. The branches, stems and petals of dried flowers are more fragile and the colours of petals will start to fade.
Preserved flowers on the other hand are more professionally dried. By leaving flowers in water-glycerin solution whereby the water in the flowers is replace glycerin, it allows the flowers to retain its natural appearance, looking fresh.
However, appearance wise – many who prefer the rustic vibe tend to go for dried flowers as compared to preserved flower bouquets as there's a certain charm which comes with the delicateness of dried flowers.
How are flowers dried?
There are a few ways that flowers can be dried. Here's a comprehensive list of three easy and doable ways to dry your flower bouquet:
By microwave
Place the flowers, one at a time, into a microwave-safe container and cover them with silica gel to absorb the moisture. Microwave it on high temperature for about two to three minutes. Once it is cooled, brush off the silica gel with a brush.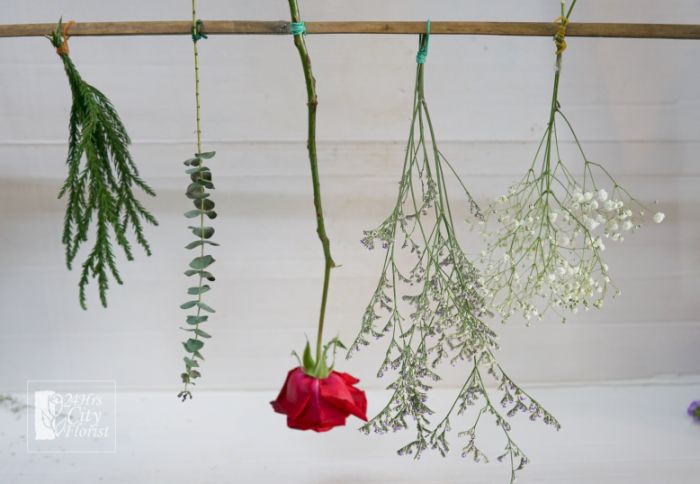 The simplest method out of the three, this method is easy and practical. Let your blooms have a natural dried finish by taking your flower bouquet in a bunch and secure the stalks with a rubber band. Hang them upside down in a dark yet well-ventilated corner.
For smaller flowers, this technique would work best. Usually, pressed flowers look best framed up. Simply place your flowers on a matte paper in a single row then place another sheet of paper above it. Seal it with tape and place under a heavy book. Replace the paper after a week and leave it for another two weeks. Once they develop a papery texture, voila – your dried flowers.
How do I care for my dried flowers?
It's actually quite simple. The main factors which affect them are light and humidity. Do note that direct sunlight can cause flowers to fade. Moisture can also be absorbed and make them "wilt".
How long will my dried flowers last?
Different flower types have different lasting power. Dried flowers last best when kept out of direct sun and moisture. While it should generally last a few months to a year, do note to always change it up if the dried flowers are breaking apart. If you're keen to find out more about what kind of flowers would be more suitable to be dried, you can check this article out. 
Differences between fresh and dried flowers
The durability
Dried flowers are definitely more durable compared to fresh blooms. While a fresh bouquet of flowers last approximately a week with proper care, a dried flower bouquet can last up to a few months.
This makes it a more lasting option for those who are practical. In fact, one of the biggest complaints people have about flower bouquets is that flowers don't last. As such, this stops many from enjoying the benefits that beautiful flower bouquets bring to our lives.
Knowing how to dry your own flowers is actually a handy method to preserve the meaning behind receiving a fresh flower bouquet from a loved one. This way, the beauty is preserved and the more sentimental souls get to see it last.
Fresh flowers look dewy and radiant. However, with dried flowers, it becomes a completely different aesthetic. The colours of the petals will fade, and as for the branches and leaves, they become more brittle and sensitive. Stems would break more easily and so would branches. However, there is a charm that comes with dried flower bouquets. It adds on to the whimsical charm that many have been recently opting for in recent years.
Undeniably, dried flower bouquets are actually more affordable than fresh flower bouquets. Whilst the price may not differ too much, you may see a 15-25% price drop as compared to fresh blooms.
Both fresh flower bouquets and dried flower bouquets can be easily found at many florists across Singapore.
Which do people really prefer? Fresh or dried flowers?
So to put it up to a test, I asked a group of 30 participants, a mix of both males and females, which they preferred more. 17 chose fresh flowers and 13 chose dried flowers.
This was an interesting result because the vote was close to a draw. Only 5% of the participants chose fresh flowers over dried flower bouquets. When I approached one who had chosen fresh flowers and one who had chosen dried flowers to ask them for their reasoning, this was their reply:
Fresh flowers: They're prettier and they smell great too. The vibrancy of the colors is there.
Dried flowers: Dried flowers have a rustic vibe which I think is nice. Also, I don't have to worry about the fresh flowers dying and having to constantly change the water and cut the stems.
Interestingly enough, the one who chose the dried flowers provided a more practical response whereas the individual who chose the fresh flowers chose it due to the aesthetic reason.
In a 2016 article published by TODAY, they mentioned that dried flowers were actually becoming the choice of younger folks. A blogger had actually opted for dried flowers at her wedding as she felt that having fresh flowers would be a waste as many wedding couples nor their guests usually bring back their flowers. With the dried flowers however, it matched the dreamy vintage vibe of her décor beautifully.
Another reason many brides-to-be actually go for dried flowers is because it spares them the headache and worry of having to ensure the freshness of the blooms. With dried flowers, they can be prepared weeks or even months in advance and that means, one less issue during the big day. Fresh blooms on the otherhand, mean that they have to ensure the flowers look fresh on the day itself. If they don't, they would have to rectify it before the ceremony.
With dried flowers, it is also possible to use flowers that are not able to be found in Singapore's humid climate. Drying the flowers would mean that it's a way to bring such beauty to other places where it can't be found – adding a more unique element to one's wedding dinner or function.
What else are dried flowers currently used for?
Some of the additional benefits that comes with dried flowers is that you can use them for other uses in your daily lives which fresh blooms cannot.
Such uses include:
Pressed flower dried accessories
Credits: lazada singapore
Pressed flower earrings and accessories have become quite phenomenal in the fashion world. There's just something about wearing natural elements in your daily get-up which adds a subtle girlish charm. Compared to many other accessories, choosing a pressed flower accessory is a way for many to express their individual style, be it by showcasing their favourite flower or by opting for different colour schemes. Dried flowers are thus an amazing way which allows people to express themselves by even having the option to make their own handmade jewellery to impress.
I'm sure we have all seen this before. Dried flower pressed bookmarks in between books. It's not only a gorgeous handmade gift that you can pass to someone but it's aesthetically pleasing to see when you flip open the book.
As decorative pieces on the wall
This may sound absurd but in the process of drying your flowers, why not arrange them as decorative pieces on your wall. This not only adds a pop of colour to your room but is practical storage as well.
You can also get some inspiration from https://www.buzzfeed.com/gyanyankovich/dried-pressed-flowers-diy-ideas on how to use your dried flowers.
Ultimately…
Everyone has different preferences when it comes to flowers. Ultimately, it depends on each individual whether they prefer dried, fresh or even preserved flowers. Each type of flowers has different looks, purposes, advantages and disadvantages. It depends on the type of function and purpose one might require the flowers for.
Personally? I'm a fan of fresh flower bouquets because I love the idea of transience it brings with it. Just like how the only constant in life is change, flowers and blooms are an embodiment of that in nature. Beauty fades and nothing lasts forever, having fresh flowers wilt with its petals dropping and it's stems becoming brittle is a reminder to me to live in the present moment and cherish all that we have.
Dried flowers are undoubtedly useful and gorgeous in it's own way and I have seen countless friends use dried flower bouquets on their wedding day. It's all personal and some brides and friends prefer a more rustic vibe.
Beauty exists in both forms, and it is still important to care for your blooms (be they fresh or dried ones). If you're a sentimental person who likes keeping your memories close to you for as long as you possibly can, perhaps dried flowers might be the wiser choice. However, if you're someone who loves the look and smell of fresh ones, why not spend the time and effort to go out and purchase fresh blooms for your loved ones or house.
Be it fresh or dried flowers, both are beautiful with their own charms. Do find the one that best suits your purpose.
Written by: Elizabeth Tan
Total Page Visits: 25168 - Today Page Visits: 2