These flowers are romantically dubbed "everlasting flowers" due to its tendency to last infinitely longer than fresh flowers. What are referring to? Yup, you guessed it; dried flowers are certainly making a strong comeback in 2019! While beautiful fresh blooms have many virtues, among these is its ability to fill a room with a heavenly aroma. The problem, however, is that they have a relatively short life span. Dried flowers bouquet provide an alternative to fresh flowers bouquet since they last longer and are more cost effective. They also capture nature's beauty at its peak. Drying flowers also gives you the opportunity to save flowers that have sentimental value.
The act of drying flowers dates back to ancient times. Pressing flowers was a quintessential Victorian pastime especially for women from the middle and upper class. Flowers were often slipped between pages of a book as a remembrance of a particular person or to preserve the memory of a special event.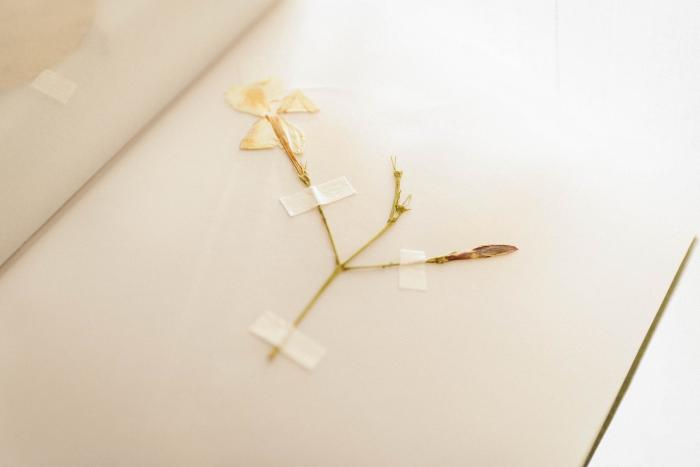 The Japanese also embraced the art of preserving the beauty of flowers through an art form known as Oshibana dating back as far as the 16th century. Oshibana involves using pressed flowers and other plant materials such as bark, branches to create an entire picture on washi paper. One of the earliest cultures to immortalize flowers by keeping its original colour, shape and look months after they had been cut was the ancient Egyptians. Dried flowers garlands were also placed in tombs as part of the ancient Egyptian funerary rituals.
Dried flowers have had their heyday in the 90s with wicker basket displays full of faded African daisies, statice flowers and rose buds the size of small children. After a period of popularity, it began to earn a reputation for being stuffy and outdated; often conjuring the image of musty and old-fashioned arrangements that hasn't seen the light of day in ages. Once associated with grandmas bedside table décor, dried flowers are coming back in style and taking Instagram by storm.
We are starting to see more floral designers specializing in dried flora, with a good mix of blooms of varying shapes, sizes and textures to bring out character in each arrangement. It is not surprising that flower aficionados are turning to these stunningly gorgeous, weightless and low maintenance alternatives to fresh flowers. And with proper care, dried flowers can retain their beauty for months!
So, either you love them or loathe them, they're here to stay.
Differences between dried flowers and preserved flowers
For the purpose of this blog post, we will be focusing on creating dried flower bouquets rather than preserved flower bouquets. We've included a simple explanation below to help you differentiate between the two techniques:
Dried flowers
A popular way to dry fresh flowers that partially maintains the quality of natural flowers. The best known methods of drying is by allowing the flowers to dehydrate naturally, hanging them faced down. However, dried flowers are not as long lasting as preserved flowers. Branches, stems and petals tend to break and fall off easily and the colour of petals will start to fade. The most common preserved flowers are roses because preserved flowers bouquet with roses sells!
Preserved flowers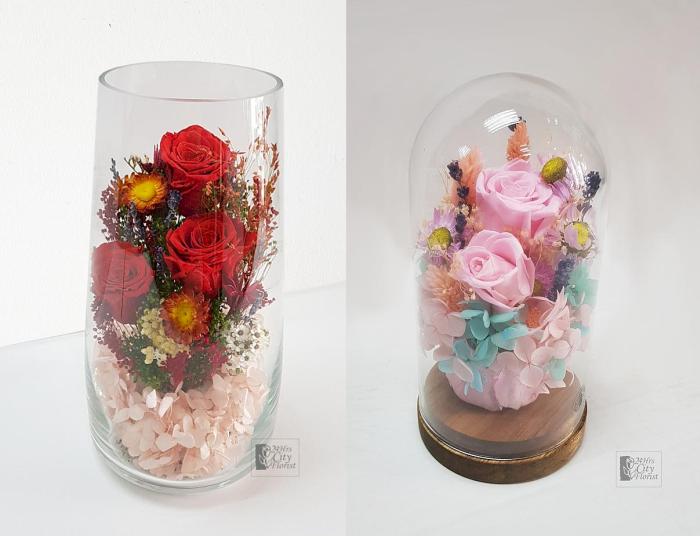 Preserved flowers require a more sophisticated technique of drying. This technique allows flowers to maintain its natural appearance, as if they were freshly cut! A technique used to preserved flowers is by leaving flowers in water-glycerin solution whereby the water in the flowers is replaced by glycerin. The outcome allows the flowers to stay forever young, supple and long-lasting.
Dried flowers: is the trend passé or in vogue?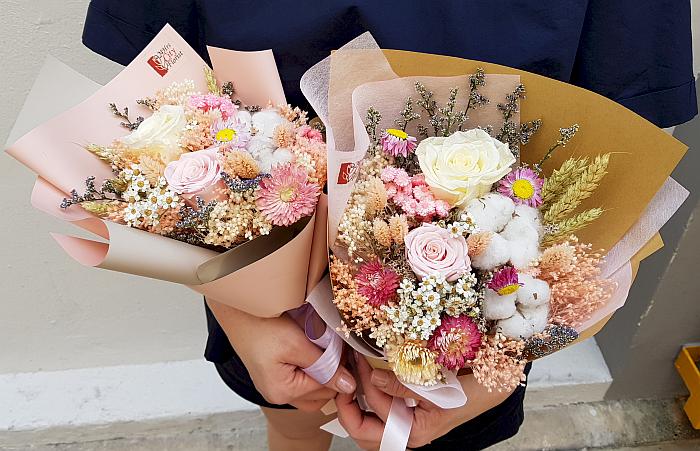 A common dilemma that most people face when it comes to choosing the best flower arrangement for a special occasion or for a home arrangement is whether to choose fresh flowers or dried flowers. While many people associate good memories with receiving flowers, most are undecided on whether they should save their favourite blooms or toss them out. I decided to poll a small group of my female friends to gain an insight into their perception of receiving and drying out flowers to capture and cherish their priceless posies or bouquets to create an artwork that can be observed without the pressure of time.
Here are the findings of the quick poll (drum roll please)…
Slightly over half of the respondents say they love the trend. Many shared that dried flowers make stunning arrangements and give our living spaces a burst of colour just like fresh flowers do! But unlike fresh-cut flowers, dried flowers have a much longer shelf life and don't require much care and attention. However, the rest of my friends were either not completely sold on the idea or simply loathe it due to the general sentiment that dried flowers are essentially dead flowers left to gather dust. Some shared that the dried flower bouquets conjure up a picture of small, faded and gangly florals that are delicate and brittle. As you can imagine, these two groups of respondents were not willing to pay a premium for dried flowers. They felt that these arrangements were not worth the hefty price tag.
Drying flowers from a lovingly handcrafted bouquet can remind you of all the amazing times you had with your loved one, or the people that matter the most to you who brought you flowers during a rough time. Close to half of the survey respondents have ever dried their fresh flower bouquets and preserved them for keepsake. The versatility and longevity of dried blooms make them all the more appealing to create custom floral arrangements, decorative wreaths, floral swags, bouquets and corsages.
It's not surprising that the most widely used and easiest method to dry flowers is to air dry them by hanging them upside down, followed by the pressed method and finally drying flowers in a microwave. Here are some neat tips and tricks you can use the next time you wish to dry flowers in these three different ways.
Tips on air drying flowers:
Remember to remove extra foliage from the flower stems to keep them trim as they become weak and brittle after drying.
With each flower type drying at different rates, it is best to group stems into bunches of the same flower type of no more than 6 to 7 stalks per bunch.
Flowers should be hung somewhere that gets minimal sunlight. Direct sunlight will cause colours to fade.
Tips on drying flowers using the pressing method:
Avoid flowers with fleshy stems and leaves as well as those with thin petals.
Line the flowers between layers of an absorbent and porous material ensuring that the flowers are placed faced down and they do not overlap.
Place the stack in a warm, well-ventilated place and weight it. Leave it untouched for seven to 10 days.
Tips on drying flowers using a microwave:
Remove any unwanted leaves from the flower and cut the stem so that it fits into a bowl. Make sure to cover the flower completely in silica sand.
When you place the bowl in the microwave, remember to add a cup of water along with the uncovered bowl and heat in microwave in 30 second increments. This reduces the chances of burning the flower.
Similar to air drying, ensure that flower is keep out of direct sunlight to prevent the colours from fading.
Best flowers for a dried flower bouquet
While most flowers can be dried, some will stand out more than others. The unique colour and texture of certain flowers make them excellent choices for dried flower arrangements. For example, deep red flowers that dry out to become a dark grape, almost black colour tend to impart an antique elegance to the appearance of the bouquet or floral arrangement. Prime choices include lavender, wheat, roses, baby's breath, strawflower (or everlasting), caspia, pampas grass and eucalyptus. Some other flowers that dry well include hydrangeas, statice, calendula, nigella and breadseed poppies.
Lavender – The quintessential go-to dried flower to make beautiful, wonderfully scented wreaths and bouquets. It is often used as a filler flower to add a pop of colour and make the bouquet look more sophisticated. This purple flower is simple yet elegant and looks best when arranged in a bouquet.
Wheat – Wheat is not only good for making bread; they look great with gorgeous florals in a vase year-round. Wheat adds a touch of natural elegance and rustic beauty to any decorating theme. It is also a symbol of happiness and sunshine. You will often find dyed wheat (in red, green, orange or blue) to create more dramatic and fun arrangements.
Roses – Roses don't just make flamboyant displays in fresh flower bouquets, when used in autumnal bouquets or centerpieces; the result is an arrangement that is rustic, nostalgic and unique.
Baby's breath – This filler flower is used in many floral arrangements.They are cute, tiny and amazing when grouped in bunches. Baby breath flowers offer a delicate balance to other larger more dramatic flowers (like dried roses or peonies) to mellow out the arrangement.
Strawflower (Everlasting) – They're an easy and popular flower to dry. These beauties can hold its petals well beyond most other flowers. They are great for mixing with other dried flowers in arrangements. Strawflowers also come in a variety of colours (such as pink, red, yellow and white).
Caspia – Just like lavender and baby's breath,caspia are great filler flowers that are very airy and fine. It's helpful to note that the colour might differ depending on which stage of the drying the flowers are at.
Pampas grass- This long stemmed grass, with its effervescent flair is taking floral aficionados by storm. You may use as many plumes as you want to create a stunning statement piece.
Eucalyptus- The most common eucalyptus leaves used in dried flower arrangements are the silver dollar and baby blue. The silver dollar makes a great pairing for white and pastel themed bouquets. The silver dollar can also be dyed to different colours to suit the colour palettes/ schemes of the floral arrangements. The baby blue eucalyptus is denser and has smaller leaves than the silver dollar. They can certainly add an eye-catching texture to your dried flower display!
3 stunning colour palettes to get the inspiration flowing for your first bouquet!
1. Soft pastel bouquet
Thinking of a simple colour scheme for spring that is full of charm with a 'gathered from an English garden' feel? Create your own delicate pastel 'peaches and cream' bouquet using dried garden roses, peonies and baby blue eucalyptus leaves. For this bouquet, I would recommend tying a bow using organza ribbon to complete the bouquet.
Try this colour scheme:
Dusty Blush
Light Coral
Pastel Beige
Soft Olive
2. Summery bouquet
How about creating a rustic-style bouquet? If you're thinking of creating wildflower centerpieces that exude vintage charm or cottage decorations, you can try using cotton, daisies, wheat and bleached yarrow flowers. For this bouquet, I would recommend to wrap the dried flowers in burlap or brown vintage paper to complete the look. First, bunch up the flowers and tie them together with a rubber band, lay the bottom half on top of the burlap roll and roll it up like a burrito. Cut off the excess burlap after one roll, and then tie a bow around the burlap with brown raffia.
Try this colour scheme:
Alabaster
Lemon Glaze
Goldenrod
Canary Yellow
3. Striking Colour Bouquet
Make dried flowers a statement in your home. If you're thinking creating a bold and flamboyant arrangement, consider selecting blossoms that contrast with the scheme to add energy or seasonal punch. You can try using dried seed pods, dyed thistles, dried peony bush in crimson burgundy and silver dollar eucalyptus leaves. For this bouquet, I would recommend to wrap the flowers in craft and rice paper.
Try this colour scheme:
Merlot
Burgundy
Peach
White
Fern Green
written by: Krystal Loh
Total Page Visits: 13251 - Today Page Visits: 1