Types Of Flowers To Send For Condolence
What type of flowers to send for condolences?
The death of a loved one is one of life's most difficult experiences. When someone has lost a loved one, there is nothing in the world that can make the pain go away. No words can adequately convey feelings of sympathy and sorrow. Grief can be an isolating emotion as the bereaved has to move into a world where his or her loved one is no longer alive. However, letting them know that you love and care about them through your presence and words of support can help to ease the pain, even if it's just a little. Funerals are always difficult and often viewed as an uncomfortable social situation. Fortunately, attending funerals is not generally something that most of us are well acquainted with. If in doubt about attending, do try to make it a point to attend the funeral or other memorial services if possible.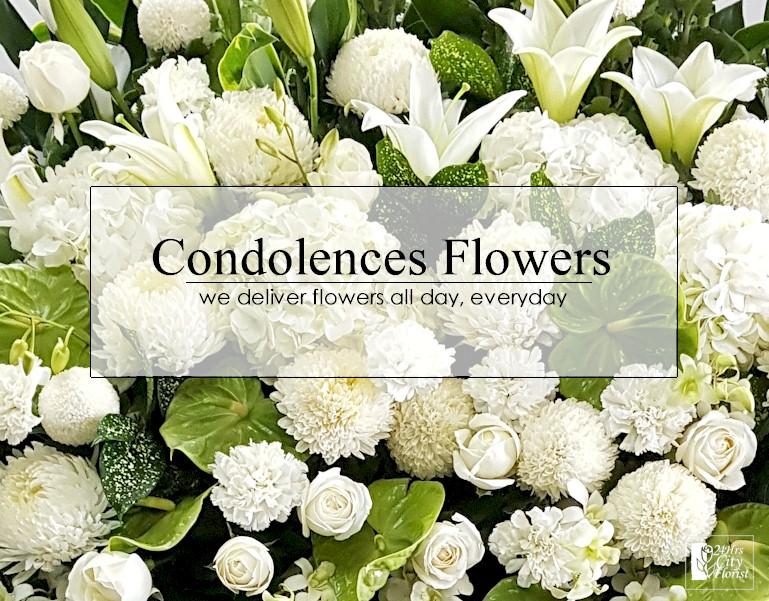 Your willingness to go out of your way to attend and your words of comfort and peace are wonderful and heartfelt ways to let the bereaved know they are in your thoughts and prayers. However, in extenuating circumstances that does not allow you to attend personally, sending condolence flowers and wreaths are a beautiful way to show you care. Sending flowers to someone in their hour of grief is a caring act and the recipient will take comfort in this thoughtful gesture. When a flower delivery or condolence flowers is delivered to the wake or funeral home, they'll know that you are thinking about them and their loss. Flowers serve as a beacon of hope and they are a perfect replica of human life. They are a symbol of the human life cycle from birth to death and they remind us of the haunting fragility of life and its temporal beauty.
The tradition of incorporating floral tributes as a part of funeral customs has been around for thousands of years. In fact, arranging and placing flowers around the deceased has been one of the oldest forms of mourning. There are even theories that Neanderthals buried their dead in flower-laden graves over 60,000 years ago. When a flower wreath is delivered to a funeral or memorial service, the meaning is explicable in which to represents a way to share the burden of grief and loss and a symbol of community support for the bereaved. According to a behavioral research study conducted by Nancy Etcoff, Ph.D., of Harvard University, some of the emotional benefits of flowers include its ability to invoke positive moods-happiness, friendliness and warmth. Flowers also impact people emotionally by feeding compassion, chasing away anxiety and worries; as a result people feel less negative emotions after being around flowers. Flowers represent the continuity of life, create emotional well-being and help lift the spirits of those in mourning.
While the experience of a funeral or memorial service can be emotionally difficult, flowers can help to put feelings into words and lighten the somber mood. Specially chosen condolences flowers can act as an expression of love, respect, comfort and sympathy; giving warmth and consolation in moments of heaviness and sadness. With flowers playing such an integral part of creating the appropriate atmosphere in any funeral or memorial service, it is important to avoid an unnecessary flower faux pas. It can be difficult understanding the etiquette for sending flowers to express condolences and sympathies. Here's what you need to know when sending condolence or funeral flowers.
Express your sympathy and condolence by sending a floral tribute: The difference between funeral and condolence flowers
Flowers not only represent love and sympathy during a difficult time, but also eternity and immortality. Hence, they are often regarded as the ultimate medium for conveying sympathies and acknowledging that the bereaved are grieving and showing that you care about them. However, there are some things that you should take into consideration before sending flowers as there is a slight difference between condolence and funeral flowers and the etiquette for each is a little different.
Funeral Flowers
As a rule of thumb, funeral flowers go to the funeral home while condolence flowers can go anywhere. Funeral flowers are often larger and more formal arrangements typically arranged by immediate family members with the purpose being to remember the deceased and celebrate their life. They are also designed precisely and made to be large enough surrounding the casket so that they can be viewed from every part of the funeral or memorial service, no matter where a person may be sitting or standing. Besides bidding a final farewell to the deceased, funeral flowers can reflect how much the person meant to you, their personality and recognition of their distinguished lifetime contributions.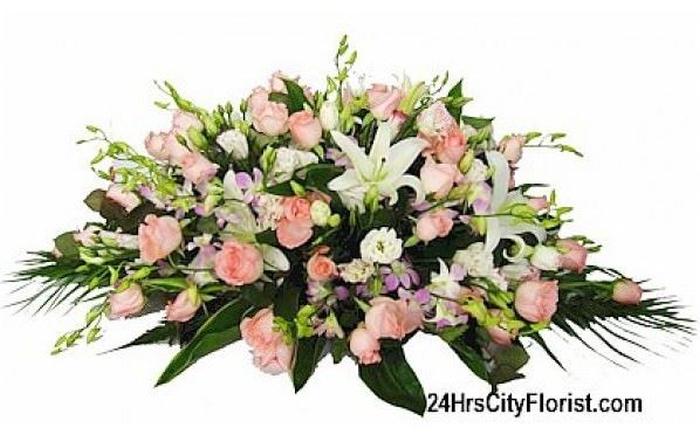 Funeral flowers vary according to religion, custom, and personal preference. The deceased's religious beliefs, traditions, likes and dislikes are usually taken into consideration and incorporated into the arrangements. Sometimes the favorite color of the deceased is used in arrangements for funeral flowers; if you know it you can send an arrangement reflecting that.
Some of the most common funeral flowers to consider sending as a tribute to the deceased:
Casket Spray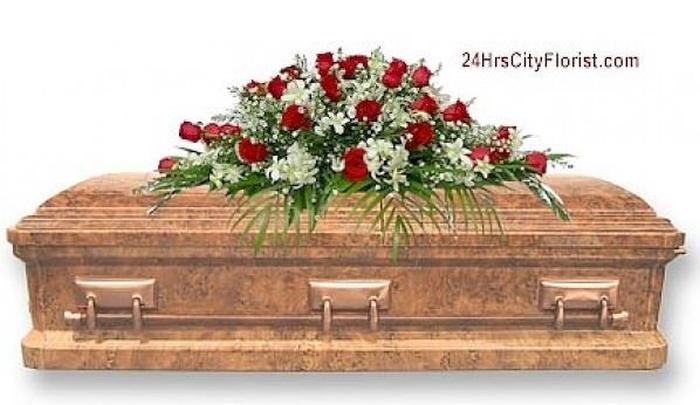 Also known as coffin sprays. These floral pieces are double ended and meant to adorn or drape over a casket in great splendor. Casket sprays are often chosen by family members or selected relatives to reflect the personality, wishes or preference of the deceased and are placed on the casket through the ceremony and the cremation or burial. 
Funeral Wreaths
Funeral wreaths tend to be more expensive than smaller funeral flower arrangements and are suitable to send as a tribute to the whole family in expressing your sympathy. For this type of funeral flowers, be sure to take into account the religious customs and rites as well as the cultural beliefs of the deceased. You may also consider taking your cue from the family and the circumstances of the death before sending the funeral wreath.
For instance, it would be appropriate to send floral tributes funeral crosses for a deceased Christian. At 24Hrs City Florist, we design funeral crosses using a wide range of styles and flower varieties. You may choose to honor the deceased's lifetime of faithful devotion with a stunning display of red roses with soft pink lilies cascading in the middle of the cross or choose a more subtle and uplifting arrangement with pink carnations and white chrysanthemums arranged on a wooden cross.
If the deceased does not subscribe to any religion, it might be better to send tributes in the shape of hearts or treasured possessions to make the display as heartfelt and thoughtful as possible. Floral heart wreaths indicate love and compassion in times of grief.
Funeral Sheaves
Funeral sheaves are also another popular way to express condolences. Sheaves can come in both single ended or double ended designs. Hand tied sheaves are made to lay flat and are suitable as informal floral tributes. This floral display is easily adaptable and many styles and materials can be used. It is also suitable for green burials and the environmentally conscious.
Funeral Flower Beds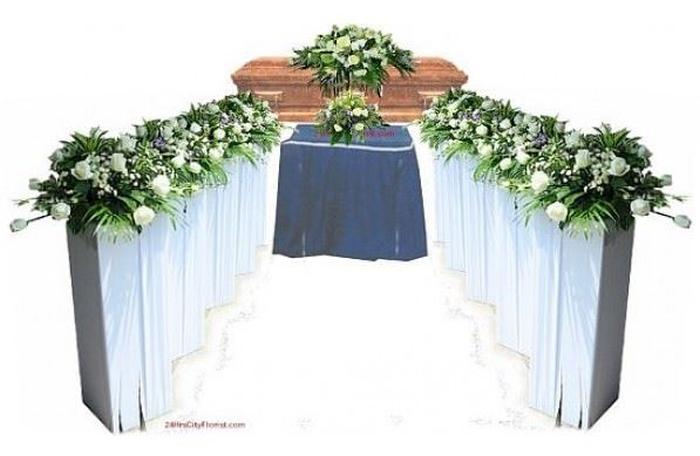 Flower beds presented on white stands make the perfect and eloquent send-off funeral arrangements around the casket. Feel free to let your florist know if you would like to customize the arrangements to suit the size, shape and color scheme that represent the best heartfelt tribute to say your final goodbyes.
Funeral Table Spray
A gracefully composed table spray is also an appropriate floral tribute for a funeral. These arrangements can be laid out on the reception table to remind the guests of the abundance of life and to provide comfort to the bereaved.
Condolence Flowers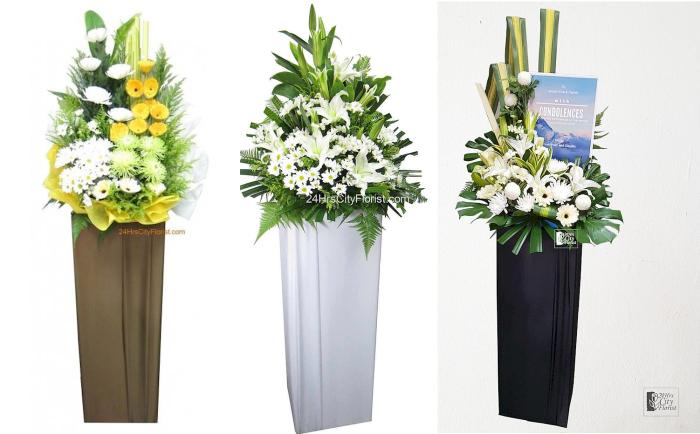 Condolence flowers are usually directly addressed to the loved one of the deceased. Another difference between funeral and condolence flowers is when the flowers are sent. If you hear the sad news and still have time to send the floral tribute to the funeral home, do so as soon as possible as funeral directors or church staff may have rules about sending floral arrangements and late flower deliveries can disrupt the funeral order of service. For example, certain funeral homes have opening hours depending on the wishes of the family members. Similarly too, certain churches (St Joseph's Church at Victoria Street) have opening hours and hence, condolences flowers may only be delivered during certain hours of the day.
Examples of condolence flowers that are messengers of hope:
Elegant and subtle flower arrangements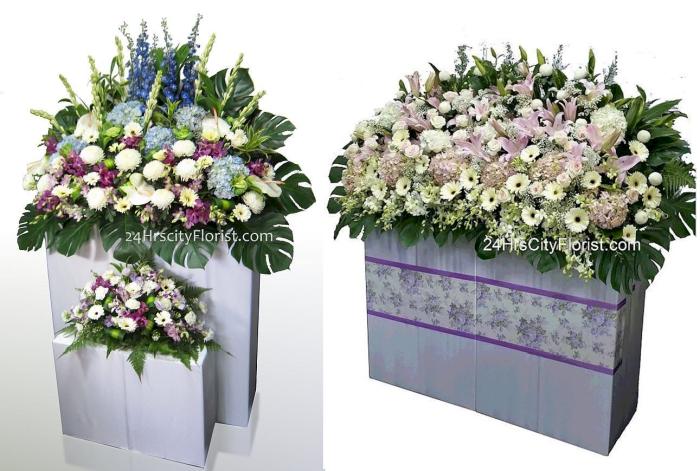 Fresh cut flowers are the most popular choice for condolence bouquets. Classical white or soft pastel flowers hand-tied are commonly sent as sympathy offerings as a sign of purity, peace and love. You can even consider sending luxury white oriental lilies in a clear vase or a contemporary calla lily and orchid arrangement as an appropriate form of condolence.  
Unique floral arrangements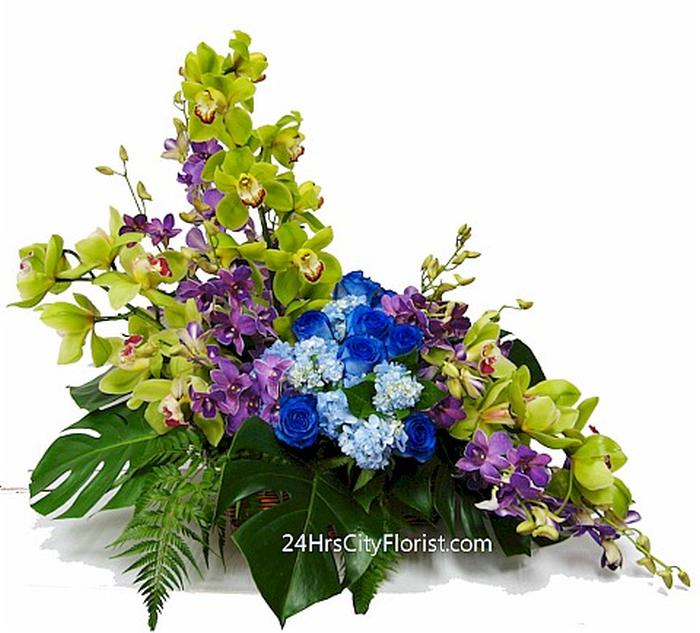 Condolence flowers don't necessarily have to be dull and somber. Flowers add fragrance, color and beauty to a sad occasion. A floral arrangement filled with springtime colors is a lovely and beautiful reminder of hope. If it fits the deceased's personality, you may even consider sending a charming, old-fashioned Victorian teacup bouquet featuring pink and crème roses. A rustic basket of wildflowers may be appropriate to honor someone who loved the outdoors.
Post-death matters: What to do when death occurs
When a death occurs, the family members of the deceased will have to obtain a Certificate of Cause of Death (CCOD). The family may then engage a funeral director who will collect the body from the home or hospital mortuary, send the body for embalming and deliver the body to the location of the wake.
The purpose of the wake enables relatives and friends of the deceased to pay their last respects. Depending on your religion, the costs of the wake and funeral may vary. The funeral wake can be done in a single day, or it can stretch to as long as seven days. A Chinese wake for example is usually a three-day affair in Singapore. It is also held for an odd number of days to signify the incomplete cycle of life and the hope of reincarnation.
Members of the deceased's family will also need to decide on the location of the funeral wake. In Singapore, wakes are held either at funeral parlours such as Singapore Casket and Casket Fairprice or in the homes of the deceased. For Singaporeans who live in public housing, wakes are usually held at the void decks of Housing and Development Board (HDB) flats. However, the necessary permits must be obtained from the Town Council before the premises can be used. If the wake is held in a landed property, and part of the road outside the home may be used, the family will have to get a permit from the Land Transport Authority (LTA).
Due to space constraints in Singapore, most of the dead are now cremated. If the faith of the deceased permits, many families opt for cremation particularly those practicing Buddhism or Taoism. There are three crematoria in Singapore – one government-managed crematorium and two private crematoriums. After cremation, the family of the deceased will return to the crematorium to collect the ashes of the deceased. The remains are placed in an urn. The urn is either placed in a columbarium, on an ancestral altar at home, or installed at an ancestral tablet in a temple or ancestral hall.
Government-Managed Crematorium
Mandai Crematorium
300 Mandai Road
Operating hours: 8:30 am to 4:30 pm
Kong Meng San Phor Kark See Monastery
88 Bright Hill Drive
Operating hours: 8:30 am to 4:30 pm
Tse Tho Aun Temple
601 Sin Ming Drive
Operating hours: 9:00 am to 3:00 pm
However, the body may be buried depending on the wishes and religion of the deceased. In Singapore, burial can only be carried out at Choa Chu Kang cemetery. It is the only burial cemetery to remain in operation and consist of the Chinese, Christian, Ahmadiyya Jama'at, Muslim, Parsi, Bahá'í, Jewish, Hindu and Lawn cemeteries. Burial period in Singapore is limited to 15 years. After that, the remains have to be cremated or re-interred.  For Muslim funerals, the deceased are typically buried within 24 hours for hygiene purposes since it is against their religion to embalm the body and cremation is considered to be "haram", or an unclean practice.
Lastly, the family of the deceased may opt to release the ashes into the sea after cremation. This is largely practiced by Hindus as they believe that one's body is made up of the five elements of nature – water, earth, fire, air and sky. Sea burials also signify freedom for the deceased and a return to nature and the elements upon passing. Currently, the only designated site for sea burial is about 2.8km south of Pulau Semakau which requires chartering a boat to reach the site. The good news is that a new burial facility will be built along the shoreline in Tanah Merah by the fourth quarter of this year; making it more convenient for people to conduct their sea burials.
Appropriate etiquette for funeral flowers according to the major religious denominations in Singapore
Different cultures in Singapore may have differing opinions concerning funeral and sympathy flowers. Before purchasing flowers for a funeral wake, it is also important to be mindful of the deceased religious traditions and affiliations.
Here are some suggestions for four of the most followed religions in Singapore:
Buddhism
Most types of flowers and styles of arrangement are acceptable. Sending flowers is considered appropriate for a Buddhist funeral. Some common funeral flower arrangements include standing sprays with white or yellow lilies, lotuses and chrysanthemums. In order to avoid general flower-giving taboos, ensure that you give the florist that you're ordering from, a heads up to avoid red flowers. Red is an auspicious color for Chinese, symbolizing life, prosperity and happiness and may be inappropriate in a funeral context.
Christianity
Protestant and other Christian faiths accept all forms of funeral flowers. Nearly all colors, types of flowers and styles of arrangements are acceptable. Some common flowers used are chrysanthemums, carnations, roses and daisies. If you're hesitant to venture too far out of the mainstream, it is advisable to keep your funeral arrangements simple. Funeral flowers can also be gifted in the form of a flower stand or cross wreath to represent the Christian faith.
Islam
Typically flowers are not sent to Muslim funeral. However, it is important to be aware to pay your respects as soon as possible as the deceased are typically buried within 24 hours. Tradition dictates that flowers are to be sent to the family's home after the burial of the deceased. Do ask for the opinion of the next of kin or someone close to the family if you're in doubt.
Hinduism
It is acceptable to send funeral flowers to the home of the grieving family to honor and pay tribute to the deceased at Hindu funerals. The family of the deceased may prefer certain flowers and color schemes (e.g. purple blossoms) based on the symbolism that it may confer to the deceased as he or she journeys to the next life. For example, lotus flowers may be used in funeral wreaths as it is seen as a scared flower associated with Krishna and other Hindu gods.
Conclusion
Losing someone you know always bring sad news and it can be difficult to find the words to express or convey your condolences. Sending flowers to the family when you hear of the person's passing is a thoughtful thing to do. Normally in Singapore, fresh condolence flowers are delivered to the wake or the funeral homes or parlors. The gesture of the gift and the funeral flower messages will show the person that you are thinking about them and that you care. In Singapore different cultures observe the sending of condolence flowers differently. Read the types of flowers to send for condolence in Singapore. Condolence wreath – a condolence tribute to the bereaved family. If you are searching for flower wreath or wreath flower If you find it very difficult to put your inner thoughts and feelings into words at times of sorrow and pain, then simply use these sample sympathy messages and quotes for funeral wreaths and flowers. Click here for sample condolence messages
Before purchasing flowers for a funeral, it is also important to be mindful of the deceased religious traditions and affiliations. If in doubt, it is always a good practice to ask the opinion of the next of kin or someone within the immediate family of the deceased.
What type of flowers and colours are suitable for funerals
Written by: Krystal Loh
Total Page Visits: 17091 - Today Page Visits: 2