It is always good to know the symbolic meanings associated with flowers when you give them to your loved ones. When you consciously choose a certain type of flower, colour perhaps even variety or quantity for someone, you bring a whole new depth to the gesture of gifting flowers or flower delivery .
Roses
Roses are one of the most well-known types of flowers. They have been in existence for about 32 million years. Throughout history, roses or bouquet of roses have been a popular flower for a range of uses. Since ancient civilizations including the Greeks, Romans, and Persians, roses have been bred to be colorful, fragrant, and hearty for thousands of years. Rose petals were used for confetti at celebrations, in medicine, and as a perfume source. Later on, roses became so widely used that English royalty considered roses and rose water as legal tender.
Types of Roses
When you think of rose, the first image that comes to your mind is a spread of bright red petals beautiful blooming from its green leaves stem. Little do we know rose has over 150 species and thousands of hybrids. Roses can be found in nearly every colour (except blue, a color that still eludes rose growers) and a variety of shapes and sizes. The flowers of roses can range from simple, five-petaled blooms to large, heavily ruffled beauties. Roses are divided into three main categories:
1. Species Roses
2. Old Garden Roses
3. Modern Roses
Modern Roses are those varieties bred after 1867 and these are the types most people envision when think about roses. Unlike Old Garden Roses which bloom once a year, Modern Roses bloom continuously. Hybrid Tea roses have been the favorite of the Modern Roses, and come in a wide ranging colours. These roses were bred for their large flowers and repeat-blooming; as a result, lacking in fragrance. They are known for their long and upright stems – which make them an extremely popular cut flower. Hybrid tea roses have large, well-formed, pointed blooms and longer vase life. They are also the least hardy of modern roses and have a reputation for being high-maintenance.
David Austin Roses
Modern-day growers like David Austin are backcrossing Modern Roses with Old Garden Roses varieties to create a new group of roses that featured the best characteristics of both Old and Modern Roses – repeat flowering capability, wider colour range and strong fragrance. Despite their popularity, they are susceptible to disease, expensive and not as hardy as other varieties.
Roses in Singapore
In Singapore, according to the Agri-Food and Veterinary Authority, Chinese roses made up 81 per cent (243,190 stems) of all rose imports in January 2013. The percentages differ from month to month but it is evident that a large portion of roses in Singapore are imported from China. They are about 30 per cent larger than their counterparts from India, and have been a popular choice for florists because of their larger sizes and competitive prices. However, there are occasions when roses delivery singapore are affected by the supplies from China due to adverse weather. With limited supply and high cost, local florists source roses from places such as Kenya that are comparable in size.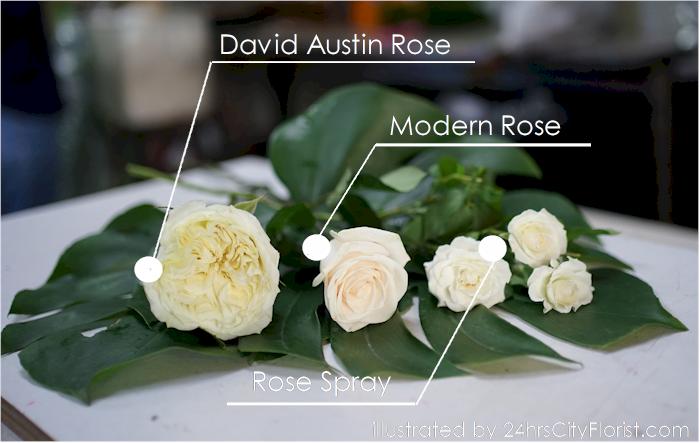 Another type of modern rose widely available in Singapore is Rose Spray or Spray roses. Spray roses are generally smaller blooms compared to their counterpart modern roses. Spray roses have short individual stems brunching out from a single stem.
Rose Means Love
Used since hundreds of years ago to convey messages without word, roses are the perfect way to declare or convey one's feelings of romantic love. Rose is considered the flower of love and quintessential the gift of love. Most popular is the exquisite red rose. Nothing beats red roses in saying "I Love You". That is why roses and rose delivery are the most sought after flower during Valentine's Day, anniversaries and weddings.
Throughout centuries, artists have been captivated by the beauty of red rose and have since captured its beauty in their canvas and poems. In this process, a red rose has attained immortal beauty. This everlasting beauty is what makes a red rose flower stand apart from the rest.
Roses in Movies
Roses have also made their debut in many movies, but one of our favorites is the use of roses in romantic movies such as American Beauty (1999), Alice in Wonderland (2010), The Hunger Games and in recent times, the Disney's classic Beauty and the Beast, the red rose is used to symbolize love and the ability to love. For those who are unfamiliar with the movie, the beast is told that the enchanted rose shall bloom until he turns 21 years old, and during this period, if he is able to learn to love again before the rose withered and died, the spell placed on him would be broken and transformed him back to a prince.
Rose Colours Meanings
There is no mistaking the implication of passion, desire and above all, love, associated with roses. Depending on the colour, roses have different meanings. The most famous of course is red which symbolizes love and romance. Pink symbolizes gratitude, grace, admiration, and joy. White refers to innocence and purity.
Every flower has a wonderful story to tell, the rose, however stands alone in its abundant history and colour meaning.
We've put together an infographic depicting the meanings associated with the different colours of roses.
Rose Number of Stalks Meanings
Besides their colours, roses in different quantity hold different meanings too. Here are the list of commonly number of stalks of roses meaning:
A single bloom of red rose love at first sight or "I still love you"
A single rose in any colour indicates simplicity and gratitude
2 roses mutual feelings
3 roses "I love you"
7 roses "I'm infatuated with you"
9 roses "We'll be together forever"
10 roses "You are perfect"
11 roses "You are My Treasured One"
12 roses "Be mine!"
13 roses "Friends forever"
15 roses "I'm truly sorry"
20 roses "I'm truly sincere towards you"
21 roses "I'm dedicated to you"
24 roses "Forever yours"
25 roses Congratulations
36 roses "Remembering our romantic times"
40 roses "My genuine love for you"
50 roses Unconditional love
99 roses "I will love you all the days of my life"
101 roses "I'm completely devoted to you"
108 roses "Will you marry me?"
999 roses "I love you till the end of time"
Ever felt yourself in lost for words whenever she is around you. Each time she is close to you, your heart skipped a beat, your tongue felt twisted and your feelings glow for her… give her a reason to talk to you. Now that you have read about roses, it is time to draw up a plan! How to tell a girl you like her?
Today, rose flower are given in the form of a simple single stalk rose, to a regular round red rose bouquet to red roses being arranged in variety of shapes, styles and sizes.
We at 24hrscityflorist.com created this heart shape red rose hand bouquet which we think best capture the 'trilogy' of red roses:
1. Flower rose – the universal symbol of love and romance.
2. Colour red which expresses your deepest affection for that special someone.
3. Heart shape – means giving your heart to someone.
And if one is to impress, we arranged this majestic 99 stalks red rose hand bouquet
And if 99 stalks red roses is not large enough, checkout this 250 stalks of bright red rose basket arrangement.
While no woman would turn down a dozen red rose bouquet, add a little extra sentiment to your silent message of affection with the choice of rose colour and right quantity of rose stalks – it certainly begining to look like a recipe for love.
Total Page Visits: 12139 - Today Page Visits: 3