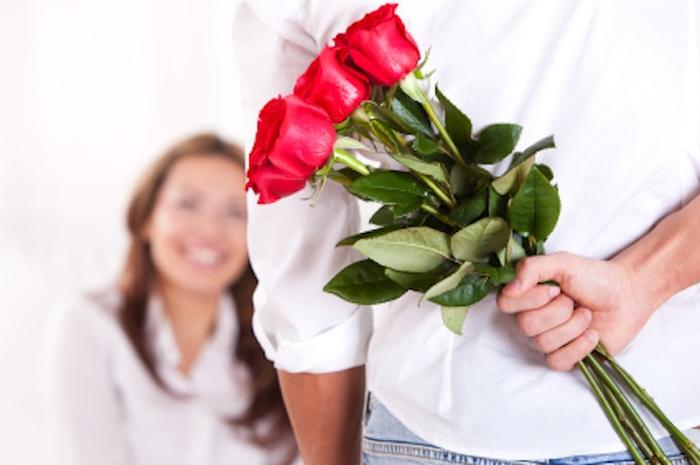 What is the best way for a man to make a good impression on a woman he likes? Research has shown that 90 over percent of women are able to recall the last time they receive flowers and almost all of them remember the time they receive flowers because receiving flowers makes them feel very special.
Unfortunately, giving flowers still remain quite a mystery to most men. To some, the entire experience could come close to the verge of paranormal. Here at 24Hrs City Florist, we hope to offer an Asian perspective and guide to giving flowers both to the clueless and to the not so clueless. Heaps of practical tips for making your next flower delivery or giving of flowers experience a wonderful one.
Flowers are definitely a good choice to show your feelings or appreciation. They are often regarded as the messenger from the heart – when words seem difficult to express. An elegant bouquet of flowers is an uncomplicated, beautiful gift that can convey any kind of emotion, passion or feelings.
Though the giving of flowers or bouquets in terms of designs, styles, colours may change over the years – the one most important thing to remember is that flowers, after centuries past, remain the most simple, sensual and symbolic way to express your emotion or sentiment to the girl you like, care or love.
Know Your Purpose.
The purpose of giving of flowers to a girl should always be genuine, sincere and comes from your heart.
In most circumstances, a guy giving flowers to a girl for the reason of initiating a friendship or a relationship or to build or to maintain or to strengthen the relationship.
Before you rush to make a purchase from an online florist, Ask yourself what is the reason you want to give her flowers? By giving her flowers, what message do you wish to convey to her?. Perhaps one of the reason for your wanting to send flowers can be found below:
17 reasons for a guy to give flowers:
1. You want her to know you like her
2. You want her to know you like to take the relationship to the next level
3. You want her to know you cherish her
4. You want her to know you are thinking of her
5. You want her to know you love her
6. You want her to know you can't wait to see her again
7. You want her to know you care for her
8. You want her to know you have her interest at your heart
9. You want to wish her a happy birthday
10. You want to congratulate her on her accomplishment and success (eg. graduation, good academic results, promotion, receiving awards, achieving a goal, etc)
11. You want to celebrate milestones in your relationship (eg. Anniversaries)
12. You want to cheer her up in moments when you know she is feeling down
13. You want to apologise to her
14. You want to say thank you and show your appreciation to her
15. You want her to be your Valentine
16. You want to send your wishes on auspicious dates (eg. 20May which is 520 in mandarin means 'I love you')
17. You want to propose to her
There are many reasons and occasions for you to send flowers. You don't have to wait for a particular moment or occasion to present itself. Flowers are always perfect. Pick or create any moment and make it romantic – for example, you can send a bouquet of flowers with the message " happy 1-month 'anniversary' " also know as "monthsary" , heck you can send her flowers every month if she loves the attention.
If this is your first attempt in pursuing a girl, send a simple yet elegant bouquet with an innocent note that says " I'm new to this >.< ". Even if there are no particular occasion to send her flowers, you can always send her a "happy hump day" simply to cheer her up during the mid work week. However, try not to send a bouquet from 'anonymous' – it can turn out quite creepy particularly to someone you hardly know. Any genuine and surprise attempt is a good attempt and it will surely give her something she would remember for a long time to come. A huge percentage of women actually prefer getting flowers when they are least expecting them.
Make An Effort
Make an effort to gather some information about her. First, think about the personal preferences of the person that will receive the flowers. Did she ever mention a specific type of flower that she loves very much? Is there a flower that has a special meaning for her?
Take note of her favourite type of flowers and colour. A little knowledge of what she likes and what is meaningful to her will make a great difference and will go a long way to making your relationship work. Google for the type of flowers she likes, and find out a bit more about the nature of the flower. The information you gathered could turn out to be an ice-breaker or a conversation piece when you meet her. It certainly will make giving of flowers to her a whole lot more meaningful.
Girls are drawn in by a broad range of flowers and colors. It is not unusual to discover her favourite flower is not in season. Seasonal flowers are those that grow and bloom on certain times of the year. A popular seasonal flower is peony, a flower with fluffy blooms is usually available in Spring, from the months of May to July for the Northern Hemisphere and the months of December to February for Australia and New Zealand. Peony flower is quite a favourite among the girls not just for the beauty but also peony symbolizes romance, prosperity, good fortune, a happy marriage, riches, honor, and compassion. Don't worry if peony is not in season, ask your local florists to choose the next best flower with her favourite colour instead! A good alternative to peony can be Garden Roses or Ranunculus or even Hydrangeas.
When peonies are in season, this give you another good reason to give her flowers.
Be Creative!
Once you know what she likes, you can start getting creative. In Singapore, particularly the millennials, the trending bouquets today are influenced by the styles and designs from overseas in particular, South Korea. Take a look at the Instagram with #sgbouquet #sgflorist #sgflowers and see what bouquets are trending. Engage with your local florists, they are the best people to talk to with regards to styles and trends of bouquets.
Today's florists have a large arsenal of wrapping and flower arrangement techniques. From the large and lavish presentation style bouquets to free-form bouquets to the more simple round or front facing bouquet.
The most popular flower is rose. Since ancient civilizations, roses have been a symbol of love and romance. Roses have come a long way since the times of old Garden Roses. Roses we see today are bred for the all year bloom such as those hybrid tea roses. They are grown commercially from all over the world, including Holland, Ecuador, Kenya, China, India, etc.
Instead of giving the usual standard red roses, try giving her other coloured roses. A cleaver combination pastel coloured roses wrapped with a hipster style wrappings could make the bouquet looks endearing sweet and unique.
Alternatively, you can opt for unnatural colour roses. A popular example is the Rainbow roses from Ecuador – these roses are treated with a patented dye-ing technique to produce an amazing array of multi-colour petals in a single stalk of rose. Simply colourful if arranged appropriately. Just a word of caution, don't overdo it. Having every colour imaginable in a single bouquet may seem like a great idea. But, it may come across as 'trying too hard', complicated and chaotic .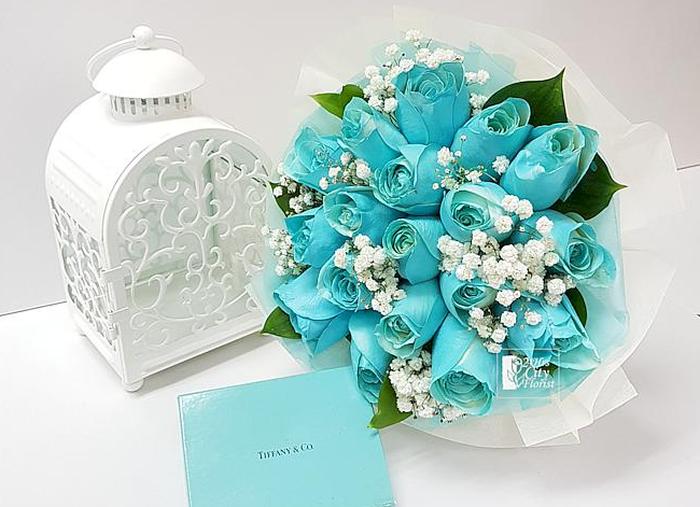 Besides dyed roses, roses can also treated with unique colour such as the 'Tiffany' blue. This unique blend of blue is like a mixture of bright green with a hint of blue resembling the renown trademark 'blue' of the world famous jeweler, Charles Lewis Tiffany. A bouquet of tiffany blue roses is remarkably elegant and stylist especially when it comes with a dazzling necklace in a glamorous Tiffany gift box.
Lily could be another strong contender to a girl's favourite flower. Lily has a variety of species; oriental, calla and easter (longiforum) lilies just to name a few. Among the 3, easter has a lovely fragrance and often made into bouquets accompanied by other types of flowers and fillers.
For the intrepid Romeos, a good alternative to hand tied bouquet is flower table arrangement or table centrepiece. If you deliver flowers in a form of a table centrepiece (as oppose to a hand bouquet) to her office, it is likely she will leave the flowers on her office table as carrying it home can be rather cumbersome. A table centrepiece generally last longer and always delightful and refreshing to look at. And this goes without saying, she will be reminded of your thoughtfulness whenever she steps into her office to be greeted by a beautiful sight.
Gone are the days when giving chrysanthemums flowers or giving gifts wrapped with black or white wrappers are considered a taboo. Chrysanthemum flowers like the colour black or white were once associated to funeral and death. Giving gifts with such representations would deemed untasteful and ignorant. Millennials today have breached the confines of their parents and grandparents to challenge the norms. Contemporary styled bouquets arranged with chrysanthemums or flowers wrapped with completely black or white wrappings are considered stylish and appealing.
Besides just fresh flowers, dried flowers are also use in the concoction of variety of flowers bouquet. Cotton flowers, dried wheat, dried lavender, gypsophila, echinops (globe thistle), rabbit tail grass to name a few. In some circumstances, plants such as succulent are used too. Dried flower bouquets are very popular.
Amuse her with quirky bouquets. Yes, your read it correctly, quirky in the sense of amusing, fun and adorable i.e. flowers arranged in the form of well-known or recognizable characters such as hello kitty, cookie monster, elmo, angry bird, minion, smiley, puppy, panda, cat, piggy, chick , etc. Try sending a minion bouquet (an arrangement of flowers into a shape of minion) accompanied with a note that says "You are one in a minion.." . These quirky bouquets are not just unique but fun and bring smiles and cheer to the recipient. They often capture the envy eyes of other female colleagues too.

The Contrarian Approach
Bigger is not always better. Hollywood movies and romance novels can make you think that only giant bouquets are good enough. That is very far away from the actual truth. You don't have to spend thousands of dollars on a flower arrangement. If she loves you, the simplest present will mean the world to her.
Sometimes, simplicity goes a long way. Pick a type of flower and colour and go with it. Even a bunch of baby's breath wrapped in a bouquet has been popularly appearing in instagrams. Send her a huge bouquet of baby's breath and stick a note that says "You take my breath away". There are infinite possibilities in how to make your giving of flowers works positively for you.
Flowers Are Not Only for Romance
We suppose you have additional females that you care about, besides your girlfriend or your crush. Your mother and your grandmother love you more than you can imagine. Or maybe you have some cherished female friends or even your sister or aunt. Think about how happy you can make them but showing that you care. A simple flower gift will take care of that for you and prove what a great guy you are!
Leave It To The Professionals
In case you don't want to go through all the trouble, you can always leave it to the professionals! Your local florists will make this complicated journey simple. You can either give your own specifications or tell them what kind of girl she is or what she likes or let them surprise you with their own ideas.
At a moderate price, you will receive a complete flower arrangement and a florist delivery at the provided address. If you wish to deliver the flowers yourself, just go pick them up at the florist shop or have them delivered to your home. Of course, when it comes to making that all important proposal to your girl, it's definitely best to do it personally – with bended knees!
Try To Be Natural
Waiting for the perfect opportunity can often make you miss your chance. Women say that the best reason to get a present is no reason at all. Keep that in mind at all times, it's great advice not only related to flowers.
When giving her the present, don't be all awkward about it. Romance is all about being casual and acting seamlessly. Expecting huge amounts of gratitude will often come out in a wrong way and she might get offended. Trust that she will appreciate it, even if she doesn't really show it.
The Bottom Line
Flowers are a great gift for every girl out there. Women are in love with flowers, not just because of how beautiful they are, but also how they show that you care.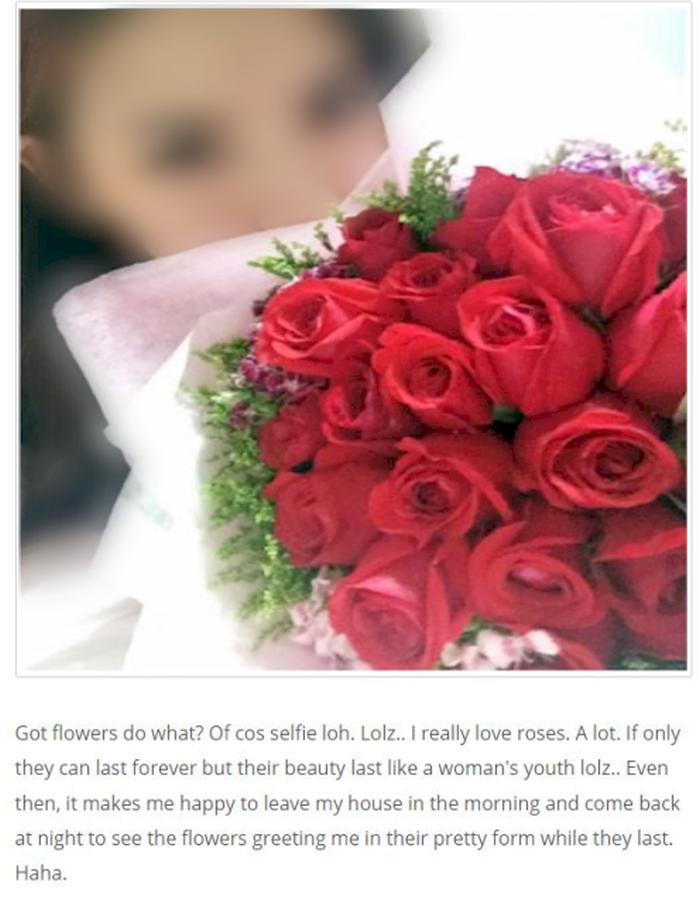 This is a true confession of a girl who wrote in her blog post:
"… I really love roses. A lot. If only they ca last forever but their beauty last like a woman's youth lolz.. Even then, it makes me happy to leave my house in the morning and come back at night to see the flowers greeting me in their pretty form while they last.."
Flowers are well known across the world to intimately linked with the art of love and romance As relationship grow, flowers become symbols to represent different events and milestones in different stages of your lives together.
We hope we have provided a useful guide to helping you to decide and choose the best floral gift. It doesn't matter if you're giving it to your female friends, relatives or a significant other. If you are having trouble being spontaneous and choosing an arrangement yourself, you can always leave it to a professional florist to help you get out of the rut.
Written by: Kelly Lee
Recommended further reading: How To Tell A Girl You Like Her?
Top 5 Bouquets Singapore Ladies Love
Read also : Flowers i would like to receive througout the years: a 23-year old girl's perspective
Total Page Visits: 18740 - Today Page Visits: 3