Gerberas are one of the most popular flowers in the world. Gerberas occasionally referred to as 'Daisies' and the most readily available flower which blooms all year round. Gerbera is a flower that comes in blushing blossoms in countless hues. From deepest red, purple, shocking to pastel pink, warm to bright yellows to creams and whites. Gerbera can mean happiness, innocence, purity, and cheerfulness, which is attributed to their perky variety of colours. There is a colour for every mood you can think of. It is no wonder, Gerbera bouquet or daisy bouquet have become a favourite choice for many different occasions from birthdays, mother's day, get well, congratulations, thank you and many more.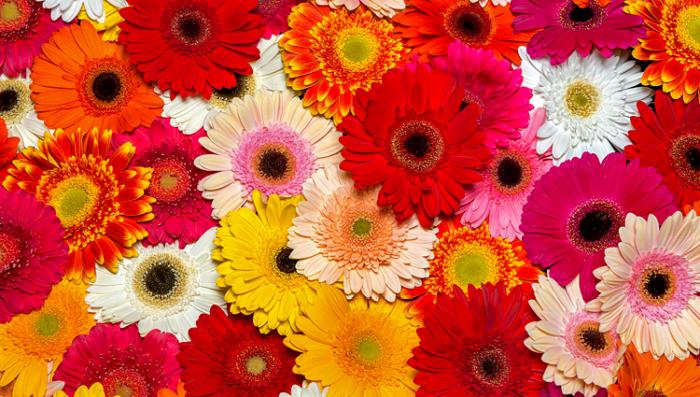 Gerbera is beautiful to look at and the blooms are distinguished by large flowering heads made out of multiple petals that sometimes mistaken for 'sunflower'. Gerbera bloom is larger in size than a typical rose and comes without thorns or leaves which make arranging Gerbera so much easier. Gerbera is also one of the cheapest flowers you can find in Singapore. There is always your local florist delivery offering a wide range of gerbera flowers arrangement, hand bouquets or table centerpieces.
And for these reasons, we like to teach you how to arrange and wrap a simple yet cheerful looking gerbera bouquet.

So once you know how to wrap a gerbera bouquet, you are now able to take these basic flower arrangement skills and wrapping concept and apply them on other quantity of gerberas or colours or even other types of flowers.
There are many occasions in which your newly acquired skills can be put into good and creative use. The two most frequent gifts of flowers will be during mother's day and birthday occasions.
For mother's day, instead of yellow gerberas, a more suitable colour would be pink, or any shades of pink – choose from the various hue of pinks gerbera flowers offers from shocking pink to pastel pink. You can play around with any colour and number of stalks of gerberas. A great idea is to choose your mom's favourite colour gerberas.
Similarly, for birthdays, you can be creative with the colours and numbers of gerberas. For instance, if you are planning to give your friend a bouquet of gerberas, add a little self-made craft out number word "Happy Birthday" and pin it between the flowers. Or simply just lay the gerbera bouquet on top of any gift box and suddenly your gift will look so much more thoughtful and elegant.
Total Page Visits: 13190 - Today Page Visits: 5