It is well established that flower bouquets still hold as one of the best gift ideas in history. Be it for a birthday, as a congratulatory present or an anniversary surprise, bouquet flower is a well-rounded choice when it comes to gifting. However, with each generation comes a new wave of likes and preferences, which can be hard to follow up with, given that rising trends seem to change in a blink of an eye nowadays. With that being said, let's dive right into the present-day scene of bouquet flowers available in 24HrsCityflorist.com
A short survey was carried out on instagram stories and the results were collated from 15 respondents aged 15 to 20, to try to encapsulate the types of flowers they're interested in. Respondents were asked to choose their favourite(s) from 6 unique options.
Here's a representation of our responses in a chart:
Jazzy Blue Flower Bouquet – 3 votes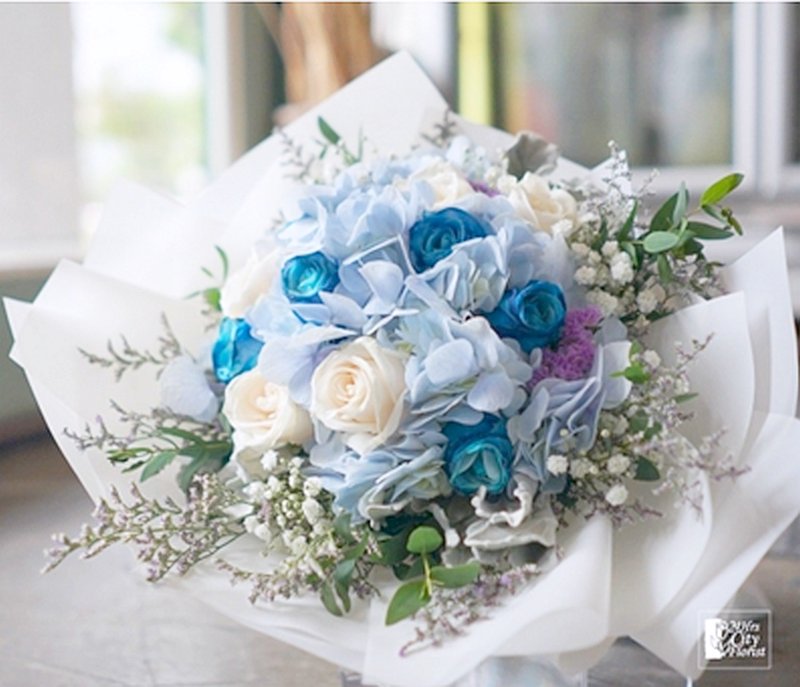 A thoughtful blend of a multitude of blue and ivory hues, the Jazzy Blue bouquet is a clever play on the colour scheme. A good mix of cool colours such as the greens, blues, whites and a tinge of purple creates a soft and calming vibe. Hydrangeas, the symbol of gratitude and grace, makes this a great choice as a congratulatory gift for a graduation or as a surprise gift for a special someone. The appearance of bluish hues all across the bouquet was a concept executed perfectly, ensuring it isn't too repetitive and bland. Wrapped snugly with a light-blue satin ribbon, it is no wonder why this bouquet got the votes of respondents.
Rustic Affair Flower Bouquet – 5 votes
This is something that screams confidence and boldness. Described as a strategic blend of both warm and cool tones, this bouquet is well-liked amongst people who like all things rustic. With the spotlight on the monet blue roses, and the accompanying roles of the white baby's-breaths, dried wheat, caspia and statice, they come together to create a brightly coloured bouquet.
As one of the respondents said, 'It is raw and bold, and something that catches your eye the moment you walk into the room.'
As a symbol of appreciation, monet blue roses would be great for displaying your gratitude for somebody. Along with the popular baby's-breaths, which display charm, this bouquet will tell them everything you want to say. Of course, the burlap wrapping of the bouquet is unique and adds significantly to the rustic feel we are trying to portray.
Cotton candy baby's-breath flower bouquet – 6 votes
Cotton candy baby's-breath bouquet
Onto the first of the three bouquets that tied for 2nd place, the cotton candy baby's-breath bouquet is of playful, child-like essence, and gives off a sweet, light hearted vibe. The myriad of pastel colours present in this baby's-breath bouquet complement and blend into each other seamlessly. It is no wonder this is popular amongst our respondents! This bouquet would make a great gift for those who don't want a formal bouquet of roses (nothing wrong with that, of course).
Some respondents chimed in to say that they would choose this bouquet for a graduation ceremony, due to the youthfulness and confidence it exudes. With the dainty blue-pink wrapping and pink satin ribbon as the finishing touch, this bouquet is definitely justified to take 2nd place.
Heart-shaped baby's-breath flower bouquet – 6 votes
Heart-shaped baby's-breath bouquet
Next up, the second of the 3 tied at 2nd place. This bouquet stands out due to its unique heart-shaped formation of baby's-breaths, rather than the more commonly seen circular-shape. Chosen by 6 respondents, all of whom brought up the ombre scheme from dark to light pink, it is sure to be a defining factor that sets it apart from the other bouquets.
To contrast this, a pure white wrapping is thoughtfully used to further amplify the vibrant pink hues of the flowers. Not only does this bouquet convey a message of trust and innocence, but also of everlasting love. With a romance factor of 100, there is no doubt that this bouquet is preferred by many as a gift for their significant other.
Meghan Flower Bouquet – 6 votes
As the last contender for 2nd place, there is a lot to unpack. At first glance, the most striking feature of this bouquet is the multi-coloured roses, which resemble the colours of a paddle-pop. The roses are definitely uncommon to find in a regular bouquet, which is what makes this bouquet different from the rest. The pastel pink, blue and purple in the roses make an angelic and sweet flurry of colours. The roses are contrasted by the white baby's-breaths, which act as a blank canvas in the background to make the roses really 'pop'.
The wrapping and baby pink satin ribbon used to tie the entire bouquet together match the colours of the roses perfectly, and were preferred by several respondents due to its femininity.
Femme Fatale Flower Bouquet – 7 votes
Finally, down to the fan-favourite bouquet. At 1st place, we have the Femme Fatale bouquet, which roughly translates to 'an attractive and seductive woman'. This bouquet exudes femininity and elegance, with just the right amount of each colour present. A mix of pink-apricot roses, ash-green leaves, yellow and purple flowers, the overall appearance of this bouquet is perfectly balanced between muted, mellow and graceful. One of our respondents added,
'When I say I want flowers, this is what I mean. It screams extravagance, colourful and classy'.
With the pastel pink roses accurately representing sweetness and grace, and the rest of the bouquet seemingly 'clicking' to produce an angelic vibe, it is no wonder this is the most coveted bouquet. Thought to be a classic representation of a bouquet, you simply cannot go wrong with this one.
Other Bouquets of Flower Worth Mentioning
Some other bouquets that are worth mentioning: Baby Blue Hydrangeas, Senorita, Angel Eyes, Gabriella, Cotton Cool, Caramel, Sunbird, Mountain Gray andFrothy Cappuccino.
In conclusion…
Hopefully, this article is helpful in guiding you to buying the best possible bouquet for someone particularly of the younger generation, in conjunction with their taste. We conclude that although dark red roses are loved by people of all generations, the taste of Gen Z is evolving into more of a colourful and playful type, and that we should embrace that change with open arms. Don't forget that all of these bouquets of flower (and more) are available for flower delivery at 24HrsCityFlorist.com
Written by Elyse
Total Page Visits: 1797 - Today Page Visits: 4