There are many variety of fresh cut flowers in Singapore, however not all flowers are available throughout the year. In a land scarce nation like Singapore, almost all of our fresh cut flowers are imported. These include the lesser known flowers that are seasonal and may not be available all year round. 24HrsCityFlorist.com offers flower delivery for such flowers when purchased in advance when they are in season. 
There's nothing quite like the changing of the seasons and along with it, different seasonal flowers that bloom in each. Just like how change is the only constant and how having different seasons brings about a sense of renewal and revival every few months, seasonal flowers are refreshing, making receiving certain blooms all the more special.
What are seasonal flowers?
These are seasonal flowers that are available only at certain times of the year. Certain plants flourish only during a narrow period of each year.
As Singapore is positioned next to the equator, we have only one season all year round – Summer! This is the reason why almost all flowers in Singapore are being imported from countries all over the world, like China, Australia, Holland, New Zealand, South Africa and the United States of America just to name a few.
Having only one season means that florists in Singapore import flowers from countries both in the Northern and Southern hemispheres, making it likely that you can still request for blooms that might not be usually in season in the Northern hemisphere, for example. However, it may not be as easily accessible and if you're looking to purchase them for special occasions, it would be best to ask your trusted florist about it and plan in advance to avoid any disappointment.
The four seasons occur during different months, depending on whether you're located in the Northern or Southern hemisphere. While it's common to see flowers such as roses, hydrangeas and roses in Singaporean florist shops all year round, did you know that these flowers actually have specific months where they usually bloom too?
Interested to find out when your favourite exotic blooms are in season? 24hrs City Florist have compiled a list of the availability of popular seasonal flowers below:
There are several factors which affect when certain flower types, filler flowers and fillers will be available. Varying temperatures, climates and weather conditions play a huge part in the availability of these seasonal flowers. While generally stable, there could also be unprecedented situations where not all the blooms are available or due to demand.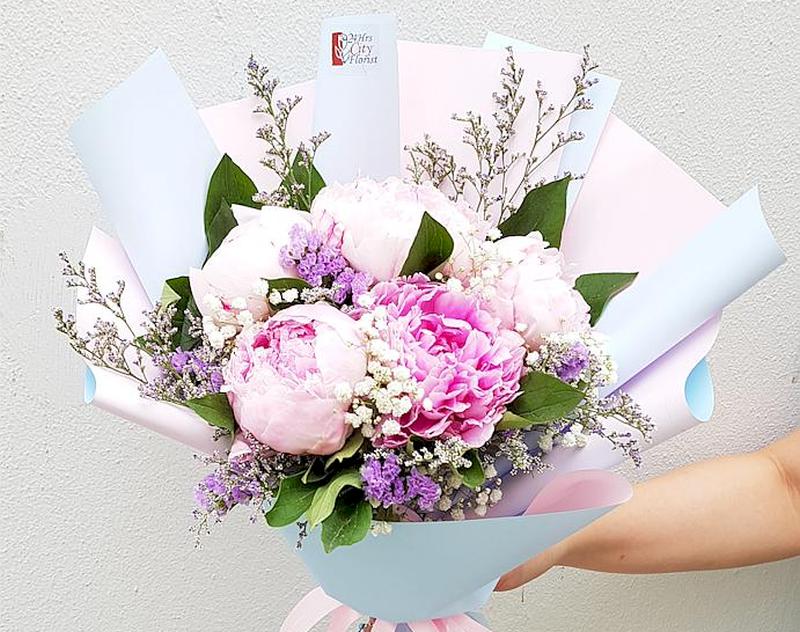 Being aware of when seasonal flowers bloom is important, especially if you're someone whose favourite flower is a more exotic one or if you're looking to get the most value for your blooms. One of the most sought after flower is definitely the peony flower. The reason why peony are popular as wedding bouquets because peony means 'happy marriage' among other meanings include romance, prosperity, good fortune, riches, honour, and compassion. That is why this flower is a hot favourite. However, it's seasonable and usually only available from March to September.
There are some flower types that are not as easily affected by the changing seasons as others. Examples of these flowers that are available all year round include roses, carnations, chrysanthemums, anthurium, baby's breath, bird of paradise flower, cymbidium, dendrobium, gerbera and statice.
Seasonal Flowers – Worth it?
Just like how some seasons bring warmth, flowers that grow in the crisp fresh season express feelings of joy and renewal, popular spring flowers include calla lilies and tulips. With cheery Summer comes vibrant and lively blooms such as peonies and gerberas.
With the soft transition into autumn, with its gorgeous transition hues and lower temperatures, flowers that bloom during this period still represent a symbol of steadfast hope leading into winter.
Those looking for more elusive blooms should take note of when their favourite seasonal flowers grow in, so as plan for special occasions such as weddings or a loved one's birthday. As much as we would like to purchase our favourite flowers during specific months, it's important to take note of the seasons that they actually bloom in as seasonal flowers are not always available or easy to get on their off-peak months.
Though we don't always get to have our favourite blooms, it only makes us treasure and cherish the seasonal blooms even more.
Written by: Elizabeth Tan, Illustration Prepared by Wei Qi