Weddings are one of the most memorable days in our life. The blissful union of a couple with their loved ones is an event to celebrate. The special ceremony and event signifies the start of a new life as a legally married couple.
But before one achieves her/his dream wedding, there's tons of planning that goes into each detail leading up to the big day. From the event venue, food, décor, attire and flower delivery, each and every detail affect the entire wedding as a whole. If you're in the midst of wedding planning and wondering what are the popular current wedding flower trends, read on.
Blooms for blushing brides
With the outbreak of the COVID-19 pandemic, couples looking to get married or those who were already smack in the middle of planning had to tweak their plans accordingly to the fluctuating government regulations. With safe social distancing management measures and strict capacities, many couples found it tough to navigate through these new norms and some even chose to postpone their weddings due to the uncertainty or shift in plans. Thankfully, many wedding venues, catering services and vendors like florists are able to accommodate the changes and those who chose to proceed with their wedding – albeit having a smaller guest list, were able to proceed and successfully tie the knot.
How would one plan for weddings during such a time like COVID-19? Simply, by making do with the resources on hand and finding the best solutions or choices. You can still have your dream wedding even in the midst of COVID-19!
A huge part of having a dreamy wedding goes into the décor – which consists of wedding flowers. Why are flowers at weddings important? Because since ancient times, wedding flowers throughout all cultures signify new beginnings, fidelity, and the hope of fertility.
What kind of flowers are needed at weddings?
It's easy for brides-to-be to get overwhelmed with the sheer amount of preparation needed before weddings. To make it easy for wedding flower planning, here's a quick check list of wedding flowers that one might need:


Bridal bouquet
Bridesmaid's bouquets
Groom's Boutonnière
Groomsmen' Boutonnière
Mothers' corsage
Fathers' Boutonnière
Flower girl's basket and bouquet
Wedding car flowers
Wedding flowers for décor – centrepieces and arches etc.
What are some wedding flower trends to take note of?
Romantic weddings have always been in trend. Most of the time, couples choose their wedding flowers based on their colour theme chosen for the wedding. Different factors are considered when getting flowers for the bridal bouquet, bridesmaids' bouquets and even the wedding venue.
External expectations aside, it's important for the couple to choose colours they like for the wedding flowers. The wedding flowers play a huge part in setting the right tone and mood for the wedding. Be it a simple yet cosy affair or a grandiose wedding with jewel tone colours, wedding flowers are vital in setting the right vibe.
Whilst wedding flowers can be very subjective, based on the couples' taste, here are some trends to take note of and possibly consider:
Dried and preserved flowers
Perfect for rustic-themed weddings, dried and preserved flowers are getting increasingly popular due to their ability to last longer than fresh flowers. Both fresh and dried/preserved flowers have their charms but with dried/preserved flowers, they can be kept after the wedding a sentimental momento.
Brides with vintage inspired gowns or couples who have a fondness for bohemian aesthetics can opt for floral arrangements that have a good mix of dried filler flowers against eye-catching stalks of fresh flowers for a hybrid style. Practical yet gorgeous, preserved flower jars are also making their way into wedding décors too as they serve as great table arrangements. Simple yet elegant, couples don't have to worry about retaining the freshness of the blooms before the wedding as well.
Free form and contemporary bouquets
Whimsical blooms that have unique structures and a free-form structure are also hot picks for bridal bouquets. Straying away from conventional rounded bridal bouquets, many brides are going for unique nature-inspired flower bouquets that make a statement of it's own.
Contrasted against a simple white dress, such free-form structure bridal bouquets convey a more natural yet romantic vibe. Think eucalyptus flowers contrasted with ferns, peonies, ivory roses and light champagne rose spray. With a mix of such textures and colours, it's no wonder this style is a popular choice. This also extends to floral arrangements at weddings – centrepieces or bridesmaids' bouquets included!
Retro-styled flowers
Another popular style that is drastically different from the previous two would be retro-styled flowers which bring a pop of vivid and vibrant colour to the room. Deep rich berry tones. Dark purple blooms contrasted against yellow or green foliage is a great way to add colour to your wedding especially if you're going for something more grand.
Statement wedding floral backdrops
With the outbreak of COVID-19, there's limitations on the number of guests who can attend the wedding physically. As such, many couples have opted to stream their wedding online to their loved ones who are unable to be there physically to bask in the joy. As such, there has been more importance being placed on backdrops or statement floral pieces such as floral arch compared to table centrepieces.
A statement floral piece that makes the perfect insta-worthy backdrop. Floral structures work great for stage décor pieces, framing the couple. Else, opting for a floral arch is a classy yet unique backdrop that works well as a photo prop! Most of the time, these are customisable too, so the couple can opt for their favourite blooms or shape!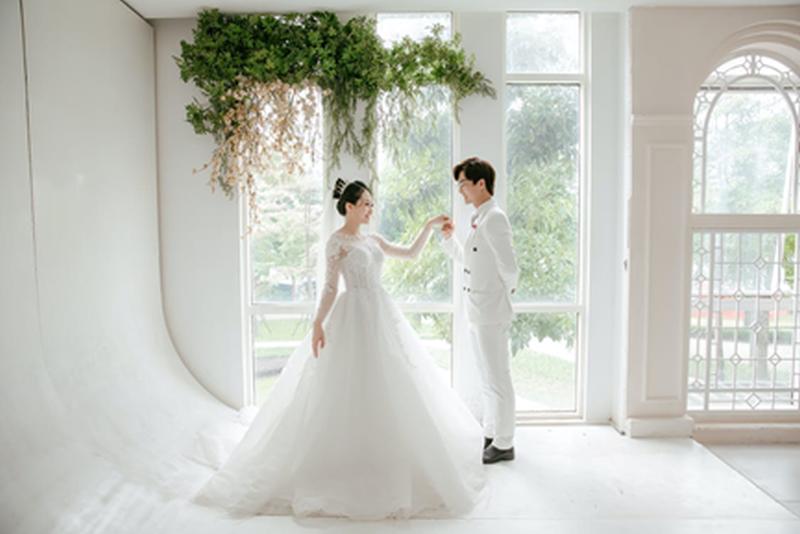 Simple, white and green
Classic and elegant, going for simple wedding flowers such as white flowers with green accents is also a popular choice. COVID-19 has made many think twice about the need for excess, with most processes being stripped down to bare minimum.
It thus makes sense that this trend is making a comeback as simplicity is key.
A great way to integrate this trend into your wedding flowers would be for brides to weave white flowers such as baby breadth into their hairstyles.
Popular wedding flowers
Certain flowers have always been associated with weddings whereas there have been a surprising number of new entries making it into the list of popular wedding flowers. Listed below are some examples of popular wedding flowers:


Rose
Peonies
Dahlia
Hydrangeas
Tulips
Orchid
Lilies
While this list serves a guiding tool, ultimately the choice of wedding flowers depends on the couples' individual preference. Factors such as the choice of venue and how it looks, as well as the bride's dress play a part in determining the size, colour and style of flower.
What style should I go for?
Every wedding is unique and special in it's own way. It's one of the most memorable and significant milestone in your life, so spend it how you would like to remember it. Choose the wedding flowers that you love, so that when you look back at the pictures or think about the memory, it'll be a pleasant one.
While wedding planning can be stressful, it doesn't hurt to take a break and take time to smell a flower or two. Wedding flowers are vital in setting the right mood for your wedding, so choose the appropriate style that fits your theme.
Written by: Elizabeth Tan
Total Page Visits: 1482 - Today Page Visits: 2