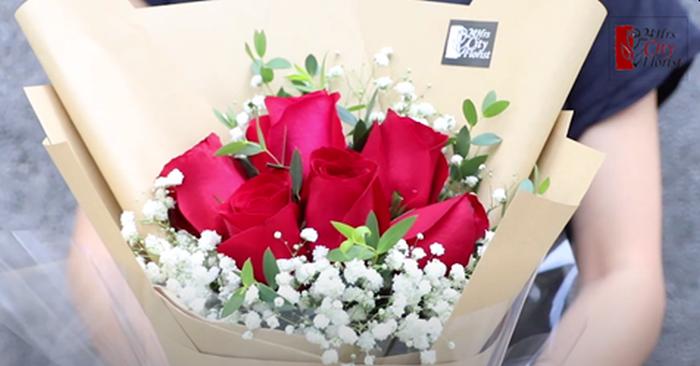 Rose bouquets are one of the most popular choices when someone places order for a flower delivery. sending flower deliveries. Widely known to symbolise love and passion, it's also a classic choice for many who just love a classic bloom.
If you're someone who loves roses or if you enjoy gifting rose bouquets to your loved ones, why not do something special and try wrapping your own bouquet instead? It's simple and easy! Read on to find out the steps and tips on how to do so. We also have a comprehensive video tutorial for you to refer to.
Material needed:
1. Roses – 3,6,9 or 12 stalks (de-thorned)
2. Baby's breath (2 to 3 stalks)
3. Foliage – eg: eucalyptus leaves, ruscus leaves or caspia
4. Some cotton (optional)
5. Kraft paper – 2 pieces of 70cm x 60cm (cut them into 5 pieces of 35 x 30cm and 1 piece of 70cm x 30cm)
6. Cellophane plastic
7. Ribbon
Steps:
1. Ensure that roses are de-thorned
2. Arrange the roses in a spiral manner
This is important as it helps keep your bouquet looking neat and clean. Place the stems on top of each other as you arrange the flowers in a spiral manner. The end result will be a circle formation, making it easy to hold. You can also stop at any one time to examine your bouquet and readjust the formation.
2. Surround the roses with fillers such as eucalyptus leaves and baby's breath in and around the roses
Feel free to get creative
3. Trim the stems and wrap with cotton and plastic bag before adding water
Trim the steams to the same length so that you'll make the wrapping process easier.
4. Wrap the arrangement with kraft paper
5. Finally, wrap it up with cellophane paper
For wrapping paper: You can actually choose any colour that complements the roses. Popular choices include brown wrapping paper for a clean look, black for a more sophisticated vibe or white paper which matches all rose colours. An interesting choice would be choosing the same colour wrapping paper as your roses. This would be a bold choice, or you can wrapping paper of a lighter or darker shades of the red roses.
For fillers: Baby breath is the most popular as the white contrasted against the red is complementary. Some other popular filler choices for red rose bouquets include eucalyptus leaves which add some green to the bouquet of red. The green complements the red nicely, ensuring that the look becomes more wholesome.
For a rustic vibe, you can consider adding dried flowers too.
If you think you've got this simple rose bouquet mastered, why not try your hand at arranging a 99 stalks rose bouquet! This is definitely a challenge but if you have the resources and determination, why not give it a try? This 99 stalk rose bouquet is bound to impress your beau or loved one.
Should you buy or wrap your own rose bouquet?
Buy?
Ordering rose bouquets through a florist is definitely a fuss-free and fast method to successfully surprise someone. Not only are you sure that your intended recipient would be receiving a well-made bouquet that she would cherish, but you don't have to worry about the delivery methods.
Another plus point would be the range of options offered. You're not just paying a florist for their skills in floral arrangement but of course, the cost of the fillers, flowers and packaging that it comes in. Rose bouquets offered by florists usually include a large range of coloured roses, ranging from the ever-popular red to champagne roses, blue and even rainbow coloured roses.
It is therefore a great option to purchase rose bouquets if you are looking to send a unique arrangement where it may be hard for you to find the specific flowers, fillers or wrapping paper.
Wrap it yourself?
Wrapping your own rose bouquet takes gifting a bouquet one step further. Not only do you purchase the flowers yourself, you decide on the arrangement and put in your own personal touch into this special gift. Depending on the rose bouquet arrangement you're going for, the process of wrapping the bouquet may not even be as complicated as you imagine.
Yet, the sincerity and thoughts behind sending someone your own hand-wrapped rose bouquet brings the idea of romance and love to a new level.
It may also be somewhat cheaper, depending on the location of which the roses and materials are purchased from. However, cost aside, wrapping a bouquet is one of the sweetest gestures one could do for a loved one (especially if he/she loves roses!)
Simple or complicated bouquets?
Both have their own charms.
Some girls prefer simple bouquets because they prefer classic bouquets with main focal flowers alongside some fillers. The simple composition could be something they feel is familiar and pleasant to the eye. Personal preference is subjective, and not everyone might like elaborate bouquets. Sometimes, simplicity is best.
Some occasions where a simple bouquet would be a more appropriate gift would be when confessing to your crush for the first time, or even just as a surprise gift where there's no occasion. Of course, this depends on your loved one's taste – simple bouquets might be the special secret ingredient that might get you that much desired "YES" during a proposal if your girlfriend is someone who prefers simple bouquets as well.
Elaborate bouquets in the meantime, work great for lavish occasions such as anniversary celebrations, fun birthday celebrations or simply if you'd like to surprise someone with an unexpected bouquet.
Ultimately, whether a simple or elaborate bouquet, please choose the right one for your intended recipient based on their personality. There's nothing better than showing that you know someone well and that you care to gift them something they would appreciate.
We hope this article and the video shared have helped you learn how to wrap a simple rose bouquet! It's not as hard as it looks and it's definitely worth a try.
Learning a new skill or picking up a new hobby is a great way to put your time to good use. Do remember to take time to do what makes your soul happy.
You might like to read more about 'Should you buy or wrap your own flower bouquet?'
Written by: Elizabeth Tan
Total Page Visits: 2985 - Today Page Visits: 7