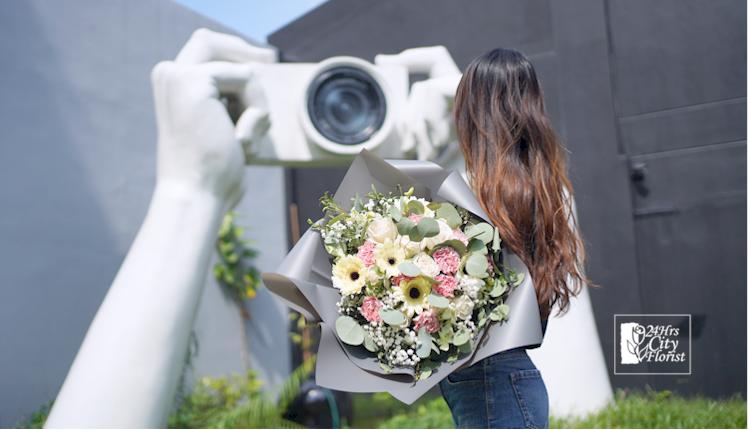 A flower bouquet is a perfect gift to light up someone's day, and there's nothing like being surprised by pretty blooms that beautify any space. Planning to gift a flower bouquet to your loved one but not sure if you should buy or wrap it yourself?
You're not the only one. You may question if it's worth it to embark on a personal project and make your own, whether it'll turn out successful and if it's worth-well to do so in terms of cost. There are definitely pros of either buying or making your own flower bouquet.
Read on to find out the pros of both buying and making your own bouquet of flowers to decide which you should do!
Why you should buy flower bouquet from a florist?
Florists have been around for ages, and for good reason. Being able to pick, arrange and wrap the flower bouquets is their craft and an art that they're able to do. Some may have a natural knack for the arrangement of flower bouquets but it's certain that all florists practice hard and constantly upgrade their skills and try their best to come up with unique and beautiful flower bouquets that we can gift to our loved ones.
Here's some reasons why you should purchase flower bouquets from florists:
1. The bouquets are professional wrapped
Florists are professionals that do flower arrangement on a daily basis. Not only are they trained and skilled to do so, they do it on a daily basis. This means that you can expect a high level of floral arrangement skills, from picking the right mix of blooms to the creativity of the bouquet and lastly the wrapping.
They're expects in the field and it's definitely worth purchasing from florists if you're planning to gift the flower bouquet for a special occasion such as a proposal.
2. Wide variety of flowers in the bouquets
With a vast variety of main flowers, fillers and foliages, the bouquets that are done up by florists would be able to contain more varieties of flowers than getting your own flowers from wholesalers without breaking the bank.
3. Vast array of wrapper types and accessories
Florists are bound to have tons of different wrapper types, colours and materials to match the type of flowers in the bouquets. They also have wider selections of ribbons which would work to further decorate the bouquet.
4. Florists know how to treat the flowers right
Flowers are their craft. Most florists know how to properly condition fresh cut flowers, treat them with flower food and store them in the correct temperature with the correct humidity. Not all flowers need to be kept in the cold room. If you choose to purchase your own flowers and make your own bouquet, you might unknowingly be handling the flowers wrongly which may result in a shorter lifespan
5. Professional delivery of the bouquets
Florists work with delivery service providers that have experience in handling fragile goods such as flower bouquets. This is safer for your delicate flower bouquets as compared to arranging for 3rd party delivery servicers who may not know how to handle the flowers well, resulting in crushed or damaged flowers upon delivery. Alternatively, you may like to deliver bouquet yourself. No matter which option you take, bouquet delivery is certainly something you should consider.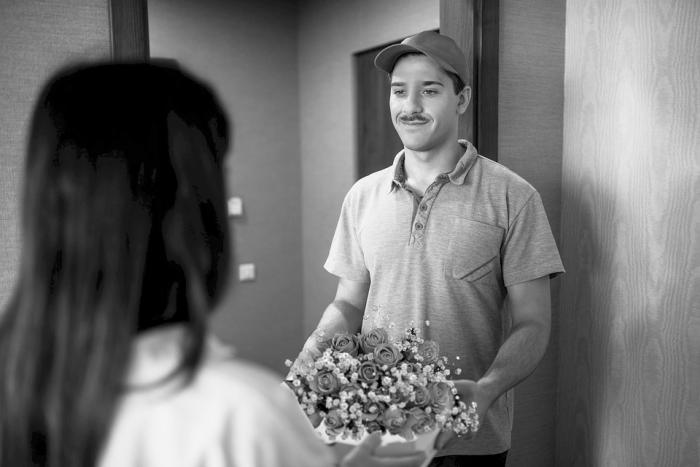 That's not to say that there are no plus points on why you should make your own bouquet.
Why you should make your own flower bouquet?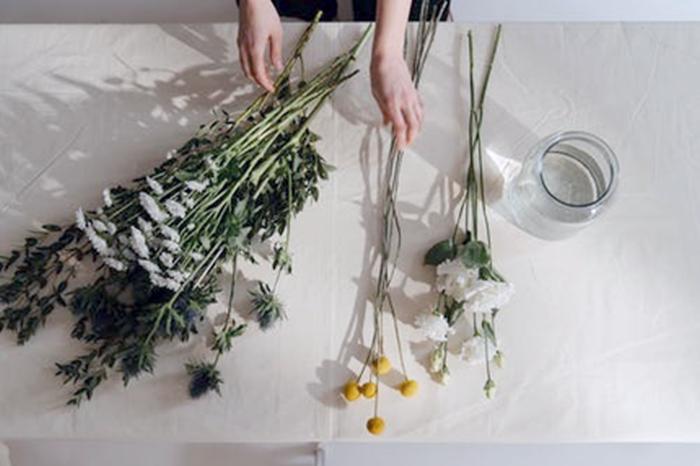 1. Personal touch
It's definitely more meaningful. If you're planning to gift a flower bouquet to a personal friend or your loved one, wrapping your own flower bouquet means that you've put plenty of thought into the gift.
From purchasing your own flower types, wrapper and ribbon, every item is specially handpicked by you. This heartfelt gift is bound to impress your loved one as she/he will realise how much time and effort you put into it.
2. For simple bouquets – it's worth it.
If simple bouquets are what you're going for, then it might make more sense for you to wrap your own bouquet. Florists are skilled at putting together bouquets (be it complicated or simple ones) so depending on the style you're going for, it may suit your budget better if you're only planning on a simple one.
We had shared steps on how to wrap a rose bouquet and how to wrap a gerbera bouquet in our earlier posts so if you're keen, why not try your hand at it and see if wrapping your own flower bouquet works for you?
3. Acquiring a new skill
While it may take awhile for you to master the skill of wrapping your own bouquet, it could be an activity you enjoy and a new skill you acquire. It never hurts to try and learn something new. You might discover that you enjoy making bouquets and gain a new hobby from there!
Still deciding between buying a bouquet and making your own?
4. Cost
It's hard to compare buying a flower bouquet and making your own as it's not a fair comparison. Loose flowers bought from wholesalers may seem cheaper but it often must be bought in large quantities which may not make sense for a single bouquet.
For smaller quantities to make a hand bouquet, the pricing may be sold at higher prices. This goes the same for main flowers and filler such as baby's breath, tanacetum, caspia, hypericum, etc. The cost may part of your consideration especially when you are working on a budget.
5. Storage of flowers
If budget is not a constrain and you don't mind purchasing flowers in bulk, this may require you to have the right storage facilities. Flowers that require cold rooms may not necessarily the same if stored in consumer fridges, as commercial grade chillers have the optimum temperature settings to keep fresh cut flowers (between 7 degrees with high humidity.
Flowers need high humidity and gentle airflow to remain fresh. Not having the right temperature may result in your flowers getting dehydrated, thus shortening the lifespan of the flowers.
So.. What should I do?
Everyone has different needs. If you're going for a more heartfelt and simple gift, and you have the necessary time to make your own flower bouquet, then why not try? Particularly, if the bouquet is for a personal friend or relatives or mom, a self made bouquet could be more meaningful. Afterall, mom will always be appreciate no matter how your DIY bouquet turned out. There are simple DIY bouquet tutorials online which you can also refer to. Else, you can also just get creative and come up with your own unique bouquet.
However, if you're hoping to get a unique bouquet, or more professional looking bouquet that may involve complicated arrangements, then it may be best to purchase one from the florist so as to not end up getting disappointed. Florists also offer more than just hand bouquets, they also offer basket arrangements, table arrangements, hampers and floral stands for every occasion. Who knows, you may end up purchasing something else that catches your eye and fits your intended recipient better.
All in all, it depends on your commitment level and intent. One thing is sure, be it sending a flower bouquet or making one yourself from scratch – every gift is special, and it'll put a smile on your loved one's face.
Written by: Elizabeth Tan
Total Page Visits: 1384 - Today Page Visits: 2