How to create blue roses
by 24hrscityflorist.com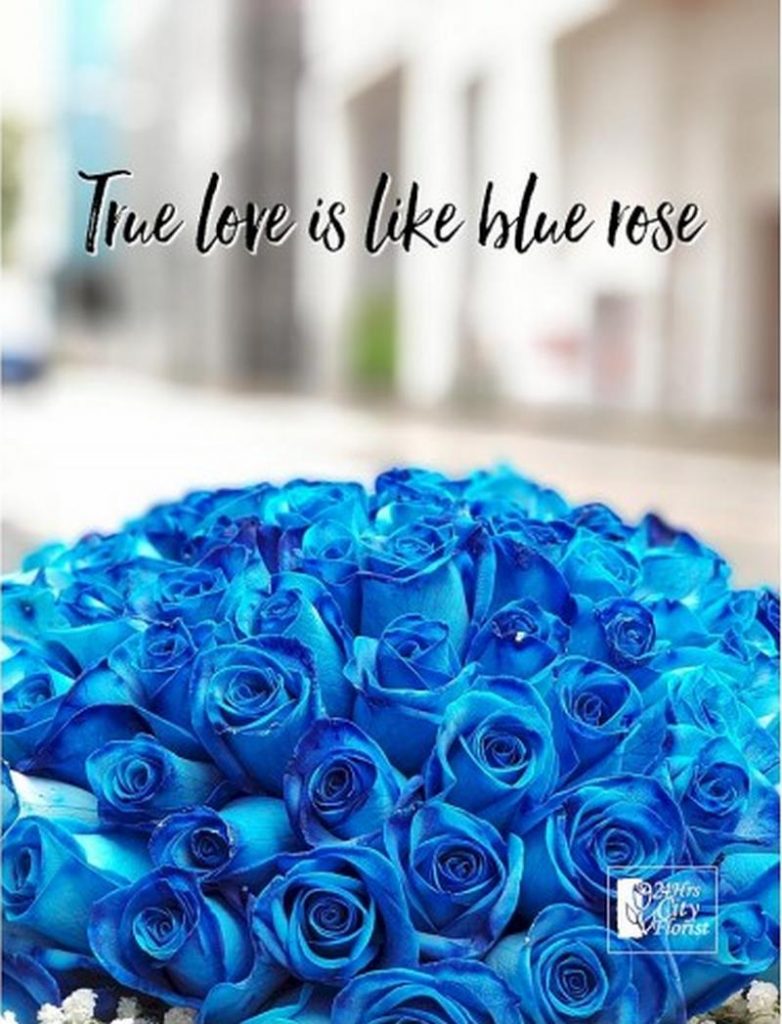 Blue rose cannot be grown naturally, at least not yet. Nature has it that roses, lack the particular pigmentation that is needed to produce the colour blue. As such, alternative methods have been thought of to "create" a blue rose.
This normally means that a white or cream or ivory rose is cut prematurely, and dipped into blue dye such that the dye is absorbed into the stem and thus gradually turning the petals blue.
For years, florists all over have searched for a true blue rose, but to no avail. The quest for the absolute blue rose has been compared to the Christian hunt for the Holy Grail. As such, the blue rose is considered to be the Holy Grail of the rose world.
This association wraps the blue rose in an aura of mystery – which is the main significance of blue roses.
The fact that their appearance (albeit through unnatural methods) defies the course of nature makes them mysterious and ambiguous.
This mysteriously vague quality of blue roses is accentuated by the fact that blue roses that we have today aren't real. Their existence is purely fabricated, and this makes them even more mysterious and even creates a sense of surrealism.
In short, blue roses can symbolize an appreciation for all things enigmatic
Blue rose is much sought after partly because they do not exist in nature. There are genetically modified blue roses however, the easier and cheapest way to attain blue roses for floral arrangements and gifts are either by spray or dye. Florists in Singapore typically be able to offer blue roses together with any their flower delivery services.
Below are the steps to create blue rose by dyeing. The main advantage of dyeing roses is when done properly, the colour spreads out more uniformly all over the petals. As oppose to spray, one may miss out or not able to completely cover the inner layers of the petals.
The intensity of blue varies depending of how the roses are prepared. This include whether the roses are being soaked in water before the dyeing process and the type of 'blue' dye used and the mix of dye to water ratio.

Note: Powder blue dye used is Design Master Absorbit – Ice Blue. Absorbit Is a stem powdered dye for colouring blossoms from the inside uut. Each ounce of concentrated powder makes a gallon of colour. Absorbit dye can be used for other types of flowers including poms, carnations and even baby's breath.
In Singapore, you may get them from the master distributor, Kim Soon at Arab Street.
We created this video to share with our florists on how to dye, treat and prepare blue rose for arrangement. When done correctly, the colour blue will turn out fully and evenly absorbed.
Here are some of the FAQ we gathered from our youtube video:
Q1: How much of the dye should we add?
A1: There are instructions on the label pasted on powdered dye container. The ratio of dye to water much dependant on how intense the colour blue you want. But do take into account, the thicker the viscosity the more difficult the blue dye is going to be absorbed.
Q2: After rose gets it colour is it Possible to maintain the rose for sometime or it can't be watered anymore ?
A2: It takes about a half a day to dye the roses, there after you may cut the stems and treat them like any other natural roses – meaning the roses need to kept in water.
Q3: How long will they live for though?
A3: Similar to A2 – after the dyeing process , the rose will last as long as any fresh cut roses.
Q4: Are there other colour you can dye a rose?
A4: Yes, the floral powered dye comes in a variety of colours, eg. burgundy red, hot pink, purple, etc.
Q5: How do you get roses that haven't been soaked in water?
A5: Typically when you buy them from the grower/supplier, asked them for those roses that are not already soaked in water.
Q6: will it work using food coloring?
A6: We have not tried with food colouring, but technically it should work. We would recommend the flower dye.
Q7: From where can I get the floral powdered dye?
A7: Master Design is from USA – Try amazon.com or directfloral.com?
Q8: Does the color gonna last forever?
A8: Yes the colour will remain until the rose withers
Q9: What other flowers can we dye blue?
A9: You can use this same method on carnations, poms and even baby's breath.
Q10: I tried it and after 36 hours my roses are still white with only blue spots?
A10: This happens if the roses used have been submerged into water for a very long time before they are dyed. Or the colour mixture of the dye is not right. You can read more about blue roses in Wikipedia.
Q11: Where are blue roses for sale ?
A11: We have a wide range of blue rose bouquets for sale in our webstore. please visit: https://www.24hrscityflorist.com/blue-rose/
Q12: What is blue roses meaning?
A12: The blue roses are flowers to convey a message of mystery, enchantment, charm, uniqueness and a sense of the impossible. Blue can also symbolize new beginnings or a new awakening. You can read more about blue roses in Wikipedia
Blue Rose Bouquet
There are various blue rose flower arrangements 24HrsCityFlorist.com is offering in their webstore. Visit their blue rose catalogue and if you like to have your own custom arrange blue rose bouquet or table flower arrangement, give them a call – their florists will be more happy to render some good advice. Discover too when is the best time to send flowers to a girl.
Total Page Visits: 9582 - Today Page Visits: 36