When graduation comes to mind, many would imagine themselves decked in stunning graduation mortar boards and gowns; striding onstage to receive their hard-won certificates. This is sometimes followed by the soft, resonant thrum of a cello, and peals of applause. While for some, this celebration simply marks the end of a chapter.
Regardless of our perceptions, most would agree that this event bears much significance. This is especially so, when one thrives in an academic-centric society like Singapore. We have to bear with its implications: the pressure to do well, the impending exams, the frequent burning of the midnight oil… and so much more. Also, for many, the grind never stops. Hence, it is no wonder why graduation is welcomed with open arms, as the grand finale of a long ordeal.
Presently, one is considered lucky to have a graduation ceremony, let alone a physical one, though. Due to the COVID-19 situation, attendees have had their convocations cancelled and/or postponed. Alas, attempts to curb and fight the spread of the virus have come with a great cost.
Despite the pandemic and its repercussions, the spirits of many graduates—and graduands—have not been dampened. Thus, plenty of people have turned to creative yet purposeful alternatives. These range from holding their own virtual ceremony among loved ones, to visiting various Instagram-worthy places for memorable photoshoots.
Be it a physical, virtual or standalone celebration, gifts and photographs are essential for the occasion. Understandably, the process of picking gifts can be nerve-racking, but flowers – yes graduation bouquet, are the answer to the perfect gift.
Flowers For Graduation
A product of nature's handiwork, flowers are a refreshing sight to behold. Presented in various hues, styles and sizes, they can express various positive sentiments. For instance, to suit the context, sunflowers can symbolize the light at the end of a tunnel. And lilac statices represent success, while carnations express admiration. As a whole, flower bouquets imply thoughtfulness, and the act of giving it is a well-meaning gesture. Furthermore, its fragrance can be comforting and reassuring. Hence, flower bouquets will especially soothe and delight one who has just finished an arduous academic journey.
If you are an avid social media user, your feeds would likely be flooded with interesting photographs, videos and boomerangs during graduation season. These often consist of graduates posing for the camera, and…lots of graduation flower bouquets. Nestled in their arms, passed to their friends or even thrown into the sky, the variety of bouquets which accompany these shots are countless. Also, you would realize that these colourful floral wonders are what spruces up their photographs. Known or unknown to them, the tradition of flower-gifting lives on through them.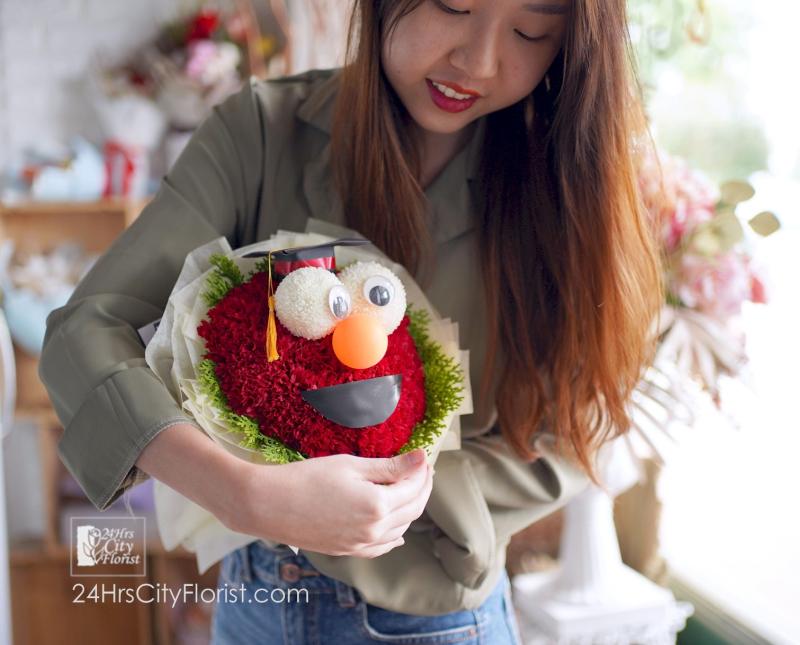 Moreover, these flower bouquets can be gifted and selected in special ways. If you know the favourite song, show or book of your giftee, you can get a bouquet reflecting the emotions felt from it. For instance, if both of you share an interest in Ghibli films, you would have experienced a whimsical blend of nostalgia, magic and awe. Thus, bouquets which kindle such feelings are bound to impress your giftee. If you would like the outlook of your bouquet to represent their favourite media more conspicuously, do try our quirky bouquets. The flowers can either be shaped into their favourite character or accompanied by the character's plushie. Or, if you wish to convey a special, handwritten message to your giftee, you can request for a custom-made card to go along with the bouquet, too.
Graduation Flower Bouquet
Compared to other gifts, some may find flower bouquets perishable and short-lived. However, such is often not the case. In fact, the flowers can be dried and transformed into a timeless gift with several purposes. They can be made into scented potpourri, bookmarks, kept in mason jars, or worn as elegant accessories. It is the perfect souvenir for keepsakes, an enthralling reminder of the fleeting memories of our youth. Alternatively, choose preserved flower bouquets which are increasing popular among the graduates as they quite literarily last forever.
To add, you can pair these bouquets with other gifts! Lately, acrylic Spotify plaques, bento cakes and video greeting cards have been the craze for quite some time. The unique premise of these gifts is what makes it popular. Gifting it alone is reasonable, but flowers will definitely add that finishing, worthwhile touch. All in all, the market might offer many other exceptional gifts such as novelty keychains and cups, but you can never go wrong with flower bouquets.
Now that you know why people flock (by this, we meant going online to order for flower delivery ) to the florists' during graduation season, do consider gifting a bouquet or two to your loved ones! With such an astounding array of bouquets to choose from here, there is something for everyone. From the classic to the quirky, coupled with readily available custom-made toppers and cards, you will be spoilt for choice.
In essence, we would like to wish all past, present and future graduands a Happy Graduation. Bon voyage!
Writer: Ruth Chua
Total Page Visits: 688 - Today Page Visits: 3