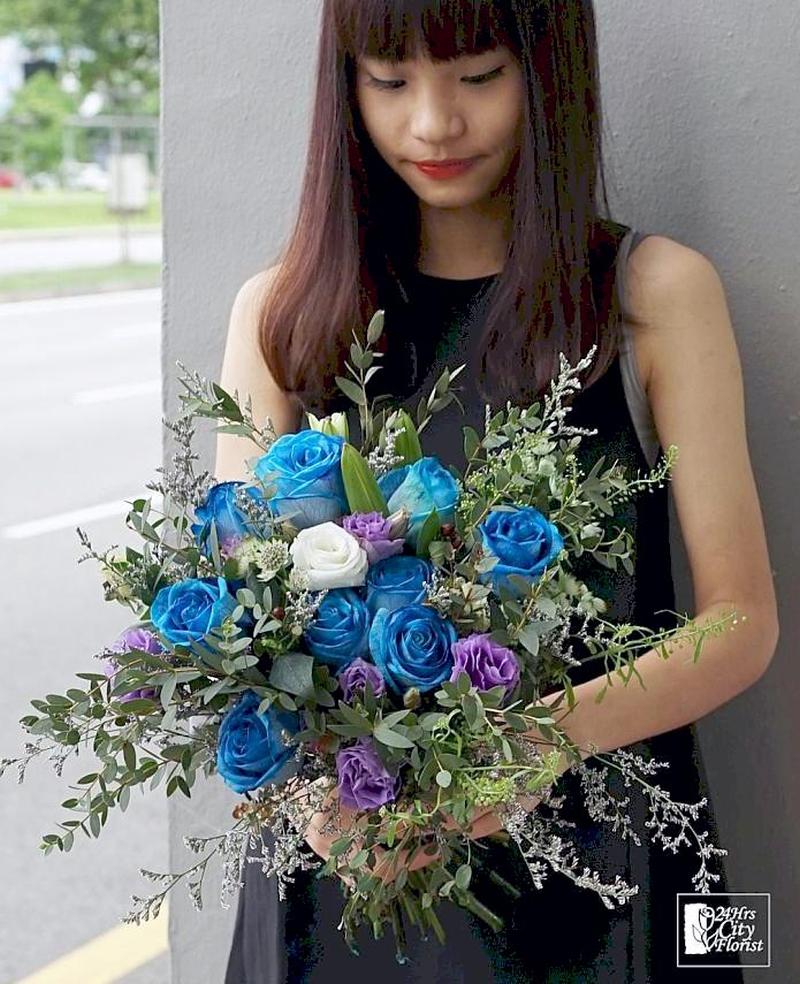 The best time and place to send flowers to a girl is at any time and at anyplace! However, this does not mean that the time and place where you send flowers are not important! Every relationship is different, and every girl reacts to receiving flowers differently. This article will tell you all you need to know about how to make a flower delivery meaningful, so read on for the answers to your questions!
When to Send Flowers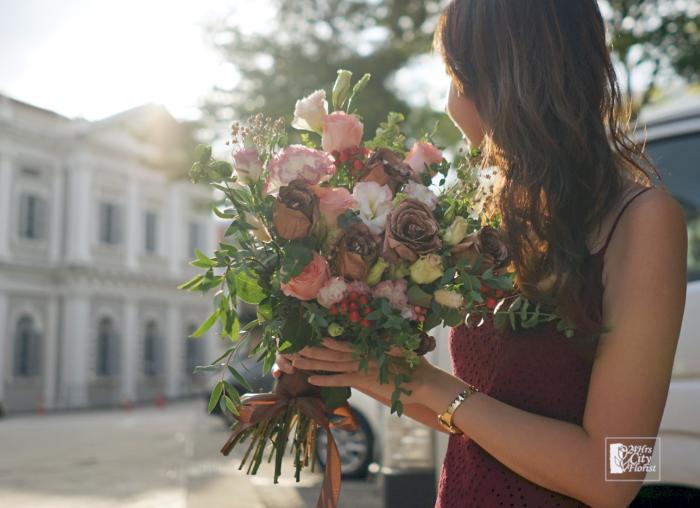 One of the first few things you have to decide on before sending flowers is when you will be sending them. Generally, flower bouquet can be sent anytime in the year, whether it be a special occasion or for no reason at all. After all, receiving a bouquet of flowers will always be a lovely surprise for a girl, no matter the time and day. However, sending flowers on occasions that are especially significant and personal to your recipient will help strengthen the effect of the flower delivery, and show her that you care. Below, we will outline examples of such occasions.
1. Valentine's Day
Of course, Valentine's Day is first on our list! This annual celebration of love is significant to couples all around the world, including Singapore, where couples tend to spend the day together after exchanging sweet gifts like cards, flowers and candy. Sending flowers to your girlfriend along with gifts and a card is sure to make her feel loved and appreciated. The most common flower sent during this occasion is red roses, as it is a time-honoured tradition of symbolising true love. However, you can also spice up this year's Valentine's by sending her a blue rose bouquet or even the grand gesture of 99 roses, which is sure to leave your girlfriend touched and in awe.
2. Dates and anniversaries
Second on the list is dates and anniversaries! Showing up with a bouquet of flowers will definitely make your partner feel amazing and leave an impression on her. For couples who have been dating for a long time, bringing flowers to the date sends the message to your girlfriend that you still care deeply about the relationship. Giving flowers on the first date can also be a sweet gesture, but this is slightly more divided as some girls feel pressured by the forthrightness of such an action. Ultimately, you should make the call depending on the girl's preference and how well you know her.
Relationship anniversaries are also a highly appropriate day for you to send flowers to a girl. Sending flowers to her on this day will help it stand out from any other date, and show her that the relationship is important to you. If you do not typically send flowers to your partner, anniversaries are the perfect day to make the extra effort as she is sure to remember it for a long time.
3. Birthdays
Next up on our list, flowers for birthday is a great idea too, whether she be your partner, friend, or even family member. This is also one of the days where sending flowers to your female friends may be more appropriate, as it is less likely to be mistaken for a romantic gesture. On this day, flowers will be seen as a lovely gift, and show her that you want to be a part of the celebration. For romantic relationships, guys can opt for a cute stuffed bear bouquet or traditional red roses. For friends and family, quirky character bouquets and gift baskets are sure to be appreciated.


4. Mother's Day
While most flower deliveries are intended for romantic partners, Mother's Day is a great occasion to show your mother your gratitude for her and how important she is in your life. While some families do not have the habit of giving each other gifts, you can be the first to reach out with this gesture that will surely be a happy surprise for your mother. It is difficult to repay the years of unconditional love and care given by your mother, but what you can do now is to make her feel loved and appreciated.
If you and your partner have a child together, sending her flowers on Mother's Day is also a way to show your love for her and acknowledge the hard work of being a mother. Most importantly, giving her flowers on this day shows that you appreciate her not only as a romantic partner, but also as a mother.
5. Occasions important to her
While the four options listed above are fairly common and are great times for guys to send flowers to a girl, the effect of sending flowers is often stronger when the occasion is of particular significance to her. One example is sending flowers to her on a date that celebrates her job, like National Doctors' Day and Teacher's Day. There are many such dates celebrating professions, and a simple Google search will reveal a long list of celebrations that you can peruse. Sending flowers to her on such a day sends a strong message to her that you love and respect her not only as a friend / girlfriend / wife, but also as a career woman. For girls who are especially passionate about their careers, your gesture will mean a lot to her as it will show that you truly care for her as an individual.
Another possible date that can have special significance to your recipient are dates that celebrate a particular passion / hobby of theirs. Examples of these include International Dance Day, World Music Day and National Volleyball Day. If your recipient places great importance on a particular hobby of theirs, sending flowers to her on such dates will be a great way to show your support for her pursuit in that particular hobby. If the hobby is one that is shared by both of you, then sending her flowers on that special day would be an amazing way to strengthen your connection with each other and celebrate a shared passion.
6. "Just because"
You don't need to wait for a special occasion to send flowers to your girlfriend / wife. Sending flowers for no particular reason can actually be an amazing surprise for her as she will not have expected it. It is a great way to remind her that you love and cherish her daily, and it also sends the message that you are constantly thinking of her. While grander gestures can be done on special occasions, simpler gestures once in a while are sweet and sure to brighten her day.
Ways to Send Flowers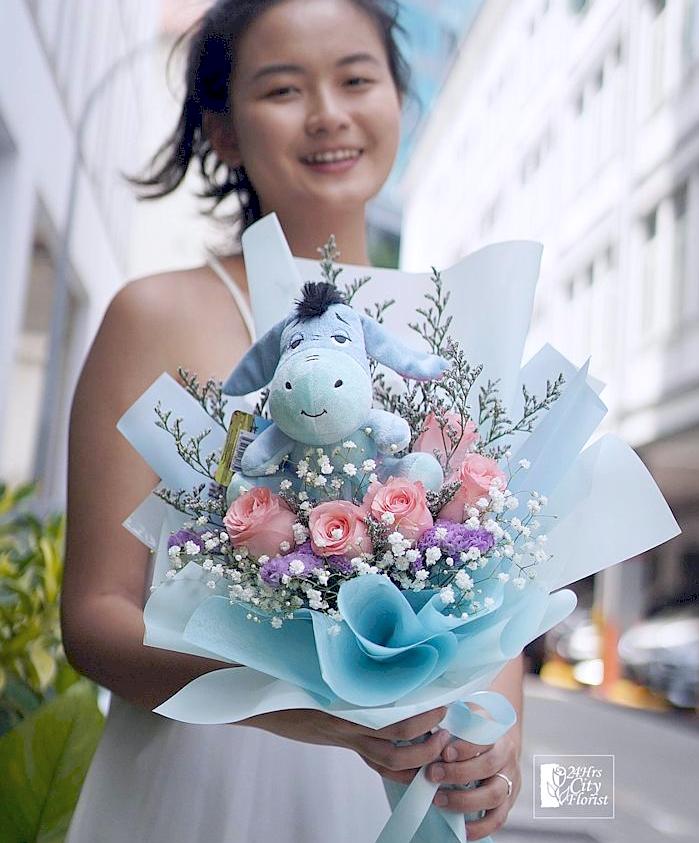 After deciding the best date to send flowers to the girl, you may be wondering how you should do it. The two most common options are engaging the delivery services of a florist, or delivering it personally. There are pros and cons to each option, and we will highlight it below:
1. Florist delivery
The most common way to send flowers to a girl is through a florist delivery. This entails picking out a bouquet online, then opting for a local florist to deliver it directly to her home or workplace. This is a sweet gesture akin to sending a gift through the mail, and is very convenient as the florist will handle the transportation of the flowers and ensure that they get to your recipient in perfect shape. 24hrscityflorist.com provides a 24-hour delivery service and offers urgent deliveries, so you need not worry about missing out on any special occasions. For flowers that are more inconvenient to transport like the 99 roses bouquet or table arrangements, opting for a flower delivery service is your best option as you no longer have to worry about the hassle of transporting larger bouquets. However, if you are intending to spend time with the girl on that day, it might be a better option to deliver flowers personally instead.
2. Delivering flowers personally
As mentioned above, you can choose to deliver flowers personally if you are planning on spending time with the girl on the day itself. While she will be happy to see you alone, bringing her a bouquet of flowers in person is sure to leave a lasting impression! Thus, this is a better option for occasions that are more significant to her, like Valentine's Day or anniversaries. However, it can also be a sweet gesture to deliver flowers personally to your girlfriend / wife's workplace on a regular day, as the extra effort shows her that you care. If you would prefer delivering the flowers personally, 24hrscityflorist.com also provides a self-collection option so you can drop by their store to pick up the bouquet yourself.


Overall, there is no one right way to send flowers to a girl, as it depends on the significance of the occasion as well as the logistics of transporting bouquets. No matter which method you choose however, receiving a bouquet of flowers is sure to make any girl's day, so the thought behind the delivery is what counts!


What to Know Before Sending Flowers
On top of these logistics, there are also many other factors that you can consider to make your gift more meaningful. For example, the type of flowers that you choose to send can convey very different messages to your recipient. You can also consider attaching notes to your bouquet to further enhance the effect as this adds a personal touch to your gift. These are just two suggestions, but there are also many other details you can add to express your love and care further, so get creative!
We hope the information in this article has helped you decide the best time and place for you to send flowers to your friend, crush, girlfriend, or wife etc. While these factors can help make a lasting impression on your recipient, just remember that it is ultimately the thought that counts!
writer: Jessica Tay Jing Yun
Total Page Visits: 3640 - Today Page Visits: 7