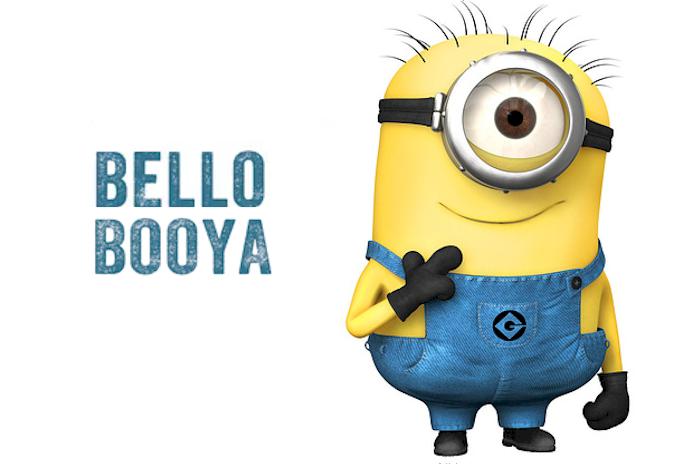 MINION
Few can argue that 'Minions are the most adored animated characters ever created'. they are everywhere from the big screens to giant inflatable balloons, pillows, backpacks, caps, mugs, keychains, confectionery and even flower arrangement – despite them being introduced to the world only 7 years ago.
There is no doubt that this rambunctious bunch of playful little, yellow, pill-shaped, banana-loving henchmen are well liked and loved worldwide. Boy, they are cute!
Appearance
Minions are generally similar size and shape, but to tell them apart, they have unique features such as the height, number of eyes, hair, eye/pupil size or clothing.
Minions are yellow and wear metal goggles, a blue jean overall with black gloves, small black boots. Stuart – an one-eyed short Minion is playful, friendly, intelligent and funny. He can be rebellious at times. Always hungry too. Stuart is also the most sincere and innocent out of all the minion. He is considered to be a slacker among the other Minions, preferring to chill out and play the ukulele than listen to the rules – personalities in some ways or the order, resemblance most of us. It is no wonder Stuart is also the most liked Minion.
That is precisely why when 24Hrs City Florist was tasked by our client to arrange a giant minion flower stand specially for the event @ LISA LIVE IS SMILE ALWAYS ASIA TOUR 2018 – SINGAPORE – they decided to arrange 'Stuart'.
Risa Oribe better known by her stage name LiSA. LiSA, is a singer from Japan Dubbed as Japan's "rock heroine" by the media. LiSA who is breaking down genre and language barriers with her powerful performances and catchy melodies. In 2015, she made her acting debut as Madge Nelsoon in the Japanese dub of the animated film Minions.
The first challenge was to form the core body by ensuring the dimensions (50cm in height and 30cm in width) were property setup and structurally sound. We expected the arrangement will be very heavy due to the weight of the floral foam once they are soaked with water hence a very stable and strong footprint was required.
The second challenge was to find the most suitable sizes of flowers to form the goggles and eyes. The arrangement was delicately arranged from the top of the minion head, ensuring every single stalk of yellow carnation is inserted at the correct height and arranged to prevent gaps in between. Black huge cable ties were used for the minion's hair.
The overalls were arranged using chrysanthemums poms and sprayed with blue floral spray to obtain the precise blue for minion's denim blue suspenders. We decided to use podocarpus leaves as they are lasting and give a much better contrast to the minion's bright yellow body. The minion as requested by the client, to be placed on a pedestal and we created a blue stand with yellow stripe to compliment minion's colour scheme.
After the event:
Total Page Visits: 9412 - Today Page Visits: 4