Everyone loves the delight and convenience of receiving flowers or having some form of flower delivery done to your office or house. Table flower arrangements are equally a much sought after and much appreciated floral gift. More importantly it is an universal accepted gift – a perennial choice of gift that can be given on any occasion. Here's a list of occasions table flowers is usually given:
love and care
romance
valentine's day
mother's day
birthday
new born
congratulatory
business launch / inauguration
thank you and appreciation
house warming,
wedding
festive holidays
Chinese New Year
Christmas,
speedy recovery
condolences
What's more, table flower arrangements come in various shapes, sizes and colours There is no need to find a suitable vase of bother arranging flowers that may otherwise arrive in a bouquet form. There's bound to be one which will impress your intended recipient – be it your partner, family member or friend.
If you would like to find out more about which table flower arrangement is best as a gift, or if you're on the receiving end and would like to find out how best to take care of your table flower arrangement that you received or where to place it, do read on.
Why choose table flower arrangements?
Flowers undoubtedly brighten up any room they're placed in. Table flower arrangements are a great and convenient option for those who'd like to add a touch of elegance or pop of colour to their house.
Especially during the Chinese New Year, festive table flowers are often given as wishes of good luck and prosperity.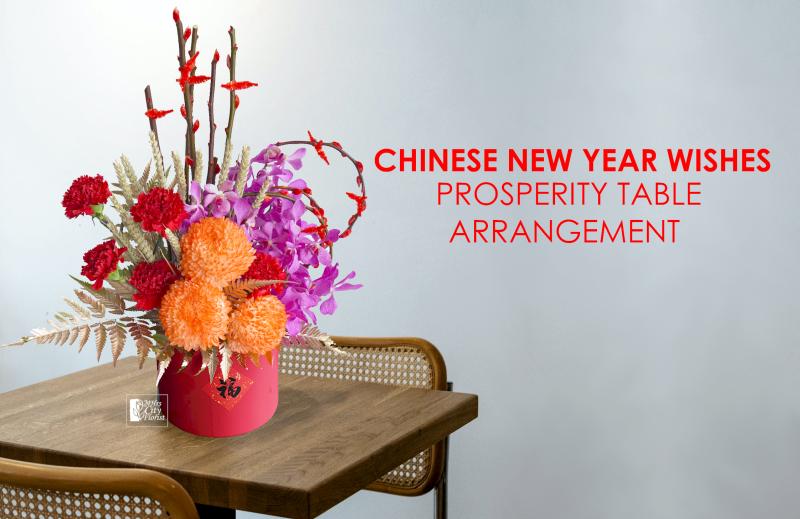 Not just limited to domestic households, table flower arrangements are often seen in the public scene which includes corporate receptions, hotel lobbies and events such as weddings and even funerals.
When it comes to the type of table floral arrangements, the list goes on and on. Why? Because the flower arrangement differs based on the placement or location it's intended to be placed as well as the type of event it's used for.
With table flower arrangements, it provides ease of convenient for the recipient. Typically, when recipients receive a bouquet of flowers, their first instinct would be to snap precious photographs of the gorgeous blooms before looking for a suitable vase to place them in. With table floral arrangements, the recipient is spared this hassle as they only have to decide on the best location to showcase the blooming masterpiece.
Alternatively, there are many who enjoy arranging their own table flower arrangements at home as a hobby. After all, having a hobby that not only helps one destress but beautify his/her home is killing two birds with one stone. Those keen to try their hand at basic table flower arrangements can learn how to do so here. You can also view a quick simple video tutorial here:
Table flower arrangements add a homely feel to a home and brings life to the area. If you're intending to place your floral arrangements at home, do take in mind that the location where you put your floral arrangement is key. Choose a spot that allows the blooms to shine. One of the simplest ways to do so would be to place the arrangement on plain and simple tables or tablecloths to avoid clashes with overly loud printed or patterned tablecloths.
Where is the best place for table flower arrangements?

Before you can decide on the best place or location to place your table flower arrangements, we must first understand that they can be used as home centrepieces, as decorative pieces in bedrooms or living rooms, or for events such as corporate receptions, weddings, funerals or even as fixture pieces at public joints such as cafes or hotel lobbies.

The best spot to place the blooms depends on the location the arrangement is to be placed in. One important tip however, would be to avoid putting your table arrangements along windowsills as the harsh sunlight might affect the lifespan of your blooms.

Before we delve into which exact locations and where would be the best spot to place the blooms, it's important to understand that table flower arrangements come in a myriad of shapes and sizes, and are housed in different jars and containers. Don't fret though, ranging from contemporary designs to typical potted arrangements, it's easy to get a table floral arrangement to suit your needs or desires.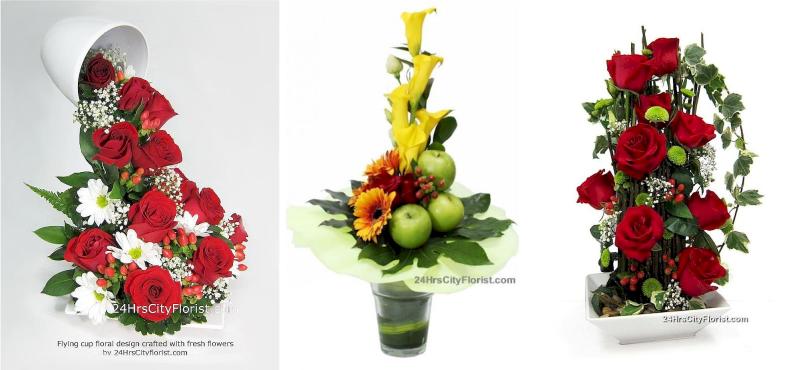 Typically, there are five basic shapes of common table flower arrangements. The five include triangular, circular, horizontal, vertical and line designs.

The shape of your floral arrangement would affect the choice of location you intend to place it. For example, triangular shaped table flower arrangements would look great as centrepieces where they grab the most attention being placed in the middle of the table. Circular table arrangements work great on round tables as the beautiful arrangement is rounded and thus, the view is the same from around the entire table.
Horizontal table arrangements would be ideal for longer tables. This is especially popular for wedding tables which are rectangular in shape. On the other hand, vertical or line flower arrangements are more often placed at the side or corner of a table, to frame its surroundings or complement a piece of art or decorative piece which might already be placed in the middle of the room. This way, it complements the overall look without being too overpowering.

Ultimately, the above serves as a guide on the location on where to place the flower arrangement but the decision on where to place the arrangement is subjective and wholly up to the recipient. It's important to place the blooms in a location that he/she will be able to see and enjoy.
For events/corporate pieces

Fresh table flower arrangements are often seen at public places such as cafes, restaurants and hotel lobbies. Reason being that such flowers add a cosy yet elegant charm to the location which is often frequented by customers.
The blooms add a cheery vibe to the location and based on the types of flowers selected, it also sets the appropriate vibe and mood. If you're someone who's intending to purchase table arrangements for such locations, do keep in mind to go for flowers that have longer lifespans so that it's a more economical price seeing that you would have to change it often.

Some great options of flowers which are often used in such table flower arrangements include orchids and lilies. Not only do they last significantly longer than other blooms such as roses, they're also an elegant choice that are often used in hotel lobbies.
For corporate organisations or events that require table flower arrangements, more often, depending on whether it's an event like an Annual General Meeting or board meetings, shorter and more classic table flower arrangement styles are often used.
Such examples include assortments that include gerberas, roses and gerberas for a pop of colour.
So, what table flower arrangement should I go for?

Whether one prefers a single-flower, monochromatic, colourful or loose/wild-looking contemporary table flower arrangement, it's up to the individual to decide which table flower arrangement best suits the recipient or the location you intend to place it at.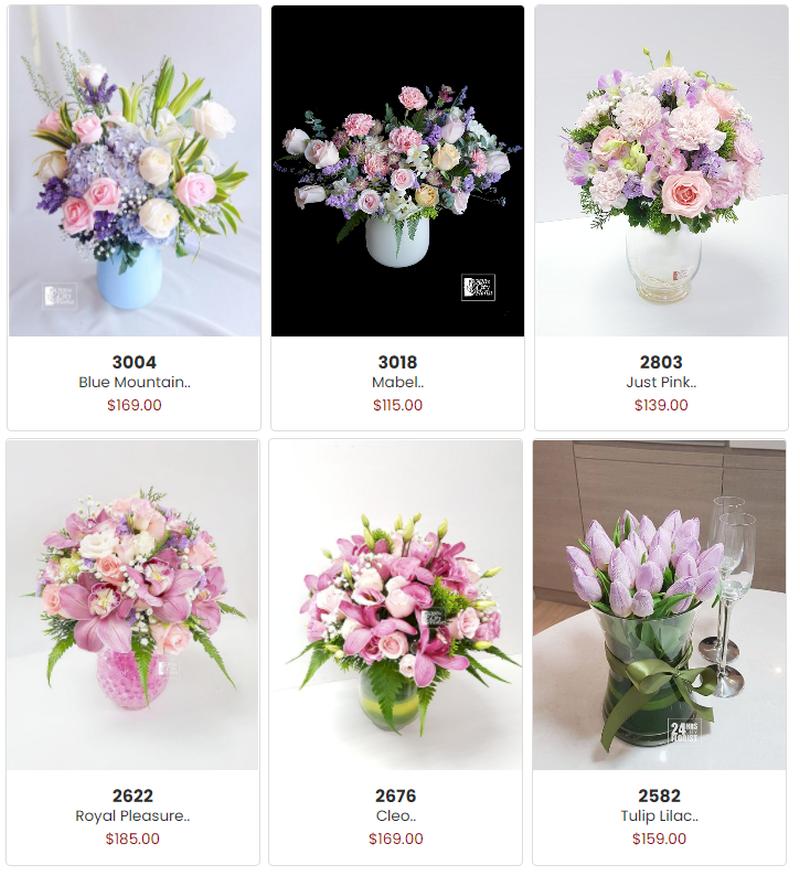 Whether it's for your house, office or an important event, it's important to take care of your table flower arrangements the same way you would take care of your bouquet flowers. Do remember to water the arrangements on a daily basis and you can also purchase a spray to spritz water on the flowers to keep it looking extra healthy and fresh.

If you're still deciding between a bouquet or table flower arrangement, while both are great choices that are bound to brighten up your recipient's day – table flower arrangements are great as gifts, especially to the hospital or on house visits as you won't have to trouble the recipient to find a vase or container for the flowers. The blooms don't have to be cut, unwrapped and all he/she needs to do is water them regularly in order to keep the foam in the arrangement moist.

So if you're still on the fence, why not gift your loved one a ready-made table flower arrangement today to brighten up their house or try making one yourself?
Written by: Elizabeth Tan
Total Page Visits: 724 - Today Page Visits: 5