Nothing spells joy like receiving a sunflower bouquet. It's a symbol of happiness, joy, and laughter all wrapped up in this cheery yellow flower. Giving a sunflower to someone is akin to passing joy, we'd say! More importantly you can easily arrange for flower delivery of sunflowers for any occasions whether they are for love, romance, birthday or even graduation simply because sunflowers, unlike roses, unlikely be misinterpreted or misconstrued as a gift of romance. There all kinds of sunflower bouquets styles and designs offered by florists today to best suit the occasion you'd like them for. Of course, if you're still hesitating, let us tell you something – it always a good time to send someone a lovely surprise.
Commonly Asked Questions About Sunflowers
What occasion are sunflowers given?
We can't think of an occasion where sunflowers wouldn't work. As a big, bright, yellow flower, it's one that's hard to not like. Graduation, Valentine's, Mother's Day, Friendship Day – the list goes on – are some examples of events where sunflower bouquets are commonly seen. They can even be given as a surprise gift to cheer up a friend. As long as the recipient is a lover of sunflowers, they'll be the perfect gift.
Can I use sunflowers for my wedding bouquet?
For sure. Sunflowers signify a bright and happy life ahead. These flowers would definitely suit a wedding that's inspired by nature. If you're planning an outdoor wedding or something with a rustic theme, sunflowers are the perfect accompaniment. You can even talk to your florist to incorporate your favourite flowers into your bouquet.
How long do sunflowers last?
Sunflowers generally last around 5-7 days, and you can extend their lives by taking proper care of your flowers. For sunflowers that have yet to bloom fully, place them in the sun for their petals to expand. Otherwise, place them in a cool shady place away from the sun, in a glass filled with water, changed daily. Trim stalks 2cm diagonally occasionally.
What do sunflowers represent?
If you're an avid learner of the language of flowers, you're probably very familiar with the sunflower and its positive messages. Even if you're not, its appearance should give you a clue. Sunflowers represent loyalty, adoration and longevity, and its association and resemblance to the Sun is not for nothing, thanks to its bright yellow petals and sheer size. This makes sunflowers an easy option to brighten up someone's day.
Are Sunflowers appropriate as condolence flowers?
Sunflowers may sound like an odd addition, but are actually commonly used for funeral flowers and grieving, depending on traditions and practices. These rich, yellow flowers are used to represent the deceased's uplifting and bright life, while also lifting the mourners' spirits at a funeral. Sunflower condolence arrangement can also hold personal message from the mourners to the deceased.
Can I match sunflowers with other flowers in a bouquet?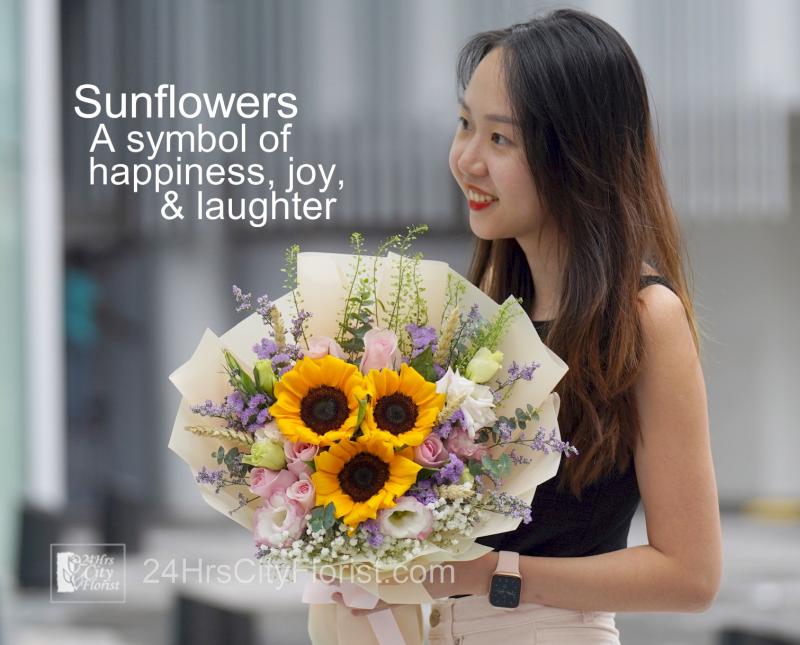 Sure you can! For a more romantic vibe, you can opt for a mixture of roses and sunflowers. More complex sunflower bouquets can include foliage, tiny flowers, and a whole host of other flower species and creative ways to arrange. Our catalogue features an extensive range of sunflower bouquets, created for any occasion the sunflower-lover in your life may be in!
written by Engracia Loh
Total Page Visits: 2514 - Today Page Visits: 2