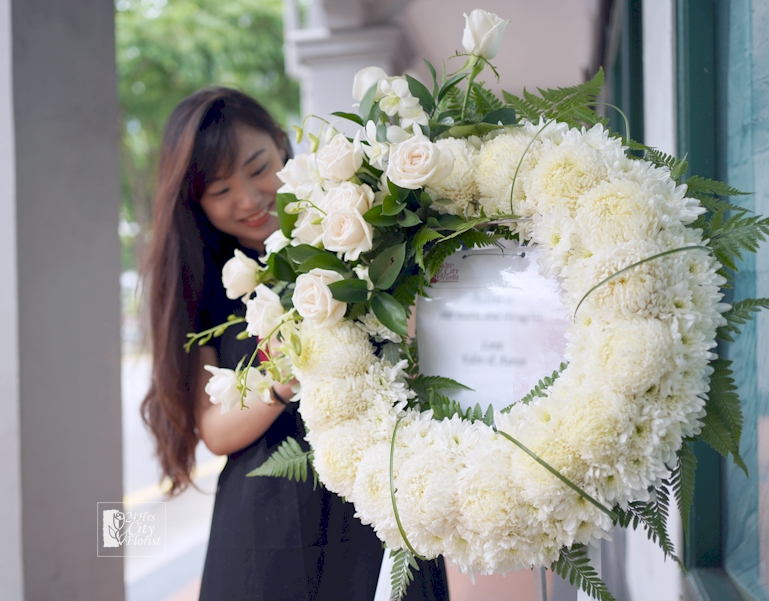 Here are answers to the most 5 common questions. When faced with news of the passing of your friend's or colleague's loved one, immediate thoughts would often be to make arrangements to visit the funeral. Condolence flowers are also another way to express your sympathy towards the family members of the deceased. Many are however unsure about how to send flowers to a funeral, or even how to order flowers for a funeral. We have consolidated a succinct QnA to help make this process smoother and less error-prone.
When should you send flowers to a funeral?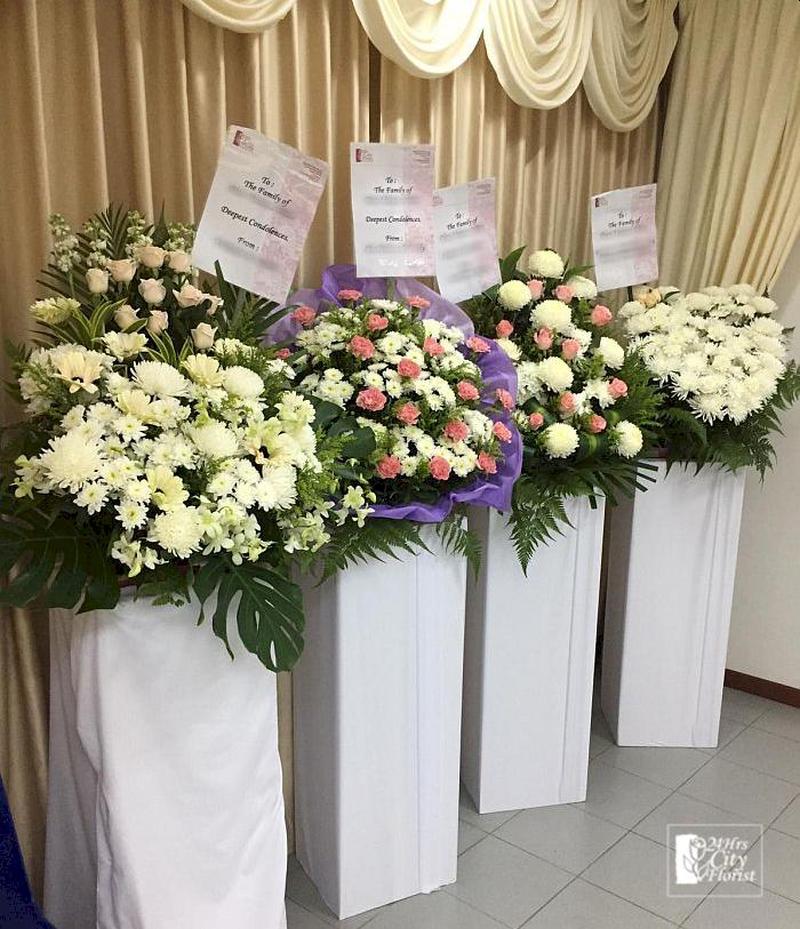 The best time is when the bereaved family holds the funeral wake. This is normally done immediately after the embalming when the deceased's body is laid in a casket at the wake. Funeral wakes can be held funeral homes, at the bereaved family home, void desks or community halls.
Common questions asked are 'When to send condolence flowers' and 'When should funeral flowers be delivered'? First off, funeral and condolence flowers are often used interchangeably however, for the purpose of this guide, flower for funeral are usually formal floral arrangements made by the immediate family members of the deceased and generally sent to the location of the wake, be it at the funeral home or the house of the deceased. Condolence flowers are addressed to a family member of the deceased and can generally be sent anywhere, including to the wake.
As a general rule of thumb, condolence flowers can be delivered at any point of time during the wake, but refer to the table in the under 'faith of the deceased' for greater specifics. Before you arrange such flower delivery, it would be best for you to check the following:
Duration of wake

Muslim funerals typically do not have flowers sent over as the deceased has to be buried within 24 hours. Flowers are hence traditionally sent to the family's home after burial (check in with the family before doing so).

Location of wake

If the wake is held at a funeral home or a church, check the opening hours of these locations, as this affects when the flowers can be received by people at these venues.
What flowers for a funeral?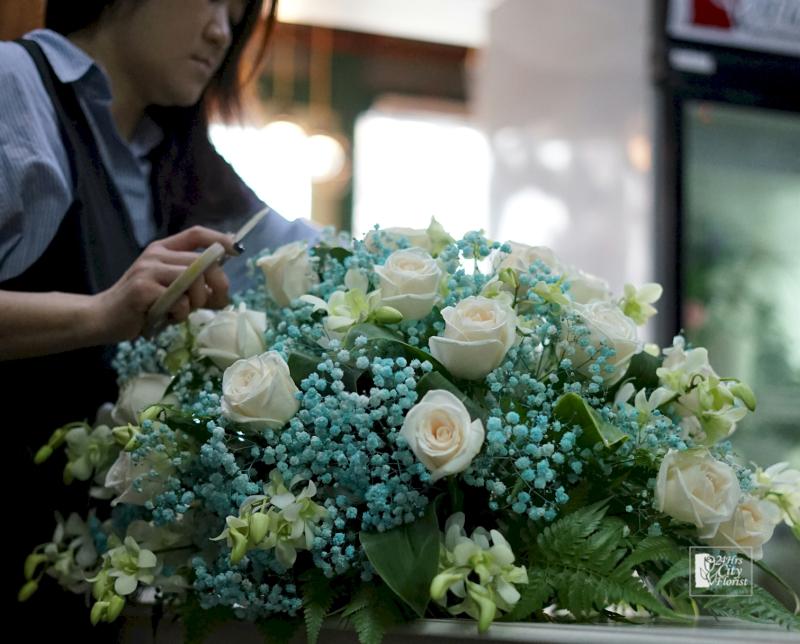 Generally any flowers. Due to the solemn nature of the occasion, more subdued colours are commonly seen in a funeral. That is why you see more white and ivory coloured flowers in a funeral wake. It requires a certain degree of care to choose the appropriate flower type, colour and arrangement for a funeral. Common questions pertaining are 'What colour of flowers for a funeral', and 'What kind of flowers to send as condolences'? In general, remember that the flower type and colour are your greatest concerns – flower arrangement will usually be well-taken care of by the experienced florist.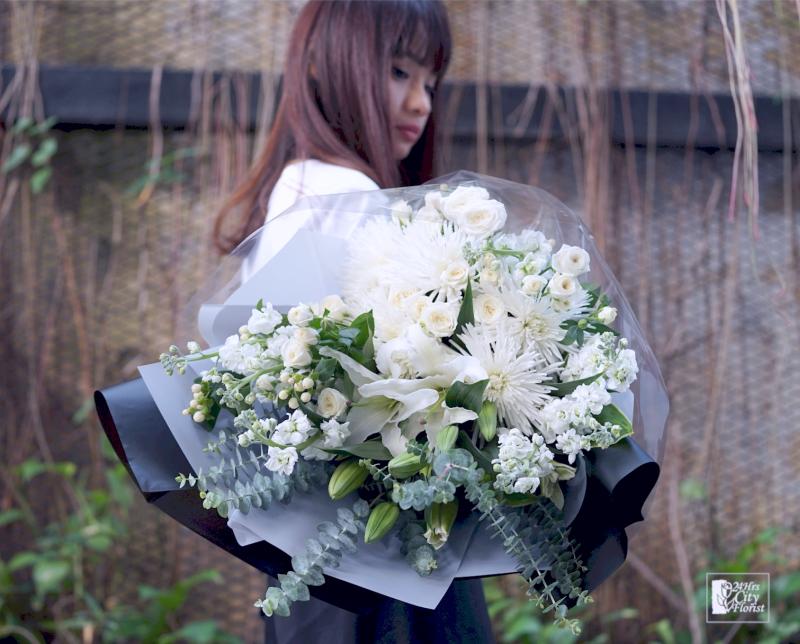 Here we will list the common flower types and colours synonymous with condolence-giving. For a more detailed list of flowers, do refer to https://www.24hrscityflorist.com/blog/expressing-sympathy-to-the-family-of-the-decease-in-singapore/.
Lilies – generally mean purity and innocence, and expresses hope for the soul of the deceased to enter a peaceful journey of restoration.
Chrysanthemums – a symbol of grief and mourning, and often combined with lilies and roses
Carnations – different colours express different forms of condolences, but carnations are generally paired with other flower wreath and standing sprays.
Roses – white and peach coloured roses communicate purity and sincerity respectively. For Christians, deep red roses symbolize grief and true love. The solemn appearance of roses is fitting of a funeral service as well.
Colours – in general, white is the trademark sympathy colour. Pale colours like peach roses, yellow chrysanthemums and pink carnations are suitable too. If unsure, avoid bright and festive colours as that is a sign of disrespect, unless specially requested by the family members.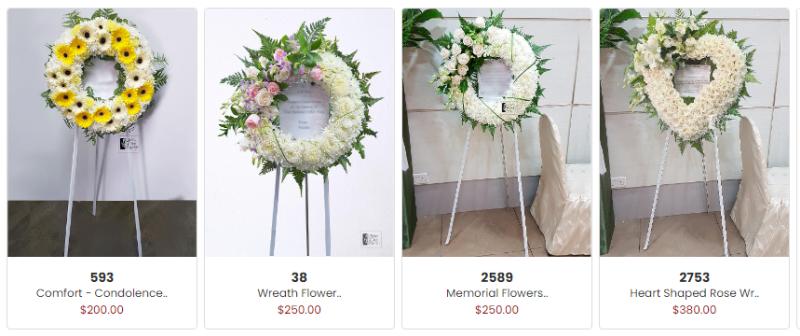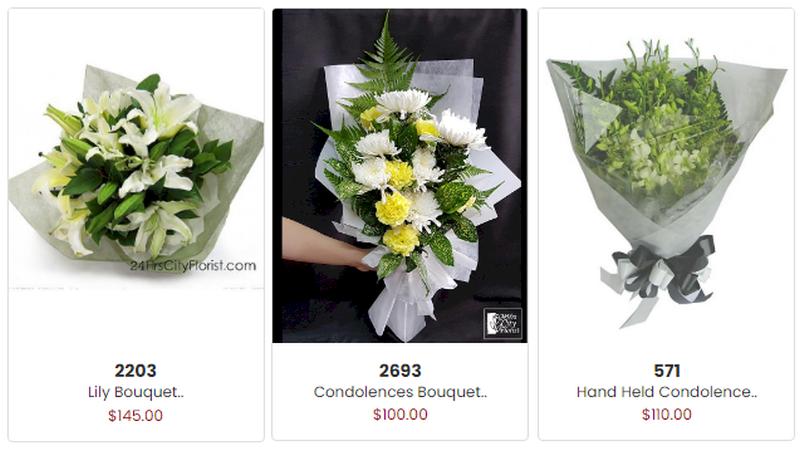 Consider the faith of the deceased
Sending flowers can be, to a certain extent, a religion-sensitive practice. We have collated a list of common practices characteristic of major religions in Singapore. This tabulation is by no means the definitive guide to sending funeral flowers. If unsure, always seek the advice of the family members.
Where to send funeral flowers to?
Your best option would be to first determine the location of the wake. Here are a few locations that wakes are usually held at:
Funeral homes/parlours
Home of the deceased
Void decks of HDB flats
Religious places specific to the deceased – churches
Be sure to find out the exact address of the wake to facilitate the condolence flower delivery of the flowers.
What to write in a condolence message?
Write what you want to say to the family of the deceased. You may convey your deepest condolences through a thoughtful words. The message can be directed to for example, the wife, son or daughter of the deceased or simple the entire family. Conveying the message from the heart with the intention to comfort and console the beloved members of the deceased family would be the best. However, finding the right words to pen down in a condolence message is understandably not easy. You could refer to this list of carefully compiled messages to give you some inspiration (https://www.24hrscityflorist.com/blog/condolence-message/). As these messages are typically printed on a card and placed amongst the flowers, and hence visible to many, it is advised to be professional but sympathetic in these messages. As a general guideline, try your best to be sympathetic and sensitive, and only write what you yourself can imagine receiving if in their shoes.
Where to order flowers for a funeral?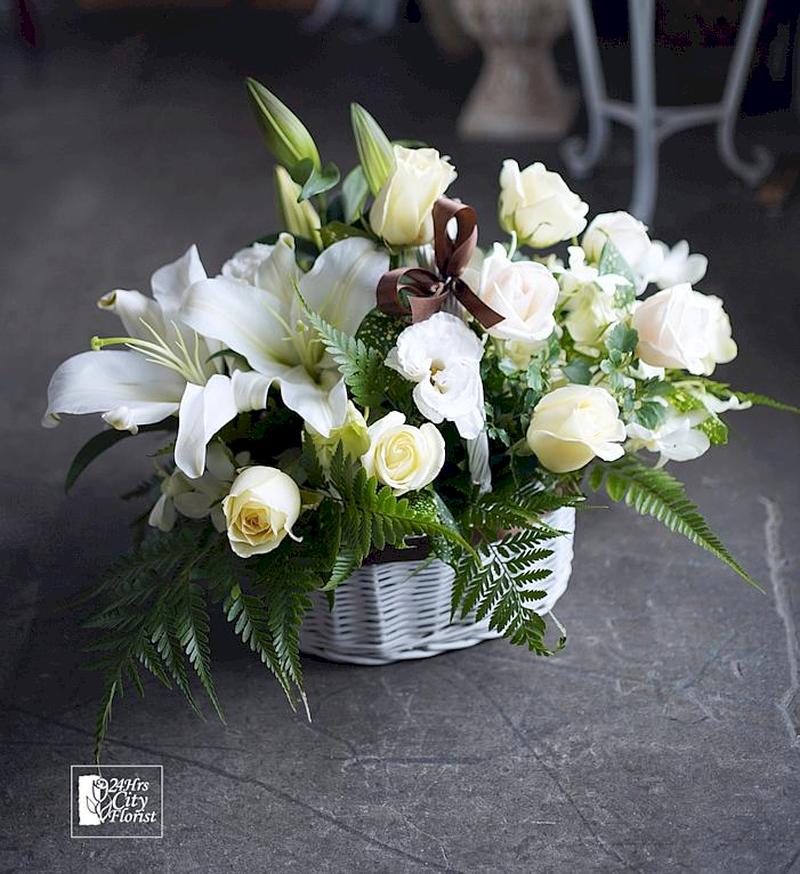 Order flowers for funeral from online florists. Most Singapore florists are able to arrange and deliver funeral flowers directly to the funeral wake. Local Singapore florist like 24hrscityflorist.com delivers condolence flowers almost on a daily basis. If you have a florist whose services you trust and have enlisted their help before, definitely do approach them and convey your intentions clearly. For more urgent deliveries, there are also 24 hour florists (link to shop) whom you can rely on to get the job accomplished.
Conclusion
We hope this article rendered some help in one way or another. If there are anything that we have left out, or any crucially wrong information, feel free to let us know.
Writer, researcher: Engracia, Singapore.
Total Page Visits: 4516 - Today Page Visits: 1