6 Creative Ways to Say Sorry Using Flowers
A beautiful bouquet of flowers is the perfect way to say sorry, whether you are apologizing for doing something terribly wrong or regrettable or forgetting an anniversary or birthday, expressing sympathy for a loss, or are sorry to hear a loved one is under the weather. Flowers are tasteful and thoughtful, and with so many varieties, there's a suitable bouquet for every occasion. Any florist Singapore will be more than happy to assist you to send flowers at any time of the day.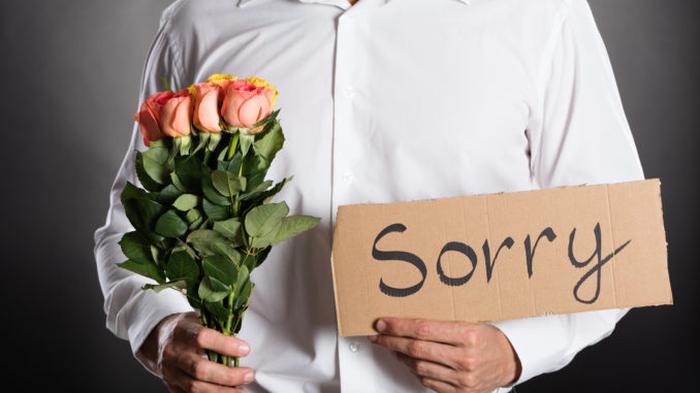 Creative Ways to Say Sorry
A Bouquet with an "I'm Sorry" Poem
Nothing is more romantic than a personalized poem apologizing to your loved one, especially when it's delivered atop a delightful bouquet! If you are good with words and comfortable writing poetry, you could also write an apologetic poem with a dose of humour for a friend or loved one whom you have said something upsetting or done something regrettable. Most importantly the gesture of sending a flower bouquet with a poem must be sincere and genuine.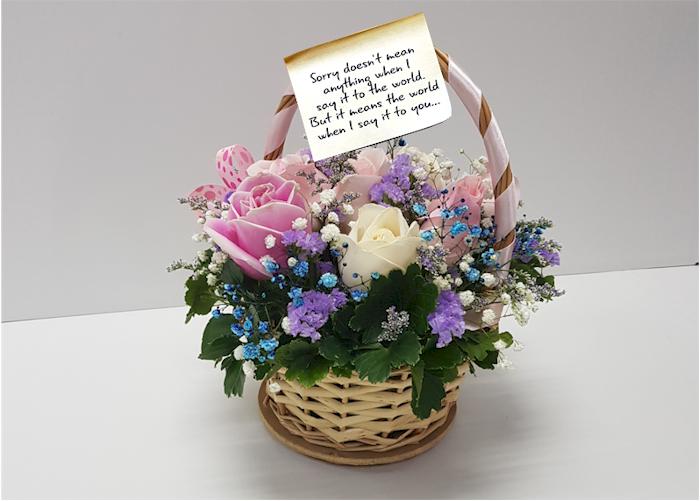 If words don't come to you as easily, there are many sources of inspiration online that will help you craft the perfect poem. Your loved one will be impressed that you took the time and the effort to write something specifically for her!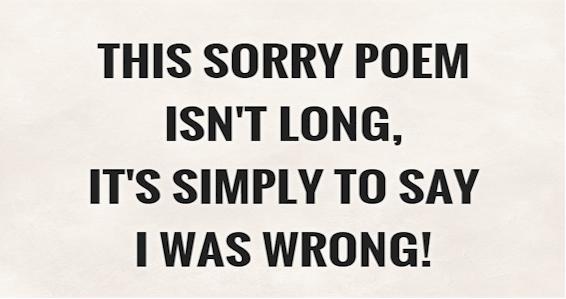 Surprise Flower Delivery at Work or School
There is something about receiving fresh flowers that can really cheer someone up. Make your significant other feel special and loved with a flower delivery to their workplace or school. This also gives them the opportunity to brag about how thoughtful and sweet you are to their friends and coworkers. You can adapt this for someone who is ill or suffered a loss by hand delivering to their home with some heartfelt words.
Cook A Special Meal Accompanied by Fresh Flowers
Often, the way to someone's heart is through food. The ability for a man to cook is very appealing to many women and sure to score brownie points. Likewise for women who cooks. If you are a good cook, prepare your loved one's favourite meal and present it on a beautifully set table with an amazing floral centerpiece. You will be amazed how a fresh centerpiece of flower arrangement can lit up your dining room and inadvertently turn on the mood.
If cooking isn't your thing, order some decadent take away and serve that on your elegant table. Make an effort to create a beautiful ambience with your loved one's favourite songs and some candles. The flowers will make it seem luxurious, they also speak volumes of your good taste and your appreciation of the finer things in life – regardless of where you are and show that you went the extra mile with your apology.
Flowers and A Teddy
A teddy bear paired with flowers is a great option for your significant other, or for a child. That way, the recipient has lovely flowers to admire, and a teddy bear keepsake that will last forever and remind them of you. A bouquet of flowers delivery with posh toy simply makes it so much more adorable.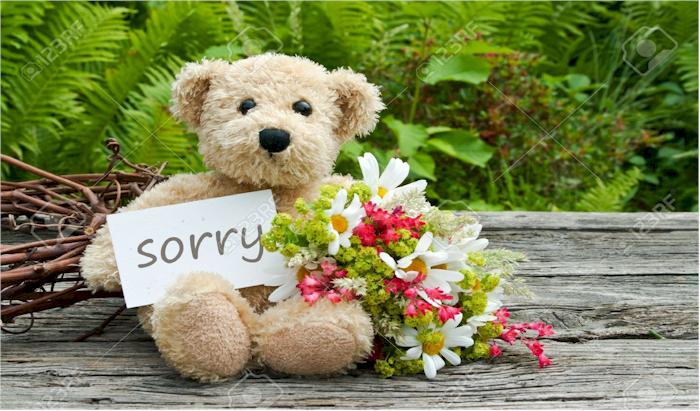 A Surprise Voice Recording
This works best if you're in a scenario where your loved one is avoiding you and doesn't want to engage in any conversation. Record an adorable surprise voice recording or even sing a song or play a jingle to make your loved one laugh. Explain how apologetic you are and present your voice recording with a flower bouquet – just to sweeten the deal.
A Sweet Treat with A Hand Bouquet
If you're saying sorry to someone with a sweet tooth, this is definitely the way to go. A nicely arranged hand bouquet paired with chocolates or another sweet treat is thoughtful, playful, and sure to get you back on their good side. You can never go wrong with chocolates and the best thing is, they are mood enhancers too. Try to take it up a notch by customizing your chocolates or treats by writing the word "sorry" with something like syrup on it.
Which Flowers to Say Sorry?
Roses
Roses are classic and decadent. Red roses delivery paired with babies' breath are perfect for your significant other, while white roses with assorted green foliage are appropriate for a loss.
The yellow rose especially is common used for apologies. Symbolizing friendship and innocence, the yellow rose is perfect if you need to apologize to a friend. To make your rose bouquet a little more creative and interesting, try pairing yellow roses together with some orange roses. If not, a bouquet of roses never fails to soften one's heart.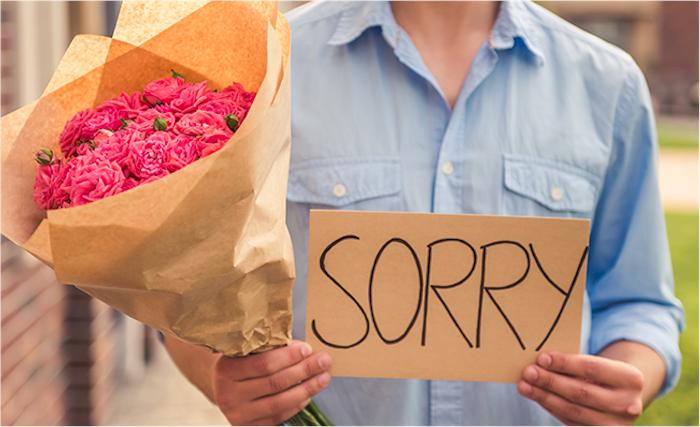 Tulips
White tulips are a perfect gesture of apology or starting over. They are often associated with purity and fresh starts. Their elegance is understated and you won't have to worry if it looks over the top, especially if you're getting tulip bouquet delivered to your recipient's workplace. Tulips are subdued but meaningful and beautifully simple.
Orchids
Orchids are a great choice for someone who loves gardening and caring for plants. They are quite delicate and require a lot of care, so would not be appropriate for someone who is unwell.
If you are giving an orchid to someone who will nurture the plant, they will certainly appreciate the exquisite beauty of these exotic-looking flowers. White orchids, in particular, convey sincerity, love and care – perfect if these traits are exactly what you're trying to express.
Lilies
Lilies are a wonderfully symbolic option. They are traditionally associated with Easter and new life, and white lilies are perfect for a sympathy bouquet. Lilies also come in resplendent colours that, when paired with other bright flowers, can definitely brighten moods and make a statement. Depending on the arrangement, lily bouquet can be classy and elegant or fun and whimsical.
Blue Hyacinth
The Blue Hyacinth is often known as the peacemaker. If you're embroiled in an unfortunate misunderstanding or stressful fight, this beautiful flower is the perfect way to extend your hand of truce and express your yearning for peace.
Ivy
It is common to pair Ivy up with other flowers. Elegant and graceful, the Ivy will add a vibe of support and reliability to the bouquet. If you have made an unfortunate mistake and wish to express your desire to be reliable for your recipient, this is a good choice to go with.
Seasonal Flowers
Seasonal flower bouquets are a wonderful way to say you're sorry. These take the guesswork out of which flowers go together and you can choose a bouquet that highlights your loved one's favourite colour or flower. Seasonal flower like peony flower is only available at certain times of the year. This 'limited edition' exotic flower which is not always readily available makes the bouquet all the more unique and appreciated. Seasonal flowers added with many different types of flowers, makes the bouquet visually stunning and deliciously fragrant.
Conclusion
Flowers are a classic way to say "I'm sorry." They are a universal symbol and are perfect to express your apology or emotions when words often fail you. With so many varieties and options, there is a perfect bouquet for almost everyone and all situations. With flowers, saying sorry just gets a little easier. 🙂
Total Page Visits: 17057 - Today Page Visits: 3