30 Congratulations Messages For Grand Opening Business

Grand opening occasions deserve a grand celebration!
Whether it's a start-up, new office or shop opening or an inauguration of a business or an expansion of an existing business, toast to the changes and let your family members, friends and business associates know that you are happy for them.
A new business opening is indeed a special event and a joyful occasion for the people who are important to you. Your encouragement and support will undoubtedly inspire and motivate them to do their best in their new endeavour. Let them know that you congratulate them and wish nothing except success for them. 
Flowers for grand opening
In Singapore, it is considered good practice and customary to send flowers for grand opening  or flowers for opening ceremonies to someone who has invited you for his or her business initiation. This gesture of sending flower stands not only to convey your congratulatory wishes to the business owner but also seen as an act which will bring good faith, prosperity and blessings to his or her business venture.  Flowers for opening ceremony typical comes arranged with fresh bright flowers and a message card where you can convey your congratulatory wishes. Florists provide same day  flower delivery anywhere in Singapore.
Congratulations Message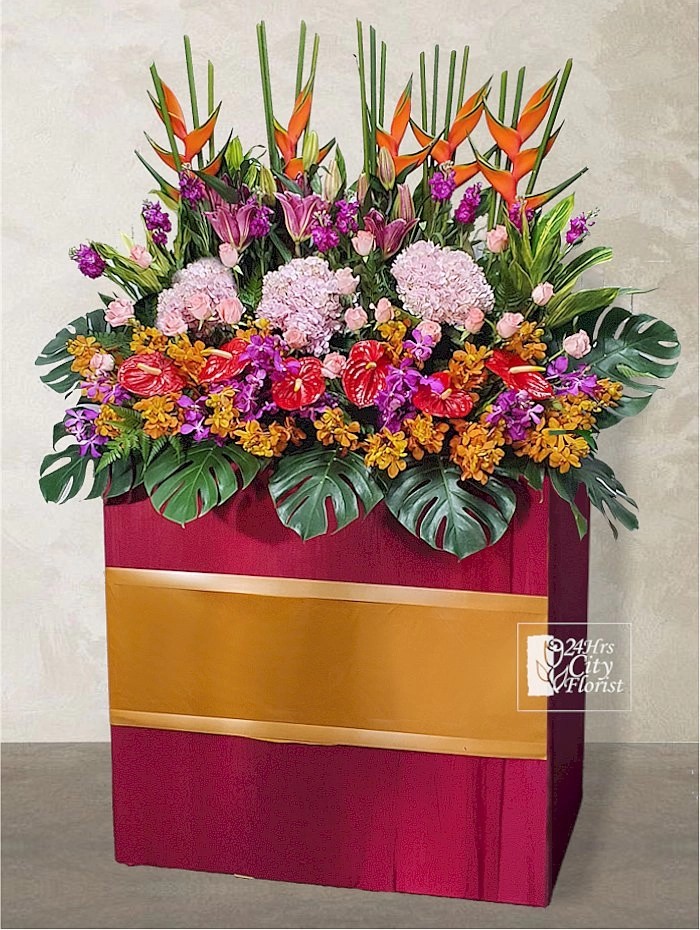 To help you with some ideas, here are a sample list of congratulations messages. Besides the more traditional business opening ceremony messages such as;
Messages in English
• Congratulations on your Grand Opening!
• Congratulations and Best Wishes on your Grand Opening!
• May your business prosper in the years to come!
• Sending you our sincere/warmest congratulations on your Grand Opening! Wishing you all the best!
• Heartiest congratulations on starting your new business/shop/office.
we have put together 30 excellent collection of congratulatory messages for the grand opening of a business.
1) Real entrepreneurs don't wait for chances, they create them… Just like you did. Best wishes for your new venture!
2) Congratulations & Best Wishes on your Grand Opening. May your business be prosperous with many years to come.
3) Our sincere wishes to your new business venture. May your business blossom in the years to come. Congratulations!"
4) A toast and cheers to the grand opening of your store! Wishing you all the best!
5) For all your hard work and compassion, you deserve the success you are enjoying. Sending you our warmest congratulations on your official opening. Best wishes!
6) You have all the ingredients of being a successful entrepreneur. This venture of yours is destined for greatness. Congratulations!
7) A toast to your new business! With your determination and perseverance, there is nothing that you cannot overcome. Wishing you all the best and Congratulations my friend!
8) You have proved once again that hard work pays off! Keep going and may your business prosper even more in years to come.
9) May your new business get you lots of fortune, name and fame. I wish you good luck in reaching the top of your game.
10) Every dreamer is not a doer and every doer is not a dreamer. You have the deadly combination of being a dreamer and a doer. Good luck for your business.
11) Starting a new business is like writing the chapter in the book of your life, which will make it a bestseller. Good luck.
12) It's a bold new world you've stepped into. Congratulations on your new business!
13) May your business flourish, may you reap your rewards and may you reach your dreams. Good luck with your new business!
14) Brick by brick, you have built an enviable new business. I pray that year after year, you get more and more prosperous. Congrats!
15) Good luck and prosperity are wishes for you, as you set out to make your fondest dream come true.
16) Congratulations on this big step you have taken in becoming an Entrepreneur! May you find success and fulfilment in your New Endeavour.
17) Congratulations! I/we are so happy and excited for your success. Be proud of your hard work and achievement.
18) As you start a new business, I/we wish that Failure is behind you, Success is in front of you, Good Luck is by your side. Congratulations!
19) Facing challenges with strength, determination and confidence is what matters, and you have done it. Congrats!
20) Congratulations on this big occasion and many wishes for future success.
21) Even though it is not a surprise to see you succeed, we are impressed and proud of you. Congratulations!
22) Congratulations! You did it!
23) Dreams and ideas are worthless if they aren't backed by the sheer courage to do! Congratulations!
24) Hooray! You Did It! Congratulations!
25) There was never a doubt in our hearts that you were destined for success. Congratulations on your achievement!
26) A hearty congratulation on your grand opening and wishing you all the best and good luck!
27) Congratulations on the start of something beautiful! Much love and happiness to you on this happy occasion.
28) Success is delivered only to the deserving. Congratulations on your newly found success!
29) May your new business prosper and deliver well. Congratulations to you for achieving one of the milestones of your life
30) Many dream, few dare and very few actually succeed. Congrats! My sincere support will always be with you. Best wishes.
As a bonus, we have added another 6 congratulatory messages in Chinese as follows:
Messages in Chinese
1) 祝贺/恭贺,
开业兴隆,财兴旺。
财源茂盛,达八方。
2) 祝贺/恭贺,
生意兴隆
客似云来
3) 祝贺/恭贺,
生意兴隆通四海,
财源广进达三江
4) 祝贺/恭贺,
新张大吉
一本萬利
5) 祝贺/恭贺,
鸿图大展
生意兴隆
6) 祝贺/恭贺,
开业兴隆
高朋滿座
24HrsCityFlorist.com offers same day flower delivery for all their opening ceremony flower stands. Besides opening floral stands, one may also consider sending flower basket for grand opening or table flowers . Orders can be placed online and messages in any languages can be typed onto the gift message box during checkout. 
Total Page Visits: 1468556