When one thinks of flowers, it is often that elegance, grace and perhaps love come to mind. But what if we told you flowers can be fun, quirky and unique? 24HrsCityFlorist.com has been creating flower bouquets bursting with character since 2011, ranging from different kinds of arrangements mimicking beloved characters, as well as playful bouquets with a distinctive style. Don't be stuck in the past with the more traditional bouquets, and express yourself by gifting these exciting and idiosyncratic arrangements. Allow us to introduce some of our newer character bouquets…
Pikachu Bouquet
Yellow, lightning tail, red cheeks and electrical powers… It's Pikachu, of course! Pokemon have been a staple in many 90's kids childhood, and continues to dominate the animation market to this day. From manga, to anime, to video games and even the popular Pokemon Go app, Pikachu has proven that he is here to stay to capture your attention with both his cuteness and powerful electrical abilities! Made up of fresh yellow and red carnations, this Pikachu bouquet or lookalike bouquet will take your giftee right back to their childhood. Furthermore, carnations symbolize fascination, love and adoration, making this arrangement perfect for any occasion, be it for Valentines or a birthday. Tell your loved one that "I pick you, Pikachu!" with this lovely and adorable bouquet.
Unicorn Bouquet
The Unicorn is a mythical creature, associated with child-like wonder, beauty, grace and even purity. Though they appeared in early Mesopotamian artworks, they have also been referred to in ancient Indian and Chinese texts and myths; meaning that this mythical creature has enchanted people all across the world! Have this mythical and mysterious creature come alive right in front of your eyes with our beautiful Unicorn Rainbow Bouquet— made of carnations, dotted with pastel rainbow flowers around it, and complete with even the horn! Show your love and get right to the point with this gorgeous and carefully arranged Unicorn… and have a magical day!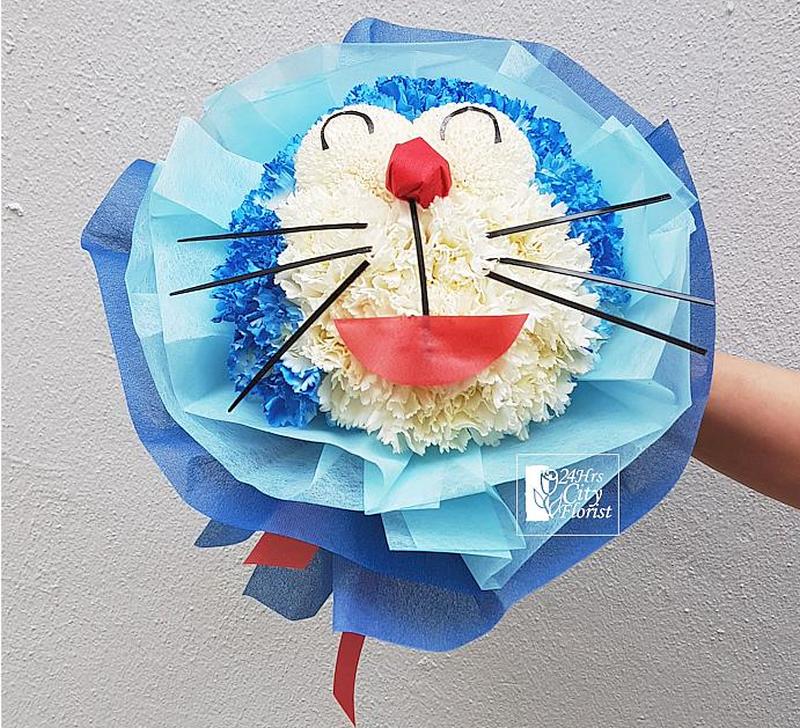 An, an, an… do you ever find yourself humming along to the catchy tune of the Doraemon theme song? Us, too! The iconic Doraemon, a robot-cat from the future, comes to the aid of elementary student Nobita in the eponymous and immensely famous comic and animation. Now, Doraemon will come to your aid, from the future (and future-you thanks you!). This Doraemon bouquet is arranged with bright blue and pure white flowers, and his happy and joyous expression is sure to bring a smile to your face! Your fun, unique and playful side is sure to come across with such a vibrant and unique bouquet, and your recipient will be able to feel the joy!
My Melody Bouquet
"I love you" is a phrase that, well, sounds like a melody to my ears! We started making the iconic Hello Kitty bouquet all the way back in 2011, and it was a hit, enjoyed by even the likes of Jean Danker from Mediacorp. Since then, we have gone on to explore more famous Sanrio characters. Of course, we had to do a My Melody bouquet! Initially in the shadows and only showcased as Hello Kitty's best friend, My Melody is now an icon of her own, and has her own cult-following who go all out to collect all kinds of pink and white My Melody themed items! Express your adoration for a loved one with this adorable and delightful My Melody bouquet. Good-natured and sweet, we can guarantee you this bouquet will bring across the same image. Made of fresh white and baby pink carnations, it's even complete with a pretty blue ribbon adorning Melody's ear!
SpongeBob Bouquet
Who lives in a pineapple under the sea? SpongeBob SquarePants! This spongey bright yellow sea creature has been the highlight of many people's childhood since 1999— with his excitable and goofy personality, he has left a great impression on cartoons and media as we know it today! After all, is there anyone who doesn't know who this lovable yellow creature is? With his big oval eyes, charming two front teeth and his dapper attire, he's recognizable from a mile away, and his fans have been collecting SpongeBob related merchandise that spans from stationary to makeup products and many more! Our SpongeBob look-a-like arrangement is sure to amuse and bring back fond childhood memories. Fresh yellow flowers, his iconic smile and decorated with colorful baby's breath, this quirky bouquet is sure to impress your loved ones and friends. As SpongeBob once said, "F is for friends who do stuff together"!
Sesame Street Bouquet
Years ago, 24HrsCityFlorist.com started doing a lovely Elmo Bouquet, which was well-received by Elmo lovers in Singapore. Since then, we have also started doing a Cookie Monster arrangement, after painstakingly testing and experimenting until we got just the right shade of blue for the bouquet. Now, we're excited to share with you our latest addition of our Sesame Street look-a-like Bouquets: This Sesame Street Bouquet, which features ALL of your favourite characters, such as Elmo, Cookie Monster, Big Bird and Murray! The Sesame Street characters have been a fun and vibrant staple of television since 1969, and they continue to entertain and educate today. While they used to only teach children basics, such as numbers, the alphabet and colours, they now even have life lessons to share with people of all ages. Now, with multiple movies, and even a ride and a live show at Universal Studios Singapore, the cast of Sesame Street is teaching and entertaining more people than we could ever imagine! Share the love of learning and make a light-hearted gesture with our Sesame Bouquet— complete with freshly coloured chrysanthemums.
Recognize any of these cute and adorable characters? We hope so! Checkout more of our earlier quirky bouquet creations. 24HrsCityFlorist.com will continue to work towards creating more fun and quirky bouquets for all of Singapore to enjoy. We provide 24hr flower delivery to anywhere in Singapore, so go ahead! Spread a little amusement, fun and make life more vibrant with these fun bouquets from us, and don't forget to check out the rest of our bouquets right here, on 24HrsCityFlorist!
Written by Ashley Ng
Total Page Visits: 1981 - Today Page Visits: 7