As Mother's Day approaches us once again this year, on the Second Sunday of May, do we ever stop to wonder: what is the 'true' meaning of celebrating Mother's Day? How is it traditionally celebrated and how may we celebrate it in our own ways?
In the UK, the English celebrate Mothering Sunday, the fourth Sunday of Lent. Back in the 1700s, house servants were encouraged to return to their hometowns to spend time with their mothers— a custom that was inspired by an even earlier custom that involved people going back to the first church they had ever attended, or their "mothering" church. Today, still steeped in religion, many churches will give children daffodils for them to give to their mothers.
Meanwhile, in Ethiopia, daughters will prepare vegetables and cheese, while the sons prepare meat for the annual meal and celebration. This celebration is vibrant, and even includes singing, dancing, and story-telling!
Here in Singapore, the most popular method of spending Mother's Day is to treat mum to a nice meal out, complete with delicious and decadent food in her favourite cuisine and often times gifts of flowers. For those who are not able to be with their mothers this year, there are always the florists who are able to send your message of love on your behalf. Mothers day Singapore delivery has become increasing popular especially during the pandemic, where large gatherings are not permitted.
History of Mother's Day
But how did Mother's Day really come about, and how was it originally celebrated?
Though traditions of celebrating mothers' have been dated by historians to have started as early as during the Ancient Greek period, the first modern Mother's Day was first celebrated by Anna Jarvis in West Virginia, 1907, by holding a memorial for her late mother. Her mother, Ann Jarvis, had been a peace activist who cared for wounded soldiers on both sides of the American Civil War. The yearly celebration of Mother's Day as such began, all started by a young woman looking to honour her own mother and all loving mothers across the world.
You may have heard of the popular tradition of gifting carnations as a Mother's Day gift. Once again, this tradition can be traced back to Anna Jarvis. As a young girl, the Jarvis's cared for a garden full of Ann's favourite flower — the white carnation. Following her mother's passing, Anna Jarvis gifted 500 white carnations to the church her late mother taught at. That day was the very first year Mother's Day was celebrated, back in 1907. Following in her footsteps, local boutiques and florists would start preparing carnations for the Mother's Days that would follow, dubbing the white carnation the "Mother's Day flower".
Mothers Day Flowers Singapore
If you're looking for a more traditional and classic gift for your mother or mother-in-law, look no further than our "Love Mommy" bouquet! Inspired by the sweet rustic style of English cottages, these delightfully charming mix of pink, red and white carnations are arranged with lush seasonal greenery, and will definitely make mum feel pampered on this very special day.
Today, however, whilst many still choose to present a lovely bouquet of carnations to their mothers, a new trend of mixing different flower types into the carnation arrangements have cropped up. If you're into giving mum a modern and refreshing take on the Mother's Day bouquet, whilst still being stylish and aesthetically pleasing, allow us to introduce some our trendy bouquets!
Try our "Gabriella – Basket Floral arrangement", which features a stunning array of pink roses, ivory gerbaras, pink carnations and lilac eustoma. The result is a gorgeous floral basket that's reminiscent of a pastel dream.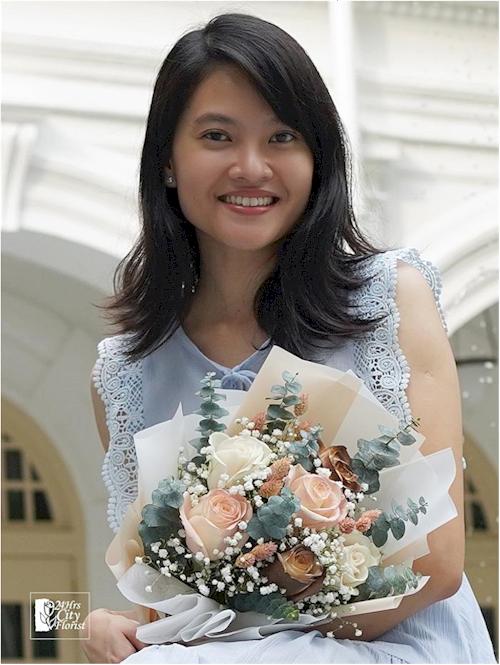 If your recipient prefers a more neutral, warm palette, may we also introduce the "Caramel" bouquet? This bouquet is inspired by autumn brown hues, and is a wonderful arrangement of ivory cream rose, pastel blush and caramel roses, all enfolded in a delicate hand bouquet. This charming bouquet toys the line between a more modern and trendy bouquet style with classic vintage-feel colours— perfect for a Mother with a distinctly calm and muted style.
Another fun and practical bouquet style we have created are the flower and goodie bundles. These bundles include gorgeous flowers alongside a delicious snack, treat, or even gift, that elevate the flowers to a next-level gift. For the mother with the sweet tooth, we now offer our brand new "Cookies And Flowers" bundle, which features an exclusive cake and cookie set from Teapaca & Co.— a home-baked delicious matcha cheesecake brownie with ruby chocolate coated earl grey madeleine and Roasted Almond Pumpkin Crisps. All topped off with a beautiful fresh flower arrangement done by yours truly.
Or, those looking for a thoughtful yet gentle gift may look towards the Bird's Nest Flower Box. This wooden box contains a jar of Eu Yan Sang's Superior Cave Nest American Ginseng (reduced sugar) as well as some light pink preserved flowers to fit the rustic feel.
And if none of these are big or splendid enough to show your mother just how much you love her, you may also look towards our decadent "Champagne Gift Basket". This wow-factor basket features not only some lovely fresh roses, but also a 750 ml bottle of Moet Chandon Champagne Brut Imperial, and even a box of Swiss made gourmet Lindor Chocolates. This basket filled with splendour is sure to blow mum, and all those at the dinner table, away, making for a fantastic tabletop conversation piece as well! Take a look at what are some of other top mother's day gift ideas.
So, this year, change it up a little! Don't settle for just a nice meal out— surprise her with a charming bouquet either while she's at work or at the dinner table, and show that your love for her is ever blooming.
Written by: Ashley Ng
Total Page Visits: 1295 - Today Page Visits: 1