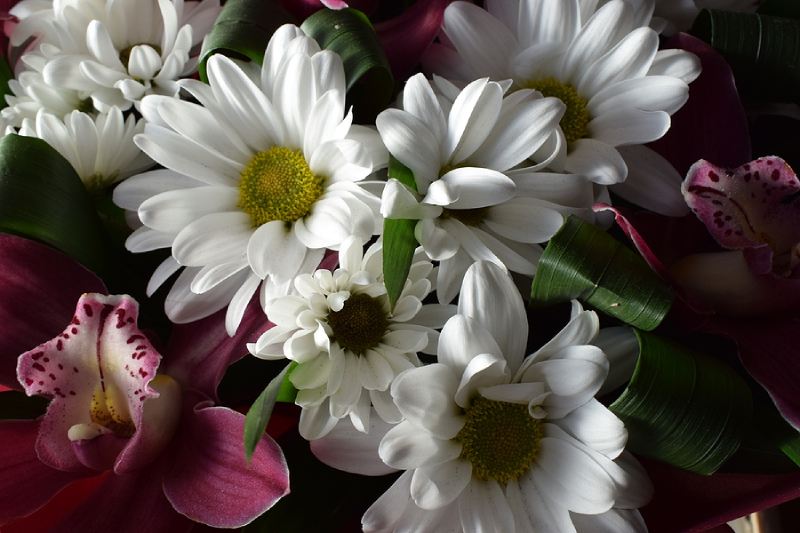 If you have attended several funerals or even arranged one for a loved one, you would probably know by now that chrysanthemums are among the most popular funeral flowers. Chrysanthemums, or mums for short, are perennial flowering plants that come from the Asteraceae family. They usually bloom from October to December when planted and grown in the garden.
Chrysanthemums come in a variety of colours and shades, including white, purple, lavender, yellow, orange, and red. They may look like they have numerous petals, but every single petal is a tiny floret. Due to their exquisite appearance, chrysanthemums are a common choice for different occasions, including funerals. Read on to find out the history and meaning behind chrysanthemums, and understand why they are a common flower for funerals.
 History of chrysanthemums
Chrysanthemums have a rich history that is as colourful as the florals themselves. First cultivated in China centuries ago, chrysanthemums were used mainly as a culinary herb, with their young shoots and petals mixed in salads and their leaves and flowers brewed into teas.
Eventually, the Japanese adopted chrysanthemums and were quite impressed with them that they were given the status of royalty. These florals were used on the Emperor's official crest and seal, and up until today, the highest order that can be awarded to a person for their esteemed service to the Japanese nation is the Supreme Order of the Chrysanthemum.
In Europe, chrysanthemums made their first appearance only in the 17th century. Their significance took a more foreboding turn in the region, as many Europeans often placed them on gravestones and adopted them as a symbol of death. However, in America, you are likely to spot chrysanthemums on balconies and porches from August to November, as well as in homecoming corsages.
Meaning and symbolism behind chrysanthemums
Chrysanthemums represent different meanings for different countries or regions. In Asia, these florals symbolise life and rebirth, so a chrysanthemum bouquet of flowers is considered an excellent gift for baby showers and birthdays. In Europe, on the other hand, chrysanthemums are often given as an expression of sympathy and condolences. In America, chrysanthemums are commonly seen as a flower that signifies honour and respect.
The meaning and symbolism behind chrysanthemums can also vary according to their colours. For instance, if someone gives you a red chrysanthemum, it most likely means that they love you. On the other hand, a yellow chrysanthemum symbolises sorrow or neglected love. Nonetheless, these flowers are generally known to symbolise love, happiness, and longevity.
Why chrysanthemums are used for funerals
As mentioned earlier, chrysanthemums are a common symbol of death in Europe. Many Europeans and other people across the world place chrysanthemums on gravestones or offer them as flowers for condolences, mainly because of their purity. People generally like to present these flowers to mourning families in order for them to feel better and comforted. These blooms are also great for travelling down memory lane or remembering loved ones.
White chrysanthemums are particularly the ones often reserved for decorating graves and funerals. In several European countries, such as Belgium, France, Italy, and Austria, white chrysanthemums are only given as a token of grief, bereavement, and comfort. Although Europeans are the first ones to consider chrysanthemums as a symbol of death, these flowers are now increasingly used as funeral flowers in many countries outside Europe.
Chrysanthemums in the Singapore context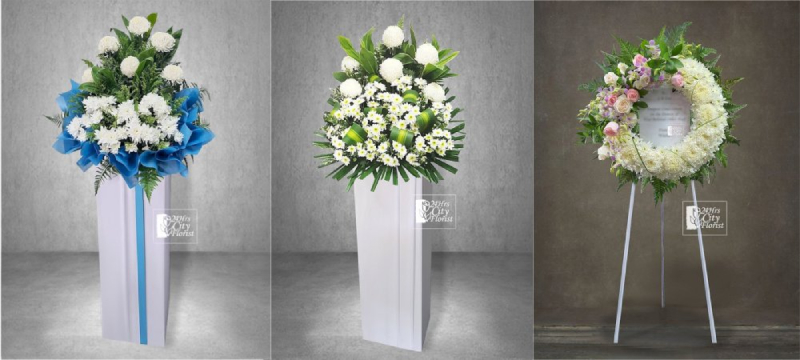 In Asia, chrysanthemums represent mourning, lamentation, and grief. And as Singaporeans living in Singapore, we may very well be familiar with the majority of traditions and cultural symbols across major ethnic groups. Generally, chrysanthemums are most often seen in condolence stands. Furthermore, they are one of the commonly used funeral flowers for religions such as Buddhism and Christianity in Singapore. But since chrysanthemums are considered as dramatic-looking flowers, they are often combined in arrangements with roses and lilies to create bigger funeral tributes.
Conclusion
Like other flowers, chrysanthemums convey different meanings depending on where you live. Some treat it as a flower with the utmost respect, while others may associate it with life and rebirth. And while chrysanthemums are widely used as funeral flowers in some parts of the world, there are also other flowers and colours that are typically suited for funerals – carnations, lilies, and roses, for example.
Many florists in Singapore today use chrysanthemums when arranging flowers for funerals – 24Hrs City Florist is one of them. Many of our funeral flower arrangements contain chrysanthemums placed elegantly within a stack of other flowers fit for the solemn occasion. For a wide range of funeral flowers with same-day flower delivery in Singapore, head over to our website for more information.
Total Page Visits: 1892 - Today Page Visits: 5