At 24Hrs City Florist, we believe in growing and nurturing the seeds of our future – children. We want to do our part in caring for disadvantaged children and are very honoured to be a the Participating Enterprise for the Society's 1000 Enterprises for Children-in-Need fund-raising programme. We started adopting Singapore Children Society as our charity organization since 2013 by joining the 'pixel heart' campaign which was discontinued. We have decided to participate in The 1000 Enterprises for children in need.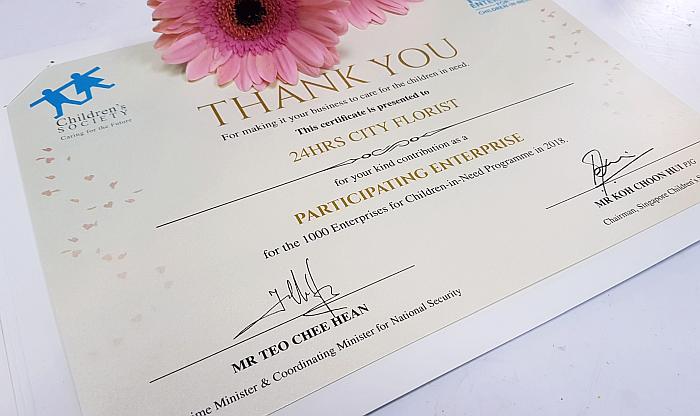 We decided to support the Children's Society because we truly
"Believe that children are our future,
Teach them well and let them lead the way.
Show them all the beauty they possess inside.
Give them a sense of pride to make it easier
Let the children's laughter remind us how we used to be"
– extract of lyrics from The Greatest Love of All by Whitney Houston
Join us in supporting The Singapore Children Society
With the support of Deputy Prime Minister and Coordinating Minister for National Security, Mr Teo Chee Hean, as the Patron for the programme, the Society hopes to recruit 1,000 business enterprises to adopt Singapore Children Society as their official supported charity and to achieve an annual contribution of S$1 million.
Total Page Visits: 6679 - Today Page Visits: 2