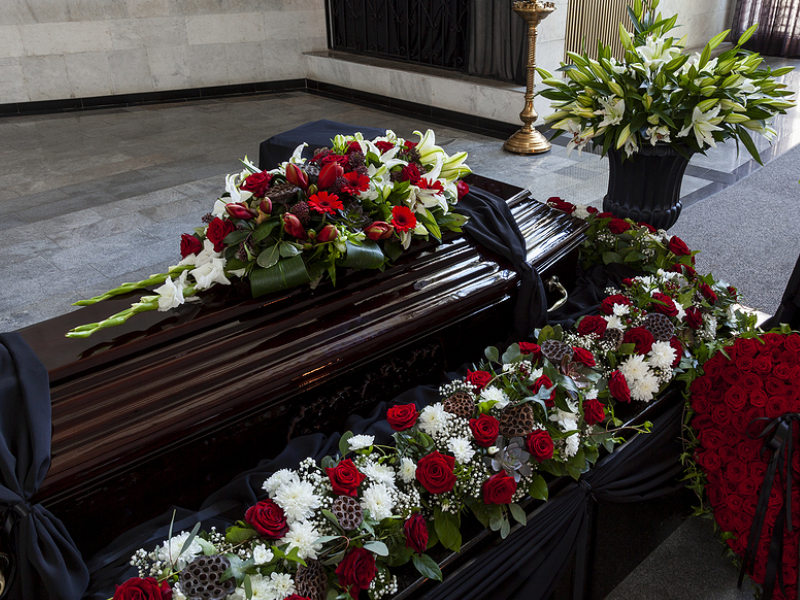 Losing a loved one is undoubtedly one of life's most painful moments. However, it is important that you commemorate the life that they lived and pay your last respect before they are brought to their final resting place.
Different countries and religions have different funeral rituals and traditions, but one of the most common things you will find at most wakes is flowers for funerals. No funeral ceremony would be complete without flowers that help make the occasion more solemn and heartfelt. Aside from that, flowers at funerals have also been one of the best ways to express one's deepest sentiments and show a person in mourning that you are with them in this time of grief.
That said, let us take a look at the history of flowers for condolences to understand why they are present in funerals today.
The history of flowers for condolences
For many decades, flowers have become part of every funeral tradition. However, flowers were used very differently at funerals some thousands of years ago.
The practice of arranging and placing funeral flowers has been one of the oldest forms of mourning. It was first recorded in 1951 by Dr. Ralph Solecki while excavating in the Shanidar Cave in Northern Iraq. There, he discovered numerous burial sites and uncovered flower and pollen fragments from various wildflowers. Those remnants were, later on, found to have been buried around 62,000 B.C. through the soil samples found in the area. Those flowers were marked as some of the very first flowers to have been used for a funeral. Later on, it was recorded in the Guinness Book of World Records as the oldest form of funeral ritual around the world.
Flowers for Asian funerals
Funeral flowers have always been part of Asian cultures, such as Chinese, Korean, and Japanese. However, it is critical to remember that Asian culture is not a homogeneous group. It is best to always take the family's and the deceased's specific religious and cultural customs and beliefs into account. The colour of the funeral flowers can be significant when sending funeral flowers to Asians. Typically, choosing white is the safest and best option. But when honouring Japanese, Korean, and Chinese traditions, yellow chrysanthemums are also traditional flowers for funerals.
In Chinese cultures in Singapore and beyond, colour symbolism is particularly significant – this also holds true for funeral flowers. Fresh cut flowers are preferred over artificial flowers, especially if you are travelling a considerable distance to the funeral.
Chrysanthemums and lilies make excellent selections, especially when they are yellow or white. Chinese culture regards them as funeral flowers, according to most traditions. Roses may also be accepted, provided they are white in colour.
However, when choosing flowers for an Asian funeral, it is advisable to check the funeral flower customs of the deceased's particular faith (if you are aware of it). Islam, Christianity, Buddhism, and Hinduism are a few religions practised widely in Asian countries like Singapore.
Muslim funerals: Typically, prayers are held with no funeral flowers sent.
Christian funerals: It is not obligatory to send a Catholic or Christian household solely cross wreaths or cross stands. Sending any generic funeral flower stands is also acceptable.
Buddhist funerals: It is recommended to ensure that flowers are acceptable by checking with the family. If so, the colour of mourning is traditionally white. Red is inappropriate since it connotes happiness.
Hindu funerals: Although it is not customary to send flowers to the family, they are a significant element of the Hindu funeral rite.
Conclusion
Today, flowers are still commonplace at funerals because they express what you cannot say in words. Sometimes, finding the words to try and console a person grieving a loss of a loved one can be challenging. But with the right bouquet of flowers, you can show your sympathy, support, and respect for the bereaved family. Furthermore, flowers for funerals also create the perfect backdrop that exudes warmth, care, and softness, which help balance the general emotion of the occasion – sadness – assisting the bereaved families to find comfort and acceptance amidst the heaviness of what happened.
At 24Hrs City Florist, we have a large selection of condolence flowers and funeral wreaths on top of other blooms to ensure you find the best type that perfectly conveys how you feel. Apart from funeral flowers, we can also supply you with flowers and gifts for any occasion, whether it be graduation flower bouquets or anniversary flowers – with same-day flower delivery in Singapore. Visit our website or physical outlet to grab your favourite flowers today!
Total Page Visits: 807 - Today Page Visits: 2