Always had the impression that table flower arrangements should be left to professional florists and shouldn't be attempted at home? You thought wrong. While many often reply and opt for flower delivery services and purchase table arrangements put together by professional florists, it is actually possible for anyone to put together your own arrangement. All it takes is a determined mindset, a vase/pot or basket and a bunch of blooms to get started. If you've always wanted to try, read on to find out how to learn the basics of table flower arrangements and how to go about beautifying your home.
We often hear this saying "Do what makes your soul happy". Be it taking time to smell the roses, a short detour to your favourite coffeeshop to purchase your favourite coffee, spending time exercising or arrangement a table flower arrangement – these are the activities and things which make life worth living. In a stressful time and age like today, it's easy to get caught up in the need to hustle on a daily basis, getting stressed and burdened by work, commitments and obligations. It's therefore important to learn how to take a step back and do something which makes you happy.
Does flower arrangement really help make one feel better?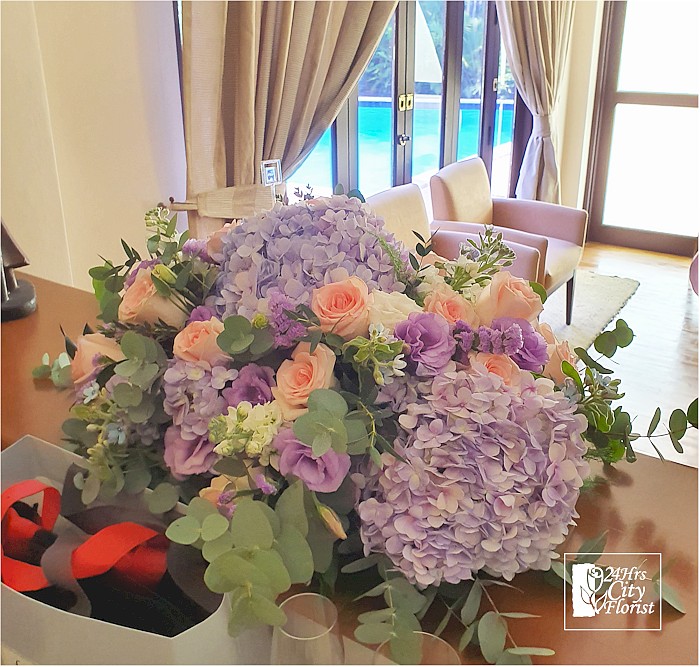 In a previous blog post, we talked about what is flower therapy and why it is good for you. It was found that some Rutgers University researches said that flowers have been known to be natural mood enhancers. When given as a gift, they put a smile on the face of the receiver. As they increase positivity in moods, they also reduce levels of anxiety. Furthermore, mood responses such as stress and anxiety reduction are considered a secondary response to enjoying flowers.
Have you ever caught yourself smiling as you enter a florist shop? That's because as you see flowers on display and smell the pleasant scents that is emitted, the natural perfume of these flowers help serves as a natural way to freshen up the air quality in a room. That's also the reason why flowers have been commonly used in perfumes or colognes to mask odours and attract others.
For table flower arrangements, they're also a great way to fill a space and make people feel more at home in their new houses. A home without furniture may appear bare but once you add a vase of beautiful blooms to the room – it's a whole different story. With its vibrant colours and various shapes, a table flower arrangement definitely bring life to the room and house, setting the mood right.
Materials required for table arrangements
To get started, you need the following materials (can vary from arrangement to arrangement):
Vase
Shears
Thorn stripper
Flowers of choice
Water
Preservative solution or bleach
Vases can come in all shapes and sizes. You can opt for a transparent clear glass vase which would showcase the stems of your flowers, else you can also opt for a coloured covered one where the main focus would be on the flowers. This is subjective so choose the vase based on your chosen flowers or the look of the area you would want to place the table arrangement in.
You can buy floral shears from any gardening shop. Else you can even opt to purchase it online without leaving the comfort of your home from the vast variety of online florist stores. Prices can be as low as below S$10.
For thorn strippers, you can actually use the shears to dethorn your roses or flowers. Open the shears and angle it against the thorny stem of the flower. Run it down the length of the stem and press firmly. This will remove both the thorns and leaves along the stem. Alternatively, you can also remove the individual thorns with a paring knife or nail clipper. Cut each thorn at the stem, or just cut off the sharp part at the end of the thorn.
What flowers and foliage are good for table arrangements?
The most critical and vital part of a table floral arrangement would be the type of flowers chosen.
Some common flowers that are used in table floral arrangements include roses, carnations, eustomas, gerberas, hydrangeas, cymbidiums and lilies just to name a few.
As the look of the table floral arrangement heavily depends on the focal point – which would be your chosen blooms, do choose flowers that you enjoy. Usually, the center portion of the floral arrangement would be the main flowers. Yet again, the colours of the floral arrangement are dependent on your personal choice. For weddings, many often opt for pastel colours, or light pink roses which depict a soft mellow mood. If one is opting for a causal table floral arrangement at home, why not go with your current mood and do up an arrangement that you feel comfortable with. Ultimately, it's about making a table floral arrangement that brightens up your day when you come home or puts a smile on your loved one's face when gifted.
No table floral arrangement is complete without it's leaves and foliages. As your chosen flowers are the main focal points, you need foliage to help act as fillers and support.
Why not try the following:
Rose sprays (A spray rose is smaller and miniature version of roses)
Statice
Eucalyptus leaves
Baby breath
Green bell thlaspi
Dried bunny tails
Eryngium thistle orion
Rucus leaves
These can be easily purchased from various florists or nurseries in Singapore.
Steps on how to do a simple table floral arrangement:
Remove any thorns or leaves from flowers.
Cut stems. Always cut an inch off each stem at a 45-degree angle.
Place flowers in the water as soon as possible after these steps. Add in the floral preservative if you have.
Try to make your flower arrangement higher than its vase. Do also balance the width and height.
Start positioning and placing your flowers in the vase.
Add your other filler flowers. Rotate your vase while arranging it if you can.
Add your leaves or foliage in between your blooms to fill up the empty spaces and add a pop of green colour.
Basic Shapes Of Flower Arrangements
Although this largely depends on where and how your table arrangement is going to be placed, here are the most common 5 basic shapes of flower arrangements:
Triangular
Circular
Horizontal
Vertical
Line
Triangular – sometimes known as pyramid shape, normally arranged one sided and it can be either be symmetrical or asymmetrical mass arrangement
Circular – also known as round, oval or fan shaped, typically arranged in 360deg centrepieces that can be viewed from all sides. Examples of circular shaped arrangements such as floral baskets and wreaths.
Horizontal – usually arranged on a shallow base or container, where the concentration of flowers are in the centre with drooping flowers branches on either side. Commonly known horizontal shaped arrangement such as the table spray or casket top.
Vertical – typically arranged on vases or jars in towering form
Line – flower arrangement is arranged in the shape of the curved 'line' which normally either a crescent or 'S' shaped. Typically arranged by selecting curving stems.
The above arrangements are just a list of basic formal terms for flower arrangement. Though it may serve as a good reference guide to learn more about flower arrangement, most people who are trying out flower arrangement for the first time can choose to just arrange the flowers based on how aesthetically pleasing it appears to you. Every individual has their own preference so feel free to arrange the flowers according to your own creative design or style. Get your creative juices flowing and don't stress about how "perfect" your bouquet should look.
Instead, have fun and get creative with the different looks. Trial and error works too!
For a dozen flower arrangement, you can opt for urn/pedestal, round or square cylinders, ginger or flared vases.
Where to put your table arrangement?
Most commonly, people tend to display their table flower arrangements on their dining tables or coffee tables in their living rooms. This is because those are the most noticeable places.
It also highly depends on the function of which the table arrangements are made for. If it's for a function held at home, these would be the obvious choices as it beautifies the room. However, there are also individuals who place their table arrangements in their own bedrooms for their personal enjoyment. There is no right or wrong room to place the table arrangements.
However, do remember to place your table arrangement in an area where the colour and design would stand out. For example, try not to place an arrangement of red roses against a red-coloured wall as that would blend in. Contrast the background of your wall against a vibrant table arrangement to get the maximum effect of your bouquet.
Also, try to avoid putting your table arrangements along windowsills where there is harsh sunlight as this might affect the lifespan of your blooms.
Principles of flower arrangement?
There are a few important principles when it comes to floral arrangement. This also applies not just table floral arrangement but bouquet arrangements etc. They are:
Design: Determined by the location, occasion and materials available, the design of the floral arrangement is a visualised plan about the size and shape of the arrangement.
Balance: This is important to ensure that the arrangement is stable and aesthetically pleasing. Two of the most important elements of having a balanced bouquet would be the colour and form of the arrangement. Symmetrical balance which essentially means that both the sides of the floral arrangement have equal amounts of materials on either side of it, and asymmetrical balance whereby the sides are physically not balanced out in terms of materials but still have equal weight visually. Colour is extremely important as dark colours give off a visual impact of weight and are usually used lower in the floral arrangement piece. As such, many lighter colours are more appropriate for higher portions of the arrangement.
Scale: It is vital to have the right scale of the flower arrangement when compared to the vase. Do remember that ultimately, the focus of the flower arrangement are the blooms and not just the vase or jar used to store them in.
Harmony and Unity: Use the right flowers to ensure that your arrangement flows. Mix the right colours together to create a nice blend and contrast. The vase is also an important element and both the vase and blooms should match the occasion.
For those interested, here's a simple step-by-step tutorial on how to do a rose arrangement in a vase. Here's what you need:
A bunch or roses
A bunch of ruscus leaves
A tall vase
Steps:
Group the roses and cut all the stems to the same length
Fill some water into the vase
Place the cut roses into the vase
Spread the roses evenly
Fill the gaps between the roses with ruscus leaves
Voila, there you have it
To make it more comprehensive, you can refer to this YouTube video: https://www.youtube.com/watch?v=XlcpNhi8p98 or you can check out our previous blog post here.
Some tips
Roses: Loose roses typically come in a pack of 10 or 20 stalks. Select any colour of your choice – choose one that compliments the colour of your vase. You could also use similar flowers with stronger and straight stems such as carnations, ginger flowers, gladiolas, tuberose, chrysanthemums etc.
Leaves: The dark green colour of the ruscus leaves also blends well with most coloured roses. Red and greens or white and greens are the best combinations. An alternative to ruscus is coin-shaped eucalyptus leaves. Leaves don't just fill up the gaps but also act as support to the flowers too.
Vase: Choose a tall one with the spout and bottom larger than the centre. This allows the stems to criss-cross and spread evenly.
If you're keen to seek formal training on how to arrange flowers, you can also take up formal training in private floral or vocational schools. Do remember to take time to decide what programmes or classes best suit your interest and needs. PProgrammes and classes in design and caring techniques for flowers, floral design concepts and plant/flower identification are widely available.
A few courses that we would recommend are as follows:


Singapore Workforce Skills Qualifications Systems for Floristry (Floristy WSQ)
The WSQ Qualification Pathway consist of four levels:
Level 1: WSQ Certification in Floristry Operations
Level 2: WSQ Higher Certificate in Floristry Operations
Level 3: WSQ Advanced Certificate in Floristry Supervision
Level 4: WSQ Diploma in Floristry Management
You can also find out more information regarding this course through this link: https://www.ssg.gov.sg/wsq/Industry-and-Occupational-Skills/Floristry-WSQ.html
Course objectives:
Condition flowers and foliage
Arrange flowers with good colour combination and according to design requirements.
Pack gift baskets and hampers
Set up floral displays at event venue
Operate floristry shop
You can also find more information through this link: https://www.ite.edu.sg/courses/course-finder/course/nitec-in-floristry
So if you're looking to take a course with nobleman florist, June florist or others, why not consider learning from 24 Hrs City Florist instead? Think you've a knack for floral arrangement and have the passion for it, why not take it a step further and apply for the 24 Hrs City Florist flower apprentice programme?
With on-the-job training, individuals who join will not only be taught flower arrangement but also other aspects of retail-florist such as customer inquiries, processing of orders, arrangement for deliveries and day-to-day operations. You'll be taught how to clear, condition and keep the flowers and foliage in a systematic manner. You'll not only be able to learn how to arrange a hand bouquet, but also table arrangements and flower stands.
In conclusion…table flower arrangements are always a welcome addition to any home as it brightens up its surroundings. Even though it may seem like a daunting task at first, being able to learn how to arrange your own table floral arrangements is a great skill to have in the long-run as you can not only do arrangements for yourself but for your loved ones.
Written by: Elizabeth Tan
Total Page Visits: 7165 - Today Page Visits: 3