According to a study conducted, after family, friends, and eulogy, FLOWERS rank first among those who have lost a family member or friend as the most meaningful aspect of funerals. Furthermore, at a time of loss, recipients rank flower for funeral and sympathy cards as the most meaningful of gifts. Those surveyed believe fresh flowers are a critical component of funerals, providing a necessary diversion, something to talk about, and a bright environment at a sombre time.
Asked to identify gifts and memorials that helped a great deal with grief, a majority of surveyed respondents named flowers. Respondents also agreed strongly that looking at the cards to see who sent funeral wreaths and condolences flowers is a comfort.
Condolence Flowers Singapore
Flowers show respect for the deceased, as well as loving support to the family and friends, especially when you cannot be there in person. Flowers also make for a more pleasant atmosphere, helping those present feel as comfortable and welcome as possible. With flowers at a funeral service, you help create a lasting and beautiful memory for those who have gathered to mourn the loss of someone dear.
Even when a charity or other organization has been selected to receive financial contributions in memory of the deceased, flowers are considered by most to be an appropriate expression of additional sympathy and support.
Flowers can reflect many religious beliefs, including eternal life and rebirth. Almost all religions accept flowers as an expression of sympathy and condolences. Your floral consultant is well aware of the differences between faiths and will assist you in this regard.
There is a wide variety of floral tributes for every budget. Among them, the condolence flower stands are the most popular. Besides flower stands, table flower arrangements, table flower sprays, casket flowers (casket flower top or casket drapes), floral wreaths, flower crosses and other designs which reflect a more personal aspect of the deceased, such as favoured flowers, colours, and styles. This include having a custom made heart shapes flower wreath arranged with a soft toy where the decease is a young child.
Condolence Flower Stands: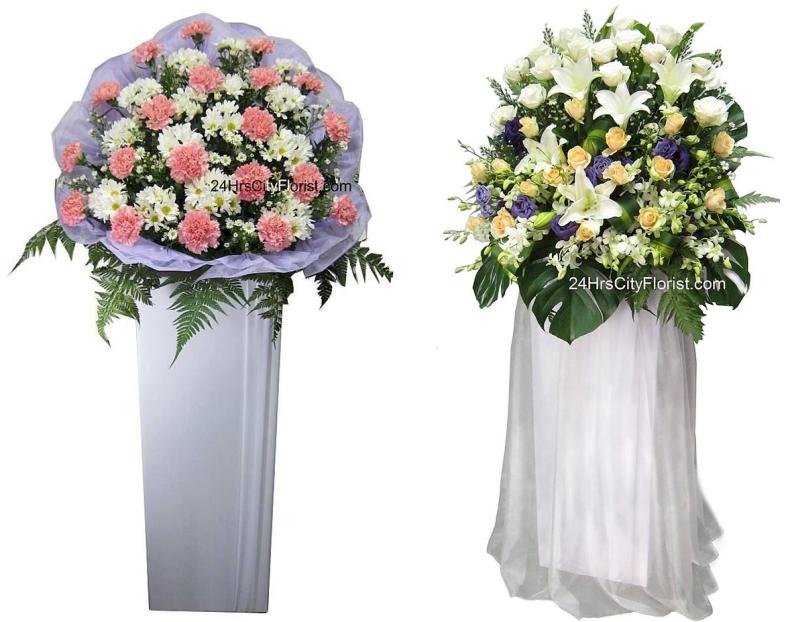 Among floral sympathy expressions, flowers are arranged on top of a tall pedestal (a box) or on a metal tripod. These flower stands have distinctive fresh flower designs and are popular as they are presentable, respectfully appropriate and easily placed in a funeral wake without taking much of a foot print.
Funeral Flowers in Singapore
In Singapore, funeral flowers or condolences flowers are normally delivered to the wakes (normally held at residences or funeral houses or parlours or churches). Wakes are places where a vigil held by the immediate family members of the deceased. They can be held within a day to about 7 days depending on the wishes and practices of the family. After the vigil, the casket is then transported to the crematorium.
Funeral flowers can be sent to any race or religion (except to the Muslim community) as they are universally accepted. In Singapore, it is not a practice to send flowers to the homes after the funeral, hence it is best to send during the wake before the funeral is over before the casket is sent to the crematorium. Flowers are not usually sent to the crematoriums.
There are 3 crematoria in Singapore (1 government-managed and the other are privately managed):
1. Mandai Crematorium (Goverment Crematorium)
2. Kong Meng San Phor Kark See Monastry
3. Tse Toh Aum Temple
Source: National Environment Agency Singapore.
Condolences flowers are not For more information about funerals in Singapore, please visit the National Environment Agency Website at: http://www.nea.gov.sg/
Burial
The Choa Chu Kang Cemetery Complex is the only cemetery in Singapore still accepting burials. On 1 November 1998, the NEA implemented a policy to limit the burial period of all graves to 15 years, due to a shortage of space in the cemeteries. After being buried for 15 years, graves are exhumed and the remains removed. If the religion of the deceased permits cremation, the exhumed remains are cremated and stored in government columbaria niches; otherwise, the remains are re-buried in smaller individual plots. https://www.nea.gov.sg/our-services/after-death/crypt-burial-system
Guide for choosing the right condolence flowers:
If you are unsure of what colours to choose in a funeral flowers, white and green colours are universally acceptable.
Choosing the right colour for funeral wreaths flower arrangement :- There is no right or wrong colour. Keep in mind that funeral arrangements are meant to give people something to look at while they are remembering the person they have lost. Order a flower arrangement you feel is best suited to this occasion. Typically if you are unsure of the deceased religion or culture, white/cream and green colours are standard for condolences and funerals. Occasionally, a dash of purple or yellow flowers to the predominantly white and green colours could make condolence flower arrangement stands out. Many times you can leave this up to your florist.
Choosing the right size for your condolences flowers: – Any sized flower gift you send to the funeral will be appropriate. There are often end tables for smaller flower displays, pedestals for medium displays and larger flower arrangements sometimes come with their own stand (either box or metal stands).
Custom Arrange Funeral Flowers:
Giving your flower arrangement a personal touch: – As your florist if they have any suggestions for making your condolences flowers arrangement special. They may have special items they can mix in with the flowers particularly if you know the deceased or family well. For example, golf club figurines a golf fan or a doll or stuffed toy for a child. You can also incorporate your own memorial objects into the arrangement. If you don't have the opportunity to give them to your florist personally, you can still add your personal touch to the flower arrangement once you arrive at the funeral home. The family normally takes these arrangements home, so they'll notice the special touch you've added.
Message To Write with your Funeral Flowers?
It is not always easy to learn of someone you know who has recently lost a loved one. Let alone what to say to the person. Sending flowers is an expression of thoughtfulness that brings both comfort and beauty to a sad occasion and often flowers more than words can.
Nevertheless, adding a message with the flowers to convey your heartfelt condolences to allow the bereaved members of the family who the flowers are from. Click here for listing of condolence messages – https://www.24hrscityflorist.com/blog/condolence-message/
Choosing Funeral Flowers
Flowers are universally recognised as a beautiful tribute of life and symbol of compassion. For a range of funeral flowers or condolence flowers arrangements that are fine, stately and perfectly selected array of flowers designed to express sympathy and to convey your condolences, click here to see 24hrscityflorist.com florist website.
Their range of condolence flowers category is designed to show a variety of styles and budget appropriate for sending expressions of sympathy and respect.
The guide below will help you communicate with your florist to select an item that best expresses your feelings.
Price and budget
Florists are able to deliver flowers same day. 24hrscityflorist.com offers same day delivery if orders are places latest by 8pm – of the few florists in Singapore offering same day delivery at such late hour.
Price of condolence flowers dependant on flower type, size of arrangement and delivery day and time. Price normally range from $100 for a fully fresh flower arrangements. Higher pricing funeral flowers are typically larger in size, arranged with nicer and more exotic flowers.
Funeral Wreath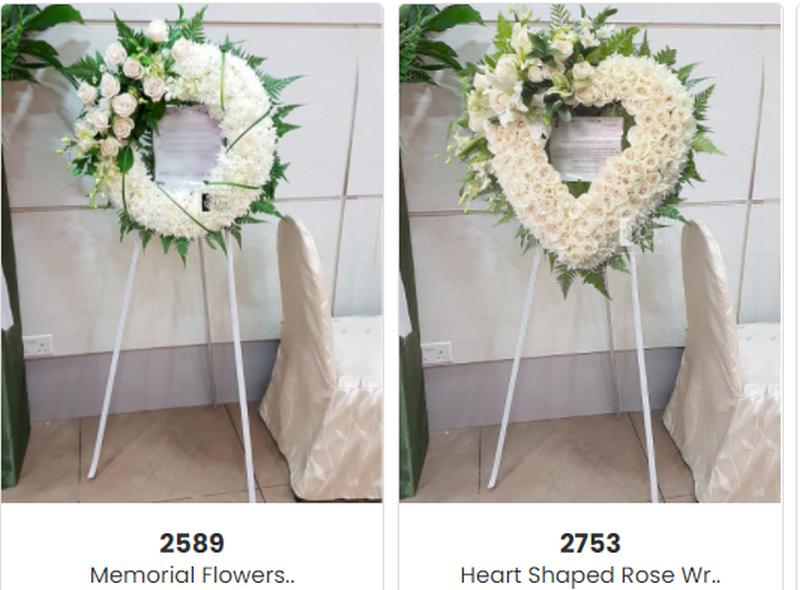 Wreaths are common flower arrangements appropriate for funerals. There a few variation of wreaths – circular or round wreaths, cross wreaths, heart shaped wreaths or tear-drop wreaths are some of the common wreaths delivery in Singapore. They are often bought from florists and delivered to the family at the wake and are normally placed alongside other condolence flowers around the casket or depending on where the family wish to have them placed too. A message card containing the message from the sender is placed over a wreath, sending sentiments of a relationship.
Fresh Cut Flowers
Fresh cut flowers are the most popular and appropriate choice for condolence wreath and sympathy bouquets. They provide soothing scents to the area and serve a purpose throughout the bereavement services. Cut flowers can be placed on hearse (funeral car) during the final journey to the at the crematorium. White flowers are commonly sent as sympathy offerings because they signify purity, peace and love. Simple white blooms flatter the surroundings at any bereavement ceremony. Common colours include white fresh cut flowers such as lilies, white roses, orchids and chrysanthemums. These fresh flowers typically able to stay fresh over the period of the wake – depending also where the wake is held. Longer lasting flowers particularly Chrysanthemums are long lasting flowers and normally able to stay fresh even after the funeral.
Colours
When in doubt, the best colour choice is white with greens. However, coloured condolence flower arrangement is common too as they stand out from the rest. More often , a slight dash of pink or purple are suitable for a females. Some funeral flowers are given based on the deceased favourite flowers or colours. And in some instances, colourful arrangement are given to reflect the flamboyant personality of the deceased. Occasionally, the deceased favourite flower or object is arranged together with the flower arrangement. The colour choices are sometimes picked based on the relationship between the giver and the deceased.
Words however gentle cannot take the loss away. Fresh flowers convey the sense of comfort and your kind thoughts of peace and warmth during time of grief. Flowers for funeral or Sympathy flowers or sometimes known as funeral flowers are a very common way to tell the living you are with them in their grief and want to pay tribute to someone special. This is a time where the tranquillity of fresh flowers can be very soothing to the bereaved family. They are also universally welcome at any funeral.
Total Page Visits: 6793 - Today Page Visits: 1